"The Golden Boy vs The Finger Boy."
This is one columns I've been asked to do more than almost any in 2015. So, now the new year's started, I thought I'd take this one on.
85 wins. 7 World Championships. Over 150 podiums. Given how Fernando Alonso clearly is shit at hiring agents, for me, Lewis Hamilton and Sebastian Vettel are the two best drivers to have graced F1 since Michael Schumacher's first retirement, and for me, are two of the Top 10 greatest drivers to ever grace the sport. And with much of the 2016 season being anticipated as a Hamilton vs a Vettel dogfight, now seems as good a time as ever, to compare the two, as many have argued back and forth in the off-season, between who's best out of the Golden Boy from Stevenage, and the Finger Boy from Germany.
So, what's the criteria to assess these two? Well, it's always going to be tricky, given in F1, much more of a guy's success is reliant upon the car he's driving. It's always been a mechanical, and manufacturer's sport, many would say that makes columns like this pointless. But they're also no fun, so sod that. But after racking my head for a bit, I've managed to get it down to three major factors:
Maximising Opportunities
Career Achievements
The Intangibles (The things you can't really measure, but may still affect their overall legacy)
For me, these are the biggest elements out of what makes a driver special, and what will define what makes them great. At least to me anyway. So, let's get the basic Lewis vs Seb stats out of the way, and then we'll get this debate started.
(Oh and before the more cynical readers comment – Yes, I am a Sebastian Vettel fan, but I can very easily talk about about him in an objective manner. If you don't trust me on that, why are you even reading this?)
Tale of the Tape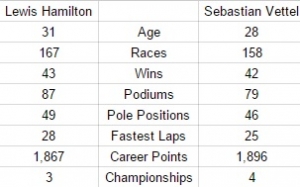 Yeah, it's terrifyingly close. I didn't even realize until I found this on Wikipedia, in terms of just how close it is.
---
Maximising Opportunities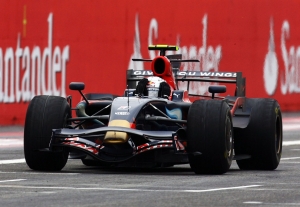 So, how do you rate this category? For me, this is about what a driver has done with the tools he's been given, as so often that can make or break your career – I often call it the "Nico Hulkenberg" complex.
So, Lewis and Seb had very different paths to get to the points they're that now. I've often called Lewis the Golden Boy, for the reason of, he was hailed as a Future World Champion, and scouted as a star of the future, from the time he was 10. There's even a clip of him in a kart on Blue Peter. Crazy.
He's had a lot of people invest a to of resources into him, but Lewis has justified that with some sensational junior performances, such as winning European Formula 3 and a GP2 Championship by the time he was 21.
We all know what happened next, debuting for McLaren in 2007, winning four races in his rookie season, beating Fernando Alonso, the reigning World Champion on countback, and missing out on the World Championship by just a single point. Of course, he would go on to win his first World Title the year after, at the time, the youngest ever World Champion at just 23.
The other key moment for me in Lewis' career, was the perfect timing of his switch from McLaren at the end of 2012, to the rising force that was Mercedes, and of course, we all know how well that's gone for him since. 22 wins in 3 seasons with the Silver Arrows, and two World Championships to put in that Top 10 Trifecta club.
[fusion_builder_container hundred_percent="yes" overflow="visible"][fusion_builder_row][fusion_builder_column type="1_1″ background_position="left top" background_color="" border_size="" border_color="" border_style="solid" spacing="yes" background_image="" background_repeat="no-repeat" padding="" margin_top="0px" margin_bottom="0px" class="" id="" animation_type="" animation_speed="0.3″ animation_direction="left" hide_on_mobile="no" center_content="no" min_height="none"][fusion_imageframe lightbox="no" style="bottomshadow" bordercolor="" bordersize="0px" stylecolor="
" align="left" animation_type="fade" animation_direction="right" animation_speed="1″]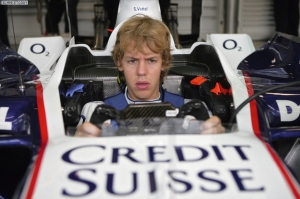 [/fusion_imageframe]Kind of a different story with Sebastian, but there's some similarities too. Vettel was signed by the Red Bull Junior Team at 11, but he never won a major Junior title, his best being a runner up in European F3 to Paul Di Resta.
But he got his big break in 2007, through the BMW ladder when Jacques Villeneuve moved on, and after Robert Kubica's horror crash in Canada, Vettel filled in at the United States GP that season, scoring a point as a rookie, at the time the youngest to ever do so. He was picked up by Toro Rosso in the second half of that season, and despite a rough start (Ploughing into Mark Webber in Fuji wasn't ideal), he scored a brilliant 4th place in China, signing full-time for the team in 2008.
Again, a rough start, but that iconic Monza pole and win in 2008 was the gem in an underrated run of form, finishing in the Top 6 for six of the final seven rounds. He got promoted to Red Bull the following season… And you know what happened next.
The other key landmark has to be that Red Bull departure in 2014. While not as dramatic, or as massive a performance swing, it seems to have also been the right move, given his new upswing in popularity, and a DOTY level season in 2015.
So who takes this round? Hamilton's ridiculous first two seasons, and what came from it afterwards, or Vettel's "Started from the bottom now we here?" This is a lot like selecting what kind of background your player has on Madden. You could be a first round pick, be really good, but also have really high expectations, or be a lower pick, and surprise people in how good you ended up being. Hamilton, was the hyped man who delivered, Vettel, the plucky kid in the right place at the right.
For me, it's Lewis. Just. Those 2007 and 2008 seasons I don't think get the true credit he deserved. I mean, he was one point short of being a ROOKIE WORLD CHAMPION, beating Fernando Alonso in the process. Sometimes, the big job is just that much valuable. So for me, it's Lewis, for those first two years, and the brilliant timing of the Mercedes switch.
Winner: Lewis Hamilton
---
Career Achievements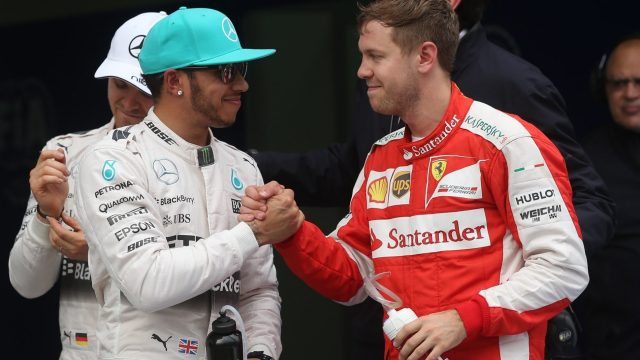 This one kind of speaks for itself. And I'm sure you saw the tale of the tape and how close it is. Both of these men's level of achievement is incredible. Top 5 all-time level.
Sebastian Vettel was basically the re-writer of the history books for nearly every "Youngest" record in the book, including driver in a practise session, points, poles, wins, and the youngest World Champion stamp he won in 2010 at 23 years, and 135 days, a record he took from Lewis himself.
His 2011 and 2013 seasons were absolutely ridiculous, and two of the most dominant the sport's ever seen. 2011, Seb won 11 races, scored a record 15 pole positions, and scored 17 podiums, the latter two, still being F1 records. 2013 was even crazier, while he didn't start with the best car, he was literally unbeatable in the second half, winning the final nine races, enroute to another record, the most points in a season with 397.
And of course, the 4 World Titles and 42 wins are all-time great stats, no matter what way you slice it.
Lewis has had to wait for the Mercs switch to really get that explosion of stats, but it he also had the added of benefit of starting his career in a top-tier machine, Vettel didn't get that luxury until 2009, his second full season, and even then, Brawn dominated the first half of that season.
Even so, Lewis Mercs run has been nothing short of ridiculous, especially when you consider, he has an arguable stronger teammate in that time span with Nico Rosberg, who himself has won 14 races in the last 4 years. He has 43 wins, 3rd all-time, and he's the only driver to have ever won 10 races in back-to-back seasons. He has NEVER had a season without a win, and he was the youngest driver to ever lead a Championship, with 4 wins, the most of any rookie in F1 history, a record he splits with Jacques.
So, who takes this one? It's another close one, but I'm going to go with Sebastian here. The fourth World Title pretty much breaks the tie between them, and you have to remember, Seb's had less seasons to play with here.
Winner: Sebastian Vettel
---
The Intangibles
Now, this is where things are going to get interesting. In many sports, there's just some things you can't really measure, or certain elements that will affect how you perceive a driver. This is the section where I do my best to try and dot as many "I's" and cross as many "T's" as I can.
So, the first one I often hear is teammate comparisons, the only real baseline due to the unpredictable nature of car performance. And in this department, Lewis' resume is a little bit better. He's 8-1 against teammates in his career, including going 2-1 against Jenson Button, 3-0 against Nico Rosberg, 2-0 against Heikki and beating Alonso as a rookie in 2007.
[fusion_imageframe lightbox="no" style="bottomshadow" bordercolor="" bordersize="0px" stylecolor="
" align="left" animation_type="fade" animation_direction="right" animation_speed="1″]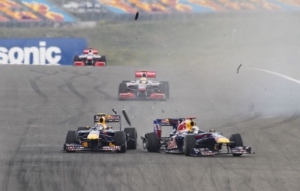 [/fusion_imageframe]Seb's is more of an under-appreciated one. He went 5-0 against Mark Webber, who really wasn't that great, as much as he's sympathetically looked at in F1 circles. He beat a declining Kimi Raikkonen this season, as well as the supremely under-appreciated Sebastian Bourdais in 2008, but yeah, Lewis has this one.
The dodgy seasons is another factor. For Sebastian, the 2014 season is the only blot against a near otherwise stellar career. And while you could still argue he came out worse in the reliability stakes, that beating by Ricciardo is going to stick out. But on the other side of the coin, Lewis Hamilton had a meltdown in 2011, losing to JB by 53, and getting into that infamous feud with Felipe Massa. So I'm calling that one a wash.
Strength of car has to go to Seb on this one. There's no getting around it, Lewis has been spoilt rotten with getting to have Top 3 cars his entire career, even if a few weren't quite good enough for a title. And no, Seb didn't dominate for four years either. It was more like one a half. 2010 and 2012 were highly contested seasons. Easy to forget, half way through 2012, Fernando Alonso had a 45 point lead.
What about employability? If you're a team boss, it's a factor. Now, I'm not judging Lewis for his outside of track activity, but the fact he's been in the middle of two team bust-ups between Alonso (To be fair, mostly Nando's ego I reckon), and the rumours about another one with Rosberg continue to loom large. Note a massive deal, but worth noting.
[fusion_imageframe lightbox="no" style="bottomshadow" bordercolor="" bordersize="0px" stylecolor="
" align="right" animation_type="fade" animation_direction="right" animation_speed="1″]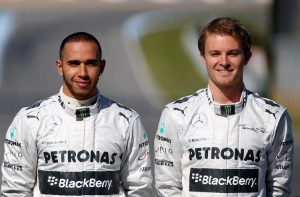 [/fusion_imageframe]Of course, Seb had his tensions with Mark too, but they were mostly for on-track errors, like Turkey 2010, and of course, Multi 21, where Seb ignored a team order to win. Questionable, but team orders could be discussed all week and no-one would be totally happy about them.
Seb's always been heavily praised by his employers for his work ethic by Christian Horner, Adrian Newey, and now Ferrari, for being able to develop the car to his needs, and his level of care and feedback. And he rocks a notebook. And notebooks are back in fashion.
But here's the one massive kicker in this discussion – The age difference. Sebastian is two and a half years younger than Lewis, the former being 29 in July, the latter turning 31 last week. Now this could also boil down to when they both decide to move on with their careers, but getting an extra two-three seasons could be massive in terms of value.
And for that reason, I'm going to go Seb. Sure, it's a little unfair, Lewis driving for a top team at 22 was nearly unheard of, but the game's clearly changed, and youth is becoming a more valuable asset by the year. Just ask Max. And I think it says a lot that Vettel was basically replicated what Lewis did when he debuted, when he joined Red Bull as a 21 year old. So, just, it's Seb for me.
Winner: Sebastian Vettel
---
So, Vettel takes it two to one huh? Okay, it really isn't as simple as that, and to be completely honest, it doesn't tell the full story. There's arguments you can very easily make for the other guy in all three areas.
Bottom line is this, we're witnessing two of the greatest drivers to ever grace Formula 1. And while one is a little more appreciated than the other. We should probably spend a little bit more time enjoying what we have, and how lucky we are to have these two at the top of their games at the same time. It's F1's Messi and Ronaldo, and that's hardly a bad thing.
But who would you take if you could only have one? Who's better to you? I IMPLORE you to sound off in the comments, I'd LOVE to hear your opinions on this one. Now, I need me a Lucozade and some paracetamol to deal with this headache.[/fusion_builder_column][/fusion_builder_row][/fusion_builder_container]