MotoGP has another case of main character energy and we're one weekend into its longest-ever season. For those who missed my Race Review on Portimao, here's my short running diary of how this last week has played out:
Friday: Pol Espagraro suffers a broken jaw, a lung contusion and breaks his vertebrae. Fresh off warnings that the gravel at the track wasn't suitable for bikes, but more for cars. This a week on from Fabio Di Giannantonio suffering a concussion in testing. The latter said it was: "Like crashing on rocks".
Saturday: Luca Marini crashes during the Sprint Race, clattering into Enea Bastianini and breaking his shoulder blade. He'd miss the GP and will miss Argentina this weekend. Aleix Espargaro, less than 24 hours after seeing his brother airlifted to hospital, compares the Sprint Race to "Gladiator", that happy-go-lucky popcorn flick.
Sunday: Marc Marquez loses control of his bike under braking, wrecking himself and breaking his right thumb, breaking Jorge Martin's toe, leading him to crash later because he couldn't keep his foot on the peg, and causing a contusion to Miguel Oliviera's leg. Marc Marquez takes full responsibility as well as a Double Long Lap Penalty for Argentina. Chaos ensues in internet comment sections everywhere.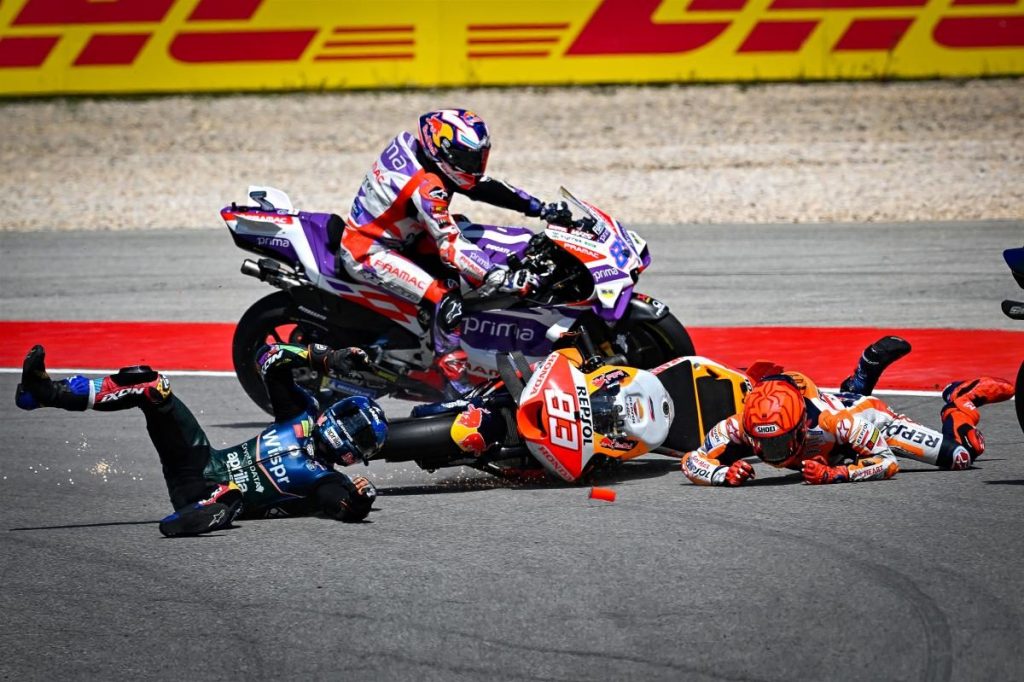 Monday: Marquez is declared unfit for Argentina after having overnight surgery. Mainstream journalists figure out that because the penalty notice specifically says "Argentina", Marquez no longer has to serve his DLLP because he's no longer racing at the venue the penalty is issued for. Everyone flips their collective shit when they realise penalty notices have largely been written this way for years and the person committing the penalty isn't normally injured enough for this loophole to come up.
Tuesday: The Stewards catch word about this loophole and close it – They rewrite Marquez's penalty and now say he has to serve his penalty at the next venue he's able to race in. Everyone is too busy patting themselves on the back thinking the problems are solved to realise the FIM/stewards just changed a punishment two days after it was given with no legal precedent to do so.
Wednesday: As I write this, Honda launch an appeal into Marquez's penalty because of course they were going to do that, the stewards went fucking rogue. Where has that happened before recently?!
Thursday: The Stewards defer the appeal to the FIM Court of Appeals. Lawyer up son.
There'll probably be a few more twists in this tale after this column goes out because the story has changed four times in as many days. The bosses at Dorna are probably rubbing their hands with glee that their Sprint was largely positively received and any valid criticism will probably now be drowned out because Marquez vs the Stewards has become the story of the weekend.
And it was easy to forget that any story at all in MotoGP gets amplified by a factor of five when Marquez is involved. From many within the sport calling for stricter bans, to jabs about just how dirty a rider he is/isn't. For me, there are three incidents that truly define the worst of Marquez's riding standards – Portimao on Sunday, Silverstone 2021 and the Argentina 2018 meltdown when Valentino Rossi ended up in a ditch.
Do I think Marquez is a dirty rider? Nah. Do I think this is the remains of the Rossi/Marquez 2015 beef? Absolutely. Yes, there are still people out there who still think Marquez was in the wrong for breaking the "code" of bike racing, more so than Rossi for breaking the actual rules of the sport. Jack Miller absolutely picked up on that character assassination in the Thursday press conference, and he's a man who knows about dissing people based on reputation. It's almost like the sport was waiting for him to fuck up again so we can lay a "Gotcha" on him.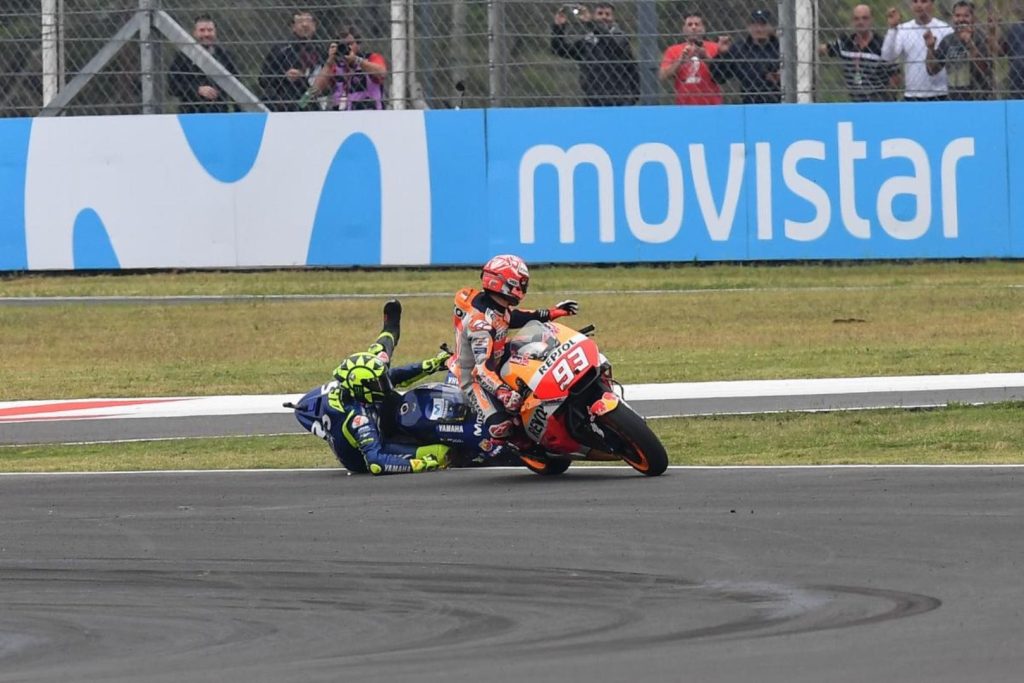 It's hard with Marquez. He's made a career of living on 11-tenths. No one has ever done more going beyond the limit of what we think is possible on a Motorcycle. Trust me, Honda's been on a downward spiral for half a decade. Marquez has his legacy in spite of that. And I think some of that roughness, comes with the smoothness.
But I absolutely think Marquez might need a different approach at this point in his career. He's already proven he can win titles as a point accumulator, rather than going berserk like in 2016 when the Yamaha factory team imploded on itself. Or handling Andrea Dovizioso as Ducati was morphing into the best bike in the series, despite losing a bunch of head-to-heads against him. A bad day for Marquez then was 2nd. A bad day for Dovi was 8th. That was the difference. That's the Marquez that I'm starting to miss, knowing when to take those liberties that only he can.
Marc Marquez retires tomorrow, he's the second greatest MotoGP rider ever to me. He's won more for Honda than Doohan has. He's a six-time MotoGP Champion with 59 top-flight wins, 64 pole positions and 100 podiums in 155 starts. This while sacrificing three years of his prime and having four surgeries on an arm to come back at Age 30. He has nothing left to prove to anyone, including himself. I hope sometime he realises that.
But that's just that problem with the previous 900 words I've written… this has gone beyond being just a Marquez story. If anything it's rocket fuel towards what I feel is the real problem here – It's MotoGP's stewarding.
There are many problems to dissect here. The fact that Marquez let slip that there was a gentleman's agreement with the stewards that it would be a Double Long Lap penalty for a first major offence, only for the riders to ask for more in public anyway. The fact that I still don't know what constitutes a penalty under the large blanket of "irresponsible riding".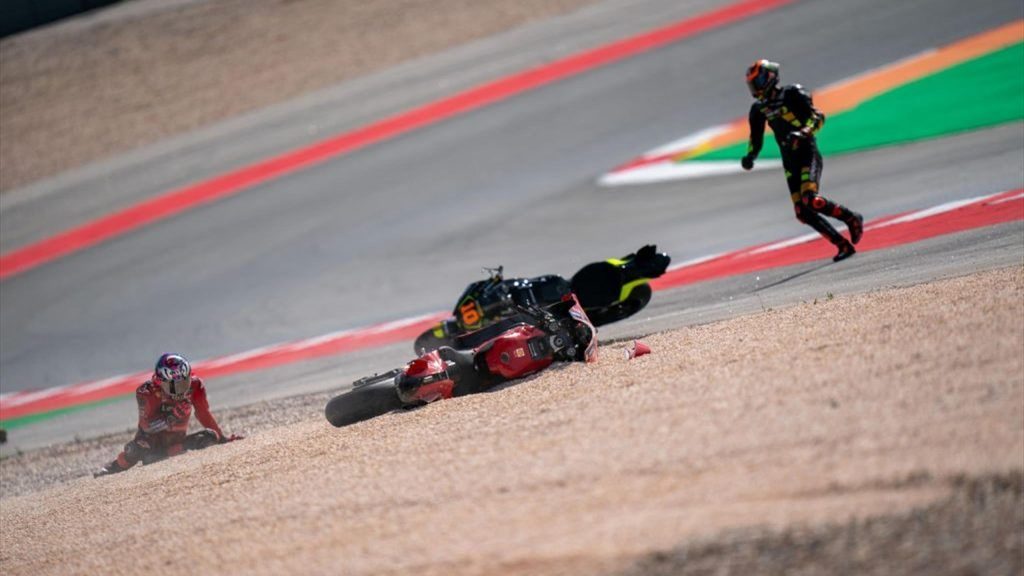 Remember, Luca Marini, lost control, tucked the front, collected and injured Enea Bastianini and faced no disciplinary action. Taka Nakagami faced no punishment for headbutting Bagnaia's bike off the start in Catalunya, while on the other end of the scale, a similar incident with Sam Lowes obliterating Jorge Navarro in Austria led to a black flag and a pitlane start. My gut says a DLLP was fine for Marquez in a vacuum… but how can I be so sure when incidents are all over the map in how they're judged?!
And now the stewards are going to have to explain retrospectively why they changed a man's punishment two days after it was originally issued. And they'll probably lose. As much as we can debate until the cows come home about what punishment Marquez "deserves", you can't be making changes like that without the legislation to stand on. Honda likely wins this case and Marquez's penalty will likely end up null and void by the time he likely returns at the Circuit of the Americas in a fortnight's time. THEN the loophole gets closed.
The aggressor of this situation has blinded many of us from realising what the bigger picture problem is here. Two wheels or four, Motorsport officiating has been in the toilet for some time now with no evidence it's getting better. This isn't a Marquez story. But hopefully, the fact he's the catalyst leads to some proper change around here.