"The ultimate in internal conflicts, in AND out of intensive care."
*sighs* This is not an easy one. This is tough. I'm talking about one of my childhood and sporting heroes here, in Michael Schumacher. We're quickly approaching the six month mark since his horrible ski accident from December last year, and here we are… And does anyone outside of Michaels' own camp REALLY know what's going on?
It's difficult enough when you're dealing with neurology and head trauma as it is, a part of medical health with still so many unknowns out there and question marks that no-one's been able to answer yet, and when you combine that with the nature of the victim, a man loved by MILLIONS around the world, many of whom, DESPERATE for information pertaining to their hero, and the nature of which Schumacher's own camp lays out their information, what you get is nothing short of a mess.
Emotionally, it's been a roller-coaster and I'm not even close to related to Schumi personally. I'm just a fan. As I said, Schumacher is one of my sporting heroes, and in a sense, I owe him everything, because I probably wouldn't have been a Formula 1 fan if I wasn't for him. And thinking about him in this state, is just the worst. But the whole situation with me personally just screams of inner conflict, especially given the outside interference and events since. Read on and I'll tell you why…
[fusion_builder_container hundred_percent="yes" overflow="visible"][fusion_builder_row][fusion_builder_column type="1_1″ background_position="left top" background_color="" border_size="" border_color="" border_style="solid" spacing="yes" background_image="" background_repeat="no-repeat" padding="" margin_top="0px" margin_bottom="0px" class="" id="" animation_type="" animation_speed="0.3″ animation_direction="left" hide_on_mobile="no" center_content="no" min_height="none"][fusion_imageframe lightbox="no" style="bottomshadow" bordercolor="" bordersize="0px" stylecolor="
" align="left" animation_type="fade" animation_direction="right" animation_speed="1″]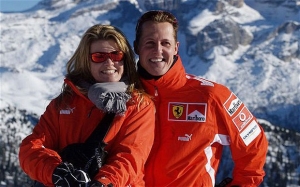 [/fusion_imageframe]Obviously, Michael Schumacher's family and camp, have every right to their privacy. Take it from a guy who's had an Auntie with a brain tumour just this year, this is an incredibly deep and emotional thing to wrap your head around… And I was just the nephew. I can't even begin to imagine what Michael's family must be going through or have already gone through themselves. And believe me when I tell you, telling someone else about someone you love, who is in a induced coma, is never going to be easy to open about.
And given how extreme some of the media have been in terms of trying to gather information, I can definitely understand why. Such as the stories of some media members trying to sneak into the hospital, pretending to be a priest, as well as one person pretending to be Michael's own father. Can't say I'm surprised, this is the media, and in the new era of the open internet, people go nuts over even the smallest of dangling carrot when it comes to news stories and third party sources. And journalists being desperate for a scoop and the lengths they'll go to get there, is hardly a new thing.
And do I even need to add anything in regards to the people who stole his medical records? Deplorable scumbags who'll do anything for a quick buck. The Doctor/patient confidentiality relationship is one that should never be abused, no matter who the patient is.
HOWEVER. And this is a big one… In this circumstance, I can't help but shake the feeling of: "If you had revealed just a little bit more, would the media and the fans be so hungry for information?". I know, it's awful for me to even have to think down this path, like a human "Devil's Advocate" so to speak, but as a fan who cares about Michael (And I know millions of others too), these six months have been frustrating due to how private Schumi's camp has been.
[fusion_imageframe lightbox="no" style="bottomshadow" bordercolor="" bordersize="0px" stylecolor="
" align="left" animation_type="fade" animation_direction="right" animation_speed="1″]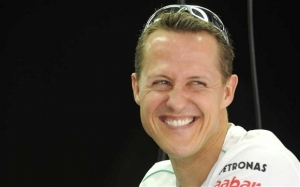 [/fusion_imageframe]Over the last six months, the statements made from Michael's manager, Sabine Kehm; have been brief, sometimes very vague, sporadic, at often times, a little confusing (Using language which would be unclear to many people who aren't sure on things like comas and neurology in general), and as a result, the situation is far from ideal for those who are so desperate to find out news on their hero. Her last statement a fortnight ago, said that Michael was "awake". What does that even mean? Is he responsive? Is he speaking? Communicating? Simply having your eyes open counts as awake, so as a result, it confuses people because there isn't enough context for us readers to get a better idea. Not to mention using awake and concious in the same statement, which essentially, mean the same thing. This was in the most recent statement too.
You see, people got excited initially that he was leaving hospital, but then the statement used the exact same language as the last one, so has his situation improved really?!
If we were given just a little more clarity on Michael's condition, maybe the media wouldn't be desperate for more info, and have to resort to such extremes to try and fish said info out. Maybe, the medical reports wouldn't have been stolen. Maybe we wouldn't have to all rely on Dr Gary Hartstein's 15 blogs on the damn thing, having to deal with a ridiculous amount of (unfair) pressure from us, the needy public, desperate for clarity.
I for one, wouldn't have to speculate so much when asked about it, or when in thought. Fans as well as the media, wouldn't have to jump to their own conclusions so much and speculate so wildly on his condition, over something they don't really know much about. Even worse if you're the one told to cover and write up a story when all you have is a couple of sentences from an official statement, and essentially having to "wing it" on everything else, which can influence said fans further. It's all an infinite feedback loop, spiralling out of control, because more often than not, we the "average joe" have to fill in the blanks for ourselves, even if we don't know exactly what's going on.
Maybe the family know the extent of the damage and they're protecting his legacy. I think most people would like to remember Michael for his on-track demeanour and sporting merit, rather than his condition now. Reminiscent of when Alex "Hurricane" Higgins passed away in 2010, and its impact on Snooker before he died, and his awful ravaged state beforehand.
[fusion_imageframe lightbox="no" style="bottomshadow" bordercolor="" bordersize="0px" stylecolor="
" align="left" animation_type="fade" animation_direction="right" animation_speed="1″]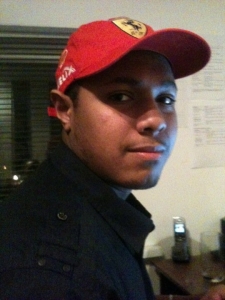 [/fusion_imageframe]The sad thing is, I feel guilty and selfish that I'm even suggesting this. That family's been through hell since December 29th and here I am asking them to put their feelings aside so they can gratify my self-indulgence. That's not a nice feeling. And hence why I feel this inner conflict inside of being a Schumacher fan on the fence, watching this situation unfold as the weeks and months go on. Part of me is just praying for some positive news, or any news in general as a matter of fact, while the other half feels like poking the hospital window with a stick and saying "TELL US, TELL US MORE DAMMIT!"
Like I said before, Michael's family has every right to close the doors to the rest of us, they're a family in grief and they deserve to deal with this however they choose. BUT, to me, I think they also have a duty, to us, his millions of fans, admirers and carers all over the world, to tell us more on how he is. If anything, I think I could be channelled as an eye opener for many who don't know about mental health, and head trauma, something we're only just scratching the surface in, in terms of sport in general.
There's no easy solution here, and it almost feels like a verbal tug of war between the two sides, but hopefully, as time goes on, the family and management will open up more, so that both sides can support and move forward in relative peace. Because no-one wants to see this situation get uglier, like we've already seen as this case goes on.
And of course, get well soon Michael, and keep fighting the good fight. We're all behind you.[/fusion_builder_column][/fusion_builder_row][/fusion_builder_container]