"Demon's run, when a good man, goes to war."
For those who don't know me that well, I was born in 92'. I first started watching bike racing with my Dad towards the end of the century. Funnily enough, my first love was Kenny Roberts Jr's 1999 #10 Suzuki in the peak of the 2-stroke era. I was delighted when he won his 500cc World Title the following year, with some young upstart known as Valentino Rossi in 2nd. Little did we know at the time, that was about to change the sport in ways we had never seen before.
I grew up in Wembley, West London. I got into bikes through my Dad. Collected models, and everything. The thing was, I grew up in a house with a glory hunter Dad. Adored Valentino Rossi from the moment he won his first title in 2001. I was still onboard with Roberts, not really for him, but because I loved the bikes more than the personalities. So, I had to spend a lot of time sitting back with a grumpy look on my face, my Dad mocking me because Rossi was about to make the sport his.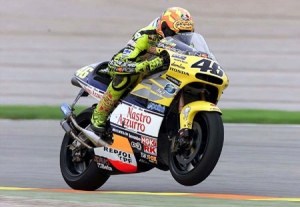 And make it he did. 5 consecutive World Championships. From the 2-stroke 500's to the 4-stroke 1000's. He won 51 out of the next 82 races. His personality on track was ruthless, aggressive, something we hadn't seen before at the highest level. He had rivals, and he crushed them in his own unflappable way. Max Biaggi hated him, so much so Rossi punched him on the way to the podium. Max was the greatest 250 rider of all time but was no match. He was the rival Rossi needed, but just not good enough.
As for me, as Roberts faded, the fickle young fan I was, had a new favourite – Sete Gibernau. Again, not so much for him, but because his Movistar 4-stroke Honda is one of the most beautiful bikes I've ever seen. My all-time favourite. I fell in love with it. I thought, maybe Sete could be the one to give Rossi the real challenge after his run of dominance. He tried in 2003, and 4, but again, just not enough to upset the Rossi apple-cart. Jerez 2005 still scars my mind. Rossi blatantly rams Gibernau off the track to claim victory. Sete was rightfully pissed. And the sad thing was, he was never the same after that.
Again, I was mocked by my Dad, and now my younger brother Ryan, who was now 7, and followed by Dad's Rossi-supporting Wagon, and that's when I realized the scary power of "Yellow Fever", and the Rossi fan club. This was a moment, clear as day, where Rossi had gone too far. But his fan club was too busy celebrating, and Race Direction sat on their hands, as a dangerous precedent was set – Where you could ram a guy off, and still win because it was Vale.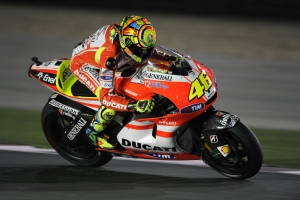 That was over a decade ago now, and a lot of things have changed. Vale's run of form stopped for a little bit. An inconsistent Yamaha in 2006, followed by the shock rise of Ducati and Casey in 2007, before Rossi stormed back to win the 2008 and 2009 titles. But Yamaha had their intentions elsewhere, they believed in Jorge Lorenzo, and Rossi, now with 9 World Titles, tried to make the Italian Dream Team happen. It was humbling that Rossi needed.
Two years of misery at Ducati, a dejected Rossi returned to Yamaha, where it was now Jorge's team. Vale had turned into an ageing Veteran who, any great performance, was met with warm surprise and appreciation, as opposed to the fanfare of before. After two and a half years out of the winner's circle, Assen 2013 had my brother burst in tears, because of the nature of the struggle, a season where Rossi and 4th place became synonymous. Honestly, I thought he was finished after that, but appreciated Rossi more as an ambassador to the sport at this point.
As time went on, I even grew to love the friendship he shared with Marc Marquez – His idol from a young age, and a rider who seemed like the second coming. In 2014, he dominated and won 13 races. He had moments of racing hard with Rossi, but they were friendly, the scenes in Parc Ferme were fantastic… Then Rossi started winning again.
"Valentino's your friend until you start winning." – Marco Melandri
If 2015 has had one surprising element, it's been the resurgence of Valentino to the very top, a season where the dropping of Jeremy Burgess, his longtime crew chief, was seen as a "final roll of the dice". It's worked out in tremendous fashion though, he's led the Championship for all but one round this season. There was always a sense that the mind games of Valentino were inevitable, given title fights of yesteryear, and how he got under the skin of Biaggi, Gibernau, Melandri, Stoner and more… And then last Thursday happened.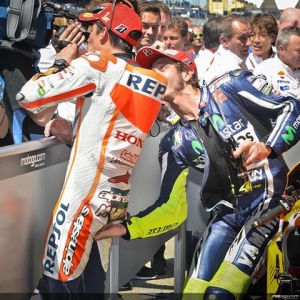 The damnation of Marquez, his intentions, and even his fanhood were puzzling, if not downright baffling. Questioning Marc's riding at Philip Island was one thing (Basic 'he said, she said' at its finest), but to go that far, was mind-boggling. Why pick a fight with the young man who pretty much worshipped the ground you walked on? Because Jorge Lorenzo's now so good, and so disciplined that he's a no-go, so you take on 93 instead? What? Even if you believed him, it made no sense given Marquez went ALL-OUT for the win on that final lap and beat Lorenzo to give Rossi 5 extra, precious points.
Of course, it was inevitable that Sunday's events were going to happen after this. Make no mistake, it was Pedrosa's weekend. But Rossi and Marquez were going to collide. Marquez didn't do it on purpose, but it happened. And we got a different Valentino. A darker Vale. One that didn't like this young rascal playing the same games he made so famous en route to become the biggest star, the sport's ever had. Rossi snapped. It's happened before. Only this time, Marc wasn't about dat lyf'.
Marc Marquez was the breath of fresh air the sport needed after a stagnant run of Lorenzo and Stoner exchanging titles, while Rossi was languishing a broken leg and a shit Ducati. Ridiculously fast, incredibly unique riding style, very aggressive, and a kid with more upside and raw speed than anyone the sport's ever seen. Sure, he made mistakes, ones that nearly cost him his career and reputation, but a freak talent – A young Vale, you could argue.
Marquez hasn't discriminated when it comes to his nature and how he rides a bike. The shove passes Rossi made famous at Jerez, the reckless contact with Pedrosa at Aragon, the razor-thin Village pass last season on Lorenzo… We've all seen what Marquez is capable of, and beyond. The notion that Marc was overly aggressive screams: "You must be new here", in the context of MotoGP.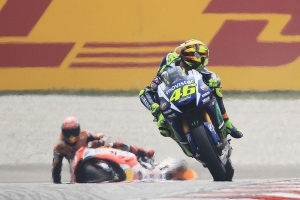 No, this was different. Rossi tried the same games that had worked so many times before. Only this time, Marquez wasn't going to roll over, and this time, it didn't work. 3 penalty points later, and a title that's on the brink of jeopardy.
When you think about it, it's amazing that Rossi, has not been a title contender since 2009, he's not been in a title fight that went to the last round since 2006. To me, I think it's pretty clear, that Rossi, has cracked under the pressure of not being in this position for a long, long time. He's 37 in February. He has to know, given the circumstances around him of an under-performing Honda, and a not-quite 100% Jorge all-season long, that this might be Rossi's last chance of grabbing World Title #10. And as I said, with Jorge Lorenzo being a mental fortress, Rossi's frustration of not having things go his way, has spilled over into the lap of Marc Marquez, the guy most likely to "interfere" with the golden boy's plan, and not Andrea Iannone, who beat him fair and square that legendary day at Phillip Island.
And of course, Rossi used the one weapon he knows he won't miss – the media. The Italian media love Rossi like an adopted child. The Spanish are often at loggerheads, spoilt with their choice of three once-in-a-lifetime talents. And of course, the status that Rossi has, as the sport's greatest ever asset, a fan base that transcends MotoGP and is one of the biggest as an individual, in all of world sport. And when you have that many people in your corner, it's very easy to drop some bullshit and have your fanbase clean up the mess.
It's the same bullshit I had flung in my face when I was a child, who sat in frustration as Rossi made the sport his own, and we as fans, as media, and as people in awe, made him untouchable. Now though, the goalposts have moved. Rossi isn't alone at the top anymore, and I think collectively, it's about time we stopped drinking the yellow-coloured kool-aid.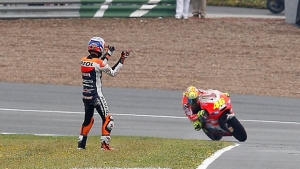 I'm glad collectively, Pedrosa, Marquez, Stoner and Lorenzo have called Rossi out to task for his actions, and his betrayal of them, the foundations he set so hard to build to establishing his legendary legacy, and the actions he defended his close friend Marco Simoncelli with, a rider who so often too, went over the line. It'll never happen on a large scale because of the nature of Rossi's enormous following, but October 25th, 2015 and the week beforehand, was Vale exposed, emotions and actions laid bare for the world to judge. Valentino Rossi still believed he was God. Marc Marquez just declared himself an atheist. When Italy's own media doesn't quite know your intentions, you may have just gotten this one a bit wrong.
As I said on Sunday, we collectively as fans have lost. In any case, it'll be a Championship with an asterisk next to it. If Rossi wins, it'll be because of this incident. If Lorenzo wins, he'll be deemed unworthy by an enormous amount of people, because of "Marquez's help", because there's still so many out there that pray to the same Rossi holy book. The same preachers that believe that Rossi is exonerated from losing as a result of "hard" racing, and that everyone should pull over for him, because they're not title contenders, one of the most disrespectful notions I've ever seen in Motorsport, and one of the most bullshit "codes of entitlement" that people seem to actually believe.
This is Valentino's 20th year in Grand Prix Motorcycle Racing. In that time, the sport has changed a thousand fold. He had an iron grip on it, he lost it, and now he's trying to reach out for the handlebars one last time. He's already cemented his status as arguably the greatest rider to ever grace the sport, and the ultimate ambassador for its growth and how MotoGP has become what it has today. But now, his nature and influence might be set to cause more harm than good. Because ultimately, demon's run, when a good man goes to war.