It's an interesting time at McLaren at the moment. Ron Dennis is back at the helm, and we all know it. In a recent interview with Sky Sports, he spoke about Lewis Hamilton's switch to Mercedes in 2012, whether he could come back, and his relationship with Martin Whitmarsh. Here's what he had to say (Full Link: http://www1.skysports.com/f1/news/24181/9199560/ron-dennis-says-lewis-hamilton-could-return-to-mclaren-once-the-team-is-competitive)
[fusion_builder_container hundred_percent="yes" overflow="visible"][fusion_builder_row][fusion_builder_column type="1_1″ background_position="left top" background_color="" border_size="" border_color="" border_style="solid" spacing="yes" background_image="" background_repeat="no-repeat" padding="" margin_top="0px" margin_bottom="0px" class="" id="" animation_type="" animation_speed="0.3″ animation_direction="left" hide_on_mobile="no" center_content="no" min_height="none"]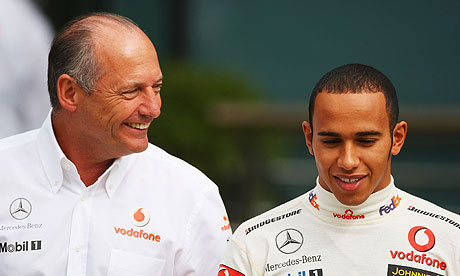 On Hamilton and his switch:
"I think money played a role in it, but it wasn't a deciding factor. The fact is that for him it was possibly time to move on – there had been commitments made from both sides – and I appreciated and knew what the turning point was. I know Lewis's character and he was bitterly disappointed to not win the Singapore Grand Prix. Strangely enough it wasn't the failure of a McLaren component that forced him to stop in that race, but nevertheless he was vulnerable and the right offer at the right time was made to him and so he jumped.
"But who knows? As and when – and I can assure you it will be sooner rather than later – that we return to the level of competitiveness that we have enjoyed in the past, he could well be one of the drivers that could be attracted back to us and he will be better for having experienced life in a different team environment."

Interesting take. Remember, Dennis wasn't really around when the Hamilton drama had started to escalate, I wonder if things had been different if he was still in charge at that point. Maybe Ron should have given his old mate a call. I'm pretty sure the money wasn't a factor – Lewis is already enjoying Swiss tax rates, and he said it himself that money wasn't an issue.
Ron referenced the 2012 Singapore GP, a race where Hamilton retired in a close fight, and the possibility of vulnerability makes sense. Lewis once tried to talk to Christian Horner over a seat after Canada 2011. Would Lewis come back? Maybe, if the situation was right. People have hinted the same about Fernando Alonso due to his lack of success at Ferrari, and he's always spoken highly of the McLaren team. I think Ron's on the money here.
As for his words on Whitmarsh: "There was no falling out between us whatsoever. This is simple, we had to make changes and I wanted to lead the changes because I felt it was the right thing for the group and I was supported in that view by the shareholders, so that is why I am doing it. But Martin and I will find a common and positive way forward, and as and when we have that, we will communicate it."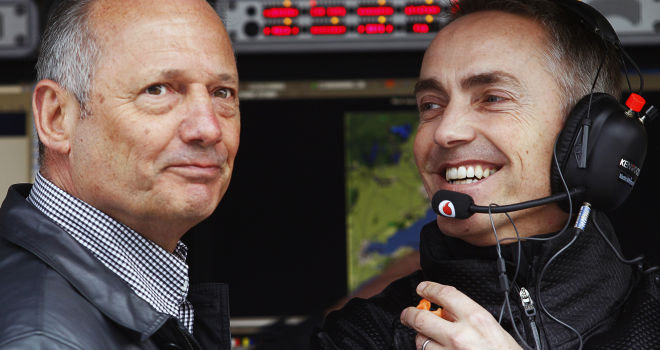 Again, interesting. They say McLaren needed changes, but let's not pretend like McLaren have had any major success in the Dennis era either. They've struggled since 1999 and Mika Hakkinen's 2nd WDC, and haven't won a WCC in 15 years. They're F1's version of Arsenal, they've been capable of winning multiple times in recent years, but can't get over the line. That's been on Whitmarsh AND Dennis.
And with many teams like Mercedes too going away from the standard Team Principal dynamic (Toto Wolff and Paddy Lowe in charge), and with the interesting signing from McLaren of former Lotus' principal Eric Bouiller as "Racing Director" (Whatever that means), McLaren's dynamic will be an interesting one to see as the 2014 season goes on.
---
What do you make of the McLaren dynamic? Do you think Hamilton could return one day? Let me know in the comments!
[/fusion_builder_column][/fusion_builder_row][/fusion_builder_container]