Wow. That was some drama. The 107th Indianapolis 500 was a race where we had the hot hand was crunched into a pitlane wall and still finished 4th, Marcus Ericsson was on the brink of going back-to-back and entering legendary status, and for one Penske driver, his moment to become the face of the series had finally arrived. Let's untangle this mess.
It's Finally Josef's Time
I remember being shown video clips on YouTube of a then 20-year-old, rookie Josef Newgarden, asking fans about whether Josef Newgarden could be Rookie of the Year and fans couldn't recognise the man when he was staring him in the face. Man, have we come a long way.
Josef's ascension into the driver he is today has been pretty remarkable. He joined an all-time great Penske team that had Will Power, Helio Castroneves and Simon Pagenaud in it and won the Astor Cup at the first attempt. As of today, that's SIX Indy 500 wins and three Astor Cups between them, Helio is probably the greatest to ever NOT win one. A star was born. The new staple piece of the best team in the sport was here.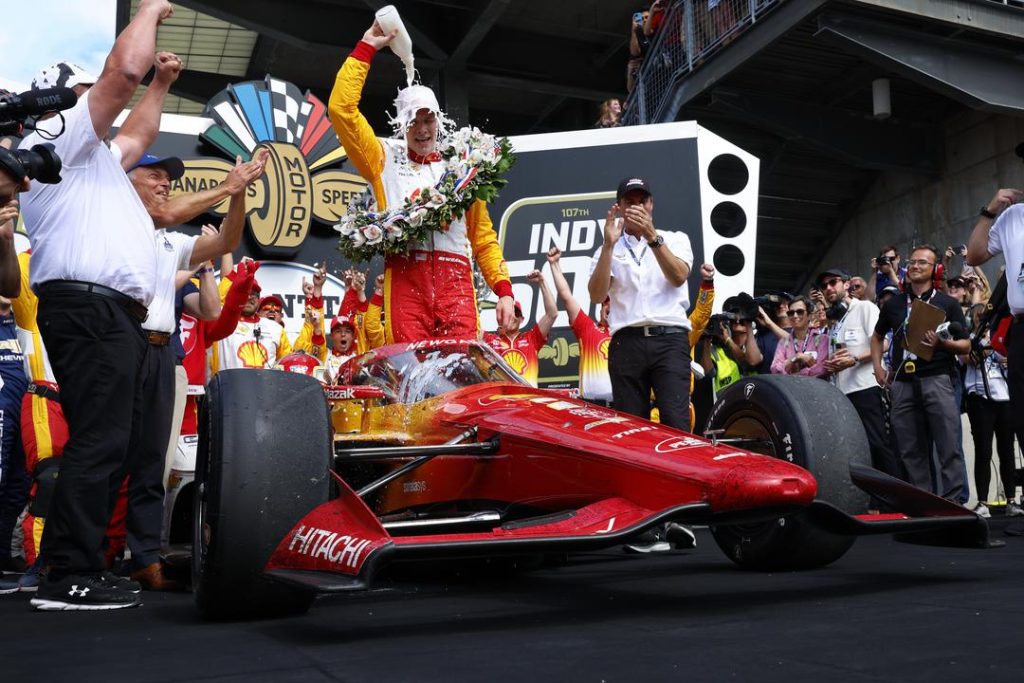 Josef had everything you could ever want in a driver. Fast as hell. Versatile, being able to win on all three major disciplines. Hell, half of his 27 wins are on Ovals. Consistent, clutch, but off the track, a dorky and handsome beefcake who doesn't take himself too seriously, and prepared to go the extra mile to promote a series that has always needed help bridging the gap between the sport and its potential audience. 
Bus Bros, while I've been critical of its intent at times, is the best content that's within the series right now. While, I was critical of him after Nashville last year for the spitting out of the dummy when he took Grosjean out, but for the most part, he's been a tremendous ambassador for the series.
I made a video six years ago where I begged IndyCar to go all-in to push Josef as the All-American star that hardcore and casual fans could get behind as the face of the series, and it never quite materialised. Even when Alexander Rossi became one of his stronger rivals at Andretti. The series now is very fortunate to have some incredible youth amongst it like Pato O'Ward, Alex Palou, Christian Lundgaard, Callum Illot and David Malukas. But Josef has quickly become one of the greatest drivers in series history to never win the Borg Warner.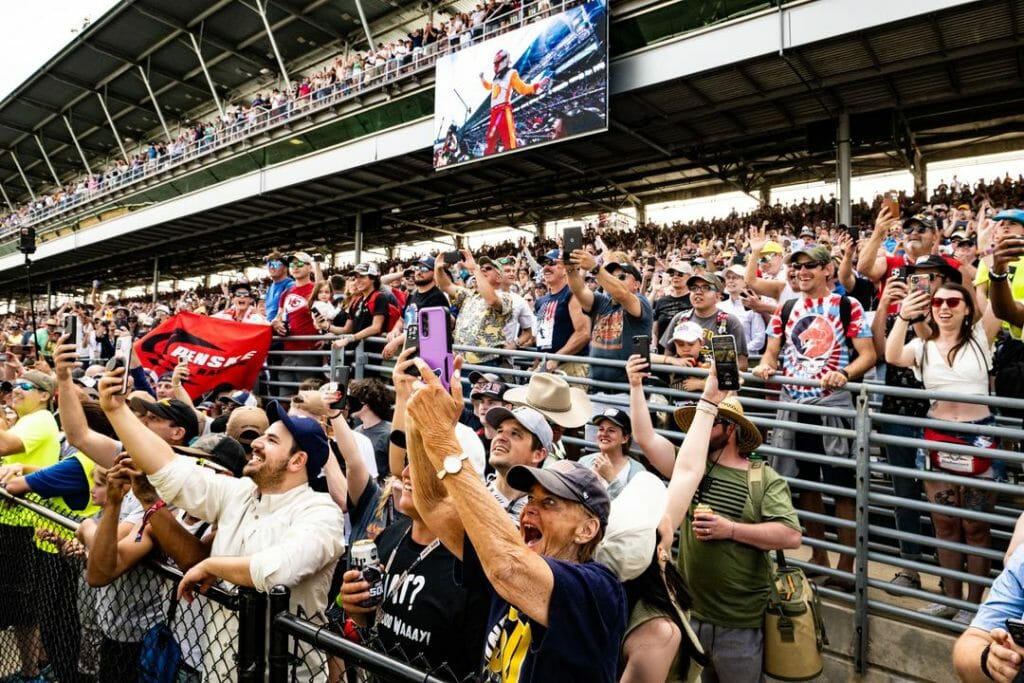 He got his moment. And you could see how desperate he was when the chance came to defend that lead down the final stretching, weaving into the pit lane entry to hold off Marcus Ericsson, who was just was just 97 thousandths of a second away from being the first repeat winner since Helio, 21 years earlier. And nothing says more about Josef and what he thinks of the fans of the series than to jump in there and celebrate with them once he crossed the finish line. Another iconic Indy 500 moment.
Josef Newgarden has been the star that IndyCar needed for a long time, in plain sight. While that may no longer be the case, he's certainly just got his moment in the sun and cemented his status as one of the all-time greats in the series. Just a shame it came about in such messy circumstances…
Copied Homework
That finish was janky. If you know how the Indy 500 works, you know how disruptive the finishes can get. The gloves come off in the final 50 laps, and after a caution on Lap 149 after Romain Grosjean drifted into the wall, we got the same again here, with three red flags in the final 15 laps. (More on them later)
Any regular fans of the series know how IndyCar tries to officiate. Try to finish a race under green, and that includes throwing a red to sit the field in the pits if need be. With 4 laps to go, a three-wide smash at the back of the pack takes out Will Power, Graham Rahal (yes, him), and Benjamin Pedersen. Red Flag gets thrown a lap and change later, meaning it's 2 to go.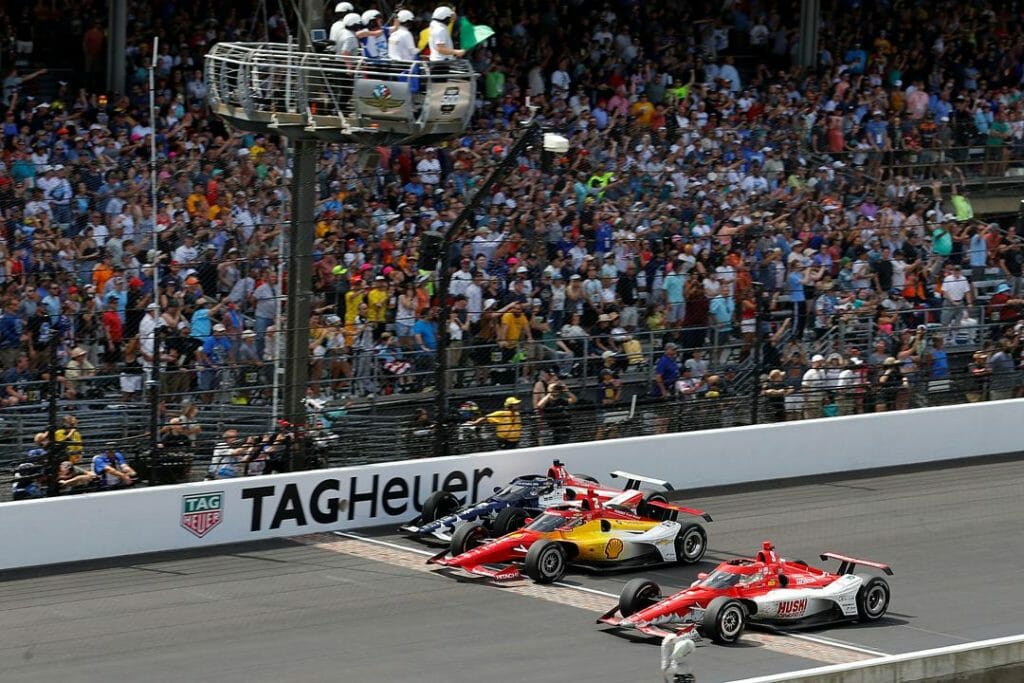 They audit the order so that Marcus Ericsson, who was in front by inches at the time of caution, inherits the lead. Normally, it takes 2 laps to restart a race, one to get the field onto the track, and another for the "One to go" signal. Normally, we'd be out of time, and the race would finish under yellow. We skipped that step here and went to green at the first time of asking. 
Before anyone raises their pitchforks, yes, this is in the rulebook. They can do this. But should you? You want to reduce a 500-mile race, the biggest one-off race maybe in all of Motorsport, to a 2.5-mile sprint where you know all the drivers will take enormous risks to win on cold tyres.
By the letter of the law, this wasn't an Abu Dhabi 2021, F1's great unspeakable yet very speakable travesty. But it was pretty fucking close and with the added danger involved in a 225mph oval you could argue in some ways, it's worse.
I've said it before, and I make no bones in saying it again – IndyCar has always had a bit of a little brother complex in comparison to F1. It loves to punch up at many of F1's problems. If you're going to copy F1's homework (Which they have in areas like 100 Days to Indy), why get dangerously close to ripping out the dirtiest page of their book?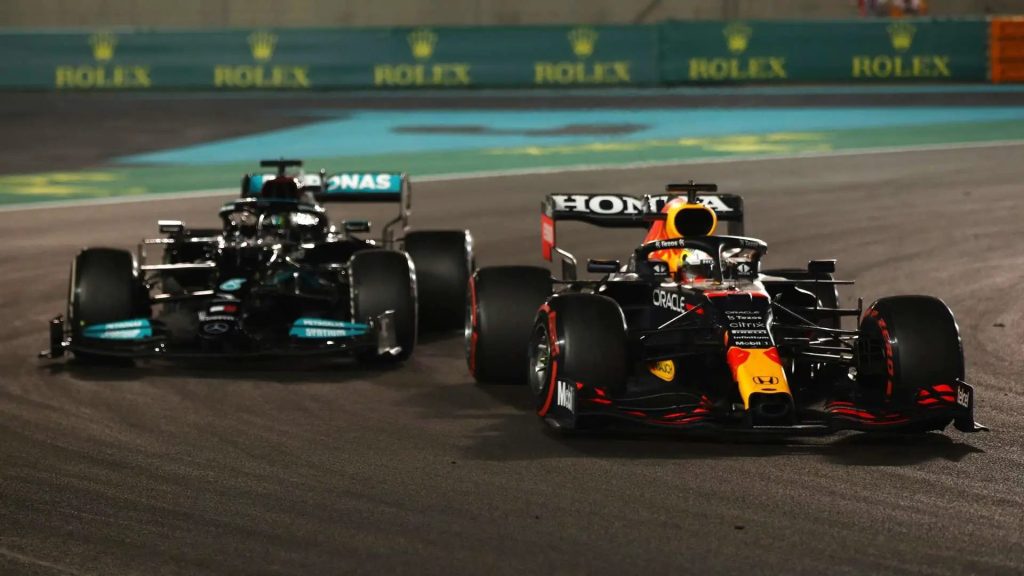 F1 fans never agree on anything on social media, but we pretty much all came together to denounce that finish as bullshit, and this was very, VERY close to that. And as much as I know Roger Penske doesn't own a golden gavel and can make the big calls at Race Direction (And man that would have been a look when you own the series, track, race, team and car with the best chance of winning), but the change in mentality regarding how this race was officiated is eyebrow-raising and questions need to be asked. 
Why did Race Direction feel the need to dust off a rule that hardly ever gets used for a dangerous, 1-lap dash for the cash, when just three years ago you weren't prepared to stop the race to fix the barrier and let Takuma Sato coast around with five laps left to win in 2020? What changed?
If Abu Dhabi 2021 should have taught the world of Motorsport anything, it should be that blindly chasing entertainment at all costs can have serious, integrity-altering consequences. It's okay for a race to end under a yellow flag. F1's had two in the last two seasons when it's only had 11 EVER. IndyCar's greatest recent race in years, Texas, ended two laps out under yellow, and I don't think anyone's slapped a black mark against it. IndyCar is great enough to stand up on its own two legs. Its community will be the first to tell you that. It doesn't need to manage a race like F1 does for the Greatest Spectacle in Motorsport™.
The Not-So-Lightning Round
Rinus Veekay finally had a decent 500. Shame he had to plough into Alex Palou coming out of pit road, harming both of their races. Especially given they had arguably the two fastest cars of the whole race. Amazingly, with how it all shook out, Palou still ended up 5th (Fucking sorcerer), and Veekay 10th. Glad the Dutchman apologised for a silly bit of driving.
Speaking of which, Pato O'Ward. Pato is now arguably the most popular man in the series. He has a crew of fans everywhere he goes, he has crossover appeal with the Hispanic community and he is box office to watch. You know me, I gush about this man. But I fear he's getting high off his own supply. It's amazing that with 8 laps to go on what we thought was the final restart, it was Pato O'Ward vs Marcus Ericsson for the win and this time Pato ignored the business decision and went for broke on Marcus and spun himself into the wall. With 7 laps to go. From second. On fresher tyres than most of the field.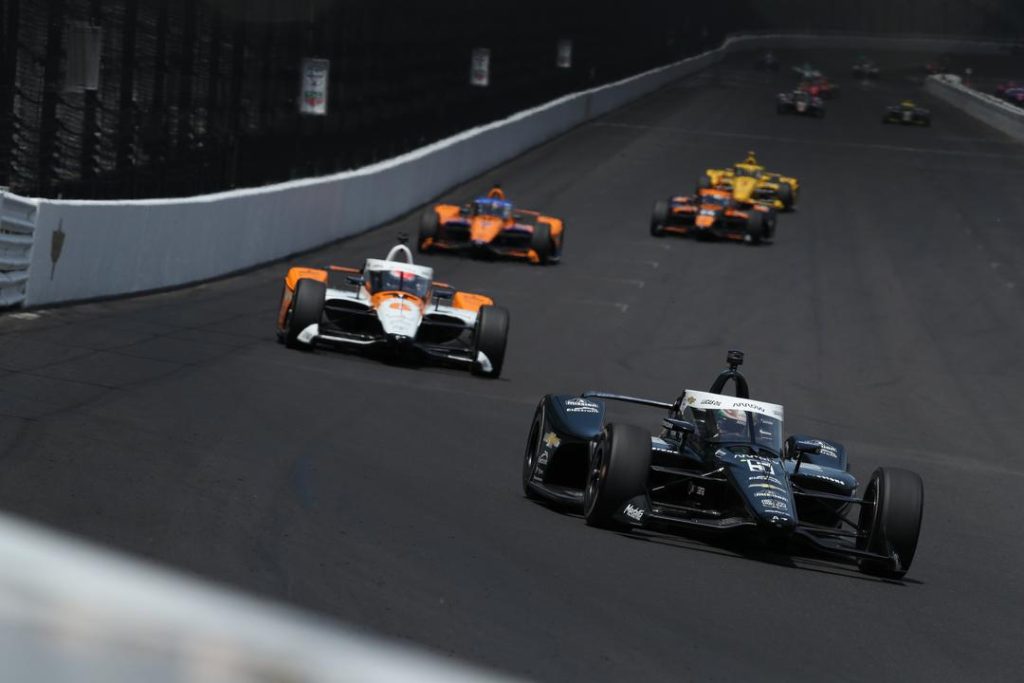 And then he has the audacity to get on TV and say he needs to be more aggressive?! Pato, if you're reading this buddy… your 2023 has been immense. Championship calibre. Except for the two rounds where you went over the top and committed reckless passing attempts. And you want to race harder? Bruh, you need to go the other way, because Pato's poor decision-making is an element as to why he's not won either major honour in the series yet.
Speaking of popular names… Santino Ferrucci. This is getting ridiculous. What's annoying is, he's a superb oval talent. Proved it in IndyCar and in NASCAR's Xfinity Series. He was one of the most consistently excellent runners across the two weeks of Indy 500 prep. But he also nearly caused a hellacious wreck with Alex Palou on the final lap. Off the track, the way the series talks about him is toe-curling.
Townsend Bell is the biggest offender, but hearing Danica Patrick gush about this kid was infuriating. The broadcasters know exactly what they're doing. They want him to be the young All-American mascot, even more so in an American-branded car, owned by AJ Foyt, one of the most charismatic and beloved figures in US Motorsport history. (Especially given his wife's tragic passing just a month ago, and having not won a race in a decade)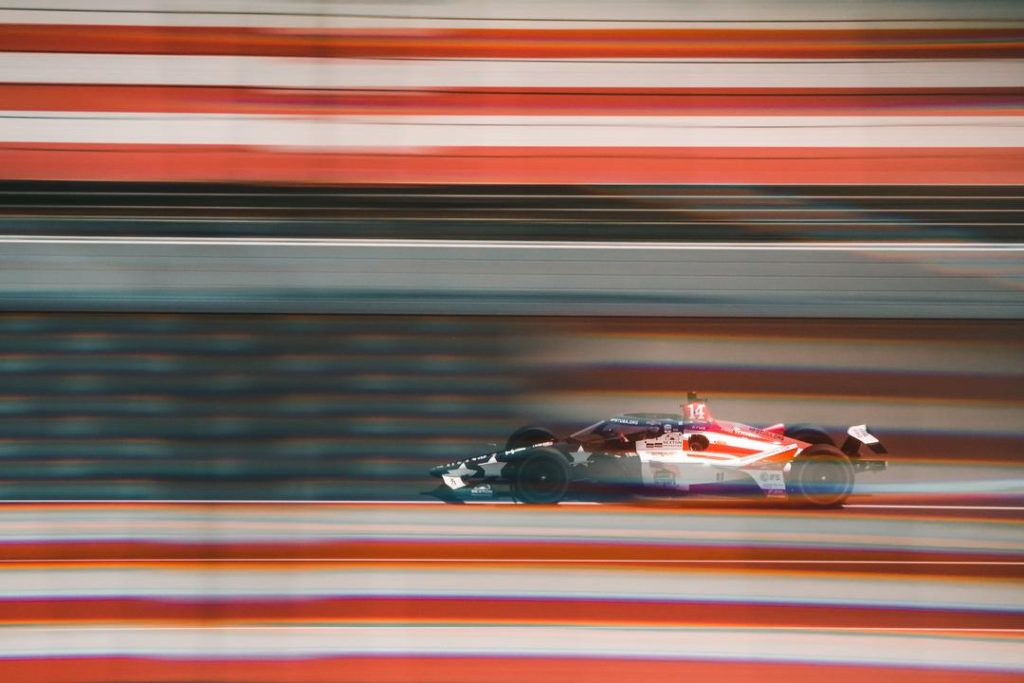 I need to remind many people watching that Santino doesn't give a flying fuck about this series. He was a mediocre F2 driver who was infamously banned for two weekends for deliberately driving into his teammate Arjun Maini. His other offences included having a mobile phone in his car and driving with only one glove on.
There were rumours that the harassment that Maini suffered in F2 by him and his father was racially motivated. He skipped all the steward hearings regarding his actions, has openly said he doesn't regret them and pushed to try and put Donald Trump's "Make America Great Again" slogan on the side of his car. He was booted out from Trident with the team threatening legal action against him.
IndyCar, is this the man you want to be the unofficial mascot of your series? I genuinely fear the series is already very lax with questions about problematic people (Juri Vips recently tested and Kyle Larson is at the 500 next year), but when you're actively squashing dialogue around why he's here in the first place, you're spitting in the face of your audience's intelligence. Even more so when you've got your American star talent already at the top of the sport and have done for SIX YEARS already. Props to James Hinchcliffe, who's called a great 500 weekend, for being one of the few people in the booth who aren't intoxicated by this douchebag.
I genuinely thought Felix Rosenqvist on the day might have been favourite. His car had been rock solid all fortnight and was constantly in the Top 3 the whole race. And then he checks up and crashes. Remember how I said Jack Harvey potentially being bumped was career-defining? That might have been the moment for Felix…
…And thank goodness that not only Kyle Kirkwood, who was caught up in the crash was okay after being flipped upside down (Thank the aero screen), but thank heavens the tyre from his car that got launched over the catch fence DIDN'T end up in a grandstand as it would have almost certainly been fatal, like the U.S 500 in 1998 that killed three spectators. I'm glad it ended on somewhat of a feel-good story but in any case, it's going to need more than that little box on the insurance claim.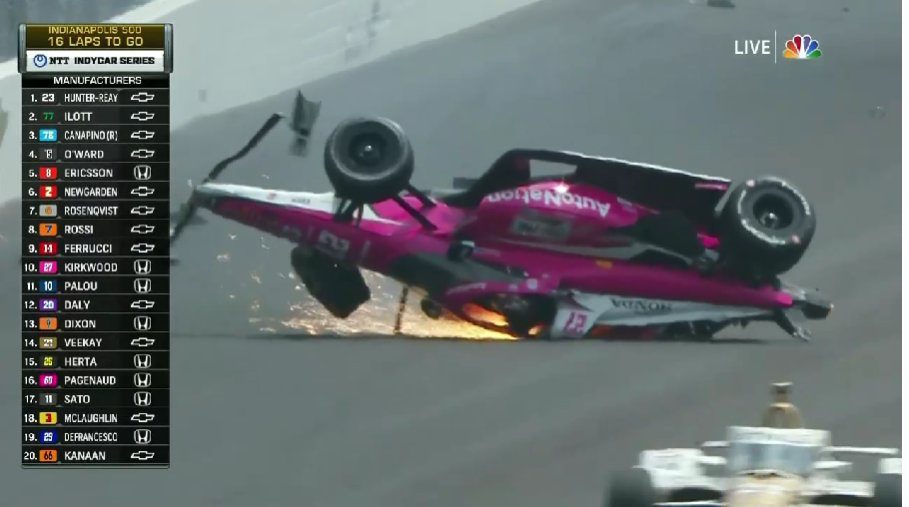 So Katherine Legge wrote off a chassis by accidentally hitting Stefan Wilson, cracking his back and putting him out of the race, and Graham Rahal got back in the #24 car… only for it not to start properly, causing him to lose two laps. And then Katherine loses control of her car leaving her pitbox and hits the wall. Did ANYTHING go right for RLL this fortnight? It's alarming that Lundgaard finishing 19th was a decent damage limitation job for the flickers of his title campaign.
It wouldn't have been Tony Kaanan's 389th and final start in Indy/Champ Car without one last incredible highlight and him going four wheels on the grass to pass Scott McLaughlin during the race was one of the most sensational passes I've ever seen in the Speedway's history. It was the stupidest move I've ever seen, and it was incredible. And if you get a chance, listen to his final interview with NBC. It's beautifully said, and Tony, I promise you, you absolutely have made a difference. It's been a pleasure to watch you.
Dre's Race Rating: 7.5/10 (Very Good) – Was this an all-time classic 500? No. This took a good while to really get going and the action dragged with those three unfortunate red flags at the end. And a finish that came dangerously close to damaging the integrity of the series is one where I feel IndyCar needs to reflect on what message it wants to send out about itself. And even ignoring that, some of Newgarden's moves at the end were outrageously dangerous to the point of kamikaze. In every sense, this series is flirting with danger and needs to be careful. But it's much easier to say that after it's happened. See you in Detroit next week.