Well… That was dull. Look, I like to think I'm a reasonably entertaining writer when it comes to Motorsport as long as I have the material for it.
I got nothing here. Francesco Bagnaia won a snoozer via a Grand Slam and minimal action outside of both Marquez brothers hitting the deck. Let's try and draw some blood from a stone here.
Bagnaia's Barbeque
Ducati took a 1-2-3-4 in the Grand Prix and a Top 5 lockout in the Sprint Race. Y'know just in case you were under any illusions as to the state of the sport right now. More on that later.
Yeah, Pecco was absolutely untouchable once he hit the front. Jorge Martin and Johann Zarco were close but when Bagania's in full song and upright, he is virtually unstoppable in a time trial race. Once Miller was passed early on after his great holeshot, no one could touch him.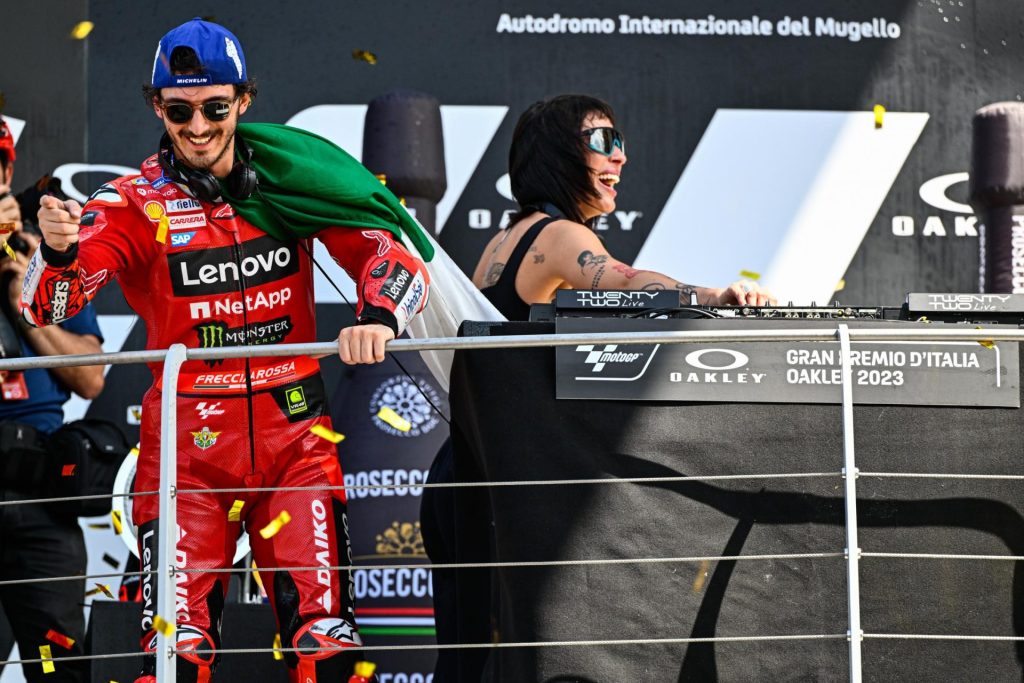 In our M101 Discord, there's been a lot of back-and-forth dialogue about what kind of front-runner Bagnaia is. It's actually kind of amazing that he may be better when he has another bike within a second of him because it helps him focus. There's still some fear about him in this position because he has binned it so many times, but weekends like this one will certainly case that aside, especially after blowing up at Marc Marquez again for no reason during Qualifying. Apparently coming out of the pits seconds ahead of a guy is mind games, depending on who you ask.
It makes the petulance actually kind of frustrating when you can see what he's capable of. No wonder Bagnaia took the page out of his mentor's book with a fancy celebration via a Barbeque, because he just cooked the field and took control of the Championship again. Speaking of which…
Who's The Second Best Rider in The Championship?
Genuine question here. Look at the state of the field right now tripping over each other's fairings at every opportunity. If Francesco Bagnaia is that guy as the rightful favourite, who's his Number 1 contender? Let's weigh up the options:
Anyone on a Honda or a Yamaha: Seriously?
Any Aprilia: Quickly becoming the biggest disappointment in MotoGP this season. They lost their concessions going into this season and it looks like they've felt the pinch. Aleix Espargaro is bruised and battered as he struggles to find his 2022 form. Maverick peaked in Portimao and hasn't come close since. And both RNF riders have spent more time on an operating table than a track. Nothing here.
KTM: Their operating window is clearly narrower, but still not consistent enough to be a long-term threat. Binder's excellent in Sprints and Miller's been fine so far but neither feel like they've taken that next step towards title contention. Great for Top 6 betting markets, not for beating Pecco. We don't speak of Tech3 here.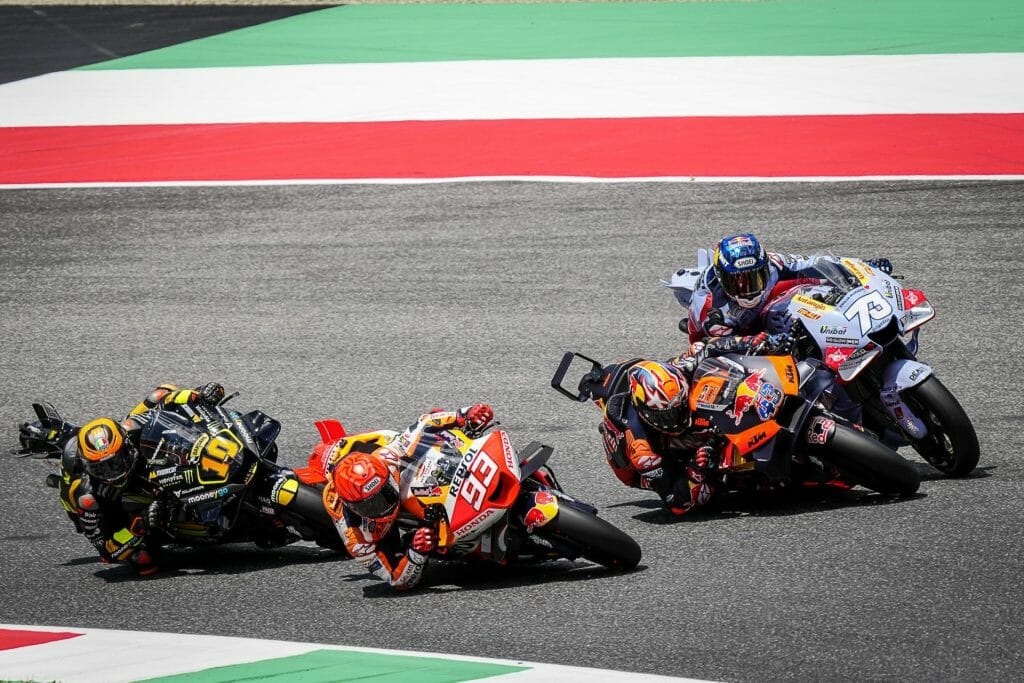 That leaves Ducati. Diggia is tracking to be out of a job by year's end with some genuine Moto2 prospects ready to take over (Arbolino, Salac, Lopez, Canet, etc. We know Acosta is virtually nailed on). Alex Marquez has been very unlucky but that's Motorsport for you. Enea Bastianini needs more time to recover from a hellacious injury that's written off an entire season before it got started.
This looks set to be the Luca Marini breakout season but ultimately needs more, especially when his teammate has taken that step… sort of. Marco Bezzecchi has been exceptional at times but has also spent half the season blowing cold in pack battles, like 8th today in Mugello and crashing in Jerez from the midfield. If you're going to do that in this climate, the days you see the flag, you'd better be winning like Pecco is.
Johann Zarco is a very fast rider, often the fastest man in the field in the back half of races on used rubber. But he gives away so much as a slow starter, he feels more like Maverick Vinales with a higher floor but a lower ceiling. Mugello was his 18th top-flight podium without winning. Love his ability, but at some point, you have to win.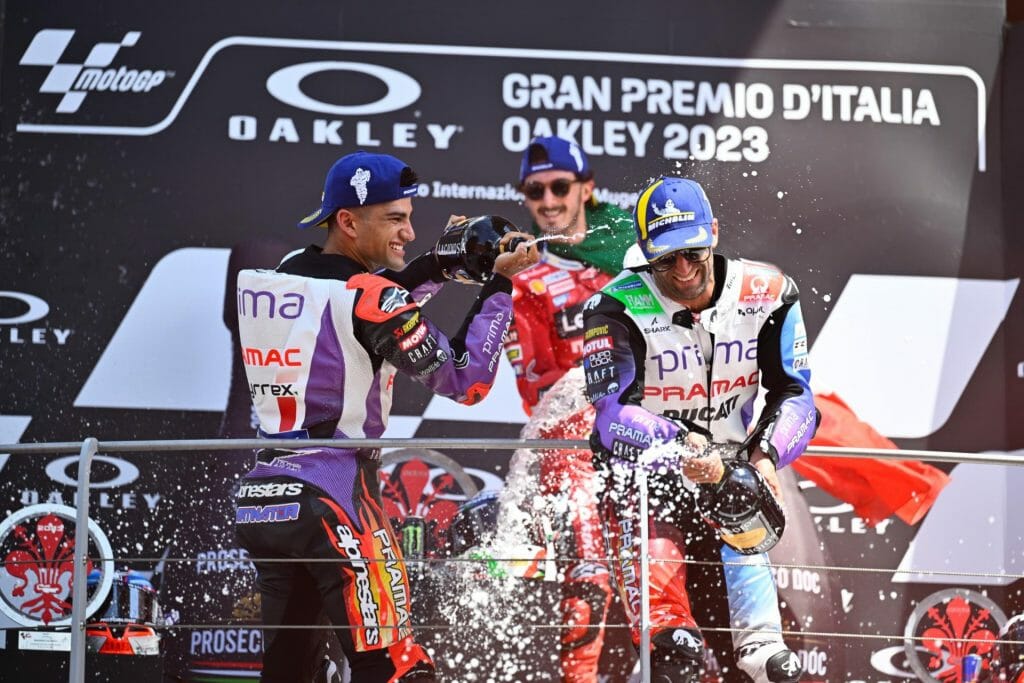 I actually think Jorge Martin might be your best shot here. He's the only man in the field who has proven he has the pace to stand shoulder-to-shoulder with Bagnaia. But he needs to prove he doesn't have that sour case of the dropsies that both he and Bagnaia have suffered earlier in their careers. He's been better with this so far this season, but can he keep this up over the most extended, toughest MotoGP season we've ever had? And can he beat Bagania in a straight fight consistently? Bastianini had his moments last season where he proved he could. Martin? Not yet.
If that's your best shot… Bagnaia will blow this field away while everyone else gets tangled up trying to figure it out.
Everything's (Not) Coming Up Honda
At this point, I could go into another 1,000-word rant about Honda. But why bother? The horrendous Mugello weekend did a better job describing it than I ever could. Joan Mir's 12th crash of 2023 put him out of the weekend with a hurt finger. Then Alex Rins suffered a horrible crash in the Sprint, breaking his leg in multiple places, and potentially putting him out until at least the Summer Break, and probably longer than that.
When Marc Marquez crashed early on chasing Luca Marini for the podium, sliding out on the outside of Bucine, he looked at his dead Honda like he needed divine intervention. Once again, they leave a round with zero points to their name. With Yamaha barely in the Top 10, Suzuki dead again and Jonathan Rea openly critical of Kawasaki now the titles have dried up, the entire country's biking programmes need putting in rice.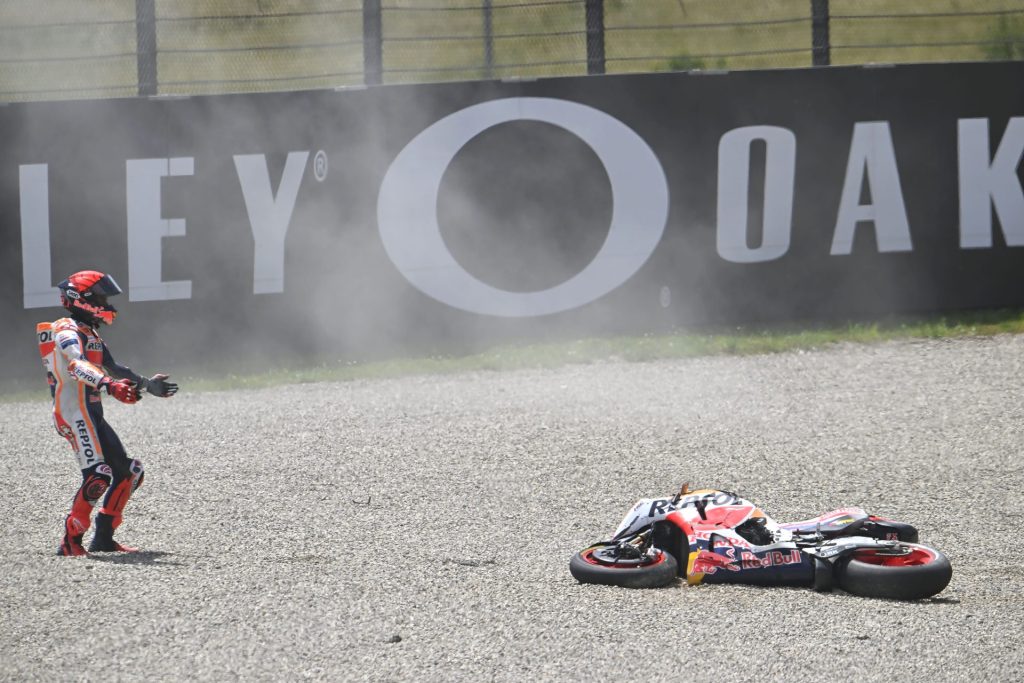 And now we're in a situation where both sides of the aisle are at an impasse. Honda probably can't blow this entire bike up and start over because they're so invested in Marquez and the risk of him leaving that he probably won't want to wait around for 2025 when he's wasted four prime seasons already. And no one else from Jorge Lorenzo since has proven they can win consistently at even close to his level. And if you're Marquez, there's only one competitive package in the paddock worth riding for… and Ducati doesn't need him. Everything else is severe question marks.
Something has to give. This is a factory in crisis and drastic action needs to be taken, Kalex chassis or not.
The Lightning Round
Deniz Oncu dominates the entire Moto3 weekend, qualifies on pole by half a second, tries breaking the field in the race… still finishes second. What does he have to do to win one of these?
Brad Binder rode a MotoGP bike during the Sprint Race at 227.5mph. Just how fast IS one of these things in a straight line?
Delighted ITV are continuing to get some MotoGP races on ITV1, but could they actually y'know… promote that fact? I scream it from the heavens every time, but you're not getting British fans to watch you behind a £30 a month paywall.
And if it seems like I'm being harsh on Honda, chin up – They're still 15 points ahead of Yamaha. Crashing generates more headlines than finishing 8th every weekend.
Dre's Race Rating: 3/10 (Poor) – The brief fight between Marini and Zarco was the only action worth watching here. Everything else was our own brief eyebrow raises over a Marquez brother contemplating their life choices in a gravel trap. They can't all be winners. See you in Germany. Get well soon, Alex Rins.