"The Sun will come out tomorrow. Bet your bottom dollar that tomorrow, they'll be sun!" – Rest In Peace, Matthew Perry
It's funny how this sport works sometimes. I hailed the Australian Grand Prix at Philip Island last week as the best MotoGP race of 2023 after Johann Zarco stole Jorge Martin's lunch money on the final lap. It defined two things for me. First, even with the least race-able bikes in modern history, PI could still produce a classic that brought the field together. And that Jorge Martin had failed a critical test of his World Championship credentials taking a needless gamble he was just on the wrong side of.
Then Thailand happened. And boy did that blow everything out of the water.
Clutch
When it really came down to it, only four men could have really won this race, and one of them took too long to clear the traffic, and that was Marco Bezzecchi. The dynamic of this race entirely changed when Alex Marquez put a wheel on the curb and crashed from third.
Jorge Martin was trying to get away from the leading group, but this time he couldn't do it. He had Brad Binder on him like a hot rash. And behind him was Francesco Bagnaia, who took his time to clear the busy leading group of Aleix Espargaro, and the Marquez brothers, the older one he nearly hit in an intense fight. Once we got settled into that dirty air period, it became clear where the riders' strengths and weaknesses were and it made for a fascinating fight.
Jorge Martin was braking stupidly late into the sweeping Turn 3-4 double apex and Turn 5 left-hander in Sectors 1-2. But Binder was so much faster in the more technical third sector and that's where he hassled Martin into a pass and for the South African to lead three laps down the back end. But Martin was so good, and when it mattered most, held his nerve.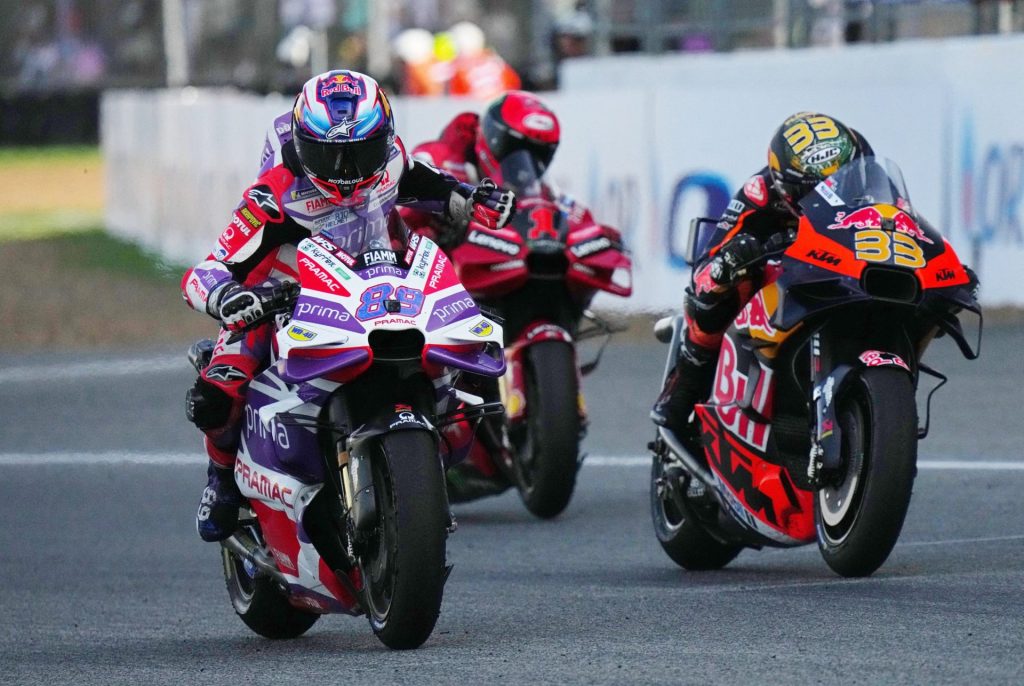 Think about the micro of this three-way fight for the win and the greater title fight. Martin had yesterday won his fifth consecutive Sprint Race, turning Bagnaia's earliest title strength into a weakness where the Italian is now haemorrhaging points for his lacklustre qualifying and lack of aggression, something the format plays into. 
And yet, during the race, with just three laps left, Pecco tries the most audacious of double pass attempts around the outside of the final corner, where Martin had to let off the throttle and let the bike drift to the edge so Pecco couldn't come through. The gap in the title race could have sung from -9 to -22 depending on how that Top 3 shook out. 
He failed the test in Indonesia. He failed the test in Australia. This time, seeing the potential scare from the man in the red, and Brad Binder, the man who had mathematically been knocked out of contention 24 hours prior and with nothing to lose, Martin went for the win. And he got it with a perfect final lap where he didn't give Binder an inch of room to make a bullish pass. He nailed it. For me, it's the biggest win of his career to date.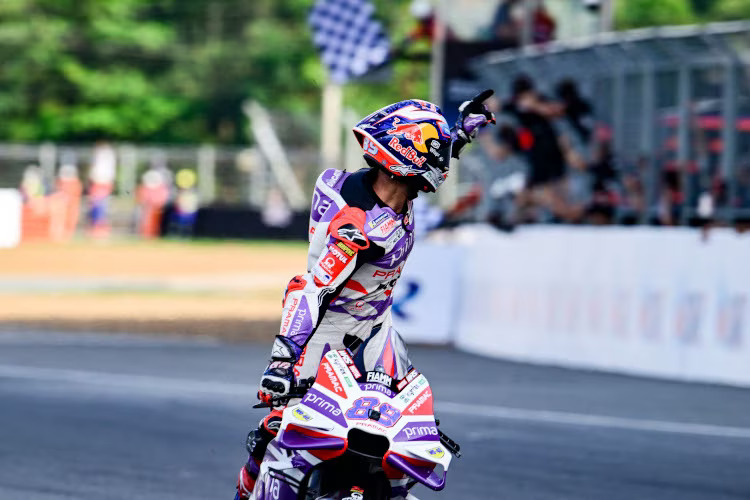 I'm not entirely convinced Martin was the strongest rider out there, given Binder's clear strengths in places, and Bagnaia being in range, and probably using too much of his tyre to get back to the lead group. This was an old-school, dogfight win for a man who's made a career out of winning via sheer, overwhelming speed. Martin had to use racecraft and execution to win this one, and it's a sign he HAS evolved as a rider.
I've often used the term "Championship moments", like with Bagnaia and his double podium in Misano just a week after being run over in Catalunya. Martin's might be this weekend in Buriram. Off the back of a fortnight of justified criticism, we're back where we were after Motegi, with Bagnaia now on the brink of being forced to ride more aggressively and take more risks. In the current racing climate, if Martin keeps it clean, Bagania's current form isn't sustainable.
The sport takes a week off next week before the final Triple Header of Sepang, Qatar and Valencia. I think if either man gets two out of three, they leave Cheste as World Champion. The final chapter of this subtle, but epic title fight is truly about to begin.
The Lightning Round
No, but seriously if Bagnaia had pulled off that double overtake at the final corner, I think you would have had to peel me off the ceiling. The balls on that Italian are not to be questioned. 
And at what point do we start asking genuine questions about Enea Bastianini relative to the title contenders? It's been a forgivable and rough season, but yeesh. Also, Davide Tardozzi did NOT look happy about Bagnaia getting beaten over the line there…
We also got the first post-race penalty for tyre pressures, with Aleix Espargaro dropping from 5th to 8th for his second offence. And one to keep in the back of your head – Jorge Martin got his warning for also going under. Expect to see this more often as MotoGP bikes are starting on essentially flat tyres due to the excessive heat and the fact they swell like a mo'fo when following people.
Brad Binder's such a nice bloke, he gave Francesco Bagnaia four points for free after going wide on the final lap and breaking track limits. The third time he's done that this season. Come on Brad, get it together!
PECCO BAGNAIA ALMOST PULLED OFF THE IMPOSSIBLE! 😱

LAST LAP! 🚨#ThaiGP 🇹🇭 pic.twitter.com/WDHD4kYkNO

— MotoGP™🏁 (@MotoGP) October 29, 2023
Maverick Vinales parked his bike because the heat was too excessive. His teammate Aleix Espargaro said he felt like he was going to die. I'm adamant from F1 in Qatar and I'll keep hammering this point home, we probably shouldn't be racing in environments where it's 30+ degrees and 70%+ humidity. Motorsport's role in Climate Change becoming a bigger part of our immediate world and is going to come up more often. Listen to me now, believe me later on.
Buriram needs more flowers in general. A fantastic circuit that balances the strengths of bikes, encourages close racing and has a brilliant atmosphere and fanbase. Few tracks on the MotoGP have produced bangers as consistently as they have since coming onto the calendar. Speaking of which…
Dre's Race Rating: 9 (Outstanding) – Philip Island being the Race of the Year lasted eight days. This was an incredible race. A chippy, intense and aggressive start that settled in but ramped up again at the end with a brilliant fight for the win. And Bagnaia almost pulled off the pass of the decade. Phew. I need a break. See you in Sepang.