"The Vibes Were Off."
Round 12 of the MotoGP season had the sport travel to Misano for the last round before the flyaways really kick off, and this was… a strange weekend. A weekend where a lot of the rides individually were impressive, but the sum of its parts led to a dull race. Lemme get into how we got here.
An Impressive Procession
This was a race where individual brilliance shined brightest. If you break it down rider-by-rider, you can see for yourself hope it all broke down. Let's go "Through The Field" in the style of those IndyCar mid-race breakdowns…
Jorge Martin (Double Winner) – Without question, his most complete weekend in MotoGP. He broke the lap record in practice. He out-qualified the field by nearly four-tenths of a second. And no one could touch him at the front of the field.
Every time someone tried to turn up the pressure, Martin resisted, and as Bagnaia and Bezzecchi tripped over each other, Martin got his head down and left them all behind. A brilliant performance to take Martin within a weekend of the points lead. Can he finally put together a run where he can challenge Bagnaia more frequently? He's not going to get a better chance than now.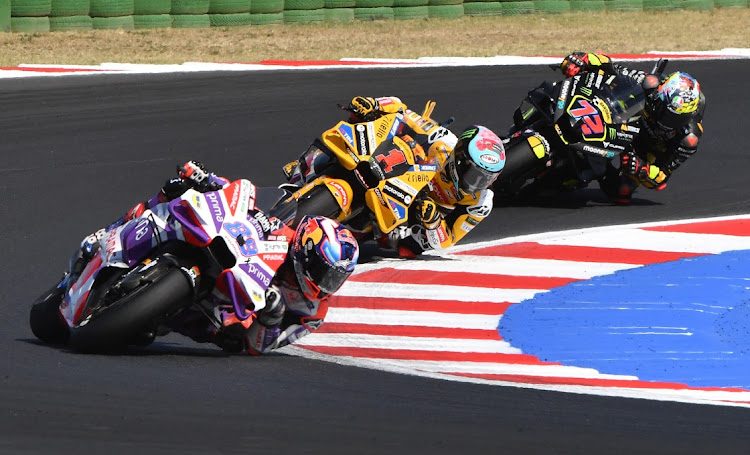 Marco Bezzecchi (2nd) – Bez was an under-the-radar victim of the horrendous Catalunya pile-up, riding in pain due to mangling his hand. But his pace was excellent, no surprise VR46 academy rider on essentially his training ground. The problem for Bez was, this was one of his strongest weekends of 2023, and yet he didn't really take a huge amount of points out of his good friend, Pecco. -55 is going to be a mountain to climb with Bagnaia riding in the form of his life.
Francesco Bagnaia (3rd) – Remember, the man was run over by Brad Binder last Sunday. Four days later he was cleared to race. He could barely walk all weekend. When he finished 3rd in the Sprint, he had to lower the ride height device on his Ducati just to be able to climb off it properly. And yet, he was almost as fast as he always was. His pace dropped a tad as the adrenaline wore off mid-race but recovered well to survive against the man in fourth at the end. A 32.0 on his 20th lap, with a leg that had to have been in agony was an incredible effort. If Bagnaia wins this Championship, this will be the weekend we'll likely remember most.
Dani Pedrosa (4th) – Another wildcard for the Hall of Famer and an even greater performance than Jerez. Pedrosa is still so good. He's walked into Misano and immediately been better than both of their factory riders. In a cruel ironic twist, Pedrosa was brilliant but not quite brilliant enough to beat the reigning World Champion on two occasions to get a podium. Damnit. But it was another showcase of just what Pedrosa means to KTM. He knows how to get the most out of a motorcycle and the KTM is where it is today in large part to him and Mika Kallio in the back. It's no coincidence his team gave him two standing ovations. The second oldest rider to ever finish a MotoGP race in 4th or better, at Age 38. Outstanding.
Miguel Oliveira (6th) – Finished just a couple of seconds behind Maverick Vinales on last year's Aprilia, and the third Top 6 finish in the last four races for the Dentist. Hopefully, this is a sign that Aprllia has continued to find some form and that even on last year's bike they can be competitive. More on that in a moment.
Marc Marquez (7th) – How the hell did he pull this one off?! That Honda is a weapon of mass destruction, and Marquez was on a soft rear tyre, trying to cling on at the end. Even if the worst-case scenario happened, 9th would be a damn good recent given Honda's recent form. 7th is house money and he finished 22 seconds ahead of anyone else on the same bike as him. Class ride from the man who's needed a boost.
Raul Fernandez (8th) – Good on Raul for beating Miguel in the Sprint and then following it up with his best MotoGP ride to date in 8th place. It's been a premier class run of frustration so far, with arm pump, team drama and politics all standing in the way of seeing what Raul could do on a MotoGP bike. Maybe this is a sign his best is still yet to come.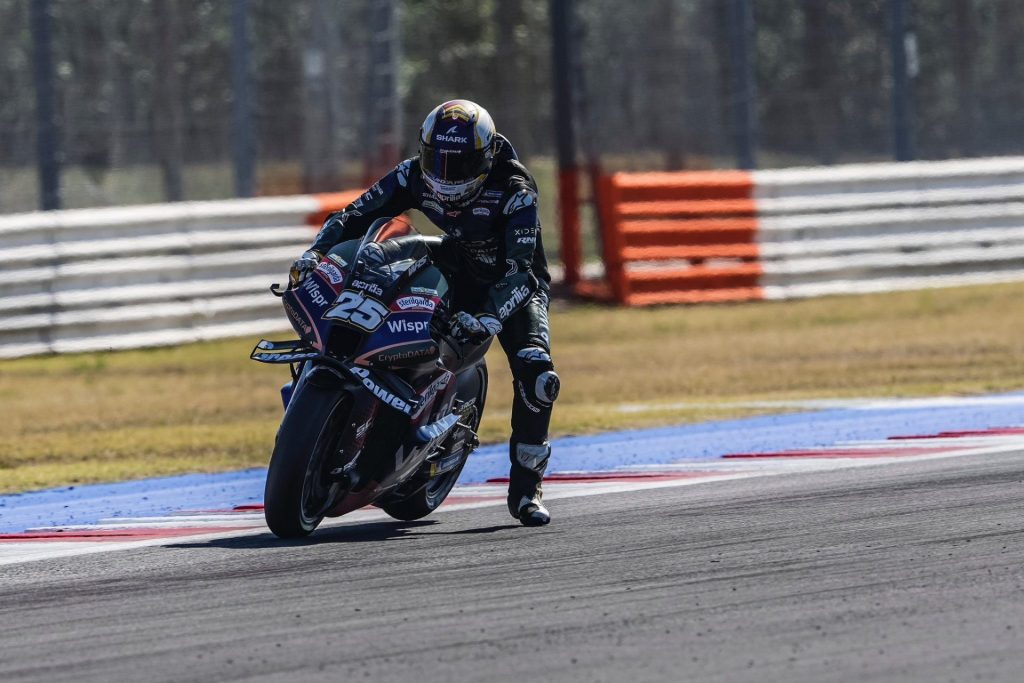 And yet… despite all of this, the race itself was early pressure that dissolved into general boredom by the end. We only had four overtakes amongst the Top 6 across the 27-lap race (Cheers, Race colleagues), with passing rendered virtually impossible barring minor mistakes opening the door. Misano is a highly technical, low-speed track, so the days of 2019 (The Marquez vs. Quartararo classic), are seemingly gone.
"In this circuit, it's two things. You overtake like Binder yesterday, that all the overtakes were on the limit – but good, very good overtakes, was very impressive to watch, because it's so difficult what he did. But, you overtake in that way or it's impossible to overtake.
"For example, last three laps I was riding 33.0 and Marini was coming 32-lows, 31.9, I saw the papers. I just defended and was impossible to overtake me. So, yeah, in the end with the aero – but these will be the rules until 2027 so we need to keep going. They did it, they allowed to do it, so everyone is going on that way."
Aleix Espargaro describes Luca Marini having an extra SECOND lap in pace and not having enough of a delta to pass. Yikes.
Not sure the sport can call itself the best in the world of Motorsport when it keeps producing dramaless races as the norm.
What is Honda?!
Seriously, the Honda camp is getting more and messy by the day. Marc Marquez has seemingly decided to troll the everloving shit out of the Spanish media by using Barcelona and Messi memes, as well as teasing people about the possibility of a Gresini move.
Speedweek (Red Bull-owned publication), had Guenther be the first to pop his head above the parapet, but as the weekend went on, as a fringe member of MotoGP's media, it was funny seeing how much people were trying to walk it back. It makes me wonder if people were reporting this based on what they wanted to see, rather than what they realistically think will happen. I personally don't buy Marquez pushing so hard for an early escape before at least trying the 2024 Honda tomorrow for the official test.
But there was more weird shit too. Honda had Stefan Bradl test parts of the 2024 Prototype during the weekend, but then Marquez and Mir weren't allowed to look at the data. Does Honda genuinely think either rider may leave with their secrets? Whatever it is, Honda looks messy AF, and there's clearly a bloodlust for answers.
The Lightning Round
Rest in peace to the great Mike Trimby, the founder and the CEO of the IRTA. I openly admit, as a younger fan, I'm not going to fully appreciate what Trimby had because his legacy is what's made bike racing what it is today. It's been warming to see people who have been in this game so long talk lovingly about his actions in terms of rider safety, prize money, paddock facilities, TV broadcasting collaborations and so much more. We a lot of what MotoGP has become, thanks to Mike. Thinking of Irene and the family.
Franky Morbidelli beat Augusto Fernandez for 15th and is the last man in the field left who's scored points in every round this year.
Is Jack Miller riding himself out of a job? For the second time in four rounds, he's looked horrible out there for KTM. Ran bottom 5 and to top it off, was taken out by Michele Pirro in the race. Hopefully, fatherhood will add some form.
Holy heck, since when was Pramac 41 points clear in the team's standings?! Honda's off the bottom of the constructors too! Madness.
Dre's Race Rating: 5 (Mid) – Sometimes you get those tense kinds of races where you sit there hoping for a dramatic finish. This was not one of those occasions. The sport still has the same highlighted problems we've mentioned before. Dirty air and massive deltas needed to pass and in the end, Martin won comfortably. The riders were brilliant. But they're not the problem here. See you in India. Maybe.