"…The fuck was that?"
Erm… wow. This will be a weird Laguna Seca Race Review. As it stands, this will be the final time Laguna Seca will be run as the series finale, as Nashville will take its place in 2024, with Monterrey rumoured to be moving to March in the Round 2 slot to break up that obnoxious gap to start the season. Ironically, the racing gods decided that this round was going to steal Nashville's cautions and turn the season finale for IndyCar into a hot mess. Let's get into the IndyCar series finale.
CAUTION
Warning – This will not be my usual style of Race Review. To do so would give me a colossal headache again. So I'm going to break this down by all the incidents that made the race what it was.
I'm not going to beat around the bush here. Laguna Seca had EIGHT cautions in a 95-lap race that went 137 minutes. Amazing given the track is barely a minute-long lap. So, how did we get to the end of this race? Well…
Caution One (Lap 1) – Complete Chaos on the opening corner 
We got a six-car pileup into the opening corner. Colton Herta might have jumped the start but wasn't penalised for it. Christian Lundgaard loses control at the apex as he put a wheel into the dust and clattered into Scott McLaughlin, which led to him taking a joker lap through the grass. Behind, we got a messy three-wide as Josef Newgarden was outside of Turn 1 after the Lundgaard collision, and then got completely wiped out as Marcus Armstrong backed out of a chokepoint, hitting Graham Rahal on the way out, who then spun into the side of teammate Juri Vips, who then hit Newgarden again into the gravel.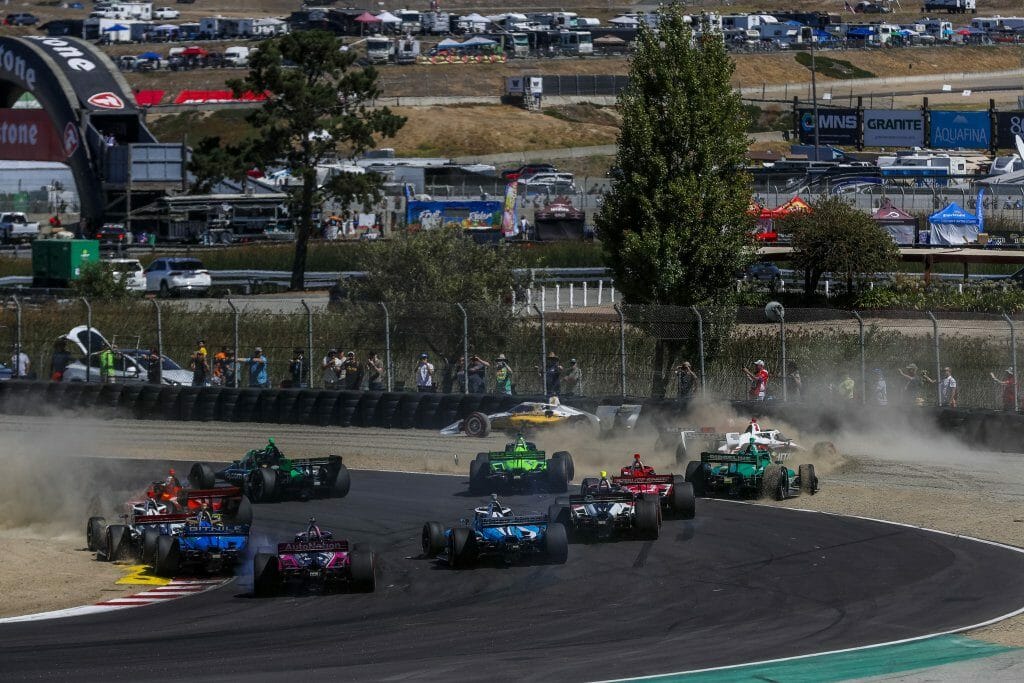 In a completely separate incident, Herta clips Scott Dixon on the exit of Turn 1, Dixon loses control of his car and clatters into the side of Rinus Veekay. Lundgaard and Dixon both get Drive Through Penalties for Avoidable Contact, and we eventually get going again on Lap 6.
Caution Two (Lap 8) – Josef Newgarden spins out
Pretty self-explanatory this one, a recovered Newgarden, now two laps down, spins out on his own at Turn 4 and ends up in the wall. They fished him out shortly afterwards.
Caution Three (Lap 29) – Sweden-On-Sweden Crime
Marcus Ericsson dives down the inside of Felix Rosenqvist at Turn 1, wiping the McLaren pole-sitter out. Felix is able to briefly recover but his car is broken and beached in the Turn 2 gravel trap, while Ericsson stalled on the outside of Turn 1. Ericsson is hit with a back-of-the-grid penalty for Avoidable Contact.
Caution Four (Lap 36) – Botched Restart #1
Dear IndyCar, don't raise the Green Flag until the majority of the field is around the final corner. Here's why. The final corner is another nasty bottleneck where if someone gets it wrong, several cars will know about it. This time, Will Power hits Benjamin Pedersen into a spin, and Callum Illot and Helio Castroneves are caught up in the middle of it. Meanwhile, Santino Ferrucci pulls off a miraculous save after being checked up by Scott McLaughlin. Both he and Will Power take Back-of-the-grid penalties for Avoidable Contact.
Caution Five (Lap 58) – What The Devlin
David Malukas tried to pass Devlin DeFrancesco. They're side by side into Turn 3, David gives Devlin all the room in the world, and Devlin loses control of the rear and goes straight into Malukas' side pod. Devlin got into gearbox trouble as a result, was painfully slow down the stretch and eventually dropped to 22nd. Remember that, it becomes important later.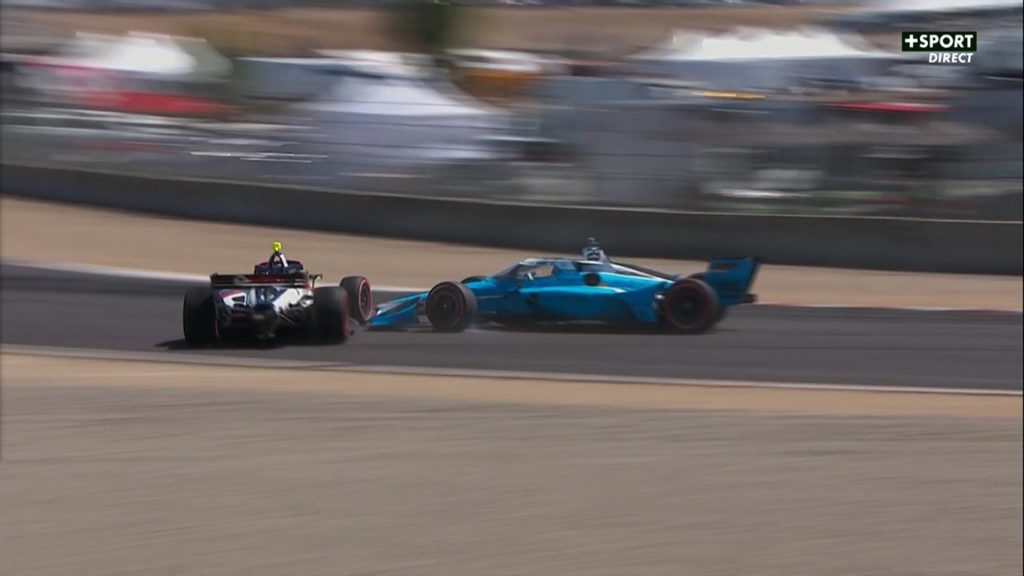 Caution Six (Lap 63) – Botched Restart #2
Oh dear, it happened again. This time, Tom Blomqvist and Santino Ferrucci both go into the final corner way too hard, with the American going over Alex Palou's car before coming to a stop. My patience was wearing thin at this point.
Caution Seven (Lap 68) – Botched Restart #3
A hat-trick! This time, Marcus Armstrong tries to go the long way around Turn 11, only to be spun out by Benjamin Petersen and Ericsson hits him after having nowhere to go.
Caution Eight (Lap 75) – Oh Helio…
And finally, on Lap 75, Helio Castroneves spins out in Sector 1 for the second time in the race (He already nearly took out Alex Palou via rejoin after spinning out at Turn 3), and he did it again taking the inside line and spinning into the side of Colton Herta's car on the exit. Helio gets clapped for avoidable contact and a Drive-Through Penalty.
---
In the end, Scott Dixon won by going off-sequence in the middle of the run of cautions, making sure he was topped up early and could push reasonably hard in the end to win his third race of the season. Dixon closed out the year going 1-1-2-1 for nearly 200 points. Dixon is STILL that dude. Scott McLaughlin, the man who ran a joker lap on the opening tour, finished second, and Alex Palou, the fastest man on the day and who led 51 laps, finished 3rd after getting screwed when a caution came out after he'd cleared pitlane and Pato O'Ward behind him was in the pits. 
A 95-lap race with 35 laps under Caution, 17 penalties handed out, 8 of those being for Avoidable Contact, and a couple of howlers that weren't given. This race was an utter shit-show and embarrassing driving standards for a series that takes a lot of pride in their driving skill being as great as it is.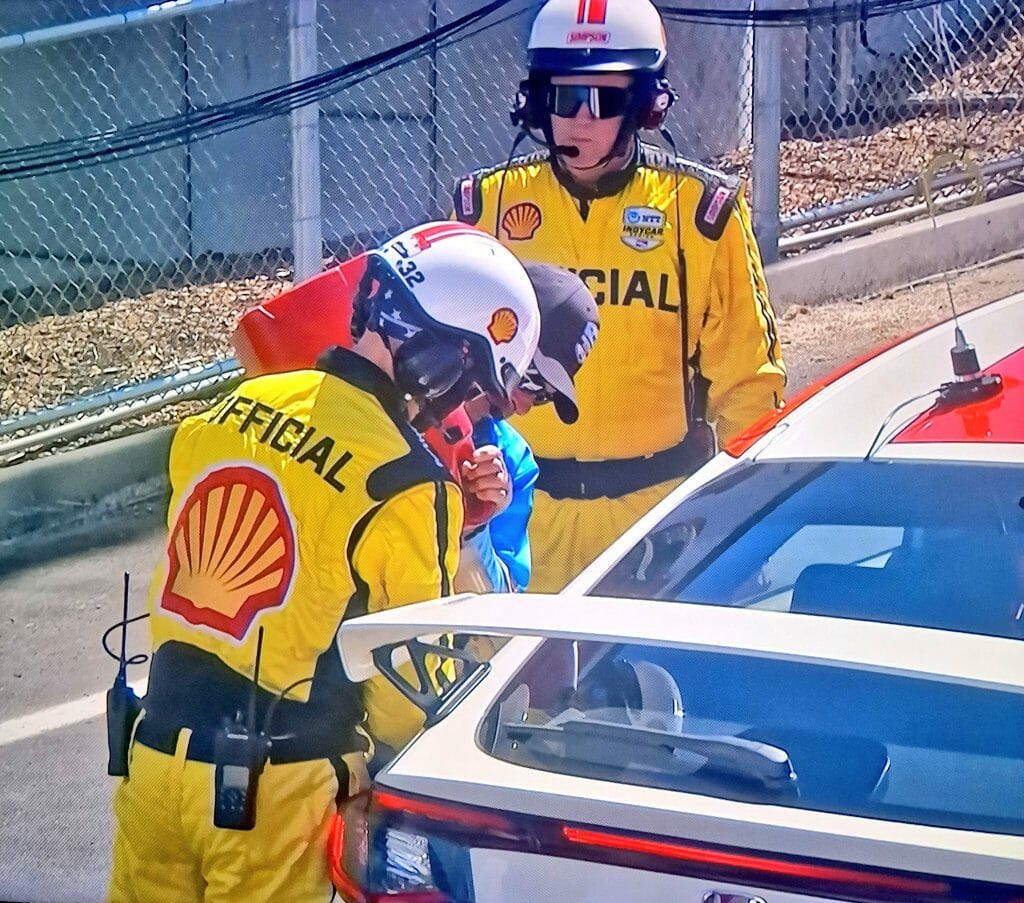 Think about how non-sensical this race was. The winner took a drive-through for a blatant body check and still won. The runner-up did the same. The fastest man on the day was third. Fourth-placed Will Power was in the same club as Dixon and McLaughlin. 5th placed Callum Illot went through the pits SIX times. Christian Lundgaard got a DTP and was on a 5-stopper and finished sixth. Watching this race was like watching the Fast and Furious franchise. It's entertaining, but please don't think about it too much, it will give you a headache. THE PACE CAR HAD TO BE REFUELLED. FOR THE LOVE OF GO-
Canapino and The Leader's Circle Decider
I feel bitterly conflicted about this one. Agustin Canapino drove like his job depended on it (Which it did!) and was running in the Top 3 on merit for a good chunk of this race. Then he just didn't respond to teammate Callum Illot going around the outside of him into Turn 1, which led to Canapino breaking his front wing in a similar fashion to Palou's famous Toronto slant. By the time the contact was made, Callum had ¾'s of a car in front. Canapino would ultimately finish 14th and that was enough to get both cars into the Top 22 Leader's Circle, with Illot finishing 5th to match his career high.
By the way, here are those final leader's circle standings (Credit to the man RJ O'Connell for doing the maths):
21st – ECR #20 (Ryan Hunter-Reay) – 199
22nd – JHR #78 (Agustin Canapino) – 180
——–
23rd – RLL #30 (Juri Vips) – 178
24th – Andretti #29 (Devlin DeFrancesco) – 177
25th – MSR #60 (Tom Blomqvist) – 171
Now, in case you're wondering why I've also coloured Juri Vips's #30 car in green, it's because there was an extra clause that again RJ pointed out – Only three cars per team are eligible (Andretti gets four because the rule was grandfathered in). Chip's #11 car is exempt and with it, it opened up an extra spot below the line. So the #30 RLL car driven by Juri Vips, inherits the 22nd spot. Devlin, missed out by 1 point.
Why? According to Nathan Brown at the Indianapolis Star, Devlin was parked by the series at the end of Lap 90 for being outside the series 105% rule and wasn't allowed to cross the start/finish line just a couple of hundred yards away. Because of that, Josef Newgarden completed a 91st lap and overtook Devlin into 21st. If Devlin finished there, he'd have tied with Vips' car and beaten it on countback. That final lap pass cost Andretti $910,000. And with Michael himself non-committal about the future of the #29, there might be big ramifications regarding the 2024 entrant list.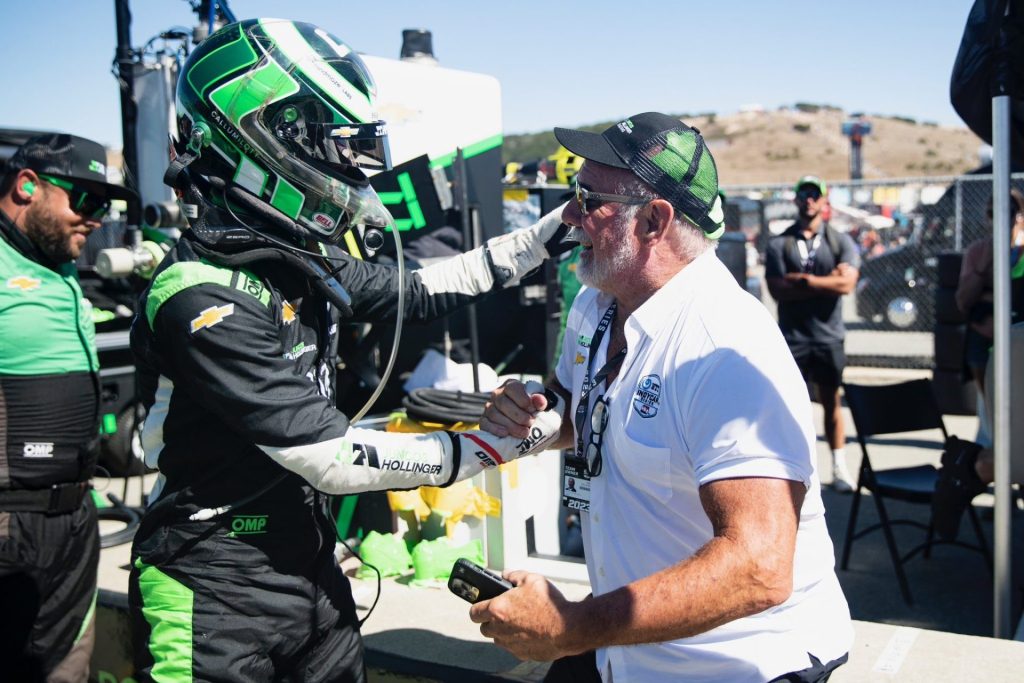 After the race, Canapino's fans took to Twitter to send the team and Callum death threats because of at worst… a racing incident. This happened after the clash at Long Beach and it's happened again here. I'm sorry but Canapino's fans need to take some accountability because their conduct has been disgraceful and it's a sad smear on an otherwise solid rookie season for Canapino, who's been a humble, friendly and passionate addition to the series. Canapino was such an influence the series itself was considering a non-Championship round in Argentina! It makes me sad Ricardo Juncos's biggest win since coming into the series was marred by such toxic behaviour.
PS: To all those people who were in my mentions telling me to just ignore it – No. This shit shouldn't be ignored, and it's not a joke where people should be allowed to get away with just saying whatever they feel like in the heat of the moment. Nicholas Latifi had to hire private security for himself after Abu Dhabi 2021 because he too received death threats from angry fans who felt he was responsible for the season finishing the way it did. This is not a game. Callum deserves better. Agustin deserves better. The series deserves better. This affects people's lives. Stop it.
The End of Season Super Lightning Round
Now, some of these I'll go into greater detail in my post-season review in the coming days, but there were a few end-of-season notes I wanted to get tied up in the season's final lightning round!
In interesting news, we also got the word that IndyCar is holding a Non-Championship, all-star race at The Thermal Club on March 24th next year, with a $1,000,000 guaranteed prize for the winner. The press release reads: "While championship points will not be on the line, the event will feature a multimillion-dollar purse. A draw party to begin the event will embed members of The Thermal Club with each race team and driver. The weekend format will include a qualifying session and two heat races, with the top six from each heat advancing to an All-Star showcase. The top five finishing teams will split their earnings with The Thermal Club members, including a $1 million prize awarded to the winner."
Now, I can't say I was too surprised. When I saw them hosting pre-season testing around the place, I had a feeling there'd be pushes to do more with the affiliation and well… this makes sense. One of my biggest criticisms of the IndyCar Series has been the lopsided marketing aspect of it and getting people to care beyond the 500. This is a potential way for the series to do that, a big cash prize exhibition race. I just hope they keep the format simple and easy to understand because NASCAR's had a horrible time marketing its all-star race across the aisle. But there's potential here and I'm curious to see what IndyCar does with it.
Did it really feel like Scott McLaughlin was the best Penske this season? Man leapfrogged Pato O'Ward and Josef Newgarden on the final day to finish 3rd in the standings. There's a lot to break down here but it was a very consistent season from the Kiwi, but the ultimate upside from 2022 just wasn't there. And don't get me started on Newgarden's season or else this post alone will be 6,000 words long.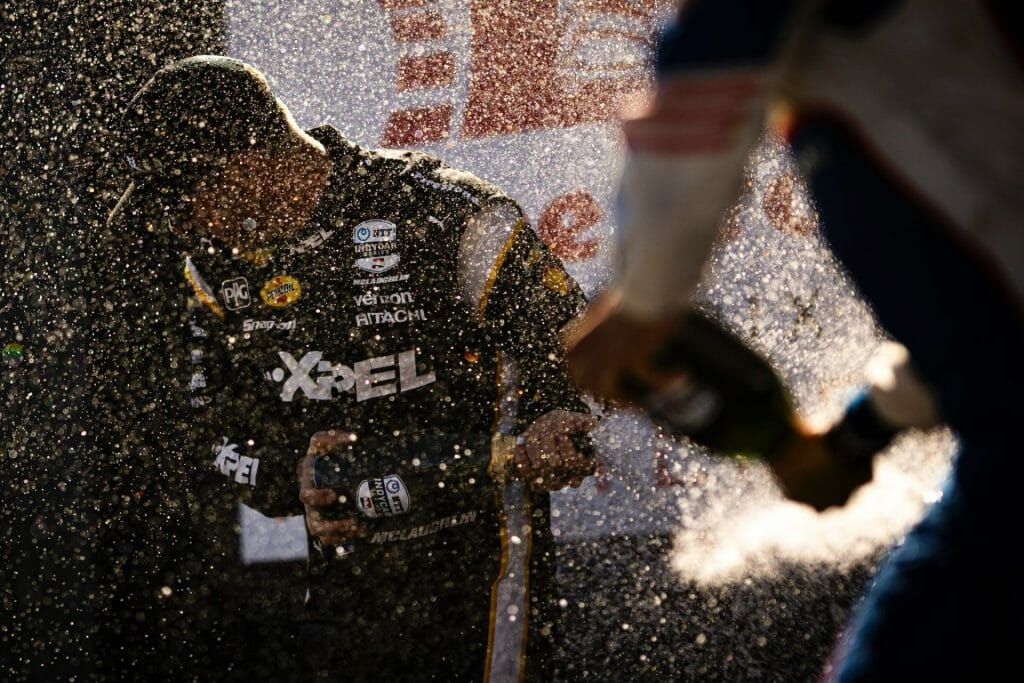 McLaren had a genuine shot with Pato O'Ward when he got a free pitstop as the Malukas/DeFrancesco clash happened but didn't have the fuel to make the flag. McLaren really did go winless when this was meant to be the breakout year. I'd still take their year over Andretti's mind…
The last time Will Power went winless in a single-seater Championship was the 2006 Champ Car Series. Moto3's latest winner David Alonso wasn't even 6 months old.
Christian Lundgaard ended up 8th in the standings. Is anyone here to argue he isn't one of the 3 or 4 best drivers of the year?
Alex Palou finished 3rd and took his average finish for the season down to a nearly unthinkable 3.71. In a spec series. Only the dampers can be adjusted and the engines are very similar. Across three forms of discipline in the series. Across 17 races. The last time someone in North America had a season-finishing average that high, was Tony Kaanan's outrageous 2004 during the Split (3.0. Seriously). In a unified series? Rick Mears. IN 1981!!
Townsend Bell tried to blame Alex Palou for Santino Ferrucci driving over him. I don't need to add any more to this.
Dre's Race Rating: 5* (Meh) – There is an asterisk on this one, and for good reason. This is a race that your level of enjoyment will almost certainly come down to how you feel about shitshow races. As I said, the driving standards were genuinely horrible on this one and it led to a confusing, difficult-to-follow race where we had to guess who had fuel to the end, who didn't, and everything in between as the order got jumbled about five times. But you might be the sort of person who enjoys that kind of racing, which will likely bump this up to more like an 8-9. I can only speak for myself… and I thought this race was the bad kind of mess. I didn't like the action being at a crawl for over a third of the race distance and it made everything harder to follow. And I'm sorry but at a certain point, it stops being funny seeing minor accidents disrupt races and it just becomes exhausting. But that's just me. 
PS: Don't worry, we're not quite done with IndyCar yet, I've got a full season review in the pipeline for sometime later in the week, early next week at the latest. See you then!