"Game on. Eventually."
So after months of teasing, and fears about ticket sales and track safety, the Indian Grand Prix at the Buddh International Circuit finally made its MotoGP this weekend. And it was a fascinating weekend with Francesco Bagnaia slipping back into his old ways and opening the door to be punished by his two main title rivals Jorge Martin and Marco Bezzecchi. We also saw an actual good weekend out of the Japanese manufacturers too.
But this was a GP that very nearly didn't happen, and I feel like it's a subject that needs to be talked about.
All's Well That Ends Well
There was always a sense of fear heading into this one. Let's be honest here, how many people have watched Motorsport at the Buddh International Circuit since Sebastian Vettel's famous F1 win there in 2013?
There were always concerns regarding how safe the track would be in terms of adapting to biking and the different sets of safety challenges. The Turn 1 wall was rather close on the main straight, with some short run-offs near the walls and the final corner. This wasn't fearmongering from the journos we love to point fingers at when they report something we don't like. Luca Marini, one of the best riders in the world was fearful a rider would hit a wall. There was a rider's only meeting on the Thursday heading into the weekend.
Thankfully, they did a track walk and much of the fears were alleviated and some minor tweaks were made to improve the situation. But the concerns were valid.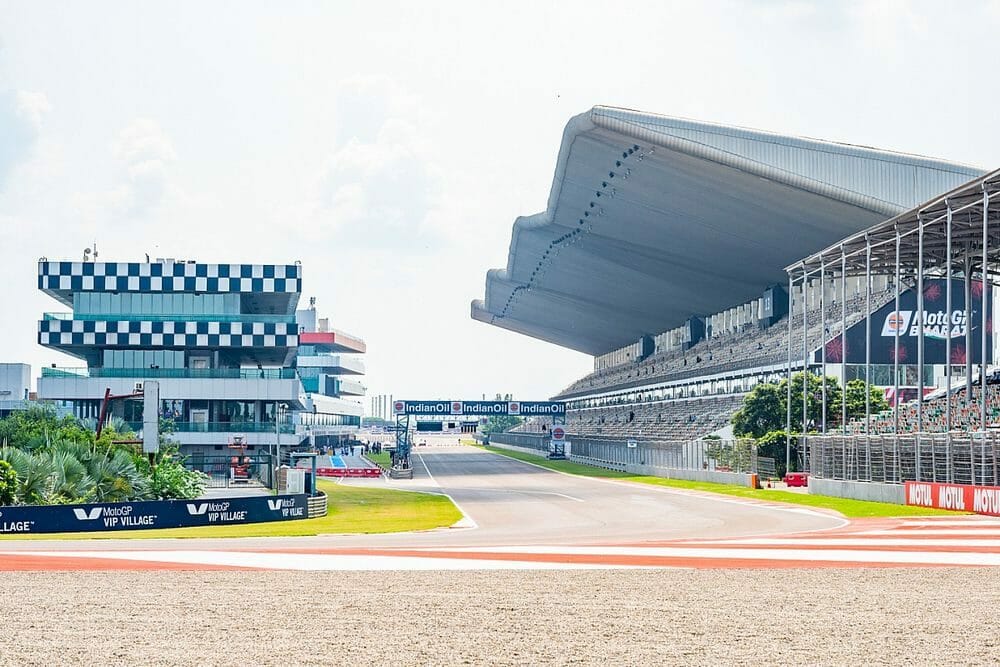 Then there's the travel situation. Now, forgive me as I dip into my own well of self-indulgence again for just a moment but I promise it's for a worthwhile cause. If my trip to Vegas taught me anything, it's that I have a newfound respect for the journos who have to do this kind of intense travel regularly. I did it once and I'm shattered as I type this. Vegas involved 21 and a half hours of flights in a four-day span.
These guys are doing it 20 times this year, and potentially 22 next year. And I promise you, it's not for a ton of money. I wouldn't normally disclose this info, but I want to make a point. The tickets for that Vegas trip (including an extra bag), came to nearly a grand. And that doesn't include the hotel, the travel once you're in the other country (buses, taxis for example), the food and drink and anything else that may come up, y'know, like rescheduling a flight. If you're not on someone's payroll you need a TON of freelance work to make ends meet.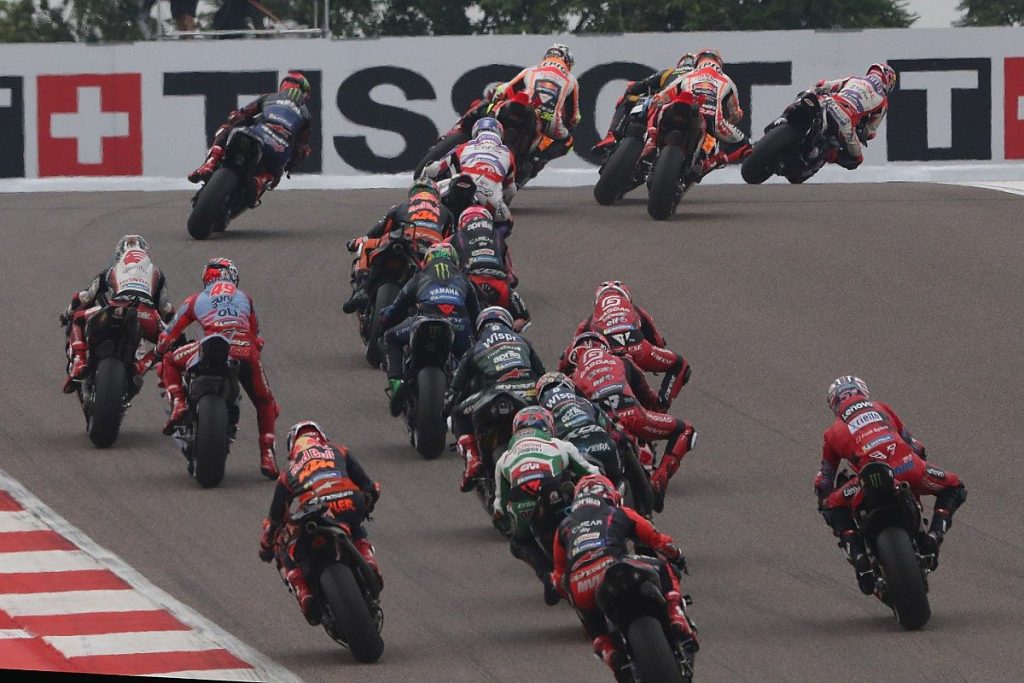 I used to be cynical of the media in sports too. Many a time as a matter of fact from the outside looking in. That was my arrogance as a blogger who thought he knew better. Then I became one myself and had to look at myself in the mirror as I saw first-hand how the other half lived.
I won't name said person, but one of my best friends was a permanent pass, every round journo in a World Championship level series, and was doing it on a shoestring budget to save money wherever they could, and was still losing several grand a year. You've got to have either a serious passion for this sport, be getting paid a ton to cover the costs (Or getting them covered), or both to make this work as a career.
So it was a damn shame that India's travel board was so slow and disorganised in getting their visas approved. Multiple riders didn't get theirs until Wednesday of race week. Hundreds of staff members in the paddock had to have their flights rearranged and then compete for plane seats with other people who were waiting for theirs. Many folks I know either didn't make it or lost money in general trying.
It's a deeply messy situation and not what a new Grand Prix on the calendar needs, with half the potential media that could have been there to help promote your brand-new race in a HUGE untapped market. And I've barely mentioned the massive fuck up in publishing a map of India without the regions of Jammu and Kashmir in it that the sport had to apologise for. That became a national-level story.
It's not a subject that should be swept under the rug or for the people to be affected to be jabbed at on social media just because the actual race weekend largely went off without a hitch. I sincerely hope lessons are learnt for 2024 because you cannot sit here and tell me with an open mind that THIS should have been how the Indian Grand Prix was supposed to go down.
Just When You Thought It Was Safe To Tuck The Front
Oh, Pecco. I thought were we over this whole tucking-the-front nonsense?
I feel bad for Marco Bezzecchi this weekend because his dominance in Buddh has felt largely overlooked due to Bagnaia crashing being treated as the bigger story. Bez was unbelievable. Complete and utter dominance from #72 who took the front and then left the field for dust.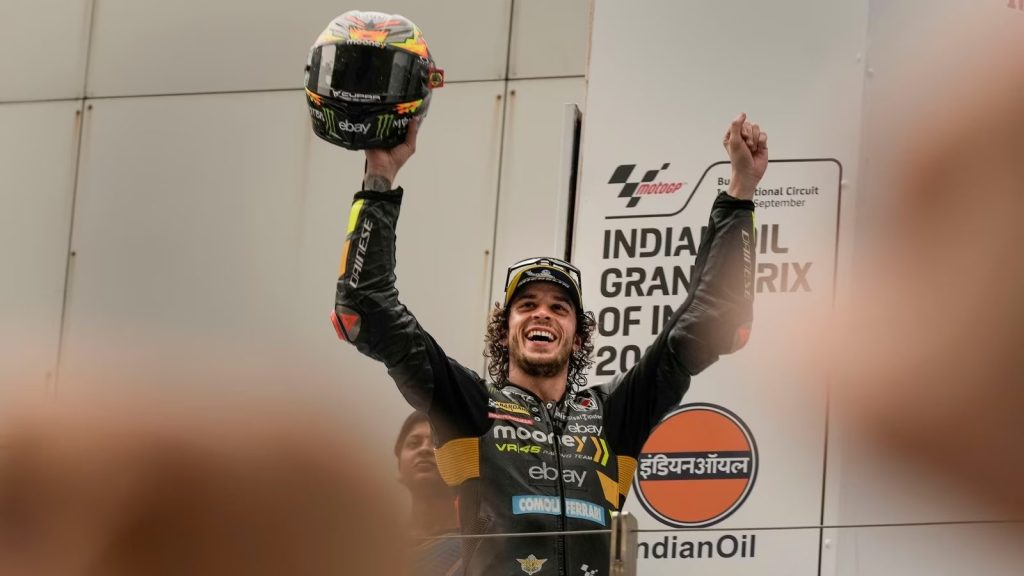 The sign was there during Saturday's sprint when the Sprint podium trio of Marquez, Bagnaia and Martin saw that Bez did a 44.5 final lap in the Sprint and they all looked like they'd seen a ghost. They all knew Bez was going to be the target and the only reason he didn't double up was because his own teammate ploughed into him and broke his collarbone. I've had my question marks about the consistency of Bez in what's become his breakout season, but there's no doubt in my mind now that the man is a star. It's probably not a coincidence that two of the biggest beatings of the year have come from him.
But watching Bagnaia fight with Jorge Martin for 2nd in the race was interesting. Yes, he crashed. But that wasn't necessarily the surprising part, we've know he's been capable of such moments. It was watching him clearly fighting the bike. Pecco has been buttery smooth on the Ducati for months. It was why I genuinely thought he was over the front-tucking nature of the Duke. But Pecco seemingly didn't have the confidence to be his usual "last of the late breakers" mentality that's made him so impervious in the last calendar year. The slides were bigger and looser. He ran wide a couple of times trying to stay with Martin.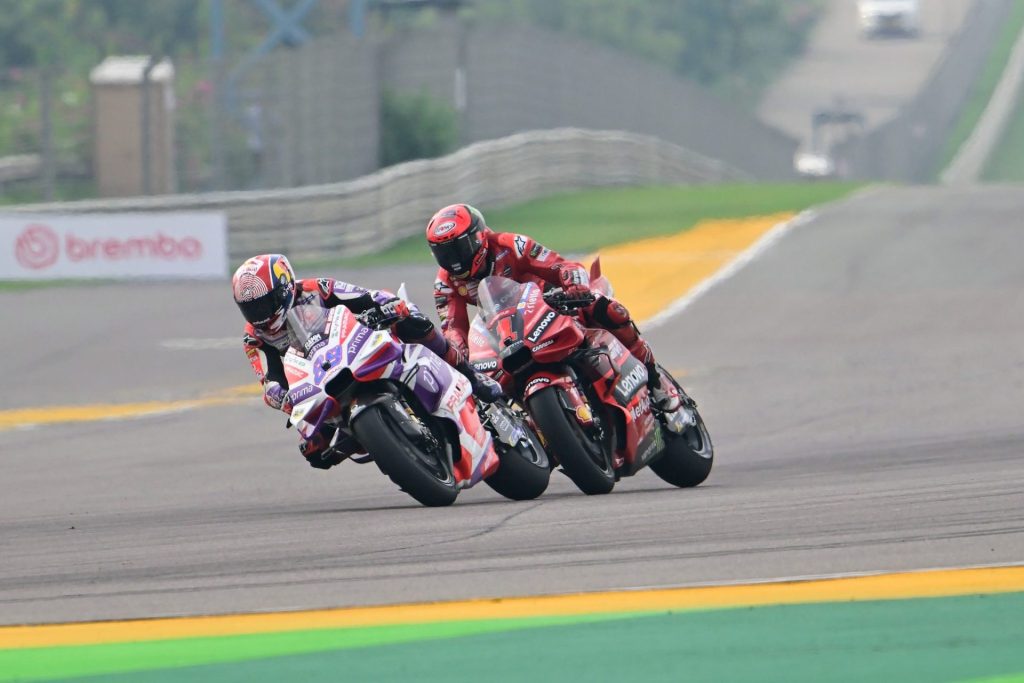 At Misano, Pecco riding within himself was the smart call given he could barely walk at the time. The moment he went at full power, down he went. He gambled not wanting to lose ground to Martin two weeks in a row and he paid the price.
The runaway Championship leader looks genuinely vulnerable for the first time since Le Mans. Martin's now only 13 back, with Bez almost within a weekend again at -44. Shoutout to @10IsRed on Twitter for pointing this out to me on the plane home yesterday, but after all the talk was made about Fabio Quartararo blowing a 91-point lead to Bagnaia in the back half of 2022, Bagania's let a 66-point lead drop to 13. History could repeat itself…
The Lightning Round
58,000 on Race Day in a 110K facility and 110K on the weekend isn't great for attendance, but for a September sports event in crazy heat with a Cricket World Cup right around the corner… not too bad. I know I was negative in the top of this piece about Buddh, but I do out of frustration because the potential for a market here is MASSIVE, cars and biking wise. I want this race to do well, genuinely. Indian sports fans are fiercely loyal and there's a lot here to like. The execution just wasn't quite there.
My eyes were playing tricks on me – We got a competitive Honda and Yamaha package this weekend. In Honda's case, India plays a lot like COTA. A lot of technical first and second-gear corners mitigate a lot of their weaknesses and lean into their "stop-start" nature. It's why we saw the most competitive Marc Marquez we've seen since Le Mans. And superb to see Fabio Quartararo back up the front riding angrily again to bring home his second podium of the year. The sport is healthier with them up the front.
Tell you something, if Jorge Martin makes history and becomes the first independent World Champion, we'll mark his outside pass on Fabio on the final lap as his marquee moment. That was one of the bravest overtakes I've ever seen with everything on the line. And this was with Martin already on the brink of passing due to extreme dehydration he was suffering from eight laps out from the flag. Brave, arguably stupid, but it was four more points towards his campaign.
Shoutout to Kory Steele for pointing out that Martin's leathers were likely unfastened on purpose at the start of the race, likely to try and cool himself down. If we're going to do a GP in India where you've already had to take 3 laps off the Main Event due to rider complaints, I'm not sure hosting this round in September is the right move. Especially when you hear moves being made like Baz having a helmet fan and Fabio Di Giannantonio almost whiting out when the heat combined with his shoulder pain. It's not ideal.
Is there anything more karmic than Jeremy Alcoba causing a half-a-dozen-rider wreck on Lap 1 of the Moto2 wreck, then crashing in embarrassing fashion while taking his Penalty Loop? Also, I said Jake Dixon went too far when he came for Darryn Binder at Silverstone after their crash. He didn't when talking about Alonso Lopez. That one had been coming for a while.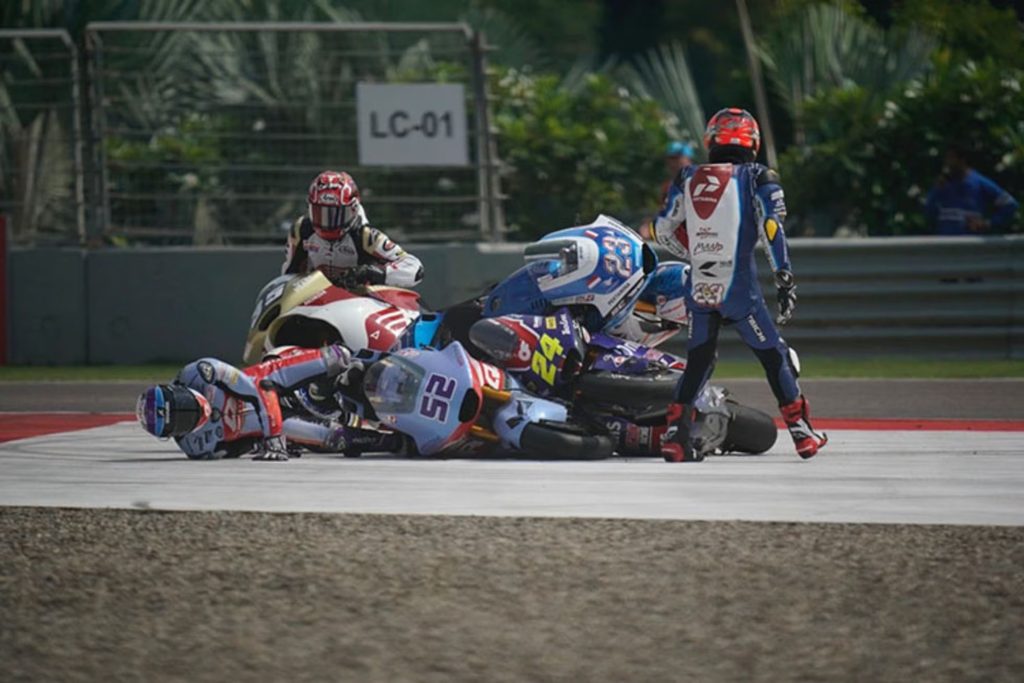 Luca Marini losing control under braking and crashing on Turn 1 of the Sprint was the third major Turn 1 pileup in four weekends. Can someone please tell me a good reason why we have the holeshot devices again? PS: We've still not had a Grand Prix in 2023 with the full roster healthy. We won't until at least October with Luca Marini now out with a fractured collarbone. In the words of John Oliver: This is not normal. This is fucked. Up.
Dre's Race Rating: 6 (Decent) – Yeah, this was alright. Despite the mess of how we got here, Buddh provided a unique, fun, technical track and it produced some good racing that was able to mitigate a good deal of some of the sport's problems. And it allowed the skill of the best riders on the day to pull away and win. Take that Moto3! This round has potential, but for me, needs some work. But a good start according to that journalist. See you in Japan.