"Backflip."
What a weird weekend. MotoGP is thick in its flyaway rundown period of the calendar, and the Australian Grand Prix is the one we all circle on the calendar. For me, it's MotoGP's greatest track and the place with the biggest potential to balance out the field and give us an entertaining race. And while we got the Grand Prix on a different day and with a very different sort of "quality", I'll be leaving more than satisfied as a fan. And for one man, it'll be a day he'll never forget.
Satur-Dre
So how did we get to this point? Well, it turns out that Philip Island essentially has its microclimate. And in the weather forecast, it was predicted that Sunday would have extremely gusty winds, potentially as much as 50 miles per hour. Now I don't think you need to have a degree in meteorology to work out that on 220mph motorcycles with more downforce and aerodynamics than ever before, 50mph gusts are extremely dangerous. So in a clever move, Dorna swapped the Grand Prix and Sprint sessions around, meaning we had the first Saturday Grand Prix since the 2015 Assen TT.
As it stands as I write this on Saturday lunchtime, the Sprint's been pulled an hour earlier and Moto2/3 both have actual warm-up sessions to try and give the lower classes some adaptation and an attempt to try and beat the weather as it's forecast that the morning should be less breezy. Hopefully, I don't have to update this post with a disaster later on (Sunday Dre – Remember that, it becomes important later), but I think Dorna and the track promoters (Generally making tickets eligible for the day you missed), did a good job adapting to the conditions. Onto the racing…
Finally
Johann Zarco will forever be one of the most unique characters in the modern era of bike racing. A guy who rode out the worst of the Caterham Suter package in Moto2 before suddenly winning a Moto2 World Title, and then actually defending it – still the only man to ever do so. His 352 points in 2015 is still an intermediate class points record and with 8 wins, 14 podiums and 7 pole positions, it's one of the greatest ever. It'd made Alex Palou blush given he didn't finish a race lower than 8th.
And with Zarco, it's always been the story of what could have been. When he finally moved into MotoGP, he led laps on his debut with the Tech3 Yamaha team. He was comfortably leading by over a second when he suddenly crashed and blew a golden chance of a debut victory. In all, he's led 91 laps in Grand Prix racing since, but never the last one.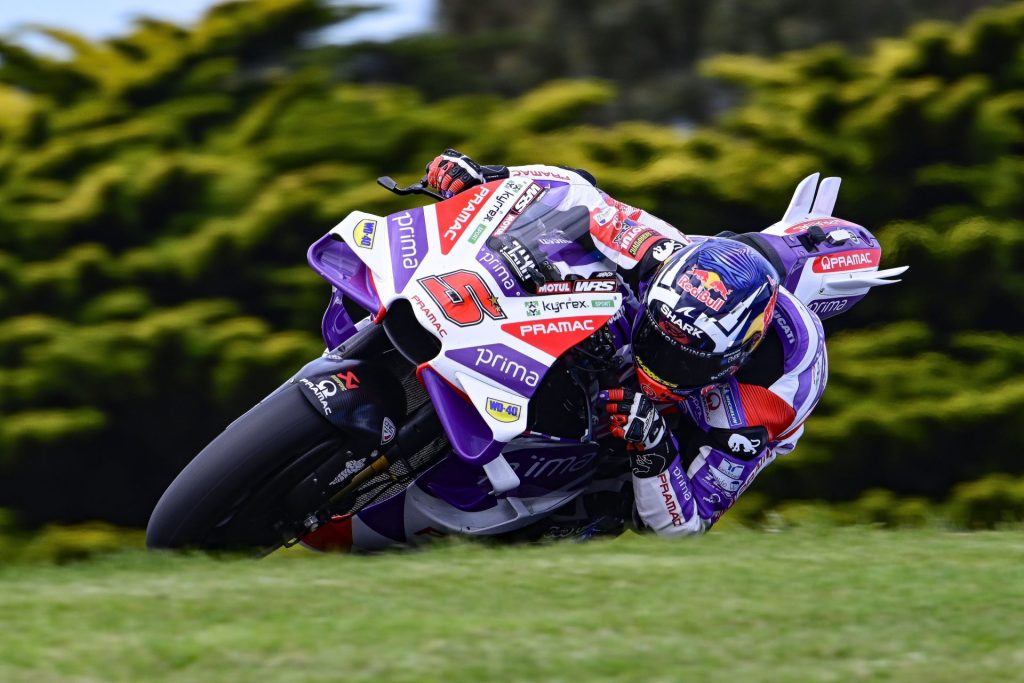 It's a career that's never been boring, always full of highlights and lowlights. 19 times before Saturday he had finished on the podium, the most of anyone ever in GP racing before their first win. He was the man who was 10 feet away from glory when Cal Crutchlow screamed "Don't Doubt Me" in Argentina—beaten to the line in Valencia when Dani Pedrosa brought home his 54th and final win at home.
He rejected a factory Honda seat to move to KTM, only to quit them before a full season was done. Labelled as a diva as he had to reboot his career at his lowest point. A stint at Avintia, sometimes riding two-year-old Ducati equipment followed. And even then he had his moments, like finishing on the podium in Brno, alongside that incredibly sexy long-lap penalty. If you know, you know.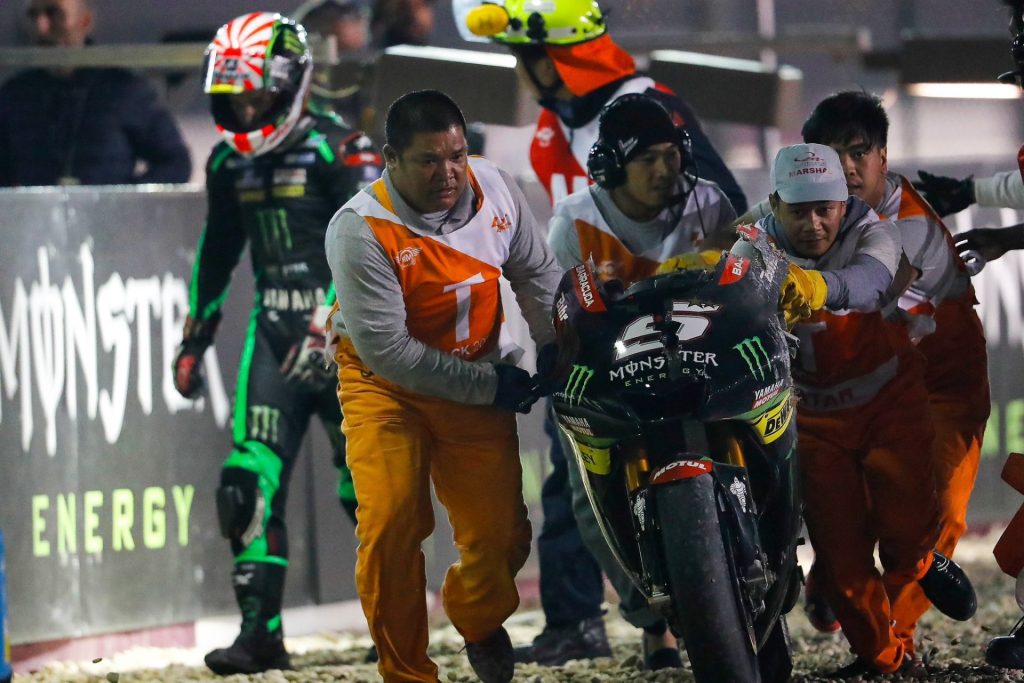 He was nearly a tragic headline when he did his signature backflip without his knowledge when he was hit by Iker Lecouna's crashed bike in the Valencia gravel trap. It all could have ended so differently.
And while his Pramac run on top-tier machinery has always been a little disappointing as Jorge Martin's launched himself into a title campaign, he's always been a protagonist. Always there, always keeping that thought fresh in people's heads that one day, he'd get that elusive first dub. And in his 120th Premier Class start, he finally got it.
It was a clever, shrewd ride as ever from Zarco. He took advantage of his teammate's bold strategy (More on that in a bit), and Francesco Bagnaia went a bit "game manager" mode (It's a good thing, trust me), made the critical passes when he could and sent it on Martin on the final lap when it mattered most. And man, it was so sweet to finally see the return of the French backflip, six and a half years after he came so close to doing so in Qatar.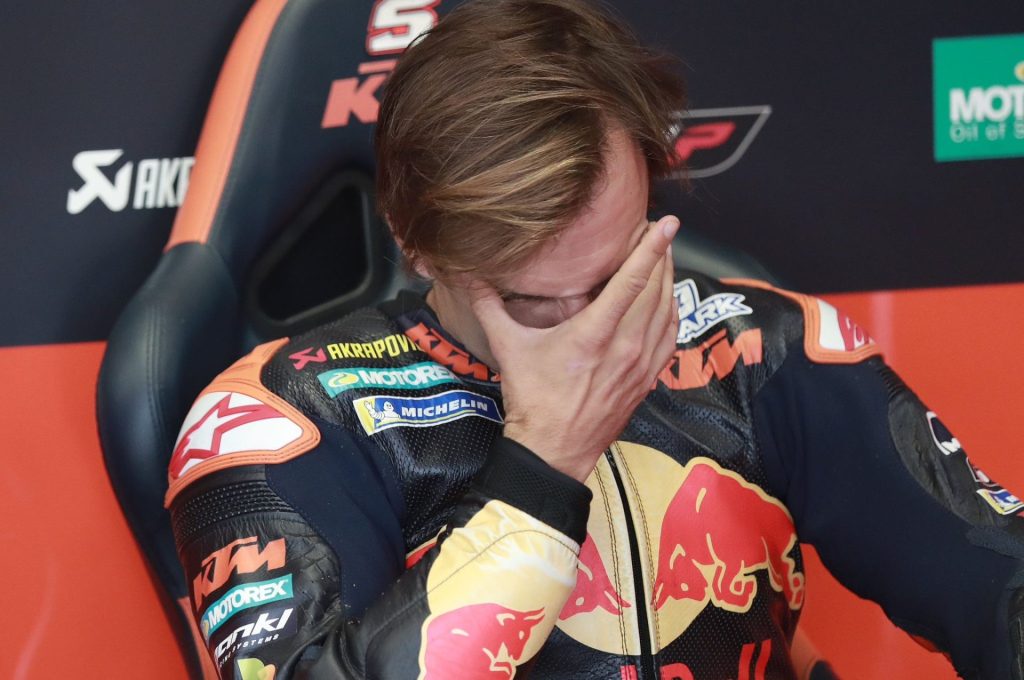 And like Dave Stieb's no-hitter for the Toronto Blue Jays, it happened just in time. The parallels are scary. With a move to LCR Honda on deck for 2024, an uncompetitive team by comparison, the window was probably just about to slam shut on Zarco's chances to bring home that win, like the frustration of Stieb having seven golden chances to get that no-hitter before it finally happened, in the final full season the pitcher ever played before the tendonitis in his arm became unbearable. Zarco himself admitted that he thought this day might not ever come.
"Sometimes you say to yourself, 'OK, maybe you just have to accept that it's not going to happen'. But you also take on the mentality of a competitor by saying to yourself 'In any case, do your job to the full and it's so tight that at some point, if you concentrate in the present, maybe you can catch the thing at the right moment."
Today, Zarco finally got his moment.
"It's a Bold Strategy, Cotton".
Jorge Martin started Friday night with one of THE qualifying laps of the MotoGP era. Already fastest on paper with three minutes left, Martin bent the field over his knee and laid down a lap record 1:27.2, beating the field by almost half a second. It was over half a second under his lap record from last year. Martin's pace has always been his greatest weapon and seeing him fully harness it is a sight to behold.
As soon as I got up at 5am and saw the tyre sheet, I just looked up and said: "Why?"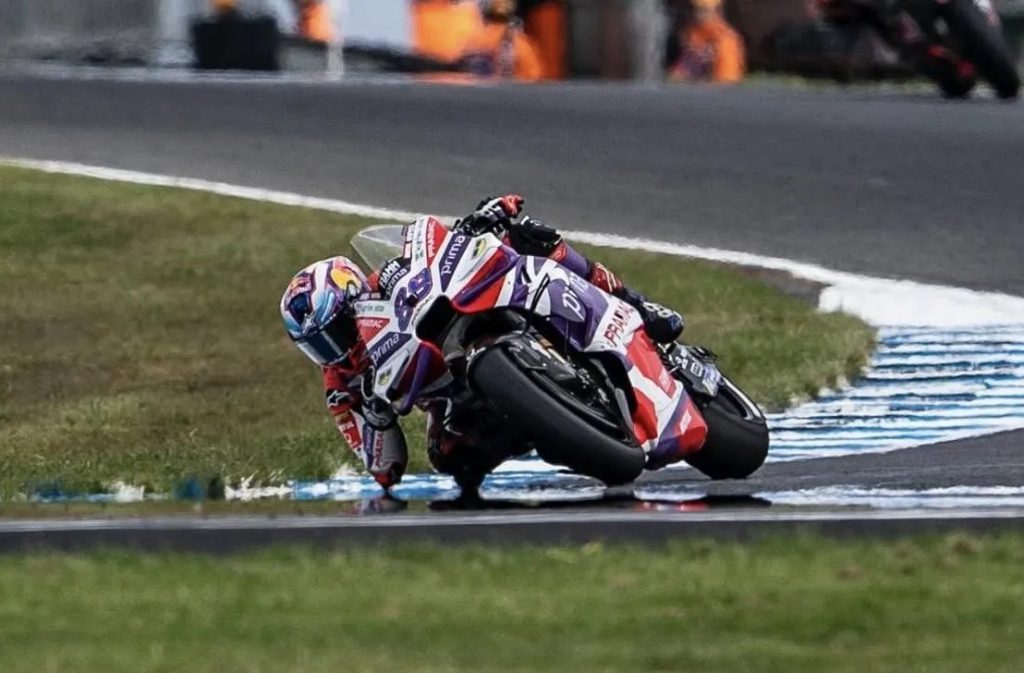 At the last minute, Martin changed his mind and attached the soft rear tyre to his bike. The game plan was obvious. Go for the early breakaway attempt and hope you have the tyre to survive the backend. Philip Island is a tyre shredder and I knew that both he and Marc Marquez trying it wasn't going to end well, and it didn't for Jorge Martin either.
Yes, you can say it was the right call for 26 laps, but it's a 27-lap race. With 8 laps to go, you could see that Martin's pace was fading and when you hit that cliff on tyre wear, it comes fast and hard. With a lap to go, I thought Zarco's divebomb the lap before moving into 2nd was going to buy Martin enough time to sneak it home. He didn't. He ended up fifth. A disaster entirely of his own making.
With Martin being so fast at the moment, did he need to take a gamble on the soft rear? Was he afraid he didn't have the pace to win it on the same strategy as his competitors? It was a bizarre call and speaks of a rider that maybe doesn't have the confidence he claims. It's never a good sign when fellow Ducati rider Luca Marini calls your decision: "Completely crazy."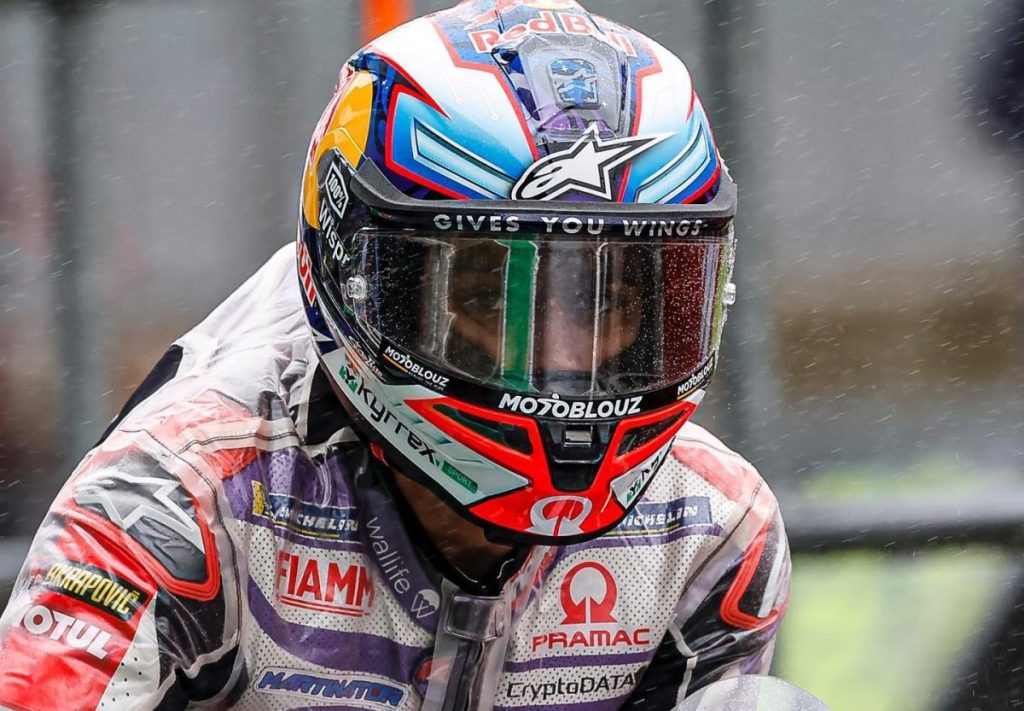 David Emmett of MotoMatters, one of the best in the biz summed it up best. "Martin very nearly pulled it off. And if he had managed to lead for eight more corners, we would be hailing his brilliance, not criticizing his stupidity." And that thin margin is what makes sport so beautiful and heartbreaking.
Jorge Martin has had his title-winning credentials severely tested twice in this killer six-race run in seven weeks to close out the season. He's failed both times. Francesco Bagnaia has outscored him by 34 in the last two Grand Prix. Bagnaia's back out to 27 in front with no Sprint for Martin to reply. The ball is back in the Italian's court after taking a smart second. Martin brushed off the mistake in Indonesia as "one of those things". He can't do that here.
A Damp Sprint
Hi folks, Sunday Dre here. Well, Dorna tried to outrace the wind by pulling the entire Sunday running an hour early… and they failed. Moto3 went ahead in full, but man it was borderline cancellable across the board. Dani Holgado and Diogo Moreira both crashed on the sighting lap and had to scramble to fix their bikes for the start.
Luckily once we got going, the conditions were just about raceable, and all the incidents were thankfully, single bike and no major injuries. Hell, we even got a brilliant finale with race leader Adrian Fernandez crashing from the lead (And still finishing 5th), as Deniz Oncu dove on the inside of Ayumu Sasaki at the Turn 10 hairpin for the win on the final lap. I'd roast Sasaki for blowing another chance at the dub on the final lap, but to be fair, it was an inch-perfect pass from Oncu in difficult conditions. Superb.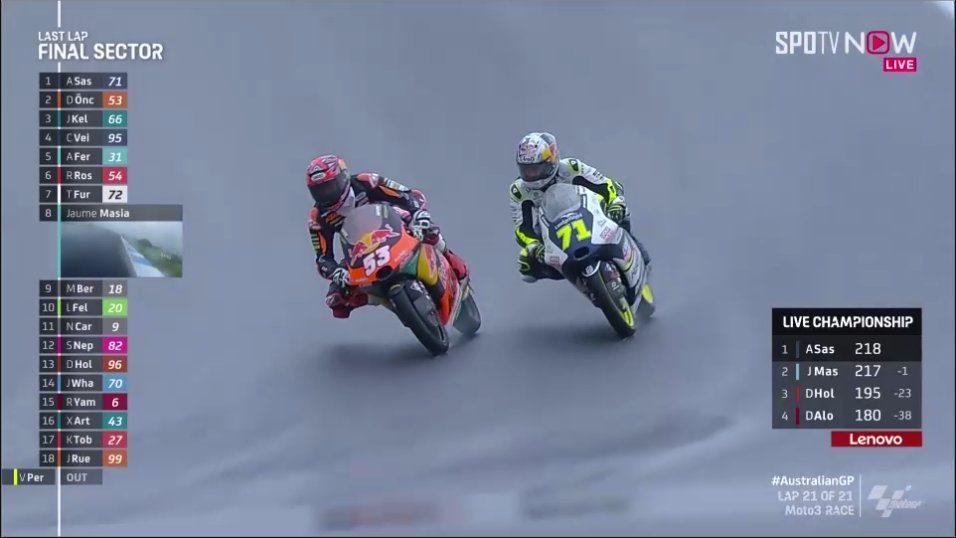 Moto2 is when shit got ugly. The weather was still bad, raining heavily. Pedro Acosta crashes on the sighting lap and has to start the warm-up lap from the pitlane and the race from the back of the grid. Amazingly he went from 31st to 9th in 10 laps. Why 10 laps? Because riders dropped like flies. In a space of two laps, race leader Sergio Garcia, second-placed Filip Salac, fourth-placed Sam Lowes and Jake Dixon all crashed. Tony Arbolino had a 15-second lead before the race was stopped due to the increasing wind causing all the crashes. A result was declared, and half points were given.
At that point, I knew there was no chance the MotoGP Sprint Race would go ahead. If it's blowing Moto2 bikes off the road, 215mph MotoGP bikes with all that downforce and aero didn't stand a chance. We had a team bosses meeting with Race Direction and half an hour before the expected 3 a.m. start, the Sprint was cancelled.
"Shame that it's half points, I don't know why! We should have double points!"#AustralianGP pic.twitter.com/nvTQMjodYY

— MotoGP on TNT Sports (@motogpontnt) October 22, 2023
Absolutely the right decision. The rain was relentless, and you could visibly see white rain protectors getting blown off people and waves crashing into the rocks. Far too dangerous. People were going home before it was made official, it was obvious that this was a no-hoper.
Dorna did a pretty solid job on the weekend. They moved the GP to Saturday and were prepared to sacrifice the Sprint if the weather was bad, which was as bad as forecast. And even then they tried to beat it by going early, and it nearly worked. All three races got some degree of race in, and the promoters did their best to try and compensate the fans. I can't have too many complaints about that. The only real nitpick was that the Moto2 race probably should have been canned earlier, but seemingly not much harm was done.
MotoGP's greatest track rests on an island. And remember, climate change is only making our planet more hostile. Like I said in Qatar last week, we'll be having these conversations more in the future.
Concussion (Warning: Section May Be Upsetting)
"We have to keep the positive part of the weekend, we were strong during all the sessions. During the warm-up lap, I crashed and hit my head, which made me lose consciousness, and I have to thank everyone for their help and concern. Now it's time to think about Thailand, where we will continue to give 100% to get a good result." – Diogo Moreira
Diogo Moreira I mentioned earlier, admitted in his team's press release post-race that he LOST CONSCIOUSNESS when he crashed on that sighting lap and was still medically cleared to compete just minutes later. Same for Dani Holgado who had his face busted open on his sighting lap crash. I cannot speak strongly enough to say that this is absolutely insane for everyone involved. And the worst part is, the number of times I've seen similar stories in the sport is approaching double digits.
Second Impact Syndrome can kill in the worst of circumstances and Moreira was sent back out on a live racetrack in borderline acceptable conditions, just 11 minutes after his initial impact. Goodness only knows what happens if he gets into an accident. At this point, Moreira was a danger not only to himself but others on the track.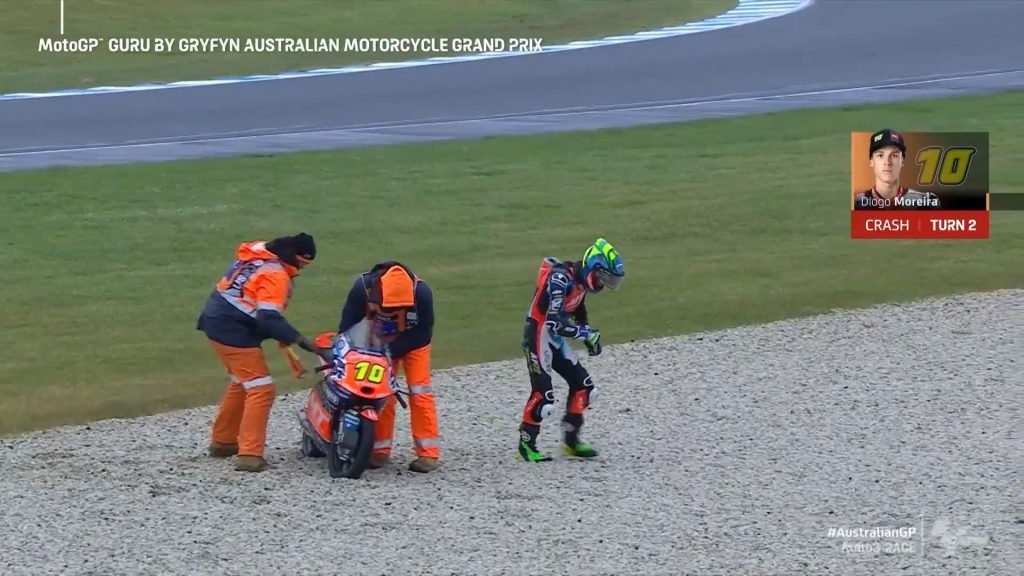 The team should have removed him from the race, and Dorna needs to institute a concussion protocol. Today. Yesterday. I made a video on the Motorsport101 channel about the dangerous concussion precedent that was being set when Danilo Petrucci was riding around in Aragon and he admitted he didn't know where he was. THIS WAS IN 2016. We are seven years removed from that and we're still experiencing the same complete negligence from the sport's organisers and the teams that are so desperate to make their riders race.
Sport no longer has the excuse to play this issue down. We know so much about head trauma in sports than we did 20 years ago. The NFL had to shell out nearly a billion dollars in CTE compensation payments for thousands of its former players. There's medical research with growing claims that there may be a link between heading soccer balls and an increased risk of dementia and other brain-related diseases. Athletes in sledging sports like Bobsleigh and Skeleton receive constant head trauma from the bumps in tracks over their careers.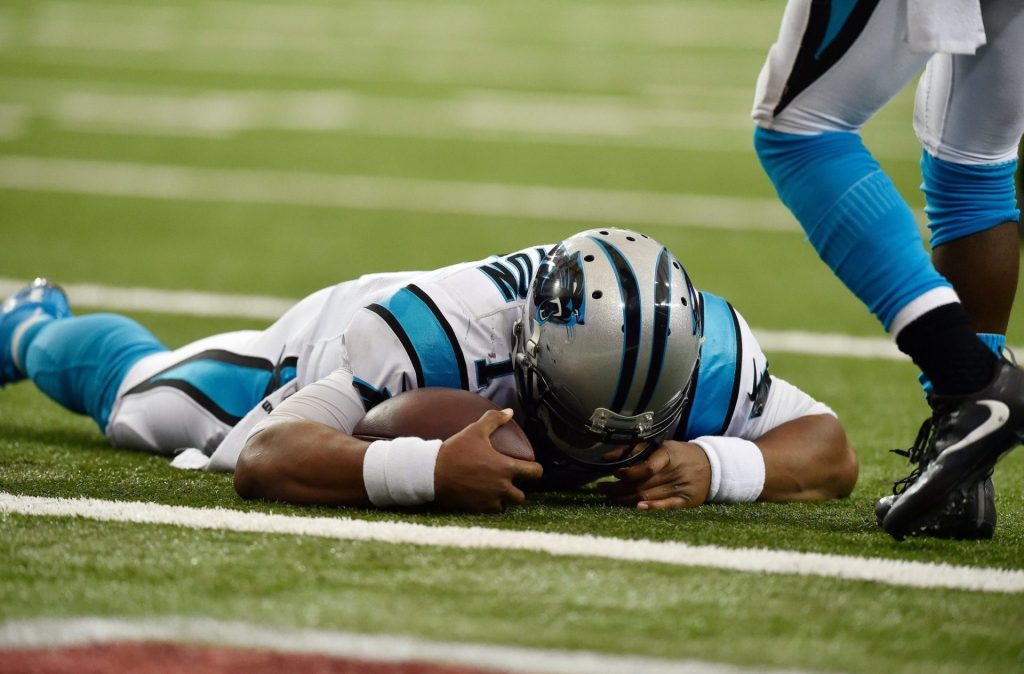 The rest of the sporting world has caught up on concussion awareness. Rugby will now pull you off the field for an immediate HIA check. If there is any sign of concussion for an NFL player, their day is now done and there's a good chance they're out for at least a week. Cricket now limits bouncers that aim for the upper body and immediately checks for any blow to the head after the tragic death of Philip Hughes. "If in doubt, sit them out" is now mandated concussion guidance for ALL UK Sports at the grassroots level as of April 2023.
MotoGP doesn't have an excuse any more. I've said it before and I will again, the toxicity of Motorsport's gladiatorial attitude is harmful and more action needs to be taken proactively to stop it, rather than waiting for the disaster to happen. We will not be able to keep dodging this bullet forever.
The Lightning Round
Pramac has now won seven out of the last nine GP's and Sprints. And thanks to Enea Bastianini's horror season, the factory Ducati team will likely end up third out of their own ranks. Ha.
Frankie Carchedi might be the best crew chief in the sport right now. The work he's done with the GP22 to turn Fabio Di Giannantonio into a legit podium and race-win challenger is brilliant. Combine that with the fire of fighting for a job and BANG! 3rd! Where the hell was this the last 18 months?!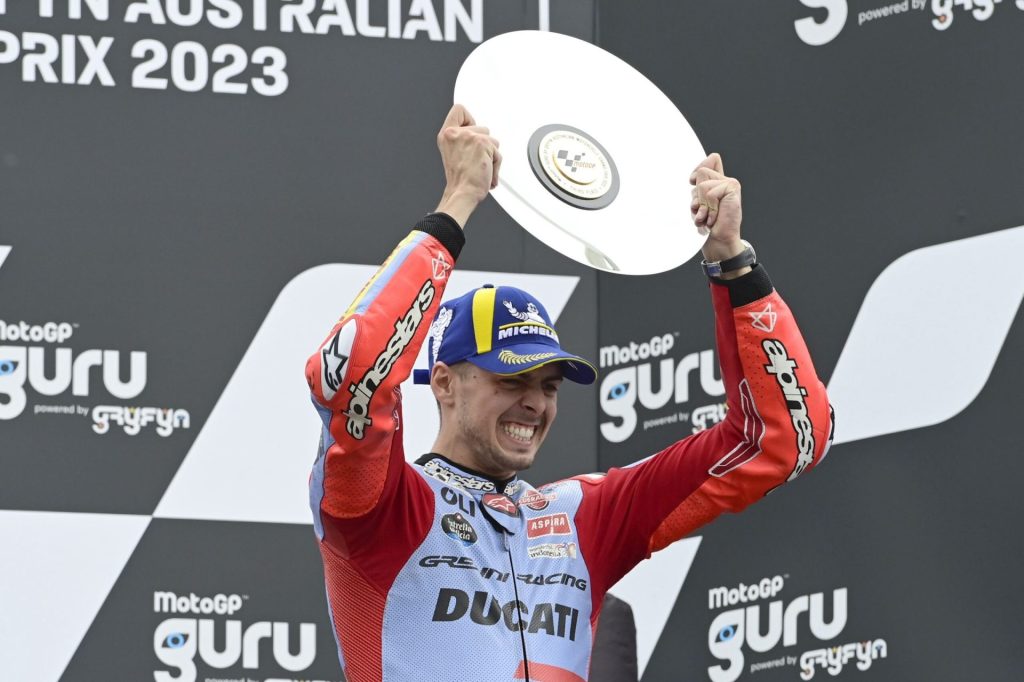 You have no idea how sad it made me to see Fabio Quartararo and Marc Marquez cross the line together in 14th and 15th, 21 seconds off the win. Brutal.
Alex Rins pulling out due to more leg pain screams big Tito Rabat energy from a few years back. My dude, you're on a Honda. Sit the rest of the year out and wait for the Valencia test, you've got nothing here for you. Reminder: We STILL haven't had a GP yet with a healthy grid. It's the end of October, and if the talk is true that Rins might head back home to Spain to check with his medical team, we may not get one at all this season.
Ayumu Sasaki – A rare possible entrant into the winless Championship club? Watch this space.
Dre's Race Rating: 8.5 (Excellent) – Probably the best MotoGP race of 2023. It was a 6/10 race that evolved into an AYFKM/10 finish with Jorge Martin's snowballing tyre wear leading into a five-way fight for the win on the final lap. It was a CLASSIC Philip Island finish and it was wonderful. Even when the sport does its very best to take the shine off it, PI finds a way to save the day. Excellent. See you in Thailand.