Look, I'm going to be real with you readers. I juggle writing and Podcasts here with everything I do behind the scenes at WTF1, and that's editing Harry Benjamin's post-race Podcast, writing scripts for videos and shorts and maybe the odd voiceover here and there, so sometimes these race reviews get pushed back as a matter of priority. That's life. In this case, I got my Macbook out 15 minutes after IndyCar's GP of Toronto finished. Why?
…Because I'm still asking myself, what in the Canadian Maple Syrup soaked fuck was THAT?!
Him
Christian Lundgaard is a very unlucky man. When he came up through the European junior ranks, Oscar Piastri, a A+ prospect that shot through the juniors at breakneck speed, made Lundgaard redundant, a victim of the curse of the 2nd ART Grand Prix seat that's crippled the career of many talented junior drivers. But the signs were always there with Christian that he could be something special when he was winning in F2.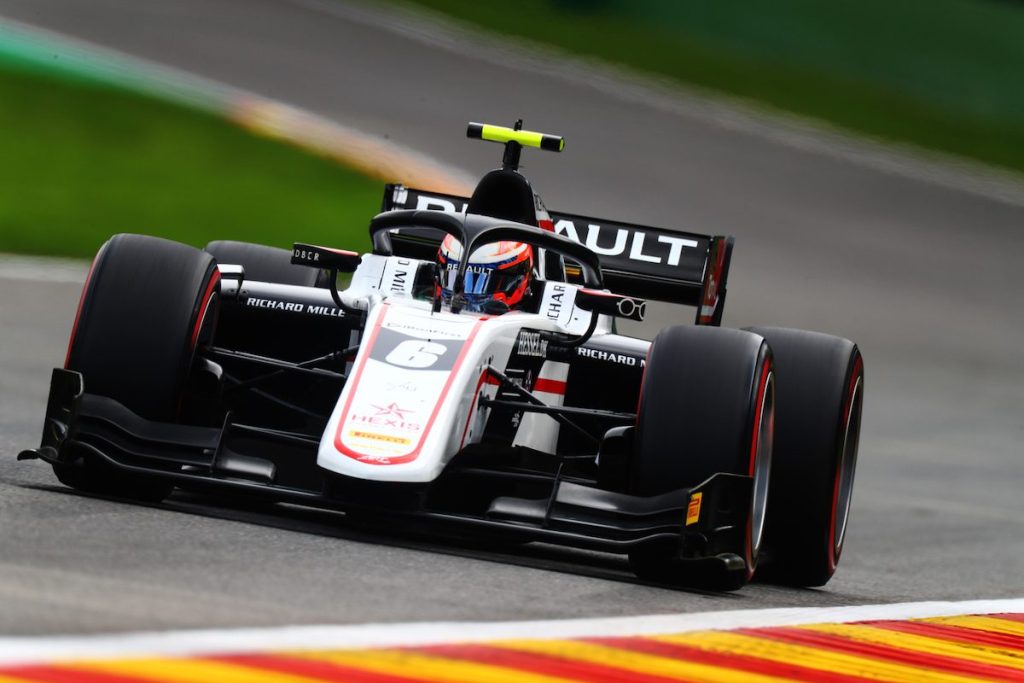 He escaped the monotony of ART and Alpine's junior system and that very first IndyCar weekend at Indianapolis' Road Course, he made the Fast 6 and would go on to finish 12th on debut. Was genuinely delighted he moved over permanently and became Rookie of the Year last season, including a Top 5 at Laguna Seca and that 2nd Indy Road Course race that he should have won if it wasn't for Alexander Rossi's car being illegal. It was a platform where in the right place, he could shine. And if anything, due to the known struggles of Rahal Letterman Lanigan Racing since the three-car expansion, he's shined even brighter.
He was the biggest victim of Alex Palou's overwhelmingly strong tyre management at the Indy Road Course earlier this season, but this was his moment. Scored a stunning pole despite not even being the last man over the line in Fast 6 Qualifying on a damp Toronto track yesterday, then dominated the race itself. He led 54 out of 85 laps and when the race got flipped on its head with a pair of yellows for Grosjean's wall hit and Kirkwood punting Castroneves on the restart, his fuel-saved his way into the winners' circle, winning by over 10 seconds. 
His two main opposing drivers? Scott McLaughlin and Alex Palou. Two of the fastest men in the world. And on this day, he dominated them. Yeah, the ovals still need a little work, but he's now as good as anyone on a Road or Street track. He's now 7th in the Championship in a team that had three of its four cars in Indy 500's Bump Day.
And instead of being snarky about revising the history about how good he was or wasn't in Europe, why aren't we having more conversations about how immensely flawed the junior system is? From junior programmes having inherent biases towards richer drivers? Or second cars being are referred to as "spares" giving the driver no chance to compete? Or needing three million euros a year before you can even think about an F2 seat worth a damn?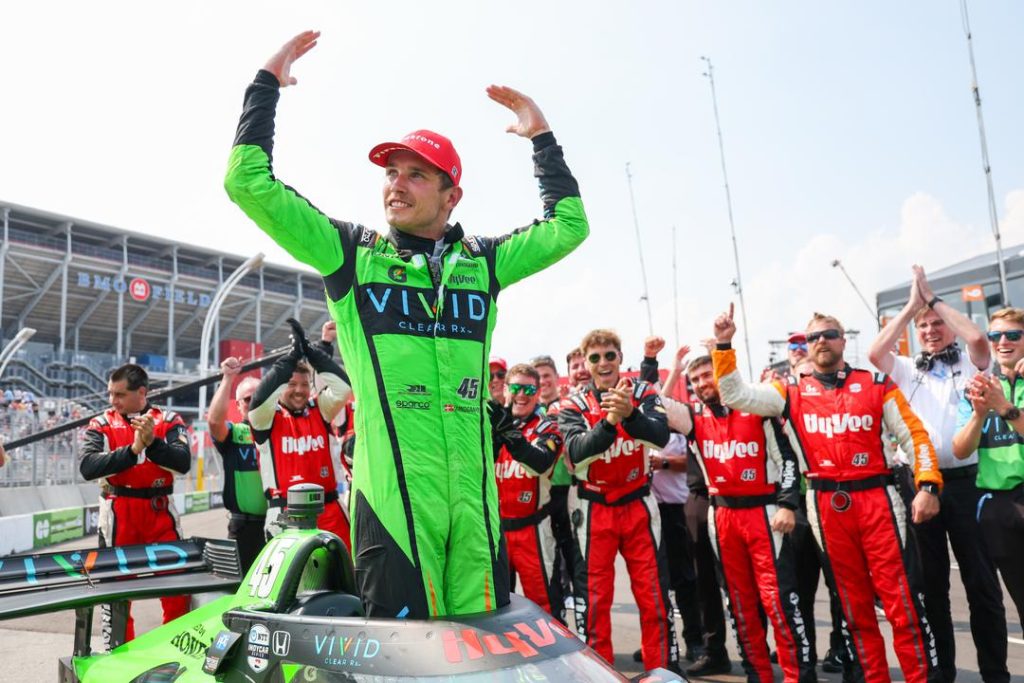 How about people like Marino Sato leaking that he went through half a dozen Mechachrome engines in the first half of an F2 season? Or the massive amounts of biases in funding that teams need to survive that has led to a stampede of European talent heading stateside in the first place? The junior ladder in Europe is becoming a lottery, and talent like Lundgaard not having the golden ticket is one of Motorsport's recent glaring examples of how easily we can get it wrong. Once again, Europe's loss is the US' gain.
Christian Lundgaard is him. He's always been him, he's just never had the platform to show it. And if it's true Alex Palou really is moving to McLaren, there is no longer an argument as to who's front of the queue for the #10. Speaking of which…
Also Him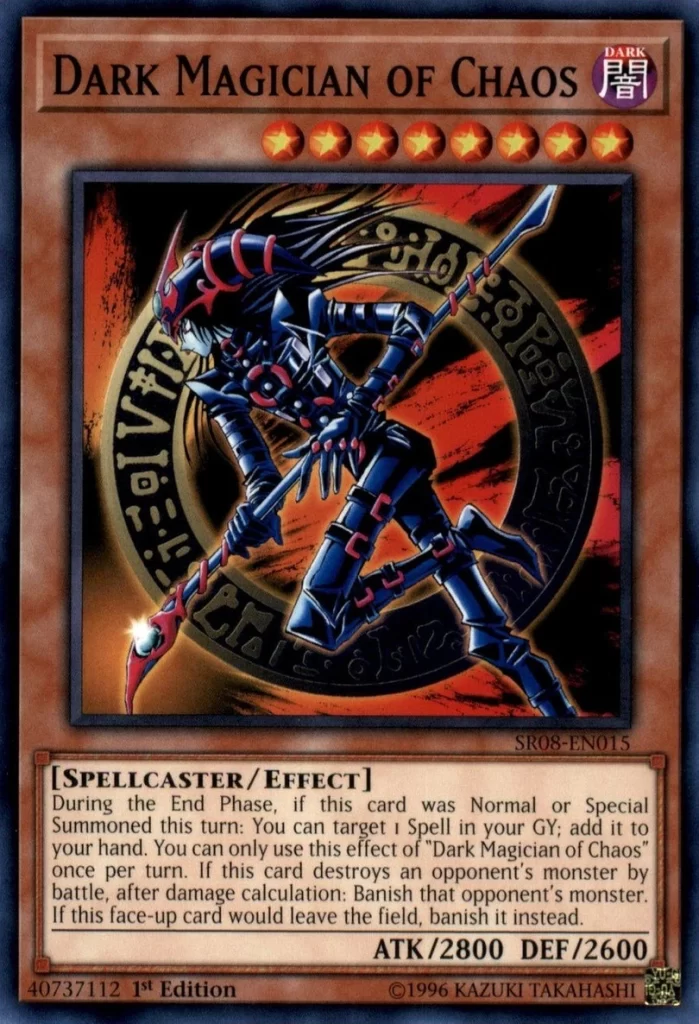 …I've joked around calling Alex Palou the Dark Magician for a good two years now. I was wrong. I think he's better. Maybe the Dark Paladin. Maybe the Magician of Black Chaos.
Yu-Gi-Oh jokes aside, it's actually kind of amazing. I just dedicated the better part of 400 words to how good Christian Lundgaard was this weekend and he was still somehow only the second most impressive drive of the weekend.
See, the Racing Gods wanted to collect their pound of flesh. A sudden downpour of rain during the opening round of Qualifying caught Alex Palou out and he had to settle for 15th on the grid. He was 9th before half distance after being able to run long on the Primary tyre and was in front of the queue of a potential 1-stop race when that second caution came out for Grosjean's wall smash. 
But when Kirkwood punted Helio Castroneves as the race was about to restart, Palou had to take evasive action, bouncing off the outside wall and nearly tearing off the plate holding his front wing together. The whole thing was leaning towards one side and his right side was dragging against the ground towards the end of the race. This was with 30+ laps still to run. He finished second.
HE FINISHED SECOND.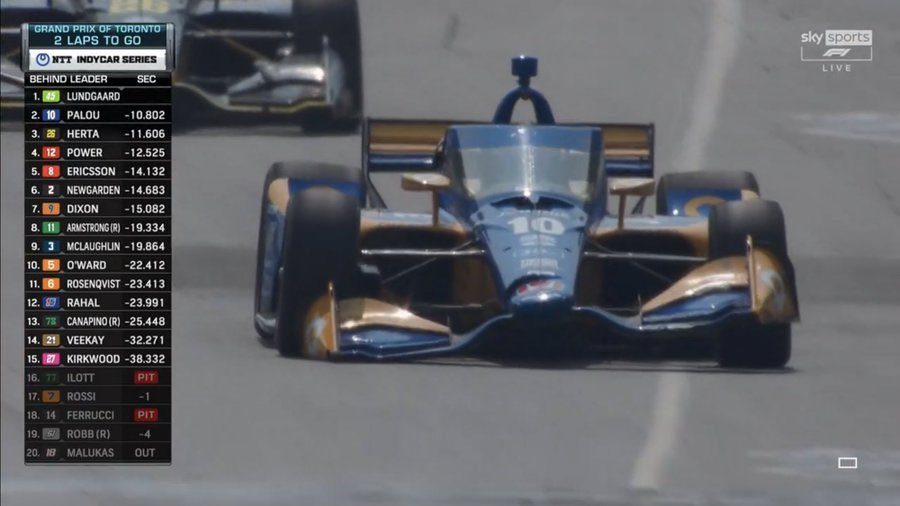 WITH THAT.
And he had to hold off Colton Herta, Will Power and Scott Dixon all behind him, all of which couldn't fuel save as effectively as him WITH A BROKEN FRONT WING at the front of the queue. Most of the time, Herta couldn't get within seven-tenths of him.
I was freaking the hell out in our Discord server watching him. He probably wins this race with a working front wing given Lundgaard was the only other man definitively quicker than him and would have had to pass him on track to do it. And even then it took a daring outside pass around the tight Turn 3 to do it.
I don't normally swear on these columns unless it's for comedic effect, but Alex Palou is fucking astonishing. He had a sudden wet quali, a crash, and the coming-of-age performance of one of the field's most talented youngsters all hit him at once and he walked away 2nd, and added seven more points to his Championship lead. 
There is one man on the planet on the same level as him right now. You know who it is.
The Lightning Round
PS: To anyone calling Christian's best friend "gay" for crying as he celebrated his first win, you're a sexist, homophobic loser. In a world where more men than ever are genuinely struggling to live and their emotions are deemed as a sign of weakness, we should be celebrating people being happy enough to cry in happiness for their best friend's success. Some of the reactions I saw on the matter are prime insecure bullshit. I sincerely wish more people there could imagine the feelings Peter did when Christian crossed the line. Trust me, it's a priceless feeling. (And who uses the word gay as an insult, still? What is this, 2005?)
Romain Grosjean. Sweet Jesus, what a French-Swiss tragedy. I had no problem saying he was the best driver in IndyCar until Barber earlier this season. Since then, his average finish has been… 17.8. It's not all been on him, like in Detroit when his suspension was already broken before he even hit the wall, but this is a man who was making a valid argument to be the leader of the Andretti team to ponder if it's even worth keeping him in the series.
Kirkwood's been clumsy at times but has shown tremendous upside. Colton Herta's been erratic for a good calendar year now but he's starting to find some good form again. You don't want your flagship driver in your flagship car averaging 18th week-to-week. And if it's true that a certain Swede is growing in frustration at Chip Ganassi… who says no to Marcus Ericsson in the #28 and David Malukas in the #29?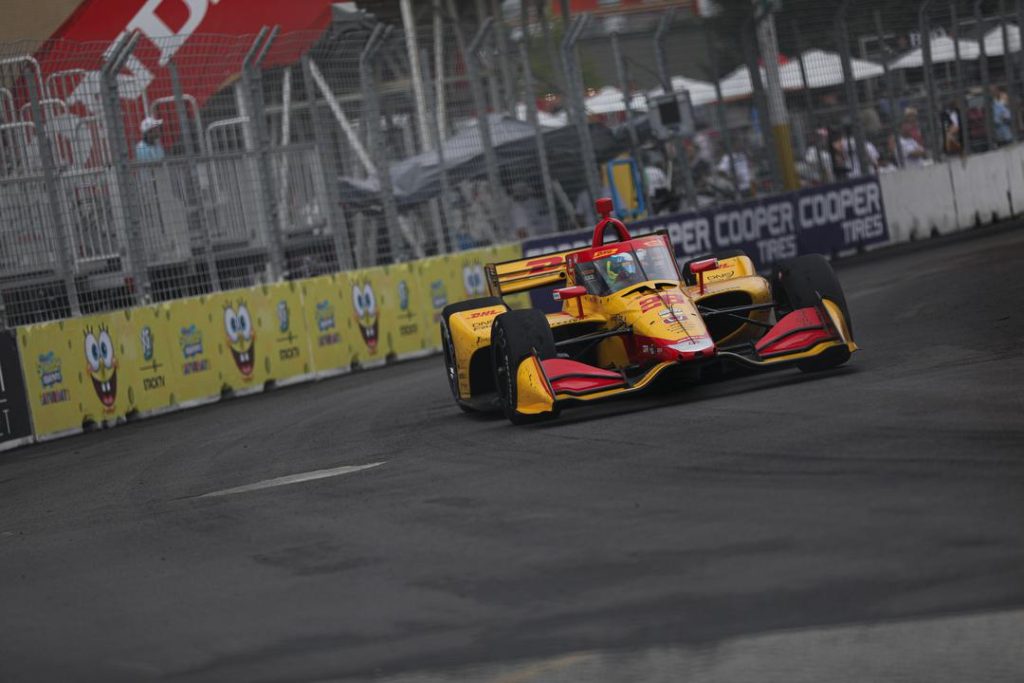 …And what did I tell you about Marcus Armstrong potentially hurting the Swede's value? 7th today. Hmm.
Rahal Letterman Lanigan Racing has a win in IndyCar this year. McLaren does not. Send Zak Brown the "Trust me, pal, you're not that guy" meme. 
And on the other end of the coin, Jack Harvey is probably done here. And it's such a shame given we know how good he can be. Pinching Hunter-Reay and stand-in Tom Blomqvist into the wall was silly and disappointing. Especially for Tom, who did a solid job in qualifying only for his race to end in 15 seconds.
Dre's Race Rating: 8/10 (Excellent) – A 6/10 race until Grosjean's wall hit turned it into a manic 10/10 finish. Seeing the shock of Colton Herta and Scott Dixon's emergency fuel save and then Will Power and Marcus Ericsson's splashes and dashes was pure chaos, alongside the strategic drama that came with the perfectly timed cautions. A great race and one that IndyCar needed with Palou still so dominant, and yet finding new ways to be entertaining. See you in Iowa to see if the Spaniard can win a million bucks.