"It's jover."
Three rounds to go in the IndyCar Series for 2023 and there was an outside chance that Alex Palou would be leaving Gateway with his second Astor Cup already secure. But Scott Dixon had other ideas after the Iceman dominated the proceedings to take back-to-back wins and slice Palou's lead down to 74. While for Josef Newgarden, it's yet another end-of-season-choke. Let's get into the nitty-gritty of Gateway.
22.226
Josef Newgarden, Pato O'Ward and David Malukas did a brilliant job of cleaning the kitchen, preparing the meal and getting the candles lit. ONLY TO LET SCOTT DIXON COOK AGAIN, WHAT ARE YOU DOING?!
Takuma Sato crashed out early on after a horrendous showing and it was right on half distance. With the average stint being around 52 laps to make it home on a 4-stopper, Dixon had to go around 65 to bring his #9 car home on just one more stop. He went nearly 70 and he was the only man to make it home despite eight other cars doing the same. Will Power was the last to give up the ghost and he still had nearly a dozen laps left.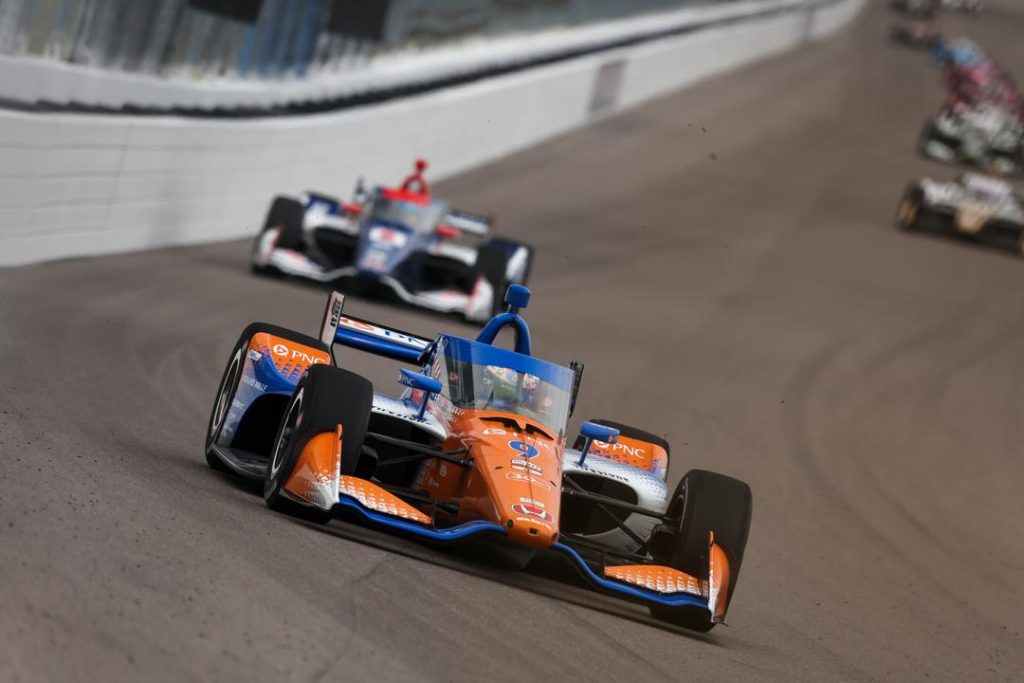 And with around 100 laps to go, the field knew what was going to happen. After the race was over, Pato O'Ward was interviewed about his race, the leader of those who ended up 5-stopping and trying to win on raw speed. He said it was "Dixon doing Dixon things" and he immediately knew he was racing for second.
No, I didn't just fall asleep on my keyboard three paragraphs ago (Tempting as it might sound given I'm sick with a chest infection). That number in the banner was Scott Dixon's margin of victory. Only three men finished on the lead lap of the Bonmarito 500. Pato and Malukas were the only other men in the picture.
Josef Newgarden, the man going for his sixth straight oval win and a clean sweep of the discipline for the season, blew it from pole having led 98 laps by checking up into the marbles and hitting the wall. This year won't sting as much given the other major trophy for Josef this season, but it's got to be slightly concerning he's come up short of the Astor Cup for the fourth year in a row. A frustrating end to a confusing season for the man in the #2.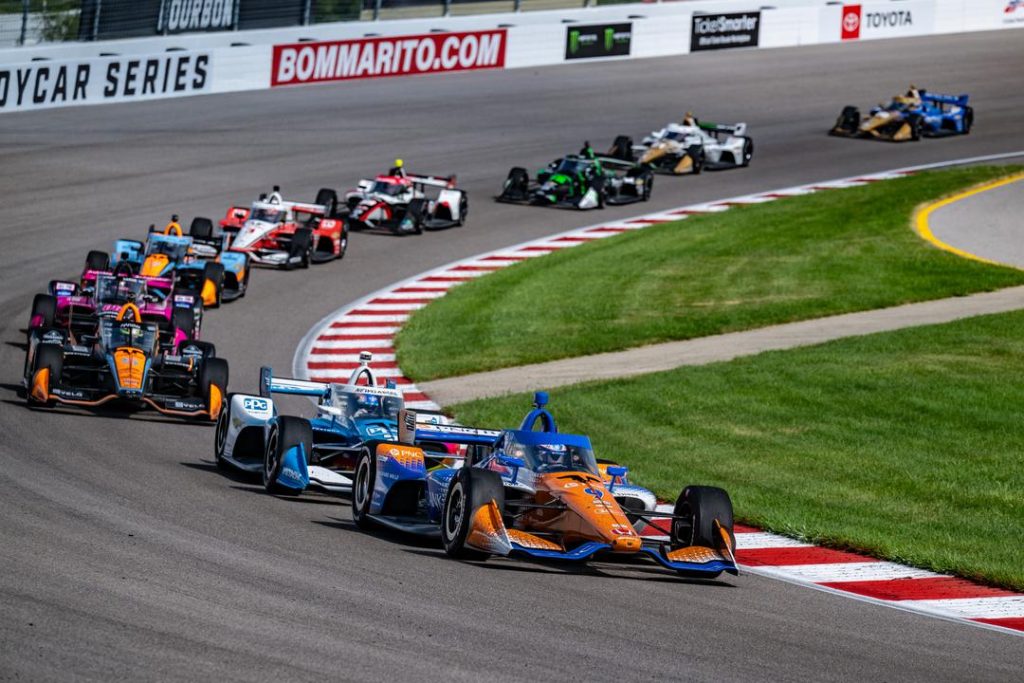 Annoyingly, I don't have too much more to add I didn't say a fortnight ago at Indianapolis. Dixon is still him and for the second race in a row, he's embarrassed one of the best single-seater series in the world. It might be too late to go for title #7 but it's a message that the Iceman is still good enough to compete at the very highest level.
Another Extended Lightning Round
This was a very strange gateway race. The rain hit on Saturday which moved Qualifying to Sunday morning local time. The high-line practice didn't really do anything because of the large marbles off the main line, and the alternative tyre was useless. It had the same level of grip as the Primary, but less tyre life, making it essentially about as useful as F1's Extreme Wet. (Dixon's third stint was on the Alternate. THINK ABOUT THAT)
The only person I saw making it work was David Malukas, who was the one getting his hands dirty. He's turned into a bit of a Gateway specialist with his second consecutive podium finish there. Look, I'd be a complete hypocrite if I condoned his hip-check on Scott McLaughlin in the same way I was critical of Josef Newgarden doing the same to Pato O'Ward, but it is slightly funnier to me that someone's giving it back to the Bus Bros. Big whiffs of being able to dish it out but being unable to take it. Can't shit a shitposter like Malukas, Scott. You'll learn.
Marcus Ericsson is gone! Leaving Chip Ganassi Racing for Andretti Autosport in what I think will be a great move for all parties. CGR doesn't need Marcus as a floor guy as much when it has Dixon and likely Palou tied down for as long as they want. If it's true Linus Lundqvist is getting the #8 car, that's a very fun potential project for Chip going forward and Armstrong is a solid #4 piece too. Andretti needs some consistency in their high-ceiling line-up of Herta, Kirkwood and maybe Grosjean. So Ericsson makes a whole lot of sense there in the twenty… Hmm…
What the hell was that from Takuma Sato? Horrendously bad running in the race, checked up Callum Illot into the wall and then crashed himself. With the rumours strong that Marcus Armstrong is going full-time next season in the #11, we might be seeing the last non-500 race of Taku's career.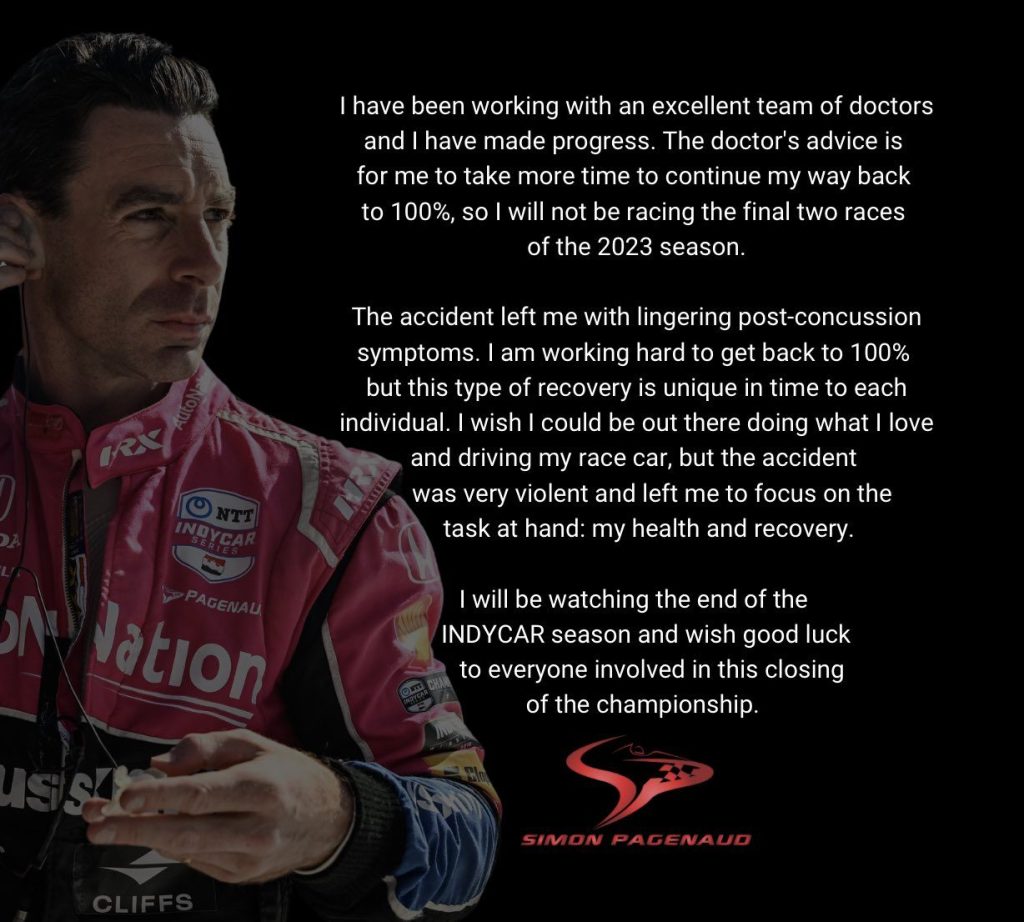 A salute to Simon Pagenaud for being open about the fact he's still dealing with lingering post-concussion symptoms after his horror crash at Mid-Ohio. He didn't have to tell us that, and he did. His season is over at Meyer Shank as Tom Blomqvist will be covering him for the rest of the season. It effectively makes him a free agent with his contract expiring at the end of the season. I really, really hope it isn't the end for Simon in the same way it was for Kurt Busch, who announced this week he really is calling it quits because no one deserves to go out like that in racing. Tough times all around for Meyer Shank Racing.
Pato O'Ward has finished second for the fourth time this season. Jeezus, McLaren might go winless on their breakout year. That was not the plan.
"They Wanted To, So They Did."
I'm tired, man. Last night when I was originally planning to write this, it was announced as some predicted, that Juri Vips was announced to driving the #30 Rahal Letterman Lanigan car for the final two races of the 2023 season. As you imagine, the reaction was rather heated, given his past. For those who don't know, Vips was kicked out of the Red Bull Academy last year for uttering the N-word in a Twitch stream. He got to keep his job racing for Hitech in F2 and tested for RLL earlier this year, so it's not a total surprise he's gotten the call-up.
Now, a lot of people have weighed in with their opinions, some of them dragging me into it, so I felt like I should drop my two cents on the matter. Short version: I don't like it, but I understand.
I've made this point before in previous articles I've written, that F2 has become the most lucrative path for new IndyCar drivers in recent years. Christian Lundgaard will be a highly regarded free agency pull next year. Callum Illot is constantly rumoured for a better seat. Marcus Armstrong has had a very solid rookie season. All good to great F2 drivers with proven pedigrees stateside.
Juri Vips was an F2 race winner and Top 6 guy there at his best, It's no surprise someone would take a chance on him, and RLL has done so given how poor Jack Harvey has been since joining. And the fact they disabled the replies to their announcement on social media, where you WANT the engagement above all else, tells me all you need to know. They knew this backlash was coming, they knew he had a background of racism but that wasn't enough to put him off offering the job, because in most cases, talent rules all.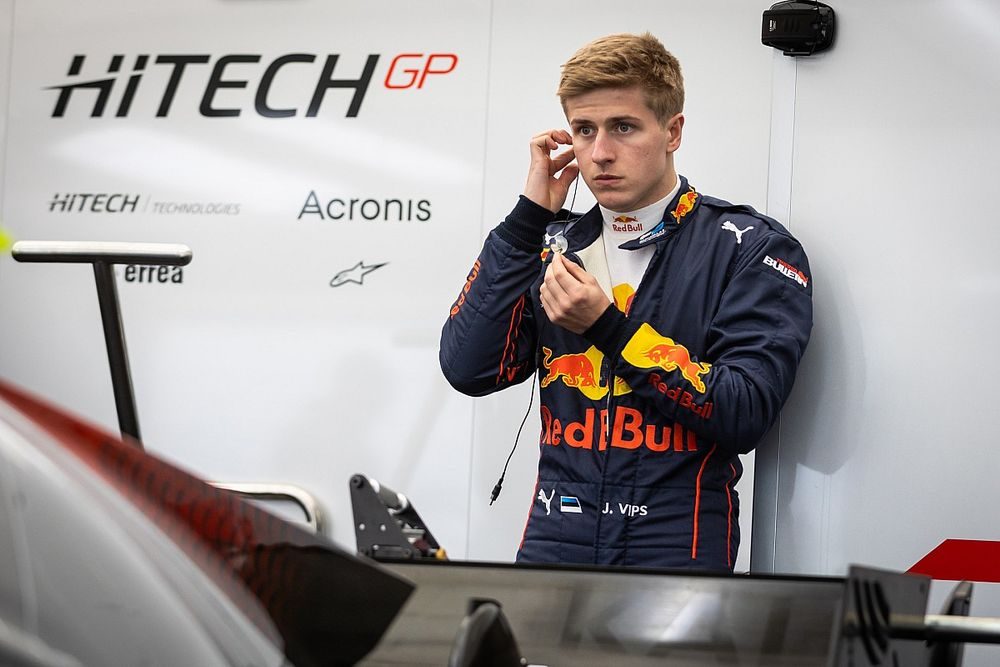 Vips has claimed on his Instagram (His front row on the main grid still has the apology in it), that he's done a sensitivity course (Because apparently a 22-year-old whose well travelled needed to be told saying a racial slur is bad), has apologised and is trying to better himself as a person. Now, do I believe people deserve a second chance? Most of the time, yes. But sadly with the way society is these days, most people of my colour who are the ones offended or directly affected by incidents like Vips don't have the power to make those decisions. Bobby Rahal can. 
And I'm sorry, but the way the series rolled out the red carpet for Santino Ferrucci hasn't exactly got me thinking the series will handle this with the sensitivity it should. Ferrucci is only in IndyCar because he lost his Formula 2 job after missing payments to Trident, ramming teammates off the road and accusations of racism.
It's never been directly addressed in his time back in America, he's been promoted like the American dream despite the series always having a healthy dose of Americans in the series, and there's a walking conflict of interest in how he's promoted within the series if you know who represents him.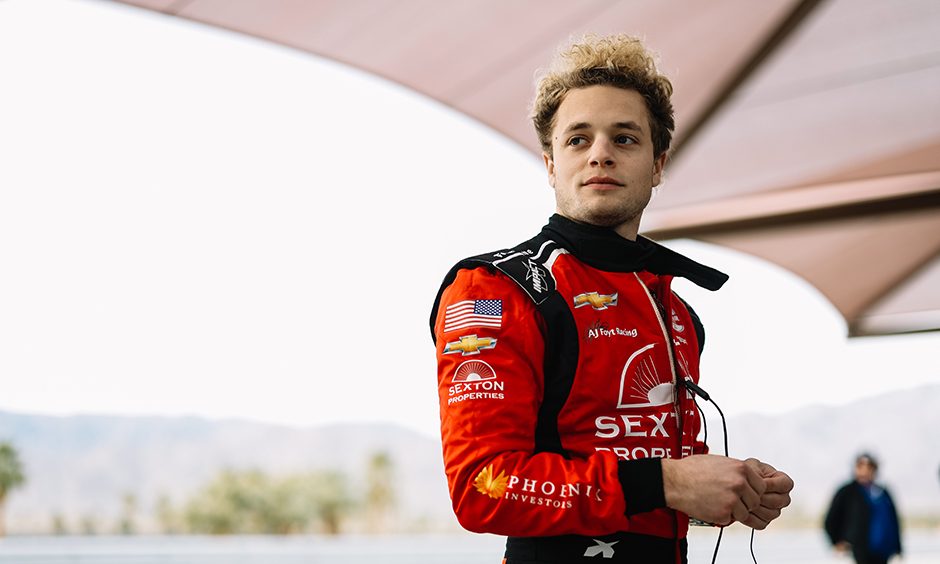 Vips likely won't get the boot-cleaning treatment given he's not American, but you get my point here. The series is very good at sweeping the nasty parts of some of their drivers under the rug, and a lot of white Motorsport fans are very quick to forgive because seeing someone get another chance makes them feel better.
Like I said, Vips was always going to get a turn. Like with others like Kyle Larson and Santino, it takes a lot for the talent to be overruled by their character. It's embedded within the culture of sport. Take it from me, the guy who used to own a Mason Greenwood jersey. This is how the sausage is made. They wanted to sign Vips. So they did.
Dre's Race Rating: 6 (Decent) – Wasn't a particularly special one for Gateway. The dirty air made passing generally quite difficult, and while there was some fun tactical intrigue for a while, by the closing stages, you almost wanted to see a caution out of hope to mix things up because a Dixon win felt like a formality. This race was fine, but nothing special. See you in Portland.