"The Racing Gods decided that Max Verstappen couldn't make history. So Max decided to beat them too."
I love the F1 summer break. Why? Because whenever F1 is gone, people talk about how badly they miss it, and then come back and remind themselves that they're staring down the barrel of the most dominant season, likely ever.
Zandvoort was shaping up to feel that way, but the elements decided it would wreak havoc with the weekend instead. So welcome back to chaos, and even that Max Verstappen still won. Let's get into it.
Cloud 9
This weekend did everything possible to potentially trip Red Bull up. We had yet another wet-to-dry qualifying session that essentially turned Q3 into a one-shot run on slicks after Logan Sargeant and Charles Leclerc both crashed in that final session to bring out the Red Flags. Max still out-qualified Lando Norris by half a second.
It rained on the opening lap, heavily. Sergio Perez nailed the call to switch to Inters immediately. Max came out on Inters a lap later but was 10 seconds behind Perez. You know when I knew Max was winning this one? When on Lap 7, he took FOUR SECONDS out of Perez's lead on his outlap when the field went back to slicks again given how fast Zandvoort dried out.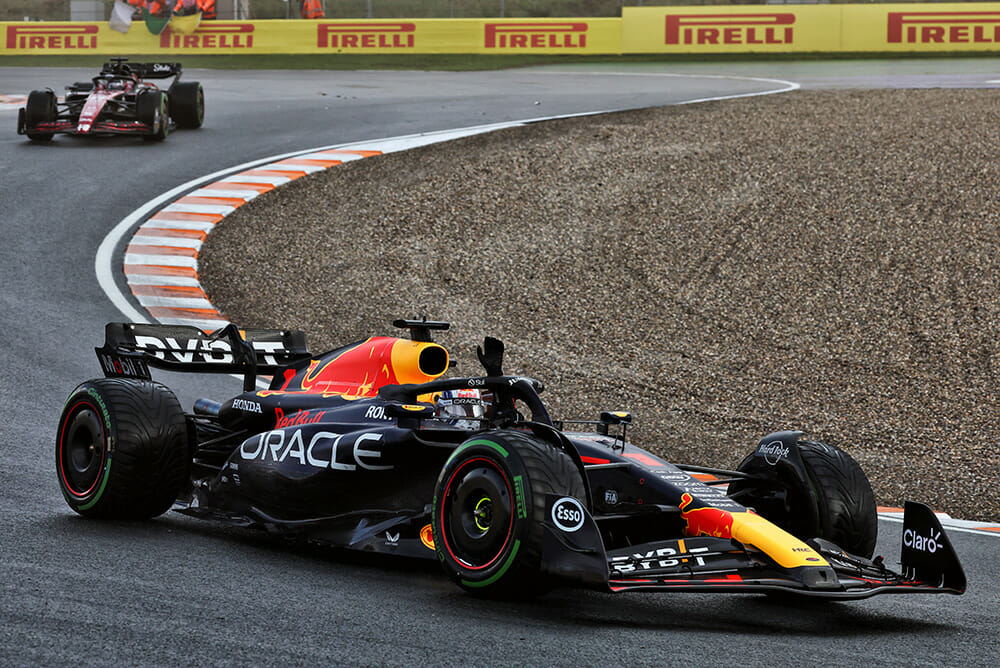 If you're a Checo fan, you have every reason to feel hard done by, but if you're mad about the call to bring Checo in second, you've probably convinced yourself that Red Bull is still a team that treats its drivers equally. It doesn't. And with the level of performance that Max is putting out, it's hard to justify why this team needs to keep bending over backwards to save Checo from himself.
The second half of this race proved that. Max was back in the lead, and when the second massive rain shower came, Max was spot on in switching to Inters and then Extreme Wets, while Sergio Perez spun into the Turn 1 wall, breaking his rear wing, and as well as clattering into the side of the pit wall as he entered, right before the Red Flag. And then he sped entering pitlane, a time penalty that led to him dropping off the podium.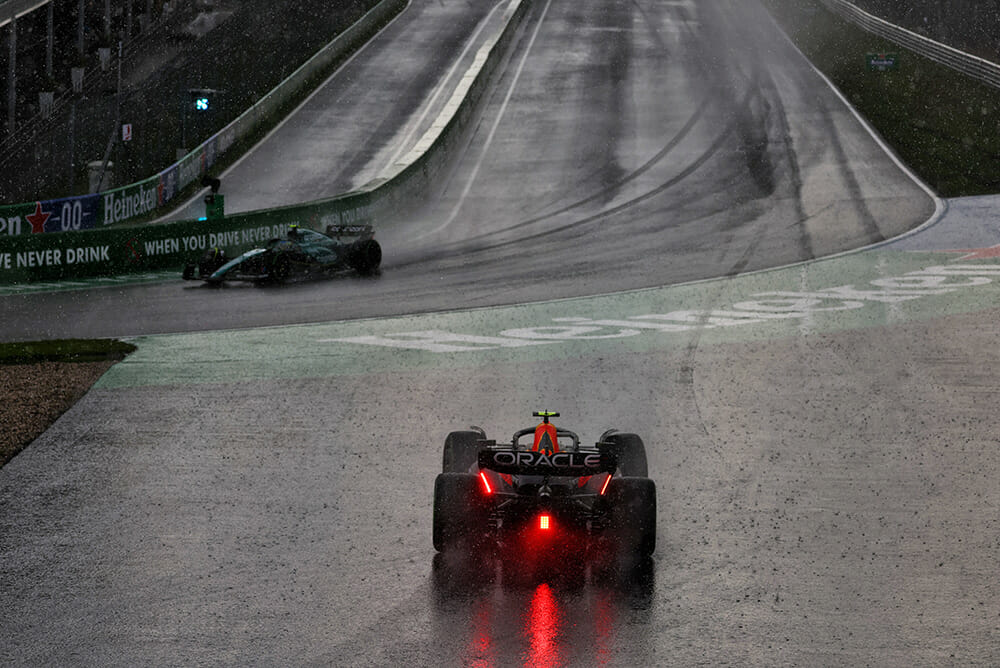 Max Verstappen, once again drove so well that he was able to use his raw pace to outmuscle the competition, despite being far from the optimum path in terms of handling the spontaneous conditions. And with it, his ninth win in a row. Sebastian Vettel and Alberto Ascari have been tied. A win at Monza this weekend will be yet more history. No one person has ever won 10 races in a row. And with not only Max's speed but also Red Bull's excellent execution from strategy to pitstops… I really don't know how he loses one of these from here.
10 Short Stories About Zandvoort
Fernando Alonso was friggin' brilliant. It's been a difficult month for Aston Martin as it seemed their hype train… maybe not derailed, but certainly hit a couple of bumpy parts of the track. Turns out Aston Martin may have crapped themselves a little bit around Catalunya when the FIA said it was clamping down on flexible parts of the front wing, right around the time Aston slipped in terms of form (Barring Canada).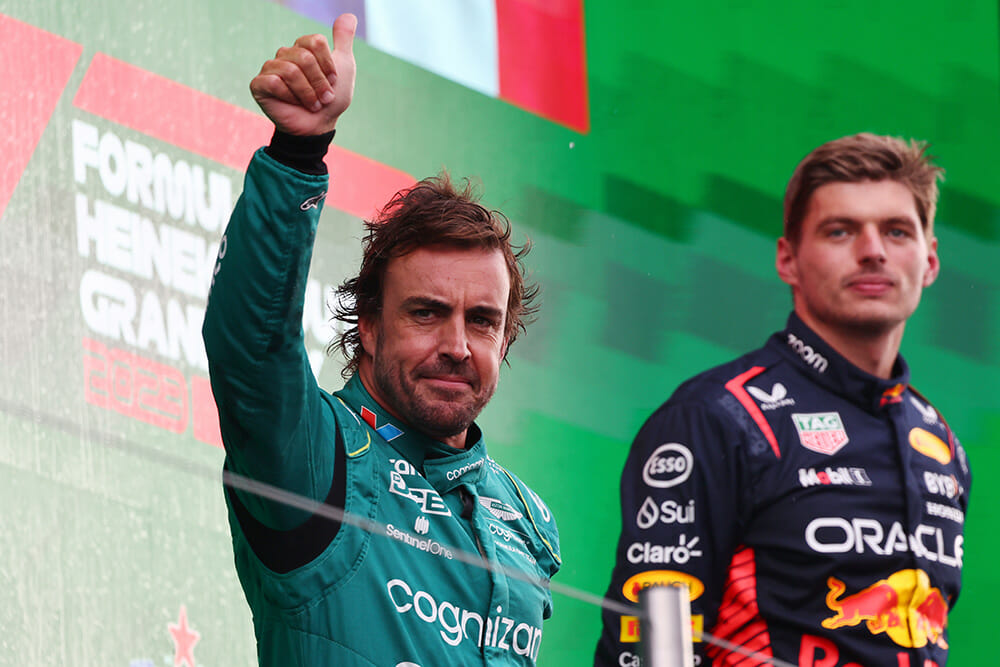 But a floor upgrade the Silverstone gang brought to Zandvoort and a track that plays to Aston's strengths, tyre wear dependent, high downforce, etc, and Alonso's back to kicking some ass. That second place was probably his best drive in what's already been a stunning season for the Spanish veteran. Passing Alex Albon and George Russell at the same corner on the opening lap was incredibly ballsy, and then to make up the ground from a poor Aston stop (A familiar tale), to pass Carlos Sainz and the aforementioned Perez. Superb. (Lance Stroll was 11th. Again, why is he here?)
Breaking the Fourth Wall moment again here – Yes, I talked about Alex Albon finishing 8th, but I have to save something for WTF1's D.R.E column, so you can read that here.
Pierre Gasly drove an absolute blinder from P12 to finish on the podium, and it wasn't just via shithousing the tyre changes, he had genuine pace, going right around the outside of Carlos Sainz at Turn 1 and staying in a reasonable range of Checo at the end to demote him off the podium. It makes their management concerns all the more eyebrow-raising because, in certain situations, their car is genuinely good. Like, really good. Alpine only has one less podium finish than Ferrari this year.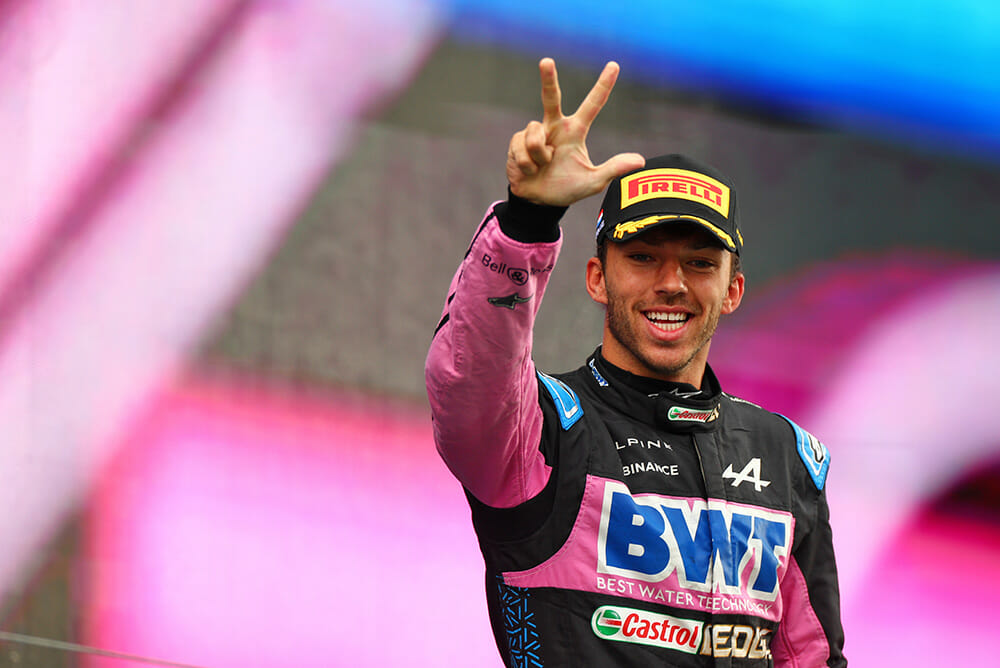 Speaking of which, I think their car was genuinely trying to injure Charles Leclerc and Carlos Sainz. They spent so much time on the escape road of Turn 1, that I think they're trying to build a housing project on top of it and charge a million quid for a two-bedroom flat. Carlos actually did a very solid job of getting 5th out of what may have been the sixth-best car this weekend, but Charles was woeful. A crash in Q3 meant a fifth-row start, and then in peak Ferrari moments, the minor tap he gave Lando Norris, broke the endplate of his front wing, which then went under the car and damaged the floor. So much so it eventually led to the car being parked. Of course.
Also, what the hell was that, Mercedes strategy department?! I know it can't be easy in those spontaneous moments to make a call, but leaving Hamilton out until Lap 3 to box, and Lap 4 for Russell was catastrophically bad. (Toto's words, not mine). Luckily Hamilton's been so good this season he was still able to recover to 6th. George Russell on the other hand, clumsily tried to box out Lando Norris and boom, puncture. I keep saying it, but sometimes I think George is a tad too aggressive for his own good.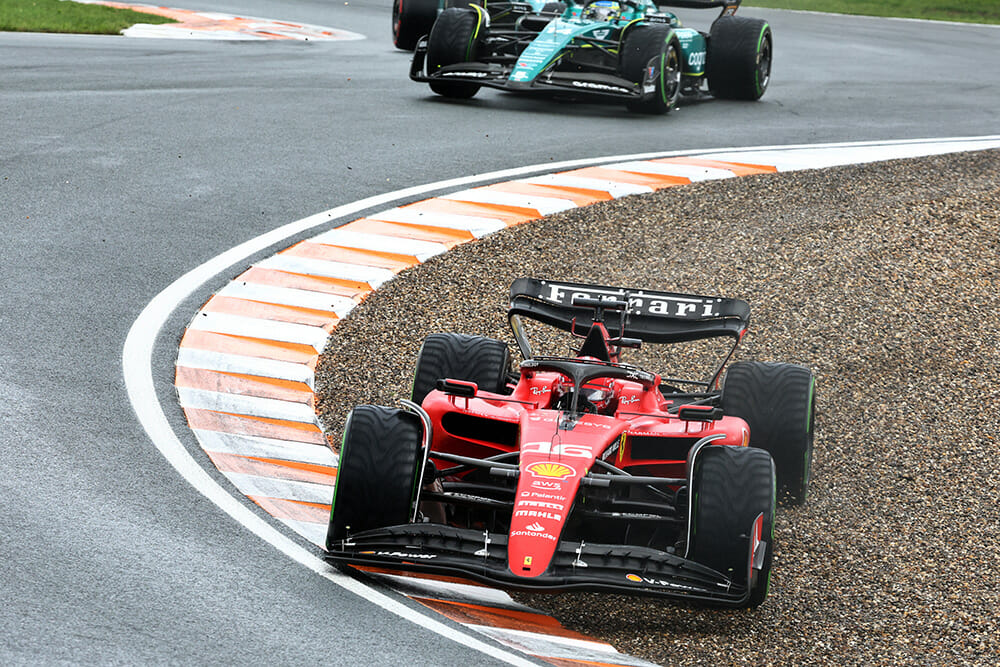 Lando Norris is a sassy son of a gun, claiming that his staying out wasn't a Sochi 2021 when it was blatantly another Sochi 2021.
Yuki Tsunoda deserved a Top 10 result for that drive, holding off Lando Norris behind him in a blatantly faster car. But leaving him out for the rain that came far too late was a horrible decision from the team and it butchered his race. Shoutout to Liam Lawson who filled in for Daniel Ricciardo breaking a metacarpal on Friday, didn't break the car and even brought home a competitive result as a bonus.
Dre's Race Rating: 7½ (Very Good) – You know what's scary? I think this is the second-highest score I've given to an F1 race this season. This was a genuinely good race. Even when things died down a little in the dry, there was genuine passing, Zandvoort is a "racier" track than I think some people (me included), give it credit for. Throw in not one, but two bouts of rain and we had a genuinely entertaining F1 race. Just don't count on this sort of thing very often. See you in Monza.