"Sergio Perez is the reason Ramsay's Kitchen Nightmares is back on TV. Because he can't cook."
What a Grand Prix this was. Seriously, this weekend was a literal hot mess. The gamechanger for the weekend that we found out about on Saturday morning ended up not really being a factor, and something none of us considered, ended up being so. Oh, and Max Verstappen won the World Championship on a Saturday, while Oscar Piastri won a sprint race. Let's try to make sense of… all of this shit.
A Pyramid Scheme
Qatar's always been a weird addition to the calendar. It's far more well-known as MotoGP's traditional season opener. It isn't used for much else besides Touring Cars and National Level bike races. But they've renovated the place with a massive new paddock and grandstands to take attendance up to 120k for the weekend. Nice given it only used to pull 8,000 on race day for MotoGP. 
But little did we do the chaos that awaited on Saturday morning. As part of the renovations, the track organisers combined with the FIA installed "Pyramid Kerbs", 50 millimetre high kerbs on the outside of Turns 12 and 13 that when combined with the car's high lateral G-Force coming through the corner, caused damage in the Pirelli' tyres sidewall due to the high level of interference.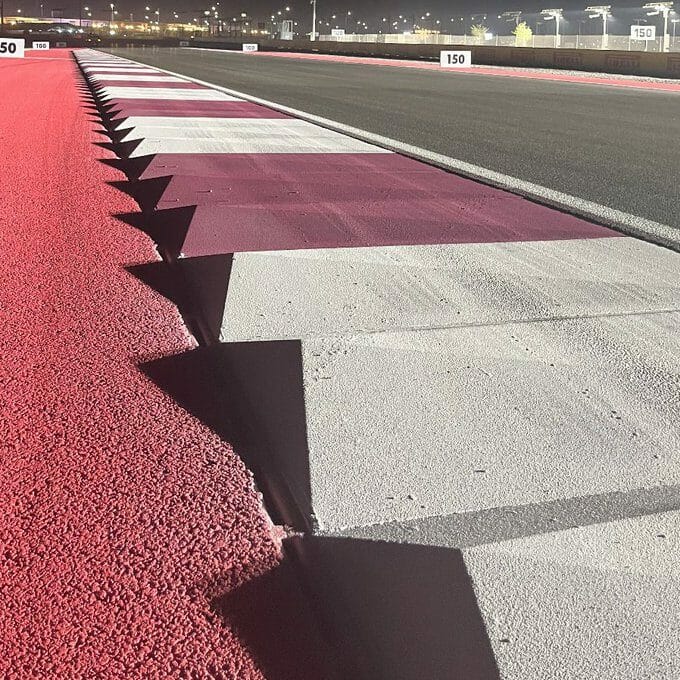 The FIA said they were going to use the Sprint Race to see if the data was consistent with what they'd seen in practice, and in the meantime, paint an extra 80 centimetres into the outside of the track, reducing its width and forcing drivers to be extra careful on the outside, or risk track limits sanctions. No surprise, given the drivers only had 10 minutes to acclimatise to the new corner sequence, they struggled in the Sprint Shootout, with 31 laps struck off the board in just 30 minutes of total running.
I get it, it's very easy to say "Just stay in the lines", but when you've only given drivers maybe 6 laps to get used to the changes, and the drivers can barely see the edge of the track (Many of them going by feel of said kerbs as their yardstick), it felt a little bit like they were being set up to fail. 
The Sprint was supposed to be a glorified test of the tyres. It didn't matter because the 19-lap sprint had THREE Safety Cars as Logan Sargeant and Liam Lawson spun, then we had a three-wide smash between Sergio Perez, Esteban Ocon and Nico Hulkenberg.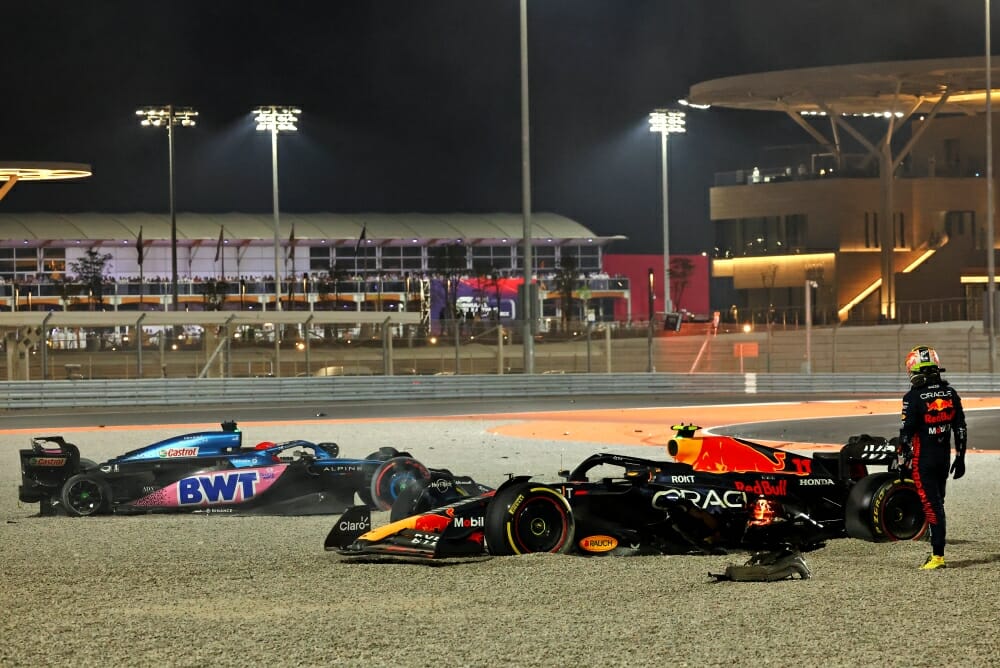 So by Sunday afternoon, the FIA had to take drastic measures. A maximum usage of 18 laps per tyre set, including sets that were already used. It made the race a mandatory 3-stopper because it was 57 laps in total unless something really funky happened.
And yet, despite the potential for chaos… the race was perfectly docile in terms of tyre management. The soft tyres were essentially off the table due to the speed at which they were wearing out (The Sprint gave the game away there), and while it took a little while for the cars to generate heat, three mandatory stops meant management was off the table. Some undercuts were attempted but it didn't make a huge difference to the running, and it turned out fine.
Generally, I think the sport handled this pretty well. It's not ideal that we had this issue in the first place, but at least Pirelli discovered the problem quickly and the FIA were quick to put in Safety measures that generally speaking, worked. This weekend could have been a disaster and instead, a crisis was averted. And hopefully, it pumps the brakes on some of the talk about making mandatory pitstop races a thing because it did nothing for the show here.
Sadly, the race had a different catastrophic problem…
"No, No, No, No, No, No, the Weather…" – Jesse Lingard
This race was run in genuinely dangerous conditions. Even at night, the race was taking place at 31-33 degrees (Low 90s in American), with humidity in the high 70 percentiles, and man it showed. I'm no doctor and I don't pretend to be one on social media for likes, but it's pretty clear that multiple drivers were suffering the effects of heat stroke and hyperthermia. 
We saw it live on TV as Logan Sargeant couldn't continue and could barely get out of his car. Logan said back in Singapore he doesn't drink during races and a combination of extreme dehydration and flu-like symptoms earlier in the week forced him to stop. As a side note, I applaud James Vowles and the team for doing the right thing and reassuring Sargeant to stop if he felt he couldn't continue. In a macho sport like Motorsport, where battling injury is often glorified as a test of character, Williams put the safety of their driver first. That matters.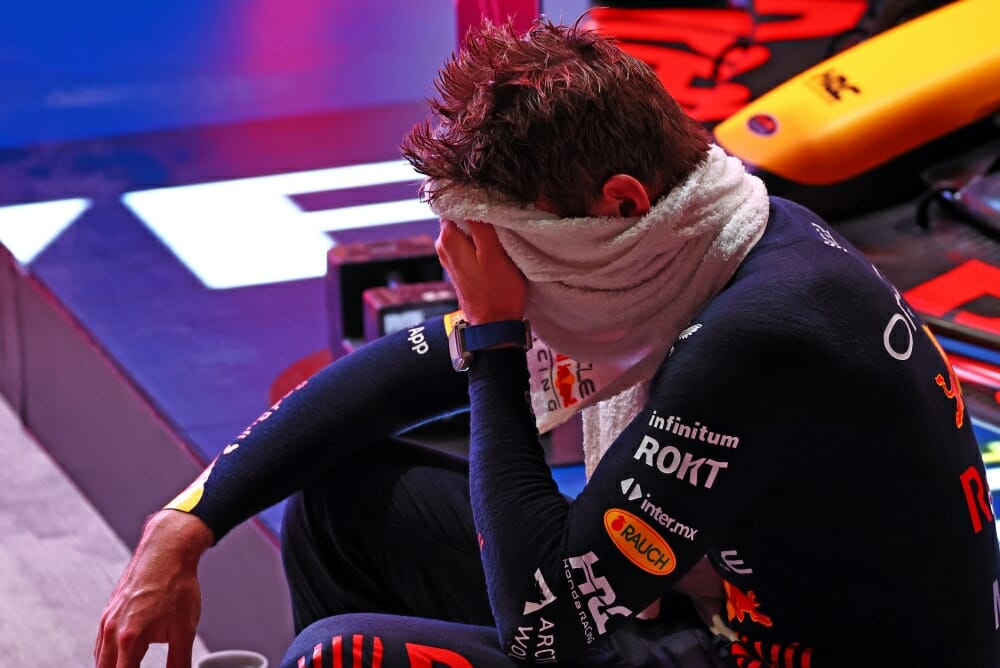 Teammate Alex Albon also suffered acute heat exposure. Lance Stroll admitted he was blacking out while behind the wheel and had to go to the medical centre after the race. Esteban Ocon threw up in his helmet 15 laps in. George Russell was opening his visor during pitstops and resting his hands above the wheel on the main straight to reduce the heat. Yuki Tsunoda tried opening his visor but couldn't do it because sand got blown into his eyes. Oscar Piastri was sprawled out across the cooldown room floor after calling it "the toughest race of his life". Charles Leclerc agreed. Valtteri Bottas called the conditions "torture".
We don't have to pretend to be tough guys about this. We don't have to jerk ourselves off because these athletes are incredible. Heat stroke spares no one. This race probably should have been stopped. And we shouldn't be racing here if this becomes the norm. It might be better next year when Qatar moves to a December slot, but if this continues, tear up the 10-year contract because this was unacceptable.
The second week in October and Qatar is going up to 40 degrees?! Seriously, who thought this was a good idea?!
Verstappen's Coronation
Congratulations to Max Verstappen for becoming the first man since his father-in-law Nelson Piquet Sr 40 years ago, to win a World Championship on a Saturday. I'd call it an anti-climax, but Max had this title won in June.
He had to work for it this weekend, beaten to 2nd in the Sprint by an inspired Oscar Piastri after Max got a bad start, then having the strongest element of his Red Bull diminished because Qatar was a triple-length Sprint Race in all but name, with tyre wear essentially taken off the table. But Max comfortably won his 14th race of 2023. The man's already just one off his 2022 win tally and he still has five races left this season. His Championship lead is now past 200, and he cemented his dominance with another Grand Slam victory.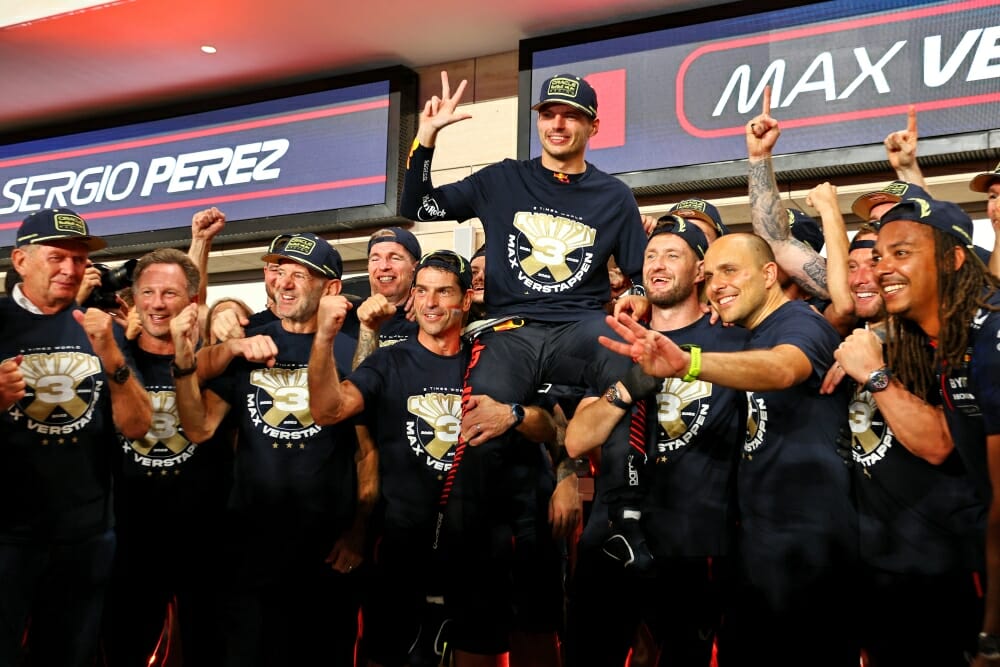 I'm not sure what more you can say that hasn't already been said. We're witnessing one of the greatest car and driver combinations the sport has ever seen. Period. I think this has been the greatest three-year run in F1 history.
2021 – Wins a close title fight against a prime Lewis Hamilton with 10 wins and 18 Top 2 finishes
2022 – Wins 15 races after swatting early Ferrari title challenge away
2023 – Wins 14 out of 17 (so far) in even more dominant fashion, has a chance of a 500-point season
15 race wins is Jenson Button's entire career. Max could match that win total in a single year back-to-back. I don't care if you're one of those people on Twitter who dedicates their entire social media footprint towards demolishing the man for Abu Dhabi 2021, a disaster that he was not at fault for and played no part in creating, this is incredible, and it deserves respect.
There's no doubt left in my mind. We are witnessing one of the greatest drivers F1 has ever seen.
The Lightning Round
WARNING: Opinion on Hamilton that isn't positive incoming. Reader discretion is advised.
A weird weekend for Lewis Hamilton. On the track, he was probably a bit too ambitious on that start. Glad after he saw the replay he fully owned it and apologised but that was a big missed opportunity at another podium given Russell's pace was really good. First time all season he's finished a race outside the Top 8. 
Off the track, I can't stand the fact that my colleagues were criticised at WTF1 for correctly pointing out that the man semi-backtracked a pro-Andretti as an 11th team stance, only to respond to a fan on Twitter saying "Wait, I'm pro 11th team, just not them.". Twitter, I try to love you, but if the man has to clarify his stance when it was pretty clear in the first place, twice over (While saying the first time you knew your opinion would cause disagreement) – You're sending mixed messages.
And this is despite the fact that I absolutely agree that black ownership in F1 would be great and it's something he should be pushing for himself as Valentino Rossi has done in MotoGP, or David Beckham and Lionel Messi have done in the MLS. I think Lewis could do the same one day if he got the right people to consort with.
Given how his team boss has been anti-Andretti from Day 1, I do wonder if words were exchanged after Thursday's press conference. The cynic in me would say that Mercedes is very good at cleaning up their own mess, hence the recorded hug on Twitter on Sunday night.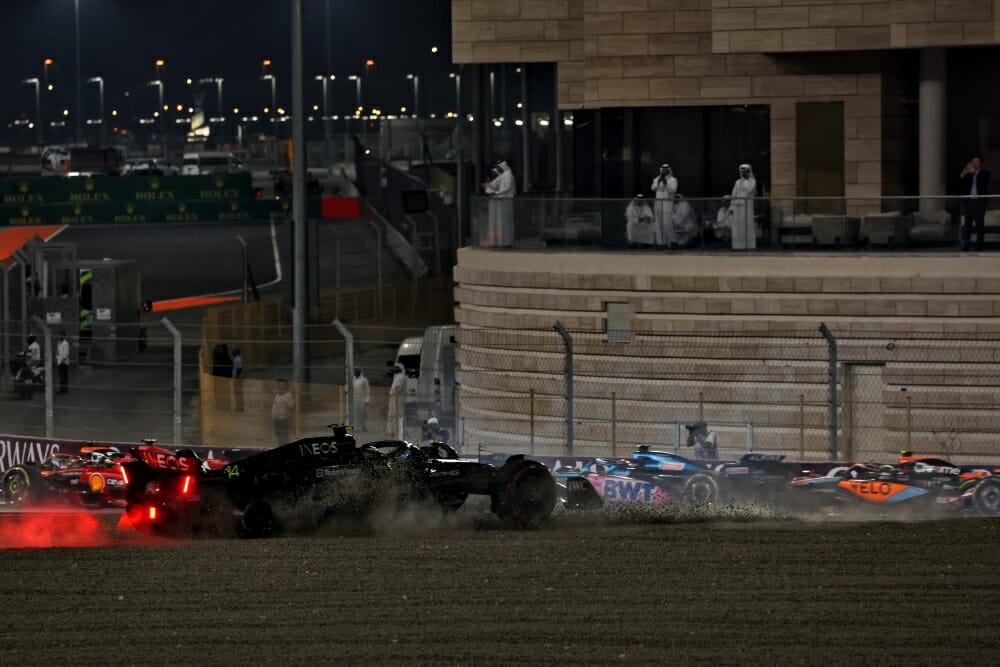 PS: And you know how fucked up Twitter is when Hamilton fully owns a racing incident as his fault (Which it was) and his fans are telling him in response that he's wrong?! But then again, Twitter being a site for critical thinking went out of the window with the vocal minority years ago.
Oscar Piastri is quickly becoming F1's new favourite "eye test". He was brilliant this weekend, winning the Sprint and going from 6th to second when Hamilton hit Russell. Now I'll be consistent in my stance, I'm not fully on the wagon yet, I think Piastri still has a lot of room to grow as a driver, but his raw speed is only half a step behind Lando Norris, and that's fascinating. He's literally the F1 Manager 22 version of himself with that busted 91-pace stat. 
This is still Norris' team, and he's been comprehensively better than Piastri in 2023, but Piastri will grow into a threat for Lando, and that could be interesting. Especially because it's pretty clear that Lando can't hide his frustration when he's not the one celebrating. It reminds me a lot of Norris in 2021 when Daniel Ricciardo took McLaren's moment of glory in Monza. Those moments sting, especially when you've been the better guy across the board.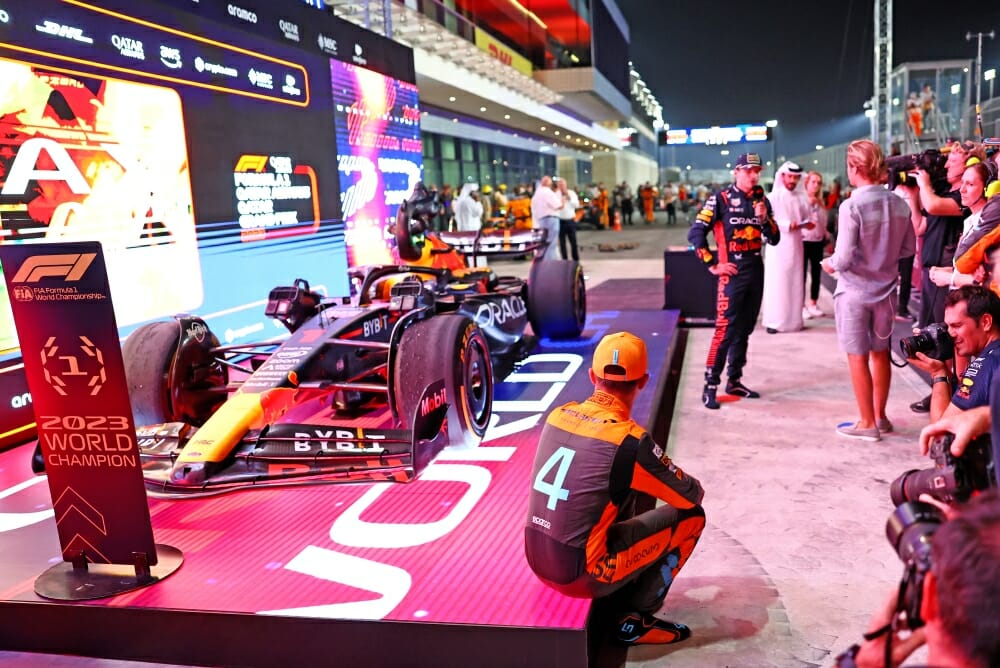 One extra note: McLaren pulled off a 1.80-second pitstop. The greatest pitstop in F1 history. In fact, McLaren had a 1.80, a 2.00, a 2.14 and a 2.15 in that race. Absolutely ridiculous from McLaren's pit crew.
Sergio Perez picked up 15 seconds worth of time penalties for EIGHT track limit breaches and finished 10th on the road. His contract must be ironclad for 2024 or too expensive to justify breaking because at this point he's a liability for this team. It's no coincidence McLaren has outscored Red Bull by 29 in the last three weekends. And with McLaren genuinely showing raw speed close to the Bulls, I'm shocked Red Bull isn't being more proactive about this. Perez isn't good enough at this level.
Carlos Sainz didn't even take the grid after a fuel leak put him out an hour before the race started. The honse never lands far from the tree. And shoutout to Nico Hulkenberg for forgetting you have to leave the space on the grid when someone can't take the start. Whoops.
Dre's Race Rating: 6 (Decent) – The sport dodged two bullets here. Thankfully the safety measures worked and the tyres weren't a problem for the race itself, even if it turned the Grand Prix into a timed rally effectively. But this was a race that probably shouldn't have happened at all due to the poor weather and more needs to be done to make sure it doesn't happen again. See you in Austin.