It doesn't matter whether the Belgian Grand Prix at Spa-Francorchamps is in August, September or July, rain will always be the order of the day in the Ardennes and 2023 was no exception. And while it threw up its fair share of mad scenarios, the result ended up the same. Max Verstappen is just one race away from the greatest F1 winning streak of them all. Let's talk about how he did it and everything else in between.
"Could you move it along, I'm running out of Superlatives!" – Patrick Starr, probably
Sebastian Vettel is now the only man in history with a longer winning streak than Max Verstappen. If you include the Sprints, he's already there. And you know you're hot when even the news on Friday morning of a 5-place grid penalty for extra gearbox components only led to conversations of "So when does he end up taking the lead? Lap 3?"
Sergio Perez took the early lead after not making a complete horlicks of his qualifying for once. And if you ever needed an example of the state of play at Red Bull, here it is.
Perez got the favourable pit strategy as the lead car and takes advantage of the massive Spa undercut. It's worth maybe three seconds in the open air. Max comes out about 2.5 seconds behind after his stop after quickly clearing the traffic from P6. On Lap 16, Max Verstappen takes 1.5 seconds out of Perez's lead. By the end of the Kemmel straight, he passes Perez, hitting 200mph before he even hit the DRS Zone after Raidllion.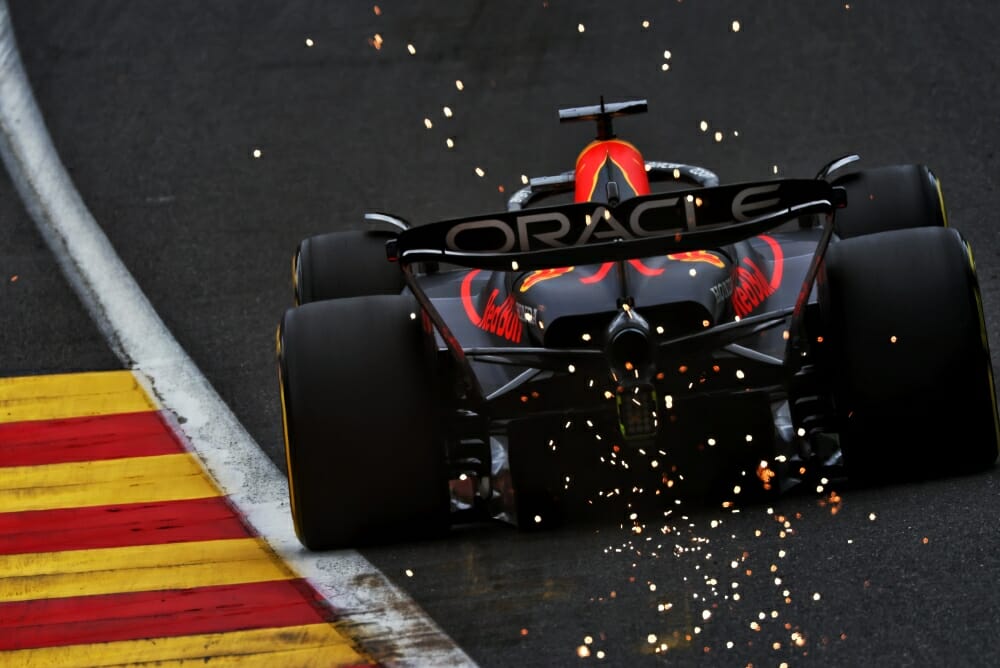 Max Verstappen, in just 27 laps of racing as the leader, would win by 22 seconds. Essentially, an entire pitstop in hand. After a qualifying session where Perez was out-qualified by .9 of a second.
In a race that was so casual for him, Max was winding up the team about taking an extra stop so the team could take some pitstop practice, just like Austria all over again.
I like to think I'm a half-decent writer on occasion, but this is a genuine challenge talking about how good he is at the moment. BECAUSE LOOK AT HIM? Sergio Perez is a damn good racing driver. He was in my Top 10 F1 drivers of the 2010s. He's in one of the best cars F1's ever seen. And he's getting blasted into the middle of next week. This is ludicrous from Verstappen. And if this holds, he's passing Prost and Vettel on the all-time wins list before the years out.
We Gotta Talk About The Sprint Again
I'd have loved to have a fly-on-the-wall during the creative meeting at Biggin Hill when the sport decided that a Sprint Race at Spa was a wise idea. Because man, given the unpredictability of the Belgian weather, it was asking for trouble.
Now, remember when I reviewed the Saturday changes to the format? One of the points I made that I was on the fence about was asking why there had to be a 4.5-hour break between the Shootout and the Sprint. And when the Belgian Shootout was delayed by 35 minutes due to heavy rain, that delay kicked the Sprint back by the same amount. This was funny because the Sprint was also heavily delayed and if they ran it in its original timeslot, they'd have gotten the Sprint done on time.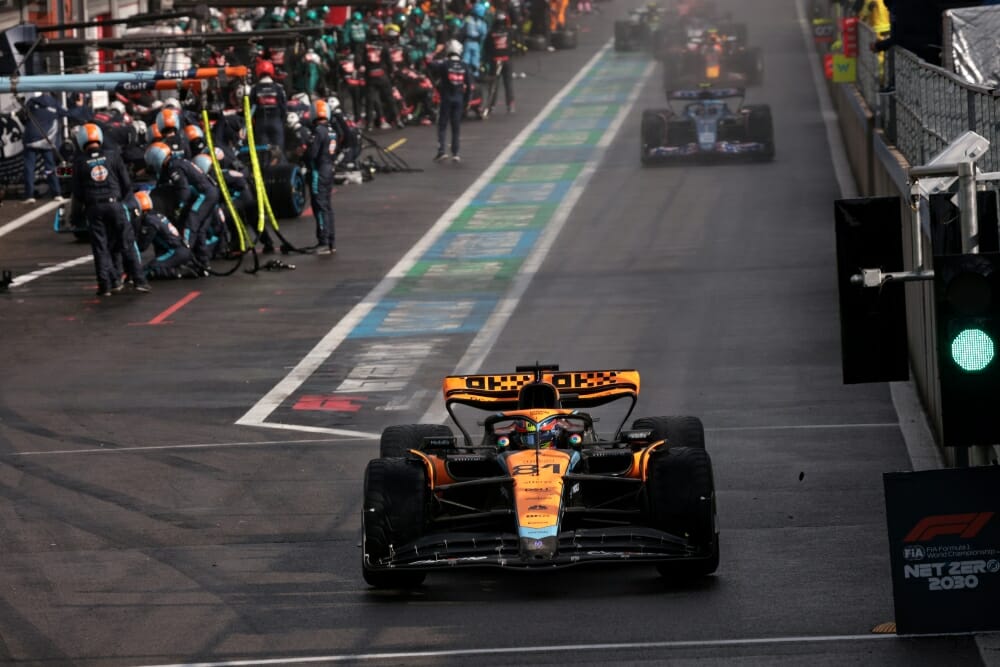 And no, the schedule isn't so set in stone that you had to keep that gap, especially when the sport was prepared to delay said Shootout for an hour because they didn't want to use Friday's Qualifying result to form the grid if they had to. There were murmurs about the Championship order being used to set the grid, straight out of IndyCar too. The FIA continues to be a hot mess (And don't even get me started on Formula E this weekend)
And just in case there was any more proof needed – The Extreme Wet tyre is dead in F1 and a solution needs to be found. The Intermediate Pirelli is a genuinely incredible tyre. It clears a ton of water and dries out a track very quickly, it has a wide operating range and is durable over a long distance if the rain keeps falling. And chances are if the conditions are so bad the Inter isn't viable, it's probably too dangerous to race at all. It's a good problem to have given F1 is generally a bit more conscious of just saying: "Boys have at it!", but it conflicts with what the sport is trying to do from an environmental standpoint.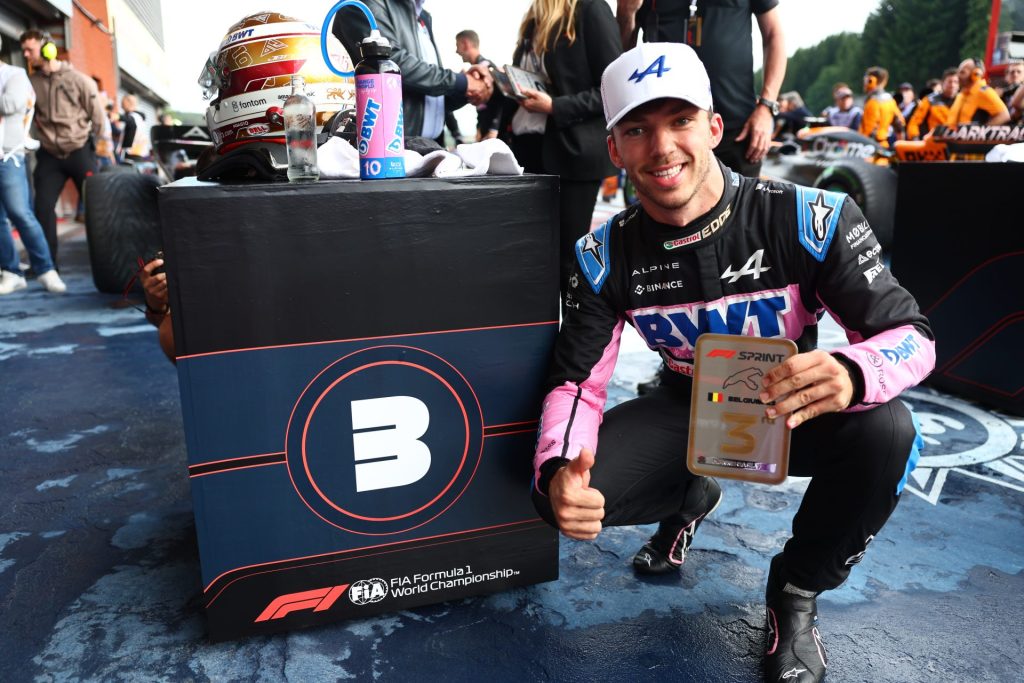 The sport is desperately trying to find ways of making itself more sustainable, with Hungary being a weekend where the teams only had 11 sets of tyres instead of 14 for the weekend. But the drivers were quick to call out the wet tyre situation as a scapegoat. And while I don't think that's totally viable, sorting out the Extreme Wet tyre to make it more competitively viable in F1 wouldn't hurt, or you just scrap it altogether and have one wet compound like IndyCar has.
Anyway, the Sprint itself was reduced to 11 laps, and we got yet more validation for Oscar Piastri, who was perfect in his defence of Verstappen early on after getting off the Extreme Wets first and comfortably ran second the whole way through, McLaren's extra downforce driving well in the rain.
More on the rest of the shenanigans in a minute, but also a massive shoutout to Pierre Gasly for bringing home third in that sprint in what's had to be an incredibly difficult weekend for the French team and Gasly in particular. I'd talk more about that here but I gotta save some recipes for the day job at WTF1. I'll hyperlink this sentence when it eventually goes up. 
Judge Dredd: Belgium Edition
Right, because everyone seems to have a universal hatred for all things race officiating moment, I've taken matters into my own hands and decided to start handling this myself. Call me Judge Dre-dd. And remember, in my court, I am the law. It's not a democracy, it's a Dre-ocracy. Two big incidents got people talking throughout the weekend that's worth a second look, so let's get into it:
Lewis Hamilton vs Sergio Perez (Sprint), Original Decision: Hamilton gets a five-second time penalty
So, Hamilton and Perez are side by side coming out of the Stavelot corners, and Hamilton, on a wetter side of the track, understeers into Perez's sidepod, punching a hole in it and eventually leading to Perez retiring. Hamilton is deemed wholly to blame and gets a five-second time penalty, and two points on his license.
Dre's Analysis: If you're going to apportion blame, the stewards were right to say it's Hamilton's fault because it is. Perez gave Hamilton plenty of room, and Lewis turns into him. Seriously, what is it with Lewis and understeering into Red Bulls?!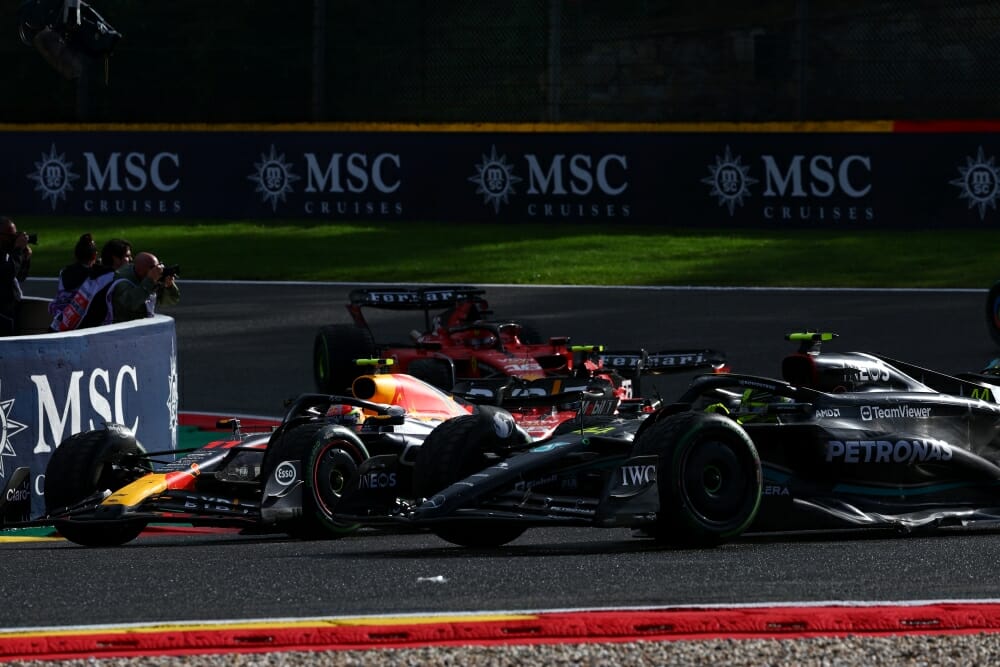 Anyway, Lewis is absolutely the more guilty party here, but I don't think this was enough for a five-second time penalty. Yes, there's contact but it's very light and everything that happens after is incidental. Generally speaking, I don't think what happens after the incident itself should matter. You punish the crime, not the consequences. And I think that with Perez struggling to the point of retirement and the giant hole punched in the sidepod, I suspect that may have played a hand in the stewards feeling they couldn't leave that one unchecked.
For me, this is F1's equivalent of football's: "You've seen them given" on a marginal call. Judge Dredd ponders if people were more emotionally invested about this specific instance because Lewis Hamilton fans felt hard done by and a Red Bull was the victim.
Judge Dredd's Verdict: No Further Action
Carlos Sainz vs Oscar Piastri (Lap 1), Original Decision: No Further Action
The other major weekend's incident, with Carlos Sainz locking up into La Source, scissoring wheels with Oscar Piastri's who pinned at the apex and contact was made. Both cars eventually retire, with Piastri's steering column breaking and Sainz limping around until he was finally parked at half-distance when the hopes for heavy rain faded.
Dre's Analysis: Sainz described it as a "Racing Incident" but was quick to say Piastri was… "optimistic" for his actions. I'm not so sure about that one.
Piastri quickly learned the first rule of a Turn 1 incident at Spa – Never pin yourself to the apex at La Source. It's asking for trouble. I still think Sainz makes the corner, but without full control of his car, he's picking his poison in shooting the gap. Either he clips Piastri, who's already committed to the inside, or potentially ends up clattering Hamilton on the outside.
To quote the Aussie himself, if they did it again, both would have likely acted differently. I think Sainz is crazy to think that he's totally in the clear here, but I think the stewards did the right thing in letting this one go as a general racing incident.
Judge Dredd's Verdict: No Further Action
Another Lengthy Lightning Round
That Max Verstappen radio comment where he joked about pitstop practice with his race engineer Gianpiero Lambiase was precisely that… a joke. This was a clear reference to his Austrian win where he took the extra stop and won when GL was wary of how hard Max was pushing to start his final stint.
I get it. Max is the definition of Marmite when it comes to people on social media, and after 2021 I don't think he's ever getting the benefit of the doubt on Twitter ever again, but this for me was not the hill to die on. People are going to be out of pocket when they're driving race cars at 200mph for a living.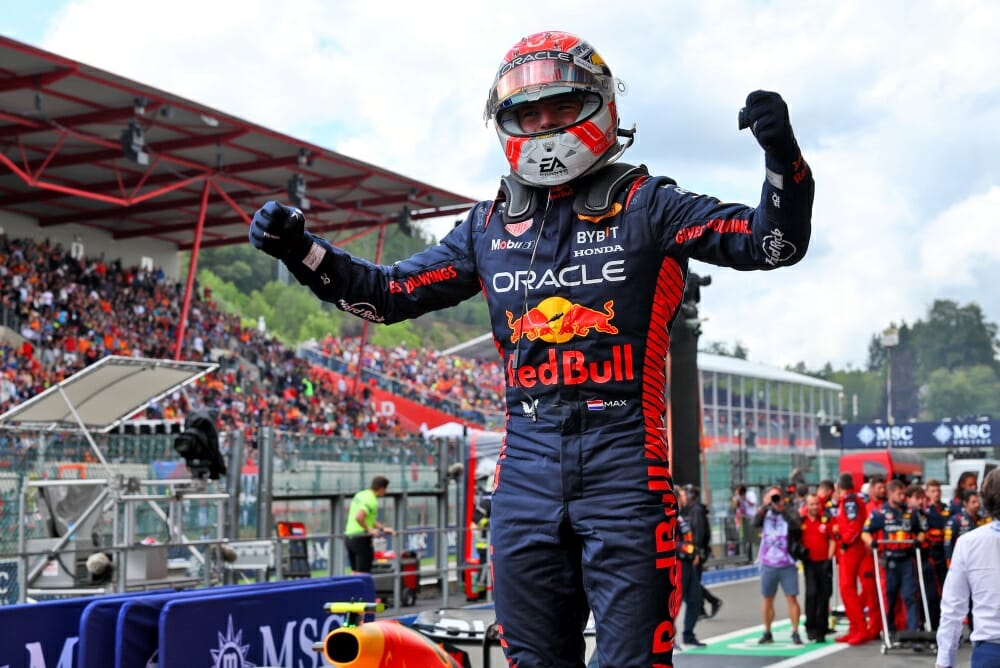 But as I said on the same platform, I come from a community where Sebastian Vettel was booed relentlessly as a panto villain because a finger point was deemed "arrogance". I think this community gets madly cynical towards anyone outside their favourite driver winning a lot. But as I've always said, sports fandom is built on cuddles and respect. Right?
I can't be the only one that thought Lando Norris was a dead man walking early on when he fell through the field like a stone. But when the track got slippery in the rain, he was the fastest man on the track by a second and got back to 7th. That felt like witchcraft.
Hell of a response by Yuki Tsunoda to respond to the Daniel Ricciardo hype train by getting into the points for the third time this season with another excellent tenth place. The man was running as high as sixth at times and brought it home, a priceless point for AlphaTauri and for me, Driver of the Day.
Only fair after making Honse-related jokes about them all week that I have to praise Charles Leclerc for an outstanding podium finish. That was a perfectly executed drive to 3rd and as said before, when the scenario is right, he is the ceiling of the team, not Carlos.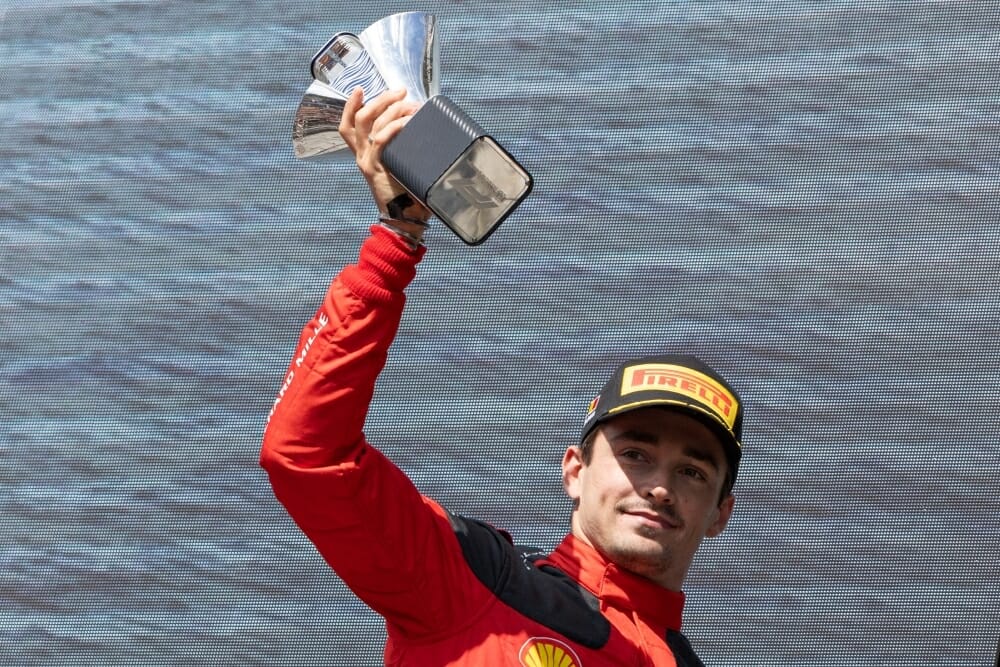 Oscar Piastri is blossoming into a really likeable driver right in front of our eyes?! Sincerely, he's a lovely, funny young man with a genuinely good head on his shoulders and from what I've noticed, mature well beyond his years. Even his Mum seems like a genuine delight on social media. So how long before we as a Twitter community ruin the wholesomeness of it all either via being dicks, or finding out he strangles puppies or something?
Martin Brundle dedicated the grid walk to fans. THERE. ARE WE HAPPY NOW?! And I love the fact that the moment he did, one fan openly said that he hoped Hamilton crashed into Verstappen. Classy.
Haas. What in the hell did you do with Nico Hulkenberg this weekend? A technical problem in Qualifying, and a strategic screw-up in the Shootout that led to a pitlane start. This team's execution is beginning to really worry me.
A three-stopper Williams? Really? Yeesh. Also, pour one out for Logan Sargeant who actually was running in the points but got completely boned on the undercut.
Dre's Race Rating: 6/10 (Decent) – This was fine. Honestly, people I can tell are already REALLY fed up with Verstappen's wins. That's understandable. How you enjoy your sports is your choice and I don't blame you given we're sports fans and we're almost always going to care most about who wins. But the midfield action was genuinely intense with Alpine, Tsunoda, Williams, and the Alfa Romeo cars all regularly in the wars. And that for me, was entertaining. Enough to bump this race up a bit from drab to genuinely decent. The sad thing is, Monaco has still easily been the best GP so far this year. Yikes. See you after the Summer Break. I think F1 needs the month off.