CONTENT WARNING: A fatal accident is discussed at length during this piece that you may find upsetting. If you do not wish to read it, skip the section in black. Look after yourselves – Dre
Well… that was another hot mess.
Austria has grown an… unkind nickname. It's become the Track Limits GP, and well… after 83 laps were deleted through Turns 9 and 10 during the race, a title contender got eliminated in Q2 (again) purely through track limits violations and the final result wasn't confirmed until five hours after we were all said and done… yeah, we've got a lot of shit we need to discuss here.
Let's get into it.
A Strategy To Flip The Bird
It's hard to keep coming up with ways to talk about how fucking mental this is. But I'll try. Since the start of 2021, Max Verstappen's significant career numbers look like this:
32 Wins, 23 Pole Positions, 15 Fastest Laps, 44 Podiums, 2 World Championships.
This is Fernando Alonso, who many think is one of the Top 10 F1 drivers of all time:
32 Wins, 22 Pole Positions, 23 Fastest Laps, 104 Podiums, 2 World Championships
Of course, the podium count is an outlier given we've only taken a two-and-a-half-year-long sample size of Max (His actual count is 86), and Alonso's body of work only enhances his numbers. This is not a jab at FA14. But it's a terrifying point that you could start Max's career in 2021 the moment Red Bull became top contenders, have him retire tomorrow, and he'd be a borderline Top 10 driver ever.
Verstappen was again, virtually flawless. Led comfortably early on, pushed Leclerc into two Medium stints to try and win on raw pace, failed, and then…
Well, okay, let me hit you with another Jon Bois reference. His Pretty Good episode on the Philadelphia Eagles and their role in the last great NFL Strike in 1987. The climax of the story is Head Coach Buddy Ryan using playcalling to say "Fuck you" to their arch-nemesis Dallas Cowboys by throwing a deep pass off a fake knee when the game was already over. It was a righteous act of revenge against a team that did more than anyone else during the strike to make their players cross the picket line.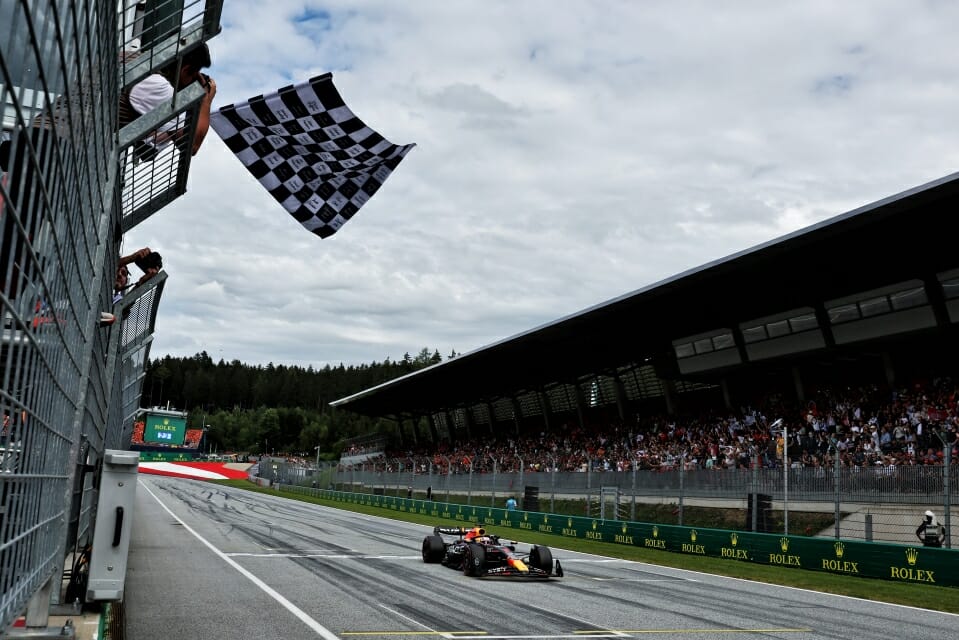 And while we can't accuse Ferrari of anything quite as awful, Red Bull's absolute ruthlessness during the final three laps of the race was about as near we could get.
With two laps left, with the win in the bag and Verstappen rocking a 24-second lead, Red Bull boxed him and genuinely risked the win (A green flag stop was worth about 20), JUST to go for the Fastest Lap attempt, and pull it off for one extra point. In a Constructors' Championship, they were leading in by 154 points. When Sergio Perez already had the fastest lap.
Do you know how much of a humiliation that is? That is a fuck you to the entire field. We're going to take a completely unnecessary risk for NO NET GAIN. THEY DID IT JUST BECAUSE THEY COULD.
Red Bull has decided playing F1 23 at 110% difficulty isn't enough. They're making up their own challenges like they're Jarno Opmeer.
One more win and Red Bull ties the all-time consecutive wins record. Are you betting against them in Silverstone?
Just Add Rain
Fair play, Austria also had the best Sprint Race in F1 so far. All you gotta do is add jussssssssst enough rain to make it a changeable conditions race and make alternative strategies viable and it worked a treat.
The intrigue of the track drying upright on the mark where you just about might make gains on the pitstop was fascinating. And who didn't love Nico Hulkenberg taking advantage of both Red Bulls' going way over the limit and running as high as second, and still getting three points for coming back on the mediums at the end?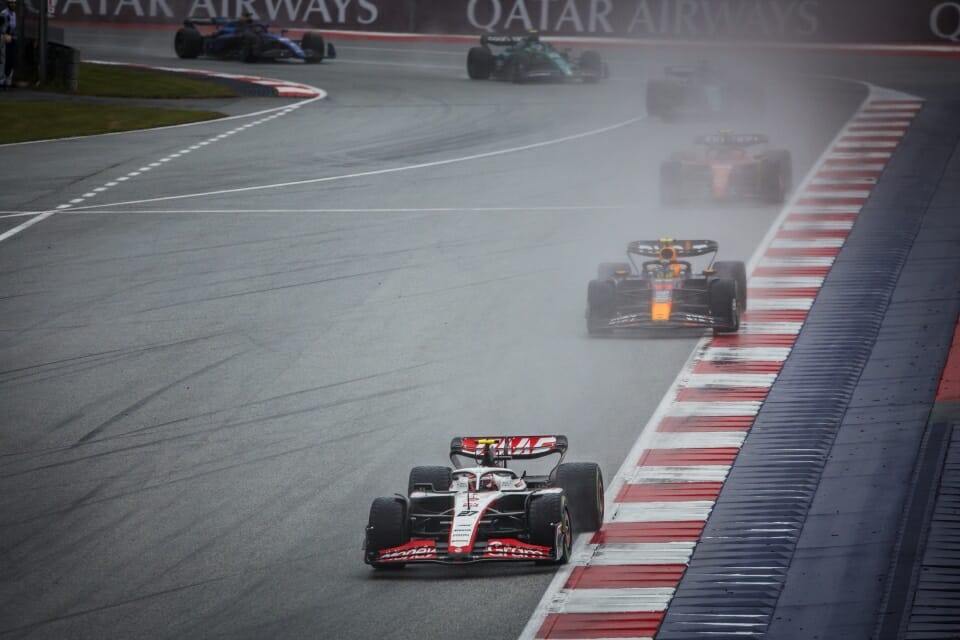 And we had some superb passing and action up and down the field too. I still maintain that this was more via coincidence than the format itself, but sometimes it's better to be lucky rather than good.
Track Limits
"The stewards very strongly recommend that a solution be found to the track limits situation at this circuit."
Look, I'll cut the drivers some slack. Turns 9 and 10 are begging to be exploited, they're fast, sweeping corners that make you want to use as much of the track as possible, and you can make harsher "hard limits" there for reasons I'll get to. And if you're driving hard, I can understand that in these cars, it's hard to sometimes gauge where the line is. They're racing drivers, it's their job to weigh up variable risk. 
But let me get this straight – There were 1,200 potential incidents that had to be reviewed for violations of track limits, there were 83 deleted lap times in the race alone, 20 penalties handed out for repeated violations of track limits (12 of them handed out five hours after the race had finished because the FIA's monitoring system was completely overloaded), only two drivers (Zhou and Russell) had a completely clean weekend… and the tracks at fault here?!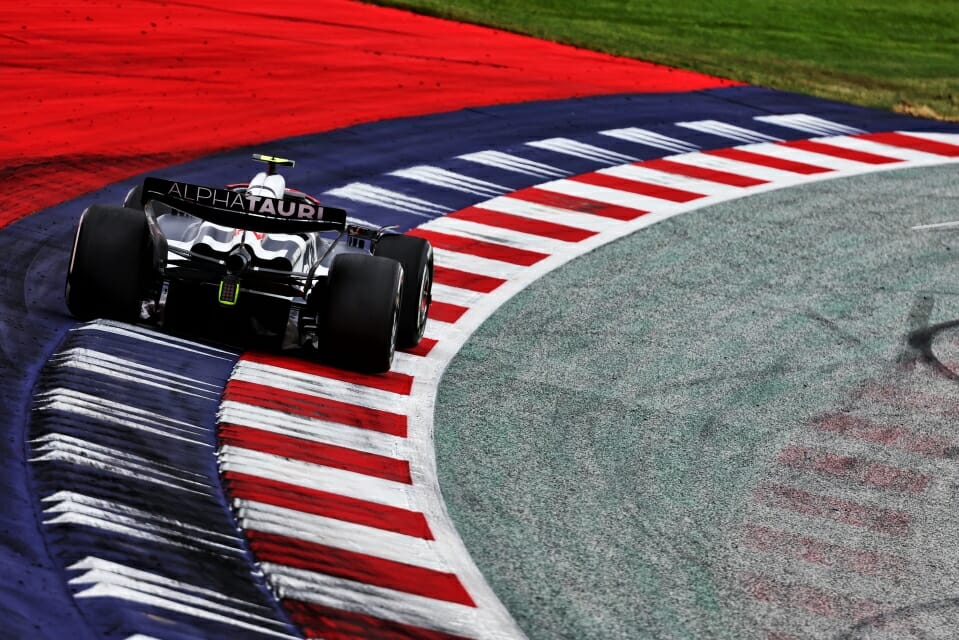 Christian Horner wasn't wrong, the drivers looked like amateurs out there at times. And I find it annoying that because we are a racing audience that loves and admires the drivers more than anything else nowadays, they get the benefit of the doubt and we're acting like we have to cater to their needs, despite the constant narrative that the sport's environment pedals that these are allegedly the 20 best racing drivers in the world. They do not need us as an outside audience to give them the benefit of the doubt. 
For the 15,000th time, no, we can't just throw gravel around the outside of multi-series tracks just because we need to force the drivers to stay within the lines. Austria also hosts MotoGP races every year and it would be extremely dangerous if we immediately had gravel on the outside, as by its very nature, it has a greater chance of flipping bikes and people over, increasing the risk of injury. That combined with the short runoffs is exactly why we don't race bikes around Laguna Seca anymore. And constantly re(laying) whatever material you need isn't a good use of the track's resources and finances.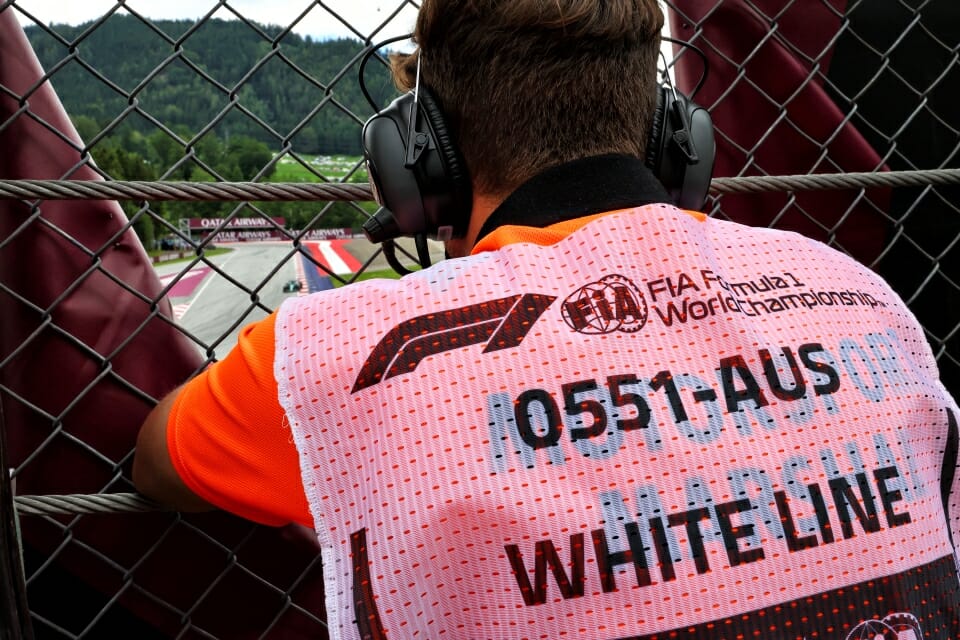 The FIA system that's in place is largely fine, and it's understandable it was overtaxed in dealing with over 1,000 incidents while trying to watch everything else that went on during that race. The sport needed more consistency on the ruling of track limits given as recently as 2021, we were still getting into a squabble and spur-of-the-moment decisions on what corners you could extend and what you couldn't. The problem is that the drivers aren't prepared to compromise on how they race. 
This is not Austria's problem. F1 loves this place, it announced another extension for it until 2030 yesterday. We need weekends like this one to tell these drivers to get in line or get punished. Simples.
RIP Dilano van' t Hoff
I also wanted to take a moment here to acknowledge the tragic passing of Dilano van' t Hoff, after a horrifying crash at the Kemmel Straight during the Formula Regional race on the Spa 24 Hours support card. It was gutwrenching hearing Lance Stroll took so emotionally about how the track and corner desperately need to be changed after losing him and Anthoine Hubert in the last four years.  
Forgive me if this opinion is a little insensitive. I know matters like this are so very delicate, but I feel like our frustrations are in the wrong areas in regards to Spa. Eau Rouge and Radillion's complex has always been up there in terms of danger within top-level Motorsport, but I don't think making further changes beyond the extended run-off is as big a problem compared to how the race from managed.
From the footage I've seen, the accident takes place around the kink heading into the Kemmel Straight. The issue I have is sending junior-level drivers, many of them deemed children in the eyes of the law, out to race in very similar conditions to what F1 thought were undrivable conditions for their own sport just two years ago. A two-lap sprint finish because it leans into modern Motorsport's culture of being more determined than ever to finish a race under green.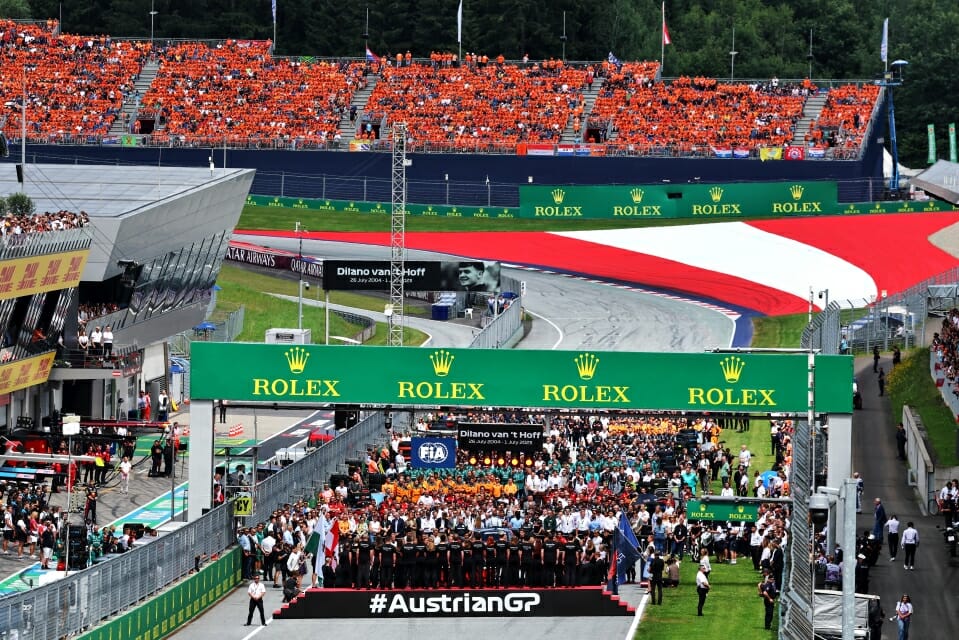 I talked about it as far back as 2018 that this was the way Motorsport was heading when they brought back the standing restart, almost purely for entertainment. The sport trying extra hard with races like Baku 2021, Monza 2022 and Australia 2023 in trying to finish races under green, copying NASCAR's Overtime and IndyCar's nonsense with delayed cautions and a 500 that used antiquated rules to get a 1-lap finish for glory.
Decisions have been made in Motorsport with this mentality in mind, and I fear it was the predominant factor in a family losing their child. And that makes me very, very sad. Race in peace Dilano, and may we as a sport be as proactive as we can be in ensuring this doesn't happen again. 
On behalf of everyone at Motorsport101, our condolences to his partner Katrina, his loved ones, MP Motorsport and the extended FRECA paddock.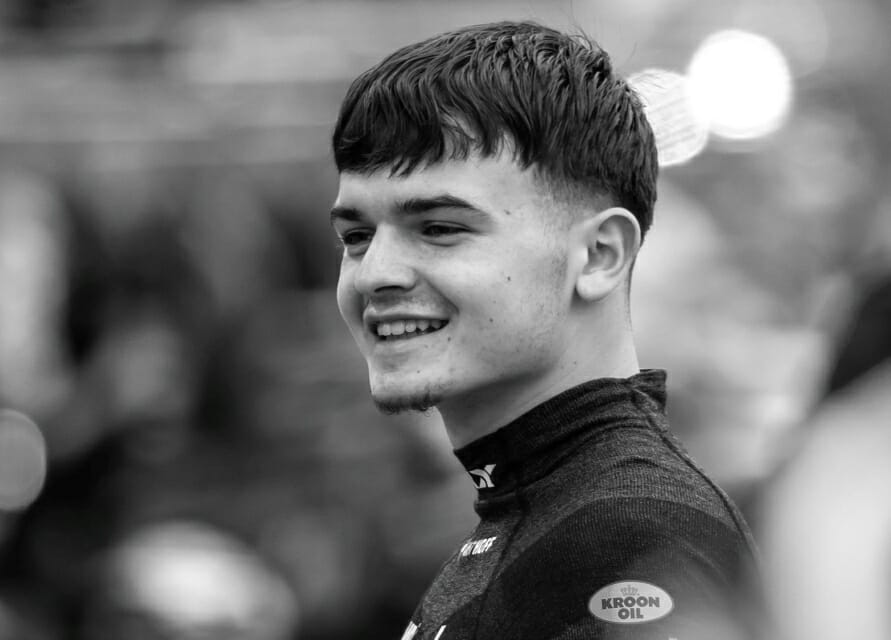 The Lightning Round
If it makes you feel any better about the dominance of Red Bull, at least Max Verstappen's laps-led streak is over… at 249. The third-longest streak of its kind in F1 history. Light work.
Carlos Sainz finally looked like he was the faster Ferrari for most of the weekend, only to be hit with 15 seconds' worth of time penalties. Welp.
Esteban Ocon had a record FOUR sporting penalties during the race, breaking the record that was jointly held by… himself, from Bahrain earlier in the year. 35 seconds of time penalties. I think you actually have to try to get that many. 
Mercedes went from claiming they were one upgrade away from challenging Red Bull to finishing 48 seconds off the win in what's probably been their worst weekend of the year. Yikes.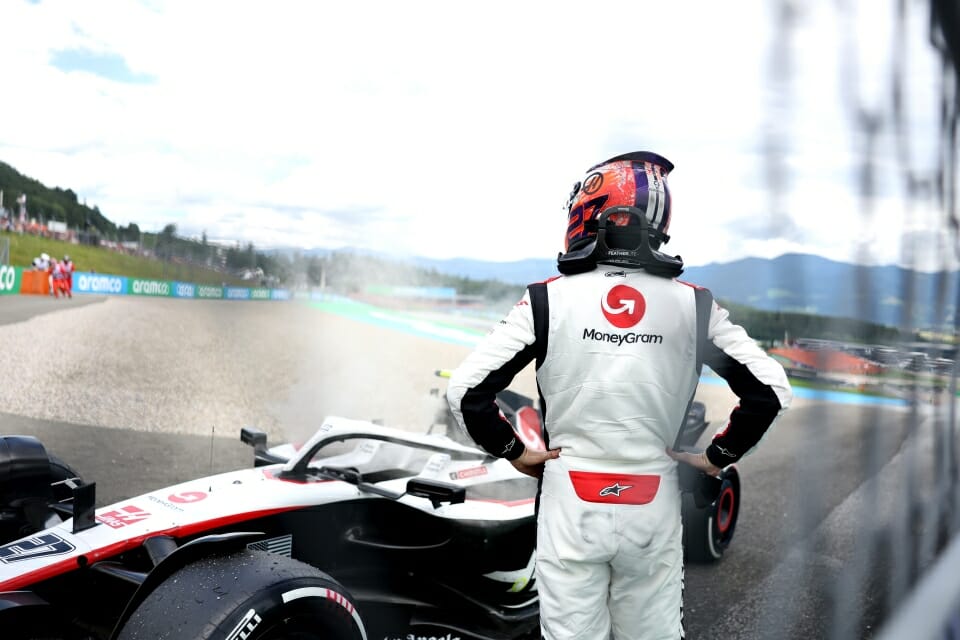 Aston Martin's Andy Stevenson smelling a rat with the track limit violations led to them gaining three extra points. Genius levels of shithousery. 
Wonder if Lando Norris' brilliant fourth place was down to McLaren's new upgrades given Piastri had his worst weekend in F1 to date, or more due to the fact that he's generally brilliant in Austria. Keep an eye on McLaren at Silverstone, that's going to be very interesting.
Nico Hulkenberg got a track limit warning after his car had already died. Brilliant. 
A nice turnaround in the end from Checo after you could see Christian Horner wanted to punt his head off after getting knocked out in Q2 for the fourth weekend running when his pace was genuinely good. Fun Fact: Nico Hulkenberg has made more Q3s this season than him. 
Magnussen called Nyck De Vries "desperate" and fighting for his career after Nyck put him off the track for the second weekend in a row. Meow.
Dre's Race Rating – 7/10 (Good): This was a pretty good Austrian GP. Yeah, there wasn't too much fun that mattered up the front beside the fantastic Carlos Sainz vs Sergio Perez podium battle, but the midfield action was again solid, we had a fun story told throughout the race, and bonus points for the best Sprint we've had so far. All round, a good weekend, even if the track limits descended into a bit of a face. Good stuff here. See you at Silverstone.