You're probably going to disagree with a lot of this post. You know what this one is about. MotoGP's 2023 Spanish Grand Prix was a pretty damn good race with a brilliant final lap fight for the win between reigning Champion Francesco Bagnaia and Brad Binder as KTM had their best ever weekend in the sport. But once again (And I'm really fucking tired of having to go down this road in all three of the series I cover here), the stewarding completely overshadowed the weekend. The name of the next section I think sums it all up quite nicely… Let's put a protective suit on, and go into the breach…
No-one Knows What A Penalty Is Anymore
I feel like the Antonio Conte meme, praying for a normal day of Barclays, and knowing it'll never happen. That's what it feels like watching MotoGP at the moment. This was the most heated discussion of a race I've seen on Twitter since Sepang 2015, which in the eyes of many of my peers is "Race that shall not be named" like Lord Voldemort.
Having slept on my thoughts, I think this roughly boils down to four major calls/no calls that caused tension regarding the sport's stewarding to boil over.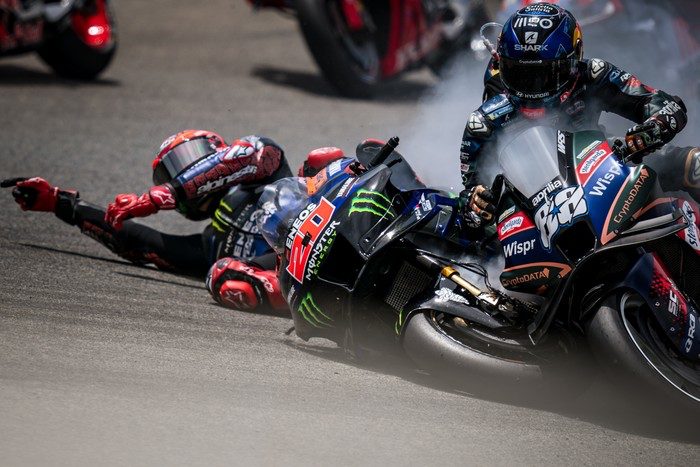 Number 1 was Franky Morbidelli getting a Long Lap Penalty for a tight rub on Alex Marquez in the Sprint Race, causing both himself, Alex and Marco Bezzecchi to crash and causing a Red Flag.
Number 2 was Fabio Quartararo for his role in a crash between him, Bez again, and Miguel Oliviera that was a red flag due to Miggy being sent to hospital and a damaged airfence. (And as a partial extension, getting a 2nd long lap penalty for not taking the 1st correctly)
Number 3 was Francesco Bagnaia being forced to drop a position due to a late, aggressive overtake on Jack Miller that made him sit up at Dani Pedrosa corner.
Number 4 was Jack Miller taking an aggressive pass on Jorge Martin that forced Martin to run wide, and no call was given.
Okay, just making sure my hazesuit is all good… right, opinions. *gulp*
Numbers 1 and 2 boil down to one simple principle to me – How do you feel about Lap 1 incidents? Jerez is a nasty technical track. Turn 1 is an uphill 90 degree right hander where multiple bikes have to square the corner off rather than take a natural racing line. Then you have Turn 2, a hairpin, with 22 of the most powerful MotoGP bikes ever seen, in a sport that's encouraged more aggressive riding due to the additions of the Sprint and the other mechanical elements of the sport.
I don't think Franky Morbidelli or Fabio Quartararo did too much wrong on their Lap 1 crashes. If I'm being maximum cynical – Franky's nudge on Marquez did ultimately make him responsible for the pile-up and Fabio might have been better off braking earlier going into a sandwich hole that was always going to close. But I don't think either warranted penalties.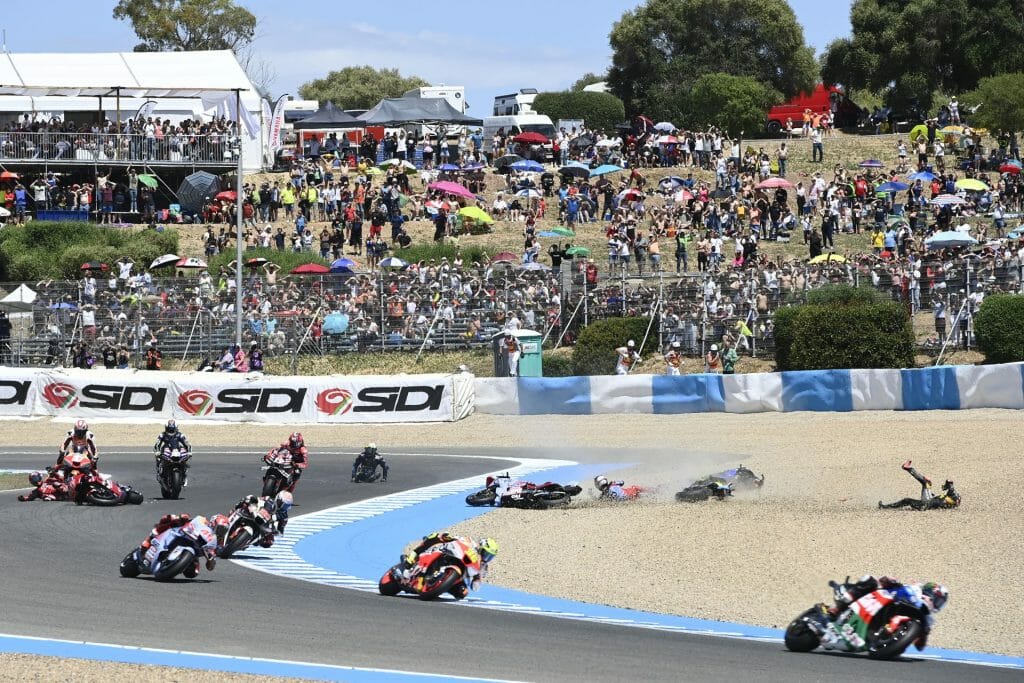 I think head steward Freddie Spencer boxed himself into a corner. I don't agree with the Morbidelli penalty call… but I can see how you get there. At that point, if you've deemed Franky's move as illegal, then by extension, you have to do the same for Fabio because he too was the most responsible party for the crash during the race.
And I think that Spencer boxing himself in effect extends to Numbers 3 and 4. Bagnaia's overtake on Miller was aggressive. It was firm, but ultimately, I think it was fair. I don't think it warranted a position drop penalty. But if you're reigning in the level of aggression on track… I get it. Where it all goes awry, is Number 4, Miller's pass on Martin. I don't think Miller's pass warranted punishment either. It was aggressive, but without contact and no real harm done. Again, I think you should let that go. But if you've hit three riders with irresponsible riding penalties this weekend already, why was Miller innocent here? If Miller gets a position drop or LLP, I actually think Spencer has a leg to stand on because at least you can in the context of Jerez as a race weekend, he was consistent in how the race weekend was officiated. Incident Number 4 is where it all falls apart.
And that leads to me the state of the sport and the dialogue that's stemmed from all of this. I like to look at MotoGP's major stakeholders like that wide camera you get in the House of Commons. On one side of the aisle, you have Freddie Spencer as Head Steward. The man who makes all the decisions, and sadly never has to explain them. He doesn't do interviews or talk to an increasingly angry media.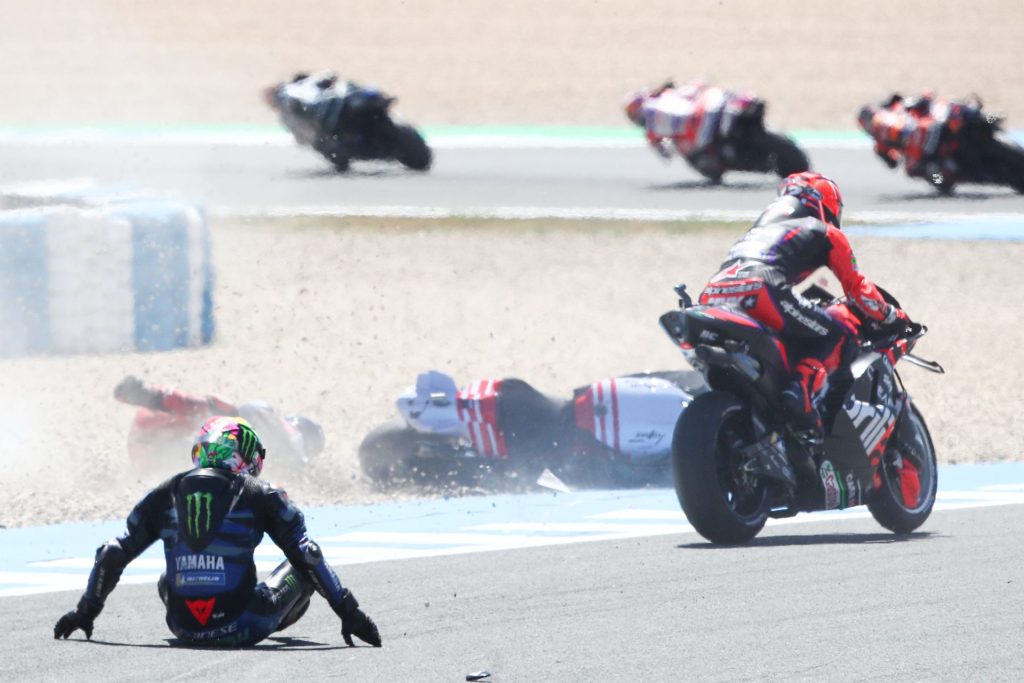 Say what you will about the messy nature of F1 officiating, at least they put out statements explaining how they made the decisions they have, even if you ultimately disagree with them. It's far from perfect, but it's something. MotoGP doesn't do that. We have to guess under the blanket term of "Irresponsible Riding" and hope for the best. Transparency is paramount in gaining trust with your audience, and the sport has never done enough to be that way.
And on the other side, you have the riders, the media and the fans. A large group that's increasingly getting more and more frustrated that their beloved sport is being tainted via these bad calls. The riders vent their spleens to the press, who then amplify it to us the audience, and the fans generally go with them because we trust those with the microphones as people who know what they're talking about. (Even me, somehow.) Like real-life British Politics in the Commons, it's getting increasingly nasty out here.
I heard very big words like "corruption" thrown around yesterday. Personal insults were levelled at Spencer. We're getting dangerously close to the levels that Michael Masi got when he was F1 Race Director. And as much as he deserved to lose his job for Abu Dhabi 2021 and what came before that, I will always detest the collateral damage that incident caused with people like Nicolas Latifi and Masi himself getting death threats from fans who were way too emotionally invested in what's ultimately just a sport.
Because you know what the ultimate kicker is in all of this is? I don't think either party knows what they want this sport to be anymore. 
When I wrote my book "The Kick", I talked about how the officiating in bike racing changed rapidly as I grew up. In the Early 2000s, race stewards were ruthless, almost draconian in throwing the book at people. If you caused a multiple bike pile-up, you'd be sat for a round like Loris Capirossi or John Hopkins did. Put someone in the gravel? Disqualification like Makoto Tamada got in Motegi. One incident changed it all forever: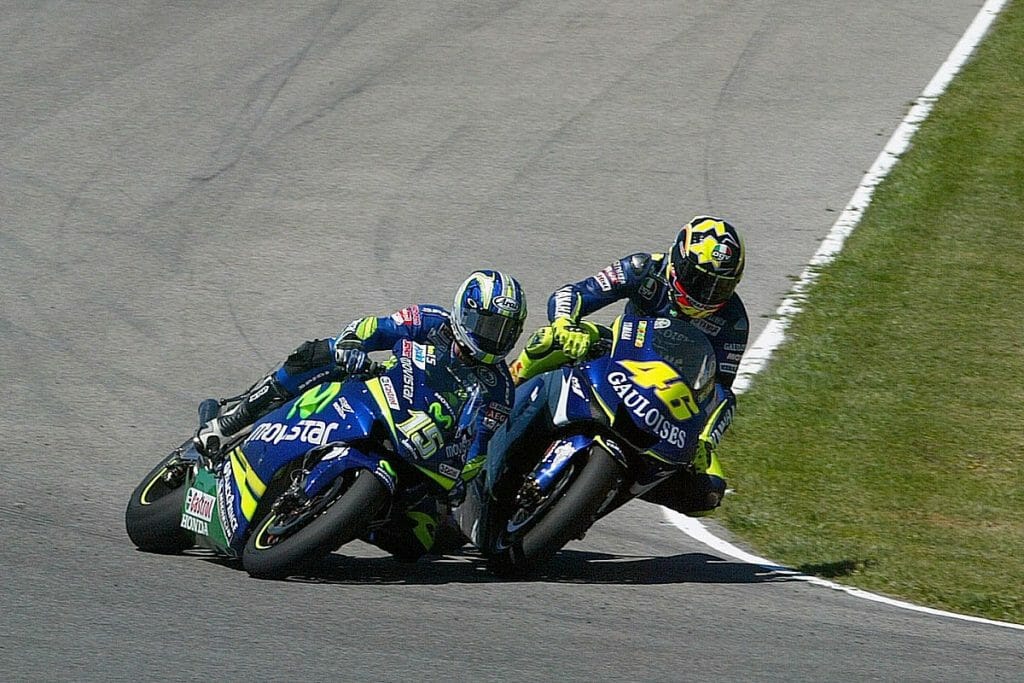 When Valentino Rossi punted Sete Gibernau off the apex in Jerez and it wasn't punished, the new world order had been set. The last lap block pass became legal, and it wrote the modern-day rulebook of gentlemen's agreements about the conduct of riders on the track. If you were going for the win, racing essentially became no holds barred. Yes, we had occasional penalties for riders like Marco Simoncelli taking liberties, but for the most part, it was "Boys, have it!"
It warped the entire perception of what was deemed okay in the sport. And it's never been the same since on both sides. MotoGP has always struggled to find a system that works since then. The penalty point system was scrapped after barely two seasons because Rossi's punt at Sepang in 2015 broke it over its knees. We got more sophisticated options to punish riders with time penalties and the long lap and both are still going through tweaks years since its inception, with time penalties only used post-race nowadays. But when the decisions are wacky at the top, it doesn't matter what system you use, it all ends up collapsing.
But on the other side of the coin, I don't think we as fans know what we want. I can construct hypocritical arguments for everything I've read or have in my mentions in the last 24 hours. First-lap incidents generally shouldn't be punished. Cool, then why did we go so hard for Taka Nakagami in Catalunya last year when he smashed into Francesco Bagania and broke Alex Rins' wrist, and faced no formal action? Or Jorge Lorenzo when he tipped the front at the same track and took out three other riders when he was at Repsol?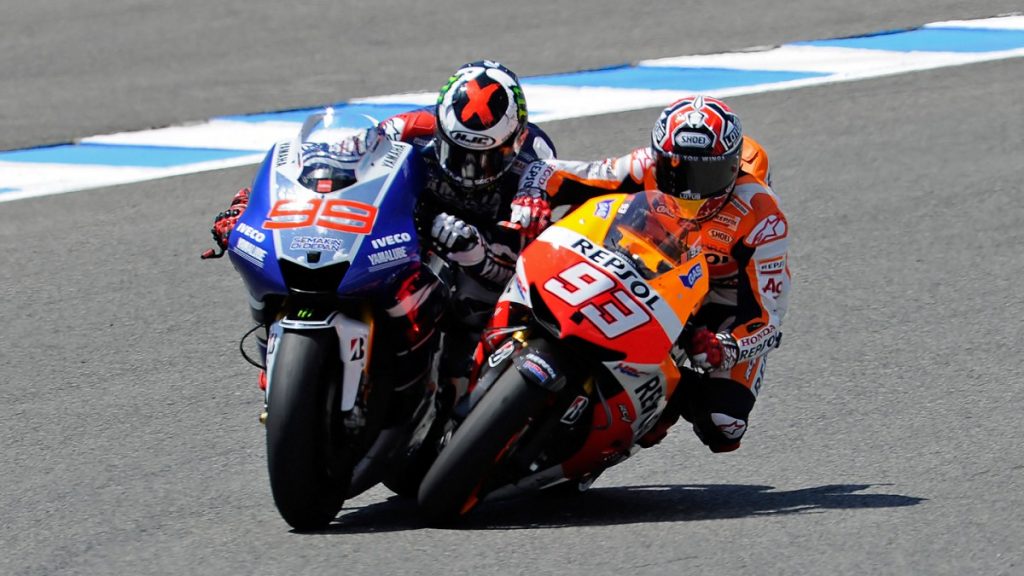 Some of the same people who wanted the book hurled at Marc Marquez for Portimao (to the level of race bans) got very quiet when Scott Ogden did the exact same thing in Argentina, as well as downplay Fabio's incident yesterday as a racing incident. Aleix Espargaro, spitter of hellfire and brimstone at any dangerous moves on track, did the exact same thing when Fabio dive bombed him into a gravel trap at Assen last season.
For me, every major stakeholder in this sport has a part to play in what's made this sport so ungovernable. The lack of communication from within, the changing of its rulebook, to fans and their unconscious biases and moving the goalposts. Between us all, we can't answer what should be the simplest of questions: What warrants a penalty?
And sadly, if Jerez proved anything, it's that we're more unclear than ever on what the answer to that question is.
But you know what the absolute worst part about all this is as a MotoGP fan of 20 years, and someone who's been writing about the series for nearly half of that? This sport in general spent years desperately trying NOT to emulate Formula 1. It was the anti-christ in the eyes of bike fans, and its audience was gas the shit out of MotoGP for NOT being what its four-wheeled cousins had become as Valentino became the biggest name in Motorsport. Now, they're closer than ever. And I'm not sure anyone wants that as badly as they think they do.
A Women's World Championship
After many years of talk and speculation, the FIM, Motorcycle racing's governing body, announced that we're finally getting a Women's World Championship. It'll be a six round, Euro-centric series that will initially launch on the World Superbikes support bill as early as 2024. It'll be a one-make series, with the bikes confirmed at a later date, murmurs saying it'll be at 600cc Supersport level.
If you're getting W-Series or F1 Academy vibes off of this, then hold your horses – Series Director Greg Lavillia has described it as a "Final Destination" World Championship with separate gender identities, much like Motocross.
I'm well aware of my own privilege here as a cis-gendered man giving you my opinion on all of this, so forgive me for that. But I'm not convinced this is why you increase the diversity in your racing series.
I'll be talking a little more about this later in the week when I talk about Baku and the F1 Academy, but I still maintain that the W-Series' biggest problem and reason for its collapse was that they didn't know what they wanted to be. They wanted all the benefits of being on F1's support ladder as a junior and developmental series, but also wanted to be purely profit driven and attract as much outside funding as it could to stand up on its own two legs. The series excelled in neither of those things, losing money like crazy and having wild disparity in its talent that ended up handcuffed as Jamie Chadwick and Alice Powell ran the field over.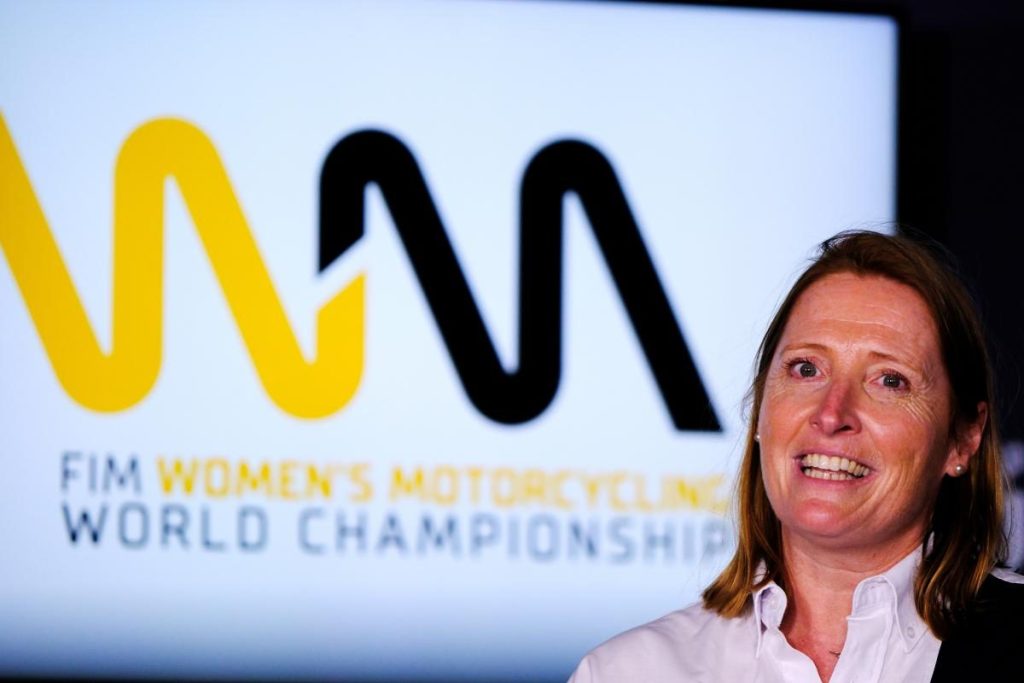 Motorsport is one of the few sports in the world where regardless of identity, you can compete at the highest level if you're good enough. There is no physical reason to separate bike racing competition by gender identity.
We've already seen Ana Carrasco win the World Supersport 300 title in 2018 amongst a fleet of three dozen men, as well as Maria Herrera compete admirably at Moto3 World Championship and World Supersport level. If there's one thing I've seen from following Motorsport, as well as the rise of other women in male-dominated sports like Fallon Sherrock in Darts and Reanne Evans in Snooker, it's that the aspiration isn't to be the best woman in the world… it's to compete on an equal footing with the men and beat everyone.
Pigeon-holing a World Championship out of nowhere and segregating women at World Championship seems disjointed to me. I'm glad FIM President Jorge Viergas has said they'll be planning to have a promotional structure beneath this to support it, but I think that exposes another problem – Participation. Are there enough young women out there to fill out a talent cup roster? That isn't an issue for the men, with large talent cups all over the world on MotoGP's support ladder like in Asia and in Britain. I've not seen the proof of concept for women by comparison.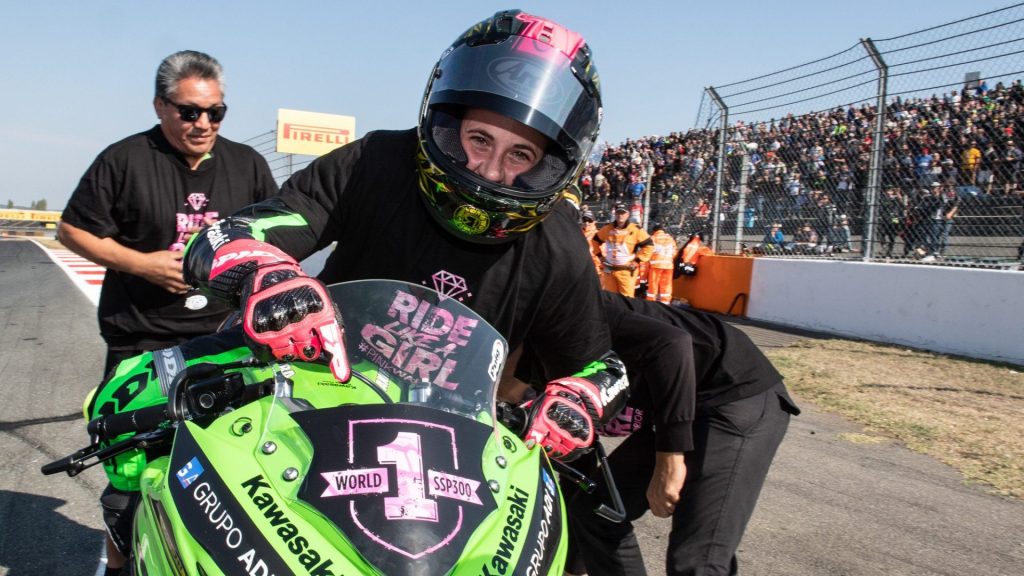 It's why I've always had the line of thinking that when it comes to increasing minority participation in Motorsport, you have to take the least sexy option; going to schools and attacking grassroots and the education system, encouraging young people that Motorsport might be a viable path for them and nurturing that ecosystem at the bottom of the pyramid over a long period of time, rather than wedging a solution in the middle of the ladder and having done with it.
PS: If you're so sure that this is a long overdue, deserved and genuine World Championship… Why are you putting it on your second series' support bill and not giving it the full Dorna promotional treatment? If you're going to have a "Final Destination" platform for women in your sport, that seems like you're cutting off your own promotion at the knees.
I absolutely want this to work. Anything that increases participation for women and people of colour in Motorsport I want to back. But I'm going to need to see more before I'm convinced that this is the best way to do it.
The Lightning Round
This felt like the TRUE Dani Pedrosa retirement round. The man was a rockstar in Jerez this weekend as a wildcard. It's easy to forget, his original retirement in 2018 wasn't on the best of terms, with Repsol Honda team boss Alberto Puig culling the man he discovered as a teenager to write a fat cheque for arch nemesis Jorge Lorenzo. (Honda's never recovered.) It felt forced.
But this felt… right. 80,000 fans turned out in Jerez, many of them for the first time since the pandemic started, a hero's return, a track parade where Jack Miller is lifting him about. And the best part? He was genuinely competitive in KTM's best ever weekend in MotoGP. 6th in the Sprint and 7th in the Race and in the leading group is a remarkable achievement for the 37 year old, 5'2" legend of the sport and I'm delighted that for the first time, he was treated like the legend he should be.
I'm glad Dani shut down the idea of a comeback, and I kinda hope he doesn't come back again, if for no other reason than this felt like the natural end his career deserved. And what does it say about the 2023 roster that a man who's had two MotoGP race in 5 years can come in and beat ⅔'rds of the field?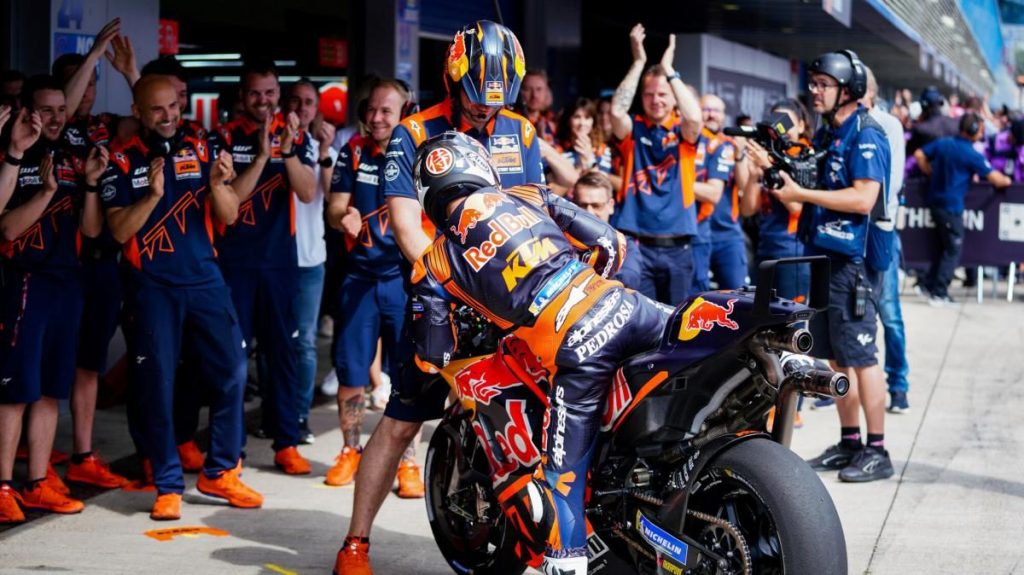 Oh, and MotoGP cutting to Puig in the back of the Honda garage as he topped FP1 was delightful. Give that producer for Dorna a raise.
Oh yeah, KTM won the sprint and had two bikes on the podium and the GP. Without doubt their best weekend ever. Please find some consistency, for entertainment value, we don't get much better than Brad Binder and Jack Miller.
Also, was anyone else screaming: "Take The Points!!!" as Bagnaia was mounting his comeback?!
Aleix, Aleix…. Wake up brah. They're cooking you.
It's been a calendar month and we still don't know if Marc Marquez has to serve one Double Long Lap Penalty.
Dre's Race Rating – 8/10 (Excellent): This was the first GP weekend this season for MotoGP that didn't get overshadowed by the new Sprint. Both races were equally very good for me. More tense than raw balls to the wall action but I've always said I enjoy those tension style races at times. Passing is still at a premium but we got some good action, the KTM's were incredibly fun and we got a fantastic Binder vs Bagnaia battle of the late brakers at the end. Remarkably, when Bagania is under the most pressure seems to be when he's at his absolute best, and he had to be to win that one. And he did. Let's hope we can actually go a weekend without breaking out that Antonio Conte meme. See you in Le Mans.