Surprise! Now, I'm not a Formula E Race Reviewer normally, I gotta draw a line somewhere over the amount of extra content I do! But, with every other major series not racing this weekend, I got to properly sit down with Formula E in Tempelhof Airport, and I wanted to deep dive on everything that's made the series what it has been in 2023 so far, and I think Berlin was a superb microcosm of it all. And of course, addressing the elephant in the room – Those protests.
Just Great Racing, Man
I'll cut to the chase here. The racing in Berlin was superb. Both races have a reasonable chance of getting on our M101 "Race of the Year" list. Race 1 was a little clumsier with some of the racecraft on display, with Dan Ticktum refusing to use his side mirrors with Stoffel Vandoorne alongside, and Jake Dennis trying to drift like in Gran Turismo 7's missions… but overall, this was exactly what the series has been great at for years.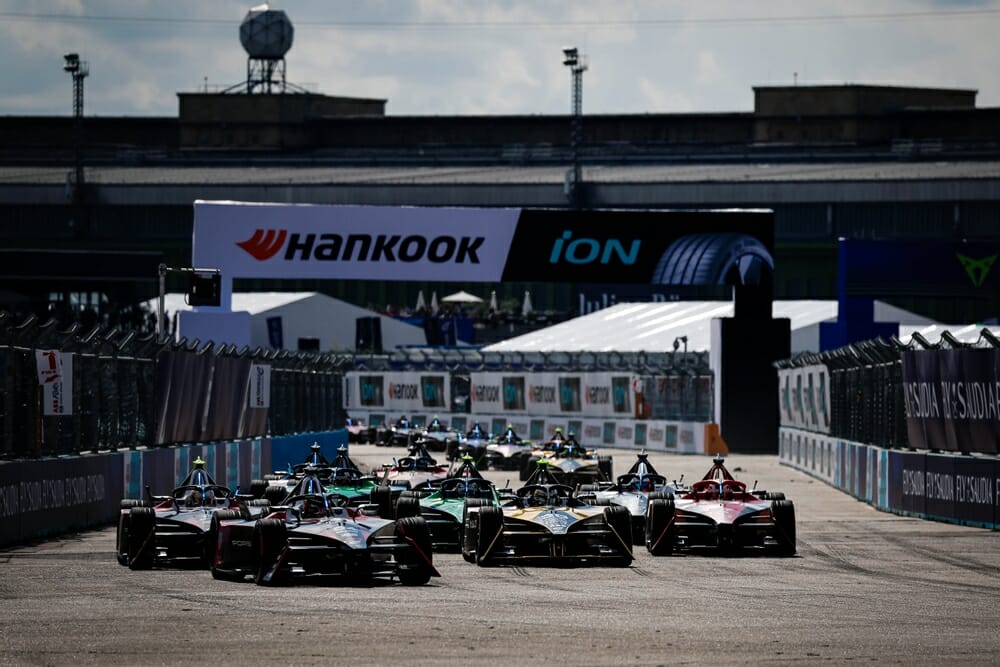 There's a reason Berlin is Formula E's longest tenured circuit and it works. When you've got an Airport with next to no restrictions on spacing and layout design, you can curate something that plays to the strengths of your series. And no other racing series and track combination out of the major players out there can produce side-by-side, close quarters racing like it. And Gen 3 for the most part, has gotten this right. Going back further, the new additions of Hyderabad, Cape Town and Sao Paolo were seemingly done with Gen3 and beyond in mind with the cars being faster. And it's working.
Berlin had 362 overtakes over its two races and 83 racing laps. Race 1 had the most race leaders in Formula E history (8), and the most lead changes (23). In Race 2, when winner Nick Cassidy turned up the wick, he pulled off a Triple Overtake into the midway hairpin. We had cars going two and three wide and picking people off when others were regenning constantly. Races did die down a little bit as the energy saving and burned Attack Modes kicked in, when watching on, no race truly felt done and dusted until the final couple of laps and that's all you can ask for in a racing series.
Mitch Evans won Race 1 with a late breakaway in a Jaguar 1-2 finish. Their powertrains have absolutely stamped on Porsche's early dominance, with execution errors from the German factory bringing both the factory Jaaaaaaaaaaag team and Envision into play.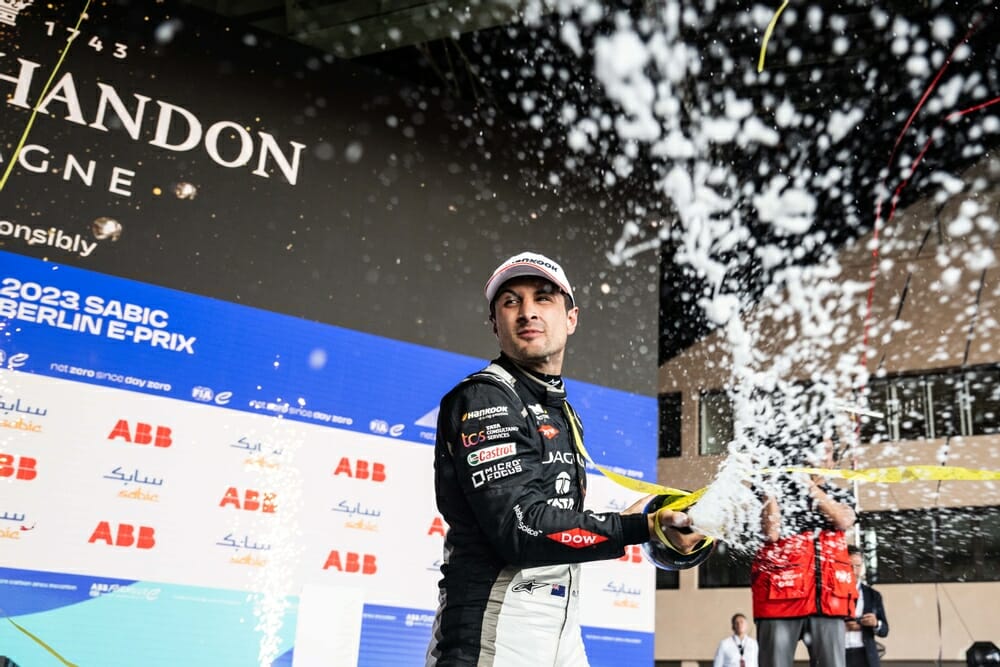 Hence, Nick Cassidy, the inform man in the series, taking Race 2 over Jake Dennis and Jean-Eric Vergne. And if you want more examples that Jaguar's making a statement, in a crazy, regen swapping mad pair of races, Cassidy won despite leading 15 laps and Dennis having a percent in hand in terms of energy saving. A nice tactical change from Envision who on multiple occasions this season have been caught in the opposite position, oversaving and them unable to make that winning pass. What was looking like a two-man title campaign early doors is now wide open again.
So, About Those Protests…
After Just Stop Oil powdered up a game at the World Snooker Championship last week, another environmental protest at the Formula E race on Sunday was always going to go down like a lead balloon. I'm well aware that JSO (As well as other groups like Extinction Rebellion and Insulate Britain) is funded by the Climate Emergency Fund, originally started by an heiress to the oil industry. I don't know whether it's a double bluff to make us all angry at the more "conventional" activists, but it sure as hell works at getting people pissed off.
Germany's "Last Generation" seems to have taken credit for Berlin's latest superglue to the road stunt as climate change activists. But whatever rumours you may have heard, this was always going to induce spitting rage from folks on Twitter.
A lot of reasonable people I know agree that climate change is a serious issue that deserves more global attention. But I also know those same people insist that hopping on a live track is dangerous and not the "way to do it". This is Motorsport, twinned with an audience that understandably are very protective over the injured or dead. Most have seen at least one fatality in real time, many have several, me included. With that in mind, an extremely dangerous act like this one is never going to give any cause the benefit of the doubt.
But I do have to ask this as a follow-up question: How are climate activists supposed to do it? If we insist that disrupting sports events is only going to make people angry and turn them off, what is going to make people take meaningful action? Because for every person scrambling to my Twitter mentions when I said "I didn't have a huge problem with it", I didn't see anyone offer up an alternative. Because I'm honestly all ears.
Politicians have been targeted for years. It hasn't worked because they have enough clout to snuff out stories and the news cycle moves on. Conventional protests don't get anywhere near the amount of news traction they should any more either. If history has taught us anything, it's that the most effective protests are the most disruptive ones.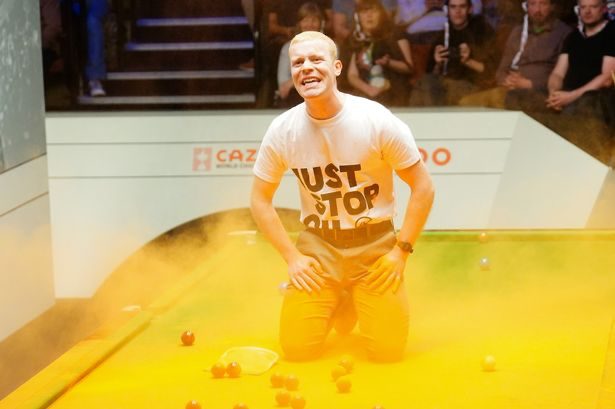 There absolutely is a fine line to draw between inconvenience and anger to the point of being turned off, but I'm not sure anyone truly knows where that line is. I'm not saying I necessarily agree with supergluing yourself to a road or a race track, but I sure as hell understand and empathise with how we got to this point. Especially when you're reading the website of a black man who has had many, many of us prepared to pay the ultimate price for what we believed in.
Climate Change is going to be one of THE worldwide challenges of our time. We're already dangerously close to the point of no return where we're talking permanent damage to our world if trends continue. Yeah, it's selfish for those not involved and the potential loss of life and danger that impeding a race car can come with, but we're probably going to lose millions more if we keep doing what we do as a race.
I don't know at what point we ignore our personal feelings at a micro level to acknowledge the greater problems at a macro one. But if you're being dismissive towards protests like Sundays in Berlin, you probably need to look back and realise how we got to this point. Because the answers clearly aren't going to come easily.
The Lightning Round
One more point on the changing form of the series. Since Pascal Wehrlein's last win in Saudi Arabia, he's scored 32 points in his last five rounds. Nick Cassidy, now just four points behind in the title race… has scored 86. Pascal has to start qualifying better to take advantage of the excellent regen of Porsche's powertrains, as he's clearly stretching himself too thin trying to gain ground. Because this isn't sustainable.
Speaking of Cassidy, what in god's green earth was that radio rant and beef with Buemi about? It was clear Buemi was wound up in the Big Brother Diary Room Driver's Room after Saturday's Race when Cassidy said: "I thought you had the win in the bag". Beyond that, who knows. Still, an A+ Gino D'Acampo impression from the Kiwi, who I'm sure that if his grandmother had wheels, she'd be a bicycle.
When Robin Frijns left Envision to go to ABT Cupra, during testing he said that just finishing races would be the immediate aim. He got a pole position after a downpour overnight in Berlin. A brilliant 1-2 lockout for the team that had very little positive news to talk about all season long, and five hard earned points for the team after Nico Muller held on to take 9th in Race 2. I've never seen that many hugs given out in a team garage before, ever! Want a competitive ABT team again? Just add water, apparently.
Dre's Race Rating: 9/10 (Outstanding) – The sample size is a little bigger compared to others around it, but I genuinely think Formula E is producing the best consistent racing in the world right now. F1 seems to be tripping over itself with it's 2022 regulation set, MotoGP has become F1-lite in terms of its product and is ramping up the risk to compensate, and IndyCar's had a classic in Texas, but the rest of the season has been fine. Formula E's has Cape Town, Hyderabad and Brazil all varied from good to incredible, and Berlin was on the higher end of that scale. Now if it could only work on better marketing schemes than influencers in go karts and launching CGI chassis out of planes, it might be getting some viewers back. See you… if I ever get bored and do another one of these.