"Don't worry Ducati, for there is… another."
Hey gang, Dre here with the second in a triple-header of Motorsport Race Reviews here over the next three days or so. IndyCar's Texas race is up tomorrow and you can scroll to the bottom of the page if you want a one-click back to yesterday's F1 Australian GP.
MotoGP had its second round of the season in Argentina this weekend, and the weather was miserable, with light rain on Saturday and much heavier on Sunday. But in difficult circumstances, I think we ended up with two of the likely… rides of the year. Let's get into it.
Lord Binder Passes ALL The F***ing Bikes
Here at Motorsport101, we have a nickname for Brad Binder. We called him Lord Shithouse after his incredible survival job not changing bikes in Austria. Because of his strange knack of not being the best of qualifiers but coming through during the race on Sunday, our co-host Ryan King would often say: "Brad Binder needs to pass some f***ing bikes!".
Well on Saturday, Brad Binder passed some f***ing bikes. All of them in fact. From 15th on the grid, Binder took off and by Turn 2, he was 6th, hugging the white line on the inside of Turn 1 perfectly as everyone tentatively jostled for position. By Sector 2 of the third lap, he was third. He took the lead, and for 10 of the 12 laps he looked untouchable.
But I love the fact that KTM's tyre wear is still sketchy enough where the Mooney VR46 Ducati riders were able to take three quarters of a second out of Binder in the final 2 laps and Marco Bezzecchi coming just 0.072 seconds away from an Argentine smash and grab. 
But that's Brad Binder. He timed it to perfection and the varying levels of grip is what made the second sprint engrossing TV. Again. It's annoyingly good stuff. Why is it annoying? Well…
I Still Have Concerns 
Look, as I said last week after Portimao, I can't deny these Sprints are great. Entertaining, gambles not normally taken in Grand Prix, and we've had drama all the way to the end. Seeing how much risk the riders are prepared to manage and take will also only get more fascinating as the riders get more used to a half-distance format.
But I still have concerns. Joan Mir suffered a nasty crash in a collision with Fabio Di Giannantonio, one that sent him to the hospital with neck damage and a severe concussion. Due to the 10-day replacement rule that MotoGP has, we were already down to 18 riders for the weekend, and by Sunday's GP, we were down to 17. The least populated MotoGP grid since 2011, the season where the sport was desperately looking for participation post-Credit Crunch.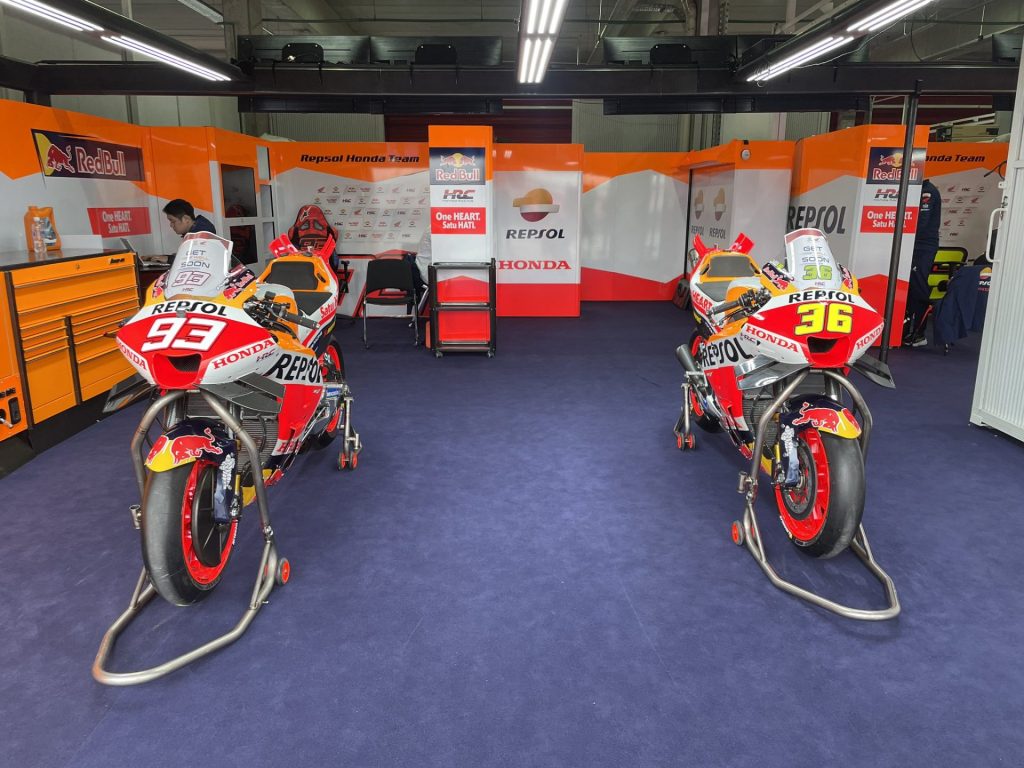 This weekend format is the most intense of its kind, maybe in all of Global Motorsport. You now HAVE to be on it from the first lap of the Friday practice. You only get 105 minutes across FP1 and 2 before Q1 and Q2 spots are determined. If it rains at any point, that's even less time if conditions change. The final 15 minutes of FP2 is now a glorified qualifying session of its own. FP3 is now pointless because it's too early in the day to accurately do a race sim. And then we now have a Saturday afternoon Sprint where even a minor crash can cost you 37 points rather than 25, like with Mir. Everyone involved is under immense pressure to execute, and now in an even more condensed schedule with 21 weekends (The most ever), and three triple-header weekends across the year.
Again, how much of this is the standard nature of bike racing and its inherent danger? And how much of this is avoidable by adding more and more to the schedule? I don't know where those lines stop and start, but there are questions to be asked when nearly a quarter of your grid is missing for just your second Grand Prix.
Neil Hodgson of BT Sport made an interesting observation in Argentina. I'd agree with him that both Sprints so far this season have been better than both Grand Prix. But do we get to a point where the Sprint overshadows the GP on Sunday? If the sport wanted more fans and coverage on Saturday, it no doubt got it. But are you accidentally making Sunday's less appealing?
Hodgson suggested a hybrid between Dorna's main series (World Superbikes included), having two Sprint Races a weekend instead. Now I admit, a half-distance sprint does mitigate some of the current problems with MotoGP's on-track product. But do we really want to abandon some elements of GP racing like tyre management and racecraft strategy? This sort of talk, while interesting, has me thinking this is a bandaid.
F1 changed its weekend format partially because there were many political deadlocks regarding trying to make the cars more raceable. So they had to look at other ways of improving the product before 2022 came along. And with Ducati clearly not keen to blow up the sport's regulations on the ride height devices and aero that they cracked open Pandora's Box with, I fear MotoGP might be going down the same road. I fear that they're doing that on a lot of things actually.
Bez's Happy Monday
It sucks that I've had to write nearly two pages of A4 before getting to the actual race winner this weekend. But Marco Bezzecchi was absolutely outstanding on Sunday. Took the lead early and just straight up dominated. He backed off towards the end as Johann Zarco went on another one of his trademark late-race tears, but Bez's confidence and smoothness in the heavy rain was just immense to watch.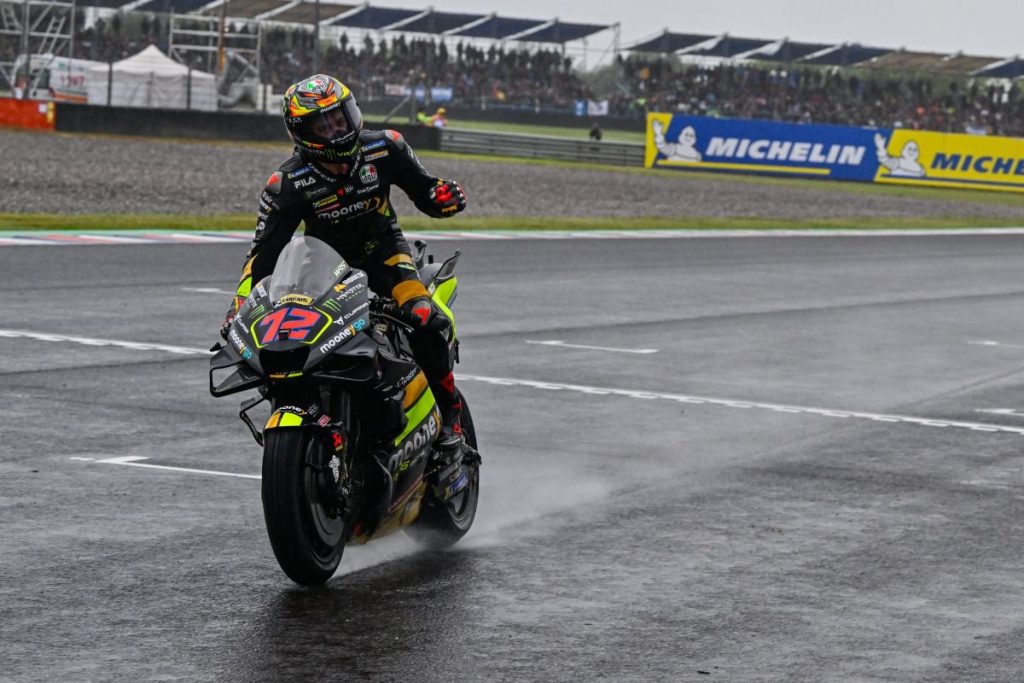 It's also another feather in the cap for the legacy of Valentino Rossi, with his third top-flight winner out of his academy and the first for his own team. I've said it before and I will say it again – The true legacy of Valentino Rossi won't be his own career, it'll be what he is doing for bike racing in Italy, you can see the foundations of yet another star in Bez. He even looks like Vale AND Marco Simoncelli for f*** sake. Marco Bezzecchi, MotoGP Championship Leader. I could get used to this. 
Not Again, Pecco…
Part of the reason Bez is leaving Argentina as Championship Leader is Francesco Bagnaia had another crash. His 6th in MotoGP in his last 22 races. Bagnaia never really looked comfortable in Argentina's changeable conditions, but I do have to question his approach to this race.
Bagnaia was running second at the time of the accident. He'd just passed Alex Marquez behind him and wasn't under a huge amount of pressure. But he was still pushing and trying to take down a 6 second lead that Bez had. Bez is fast, but it's probably a bit too early to consider him a title contender. With no stand out contender in range, for me, this is the definition of a "Take The Points" situation. You keep your Championship lead reasonably healthy and it's 20 points in the bank, maybe 16 if the Zarco charge still happens at the end. It's still a good result.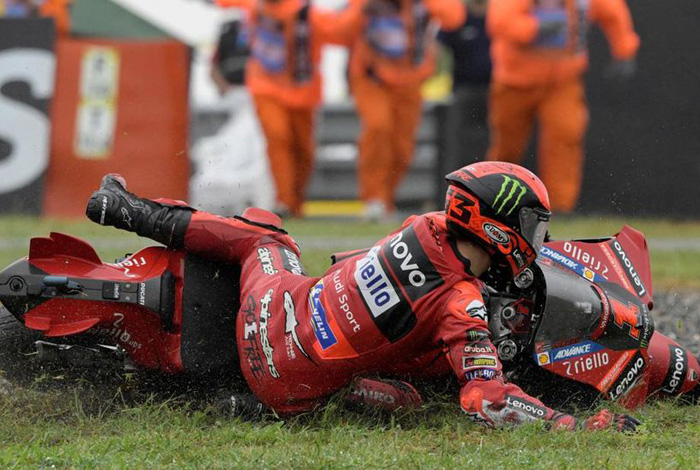 But nope. Pecco bins it, rejoins and eventually crosses the line at the back but out of the points in a surprisingly clean race all round. Pecco was slapping himself in the helmet after the race. He knew he screwed up. I've been vocal about this with Pecco. He's the best front runner in MotoGP I've seen in years, with incredible speed and racecraft. But if you knock him out of his concentration he IS susceptible to making mistakes.
Remember, there was a good reason he was 91 points behind Fabio Quartararo last year in the first place. He is vulnerable as a top-tier rider and he's been fortunate there's not been a clear #2 rider in this field yet with Bez's shock weekend and Enea Bastianini currently on the injury list. Bagnaia is already a World Champion. If he wants to cement his future status as a Hall of Famer, he may need to find a way around this issue. Take the sodding points, man!
The Lightning Round
We're lucky it was a relatively clean race, but Moto2 not getting a warm up anymore coinciding with heavy rain on Sunday led to a 14 lap reduced distance race. Remember, they scrapped Moto2/3 warm ups in the schedule so the sport could squeeze in its new rider parade and hero walk with selfies and autographs. A nice move for the fans, but it feels like the smaller classes are getting shafted for the TV broadcasters, trying to leave that one hour gap before the race starts. Not a good look.
Shoutout to Alex Marquez for his first MotoGP Pole Position and a beautifully timed gamble onto slicks right at the end of the session. Beautiful stuff and clearly making good strides with Ducati already.
Delighted to see Franky Morbidelli competitive again at the thick end of the field with an excellent 4th. He's been to hell and back after his ACL tear and while the jury's still out on the long-term, he absolutely flourished in Argentina's low-grip conditions. Franky is one of the genuine good dudes in MotoGP and I hope it's the start of something more. Also very weird that he and teammate Fabio Quartararo are polar opposites in pace depending on the track condition. What is going on at Yamaha?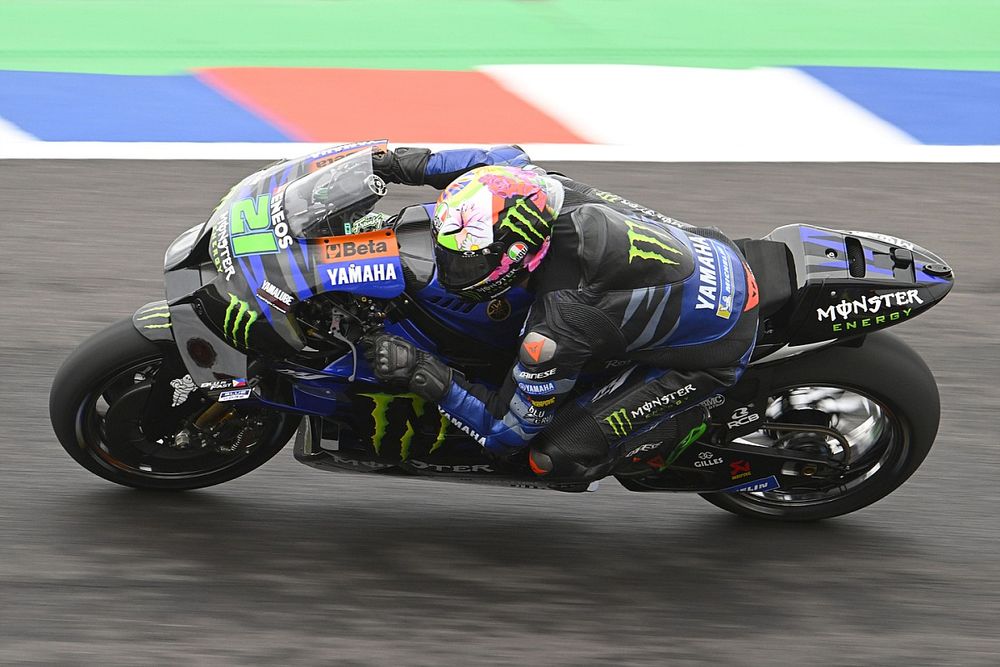 Stewarding inconsistencies are still here. A minor shoulder barge from Sasaki in Moto3 leading into a position drop penalty, something that never gets called. But Taka Nakagami hits Fabio Quartararo in the opening lap of the race and no further action?! I don't understand the logic here. 
And since when is passing under yellow only a 1-second penalty?!
Following up on said double standards, Scott Ogden. Rides his best Moto3 race to date but on the final lap he locks his front tyre and clatters into David Almansa, the stand-in who had done a brilliant job of running second. Ogden was given a 6-second time penalty (A Double Long Lap equivalent).
It's not the punishment that irks me, it's the British bike pundits that couldn't wait to defend him. I get it, it's wet, but you still have to control your vehicle. This was not "good hard racing", it was Ogden over the limit. And if there's one series that almost certainly needs better scrutiny of riding standards, it's Moto3.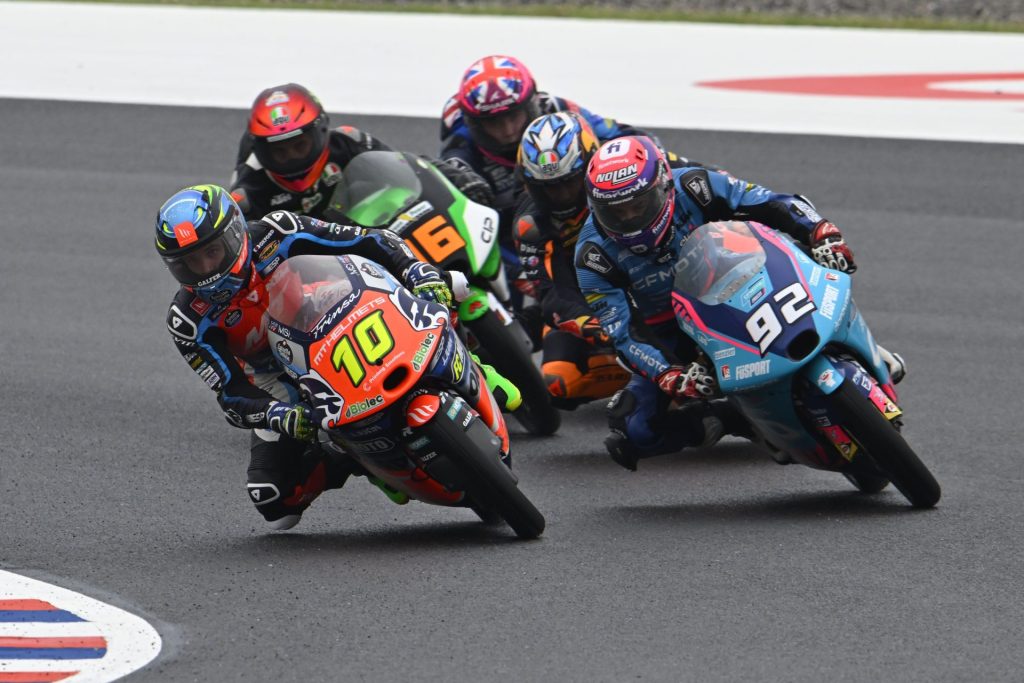 Some of the same people calling for Marc Marquez to be banned for a round are looking for mitigation here. And it still doesn't sit right with me that his team owner Michael Laverty is a paid pundit there due to the conflict of interest. As I said yesterday, I don't have an issue with a broadcaster being biassed to a degree, but when it has a negative detriment to your product, that makes me uneasy. 
On a more positive note though, Josh Whatley finished 15th. Which I think makes him the first black rider in GP history to score a point. As much as I rag on F1 for being very sketchy in terms of improving diversity, bike racing badly needs to catch up.
Did the VR46 Academy sign a contract that they had to be within 100 yards of a Lionel Messi shirt at all times? Asking for a friend.
Dre's Race Rating – 7/10 (Very Good): This was actually a pretty good baseline wet race for MotoGP. It was hard not to be blown away by Bez's performance, we had some good fights like Bagnaia vs Marquez and Zarco once again got some fun points by going mad at the end. But once again, the Sprint was a better show. I do wonder if the sport realises what they're accidentally doing here. See you in Texas.