"This will be the only time Fabio Quartararo will be mentioned in this piece. Says it all really."
Welcome to the 1,000th MotoGP Race. Round 5 of the Championship is heading to one of its blue ribbon events at Le Mans for the French Grand Prix. And I think after all the question marks about the state of the series and everyone at loggerheads discoursing about the bikes, I believe… I THINK… we're back on the right track. Mostly. Let's get into it.
Why Not Bez?
This Grand Prix was one of surviving chaos. And the one who did that better than anyone was Marco Bezzecchi. And even he went over the limit when he ran Marquez out at Garage Vert, a move he'd later admit he went too far in. But once he took care of the early pushing Jack Miller, he was gone, taking advantage of the upper-midfield collapsing like the heart of a star.
Francesco Bagnaia was collected by Maverick Vinales seemingly not seeing him when he ran wide at the Blue Esses, clipping him, losing control, and having them both crash out. They were about to throw hands in the gravel trap but it seems cooler heads prevailed by the time the adrenaline wore off in the paddock. I think it's a racing incident, just coincidental unfortunate contact rather than anything malicious attempted. But Bagnaia's 3rd DNF of the year already is keeping everyone else in the hunt.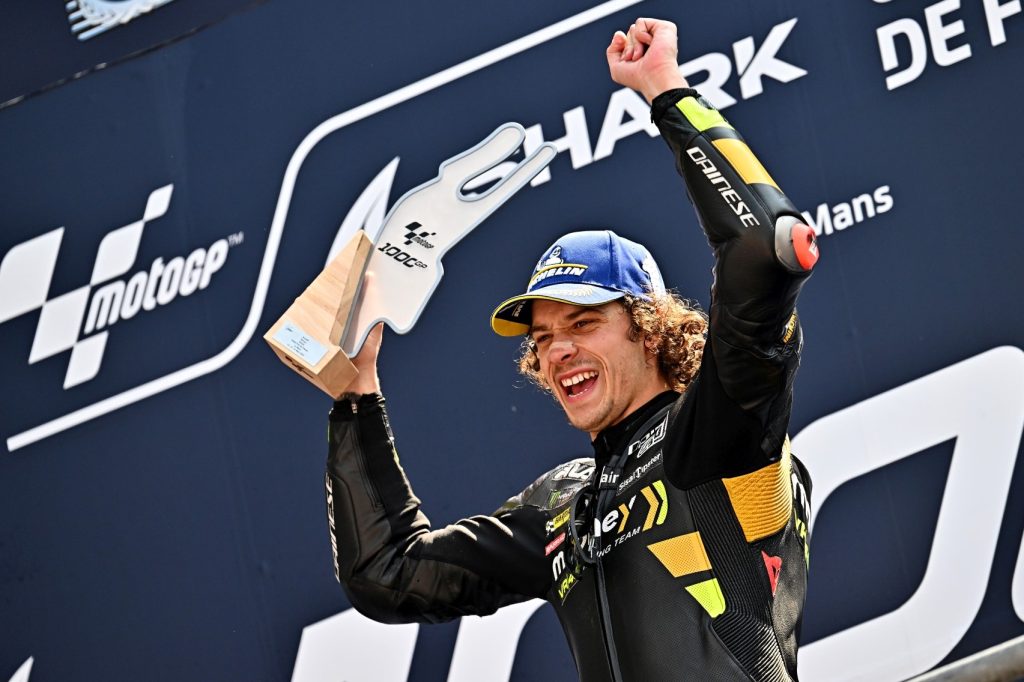 Then we had Luca Marini losing the rear of his bike at the Dunlop Chicane, and then not seeing Alex Marquez coming through and clattering into him, Marquez being lucky to avoid being run over. Seriously, I'm starting to think that Alex Marquez wished for a competitive bike for 2023 and then a finger on a monkey's paw started curling up. And I think the claw was owned by Miguel Oliveira.
But once the dust was settled, Bez took off as Marc Marquez and Jorge Martin scrapped it out hard for second place. More on that in a bit, but blink and you missed it, and Bez was three seconds down the road. He rode beautifully and if there was any vindication needed after winning in the pissing rain in Argentina, he's now done it in a conventional race too.
Bez is now just one point behind Bagnaia in what's becoming a wide-open title race again. So I say to you folks… why not Bez?
Marquez Is Still That Guy
That Guy? That guy. For the first time in seven weeks, Marc Marquez returned to the Repsol Honda after his broken thumb in Portimao. And he was… absolutely peak Marquez. This was the first weekend he got to test the brand-new Kalex chassis that might help mitigate some of the Honda's problems… so Marquez nearly sent it into orbit pushing too hard in practice when he already was in Q2 automatically. Then he puts it on the front row. Because of course he does.
A solid 5th in the Sprint was followed up by an intense fight with Jorge Martin for second in the Grand Prix. Marquez lost the rear pushing a bit too hard into Museum with just a lap and a half to go. Now, I get it. You're probably mad at Marquez for blowing it so close to the end when he had a comfortable third… but I think you may have missed the entire point of Marc Marquez as a rider at this stage of his career.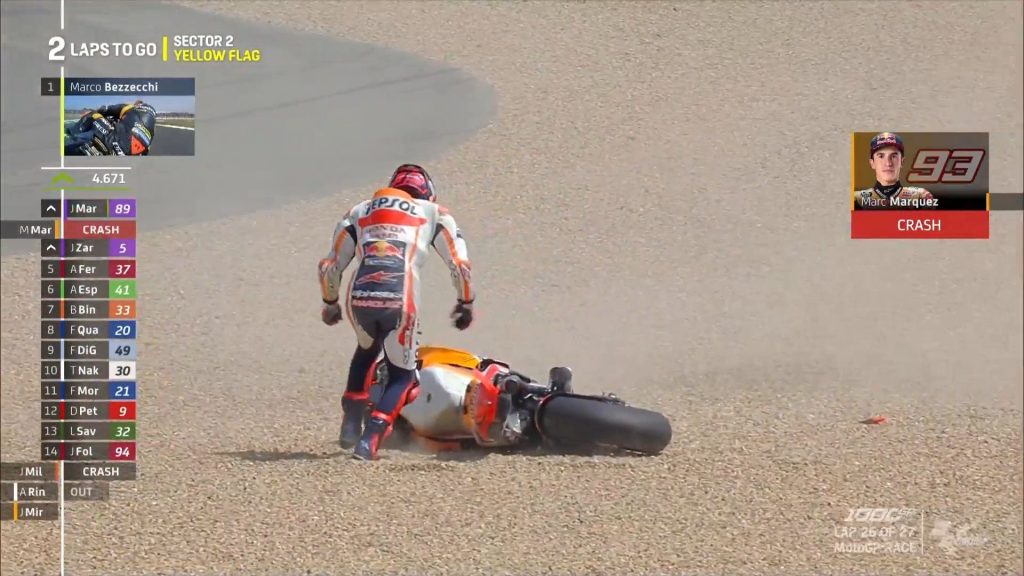 Marc Marquez walked into France, 80 points behind Francesco Bagnaia. A realistic challenge on a bike we all know has fundamental flaws was a big, big ask. Honda is on a knife edge, knowing they have to do everything they can over the next year and change to convince their transcendent, otherworldly rider to stay. Don't the Rins COTA win fool you, Marc is the only man who can consistently get something out of this package. Anything. One of the most prolific and celebrated developmental factories in the world, dominating F1 without its badge on the marquee, is relying on eight men in a Bavarian shed to save their factory.
And then you have Marc, the man. A man who explicitly told Honda that he didn't have four surgeries, contemplated retirement and lose three years of his prime to finish 9th every week. He did it all to win. In his decade in the top flight, the only season he truly played the conservative game was in 2016, taking the points as Yamaha legends Valentino Rossi and Jorge Lorenzo beat each other into oblivion.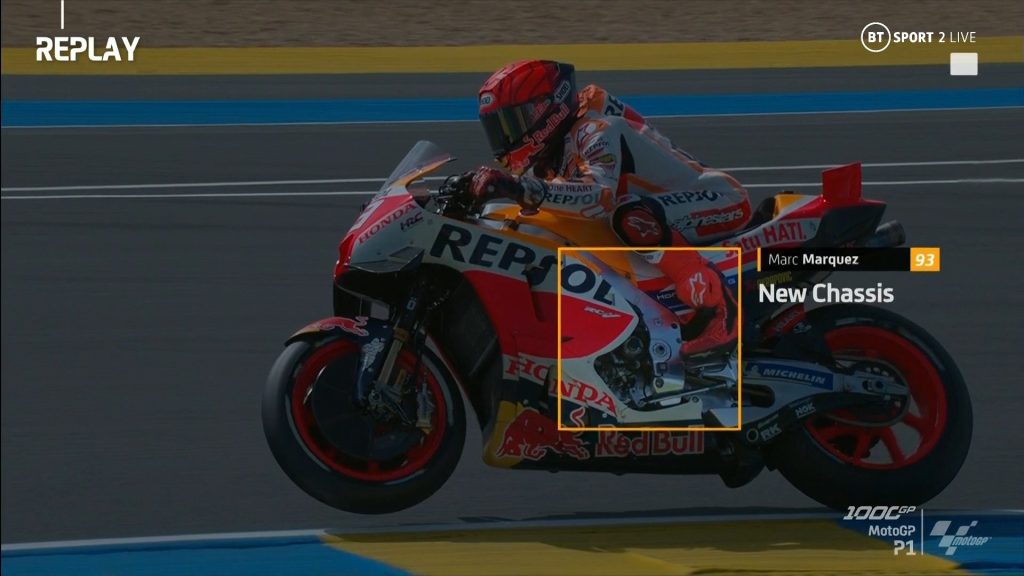 As much as it's easy for us wankers with keyboards to look at a scoreboard, play the percentages and say "Take The Points", we're talking about Marquez here. A man who's already built a legendary career out of exploring the ultimate limits of what you can do on a Motorcycle. No man in MotoGP history has ever lived beyond the limit as he has. Ever.
Marquez could have taken an easy third. But then that wouldn't be Marc Marquez. And if you disagree with me, that's cool. But before I move on, consider this. Have you ever seen a man return to his garage after crashing and receive a standing ovation for it?
"I'd rather run along the ground than finish P10 every race."
The Lightning Round
Augusto Fernandez finished fourth. FOURTH. An insane performance at a weekend where the factory KTM's made a dog's dinner of the weekend, with Jack Miller crashing in both races and Brad Binder being caught in the midfield and losing position after taking the Turn 10 shortcut. He's probably going to have to do more to delay the Pedro Acosta Master Plan, but it's a huge result for the hometown Tech3 team, and it's always a delight to see Herve Poncheral beaming.
This weekend was a World Record in terms of attendance in a MotoGP race. 278,000 over the three days, and a remarkable achievement. The sport has had attendance problems sporadically across its calendar, but Le Mans is hype as fuck as a race. 116K on race day is bonkers, and props to the team who do an incredible job promoting the sport. Le Mans is the new Mugello.
Props to Dorna for the 1,000th GP intro and for featuring some historic footage in the intro. Seeing Sheene, Rainey and others in there alongside the modern roster was awesome. I love little things like that in broadcasting. If you make your event special, your audience will play into that. (Maybe invite some more bike riders down rather than French F1 guys like Jean Alesi, mind)
The stewarding was fine on this race. Mostly. I'd argue Aleix Espargaro should have been punished for his barge on Alex Marquez during the Sprint. Still, besides that, I had no issue with Bez getting a position drop for his illegal overtake on Marquez, and both other major incidents were just that, incidental. It makes it frustrating that the stewards told the riders that contact while passing would warrant penalties. It had a negative blight on the whole weekend with riders giving the media very engaging answers for easy headlines, and had an impact on BT Sport's commentary.
I like Hodgy and Emmett for the most part, but obsessing over every pass in a GREAT pair of races to question whether they'd be penalised for contact was infuriating. That's not entirely their fault either. Francesco Bagnaia did exactly what Jack Miller did in Jerez – Complain about an aggressive but ultimately fair pass from Marc Marquez. When the person dishing out the aggression is now putting the shoe on the other foot, it tells me all you need to know – No-one knows what a penalty is anymore. But if you've been reading my blogs here, you already knew that. #NOKWAPI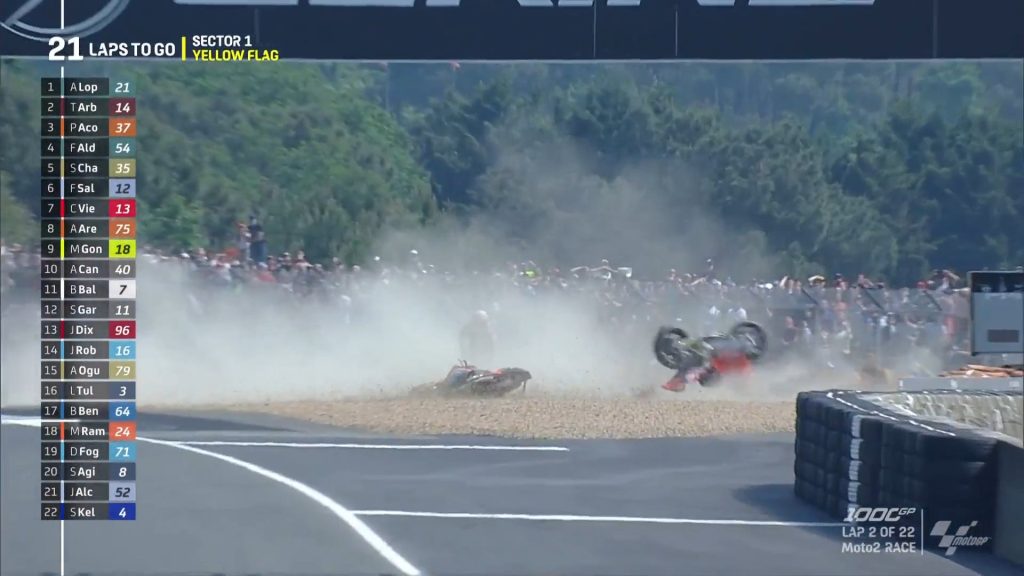 Something I will be harsher on though, was the handling of the Moto2 race. There was a huge wreck on Lap 2 as Albert Arenas crashed, and Aron Canet and Manuel Gonzales both rode over Arenas' bike in a huge wreck at La Chapelle. The bikes were seconds away from passing through a corner at full racing speed before a Red Flag was thrown, with Canet still on the ground receiving treatment.
You cannot take that chance in this sport. You need to be far more prompt in throwing the red if a rider will be down for two-plus minutes receiving treatment. PS: It's genuinely horrible that the moment the race was red-flagged, BT Sport felt they had to promptly highlight that Sam Lowes could take the restart after crashing on the second lap from pole. And even then, it didn't matter because Marc VDS couldn't fix his bike in time and he had to start from the back of the grid via the Quick Restart procedure.
I get it. British sports fans are your lowest common denominator as a sports broadcaster, and you're a national broadcaster with the nation's collective in your name. A little bias is understandable. But when it's constant harping of the British talent in the sport (to the point where there are multiple conflicts of interest holding microphones and commenting on what they see), it gets infuriating. Media is important. Let's get it right.
Dre's Race Rating: 8/10 (Excellent) – The sport needed this one. A race where ultimately, the action created the headlines, and not everything else in between. Bez was brilliant, yet again. Martin and Zarco gave the home crowd some drama. Marquez is still box office. And if anything, it's the perfect time for the sport to recharge its batteries, get healthy, and come back for Mugello. The real season starts very, very soon. See you in a month.