"The Boys Club Bonanza"
IndyCar, 2023 edition. I was genuinely more excited about this season starting than any of the major series I cover as a pokey-Motorsport journalist. I was going into this season thinking there could be as many as EIGHT title contenders – Penske and Chip Ganassi both sporting incredible lineups, and Pato O'Ward and Colton Herta fronting teams in IndyCar's new "second tier" (In this writer's opinion).
If there's one thing IndyCar never strays too far away from, it's chaos. And this season opener embodied everything I love and deteste about this goddamn series. Let's get into why.
*arm gestures* – Whatever This Was
St Pete is a pretty bad track for racing in my opinion. It's got one genuine overtaking spot, its walls are extremely narrow and it encourages desperate, sloppy racing as a result. And even if you're giving it the benefit of the doubt for that, it feels like it has to deal with the drivers being rusty after spending half the year mostly out of the car. This is NOT the sort of track that eases you in gently.
Lap 1's accident was horrific. Half a dozen cars, including both Meyer Shank's got wrecked, and Benjamin Pedersen driving at seemingly near full-throttle into the side of Devlin DeFrancesco and sending him airborne. Thank goodness the aeroscreen did its job and no-one was seriously hurt.
Rinus Veekay's accident and its nasty follow-up was also horrific with Jack Harvey harming his wrist and Kyle Kirkwood being the second car sent airborne. And I know IndyCar beats its drum about how great its Safety Team is, but that accident was a red flag crash all-day long. If you need an ambulance on track and there's barely enough room to squeeze an IndyCar through the gap, you need to park the cars in the pitlane and clean that mess up.
In general, we got multiple sloppy instances that brought out cautions. Kyle Kirkwood didn't back out of a pass on Conor Daly until it was way too late and put him into a wall. Will Power refused to yield and put Colton Herta into a wall. And the big headline grabber of the day – Scott McLaughin putting Romain Grosjean out of a race he looked great to finish 2nd in at worst. More on that later.
Logistics
I dunno, man. You ever watch something you just get the epiphany that this just isn't working? I'ma say it – I think you need something else as your season opener.
This race was already a scheduling nightmare. You almost went head to head directly against Formula 1, the fastest growing series in the US Motorsport landscape, and was lucky the Bahrain GP didn't run over as it only had one, small virtual safety car. NASCAR was almost straight afterwards from Las Vegas. And then you insist you have to leave a whole month after this race before you go to Texas in the first week of April.
Why not go March 12th when you've only got NASCAR in Phoenix to compete against, and it keeps a bit more of your "momentum" (I hate using that word) alive rather than having your series sit on its hands for a month? And why not make an Oval, the unique discipline your series is known for (And your headline event in May), an opener? Swap Texas and St Pete, and bring St Pete a couple of weeks closer.
Am I crazy? If I am, please tweet me @Dre_WTF1 and tell me why, I'm open to listening to this. 
Dre's Grosjean Chaos Theory
Okay, We all know what you're really here for. Grosjean vs McLaughlin.
First up, I need to make this point – This was Romain Grosjean's best weekend in IndyCar to date and should have won. He was outstanding in qualifying, his race and tyre management was excellent and he was forcing McLaughlin into using every bit of his talent (And eventually beyond) to stay in front. 
Scotty Mac had done a genuinely brilliant job in stretching his Alternate tyres into getting him into play for the win because track position is king at St. Pete. Even with all the yellow, a 35-lap stint is nuts. 
The pit exit was close, too close. Penske had got McLaughlin's stop on the money and got him out in front, he defended the inside line and… crunch. Both in the wall. Grosjean, out. Looking at the replay, it's clear McLaughlin is 100% at fault. He loses control under braking into Turn 4, it's obvious he's not making the corner in 100 years and Grosjean has nowhere to go. Yes, I get it, this was likely the clash for the win, but "race state" as I like to call it, doesn't absolve you from blame. Lap 2, Lap 65, or Lap 100, that was unacceptable and McLaughlin knew that straight away.
At the time of the incident, I put out the tweet above. Now I admit, I am an emotional sports fan like many of you. It was a little "heat of the moment" I admit, and my stance on what I'm about to say has softened a bit, and that's through Scott McLaughlin's apology. He handled his mistake about as well as someone could. He owned it, took full accountability, and immediately went to Grosjean and apologised. I'm genuinely glad it was handled with such good grace on all sides.
However, something has been nibbling away at me for the last year regarding Grosjean's rise to prominence in IndyCar, and I have to wonder… is something about the way he's been handled, intentional? Now before you call me a conspiracy theorist, I've got some evidence from my time as a fan to back this up.
Grosjean has been on the receiving end of some nasty incidents on track since tangling with the big boys. He was punted off by Jack Harvey in Indianapolis. He tangled with Graham Rahal in Barber and was talked about in the same way bullies talk about their victims in the playground afterwards. Josef Newgarden put him into the wall at Nashville last year in an almost carbon copy move of what happened at St Pete. And of course, all of the Mid-Ohio Andretti meltdown, where Alex Rossi hit him almost certainly on purpose under yellow.
At this point, I'm at a crossroads and I'm stuck between two major thoughts on all of this. And trust me, neither of them are good. Here's the options:
Option A – The Drivers of IndyCar are targeting Grosjean on purpose
Now, all of what I've just said could be pure coincidence. Option B is an explainer for that in a bit. But it's some of the discussion around the Grosjean incidents that adds fuel to this theory of mine. When Rahal and Grosjean banged wheels in Barber in 2022, Rahal went MAD. Yeah, Grosjean probably didn't need to make contact with him, but it was minor with no real harm done. But Rahal made comments that hovered on the line of xenophobia, implying that he needs to 'go back home", later doubling-down saying on Instagram saying he had texts from 10-15 drivers who agreed with him when he made his post-race interview.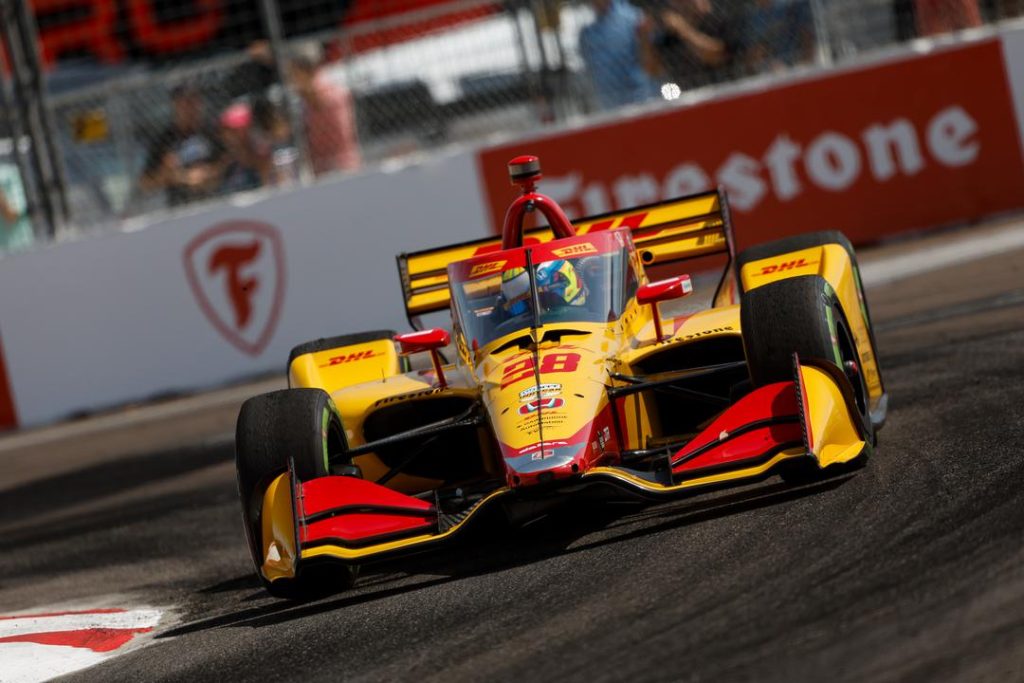 We might not ever know what caused the beef between Alex Rossi (Who had one foot out of the door at Andretti) and Grosjean, but if you get to the point where you're whacking people under yellow, something terrible has happened because that was about as big an admittance of guilt as I've ever seen in IndyCar on a race track.
When Josef Newgarden put Grosjean into the wall in Nashville, the normally very PR and media-savvy star had his mask slip. He lashed out at fans saying that "Grosjean had gotten away with worse", as a flippant defence, like an 9 year old who blames his baby sibling for knocking over the fine china. He later had to walk it back and apologise in a way that felt like he was reading from a cue card.
This goes hand-in-hand with the culture that the series has bred against Formula 1. Now, I'm the last person to defend F1 being the big kid in the playground with the Base Set Charizard in his Pokemon binder, but even in my short time as an IndyCar fan, they absolutely love to punch up at that series.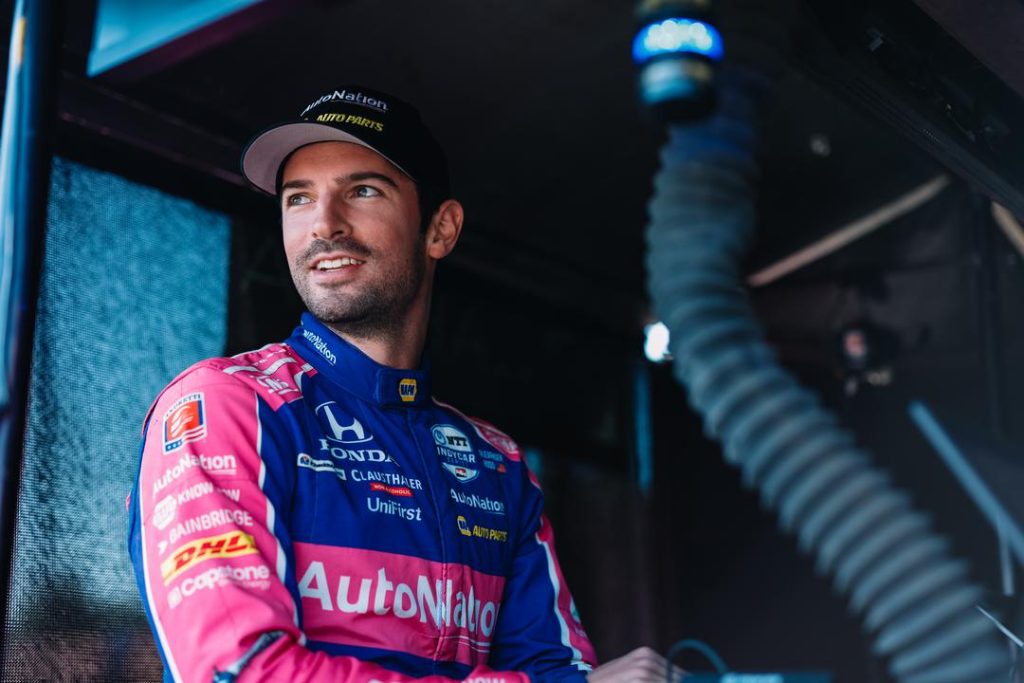 Someone responding to my initial tweet at St Pete said that McLaughlin's an outsider too, and my theory didn't add up. He'd be right if it wasn't for the fact that 1) Scotty came from a Supercars background and not F1, 2) Scotty has absolutely joined in on that punch-up on F1 culture via "Bus Bros", his sidegig. Only last week they had no problem ripping off Drive To Survive footage (And footage of Will Buxton talking about a fatality) to promote their iRacing session and monetising their mocking of F1's Superlicense system.
It goes back years, to the barbs made when Lewis Hamilton gassed up Fernando Alonso going for the Triple Crown and they took jabs at how top heavy F1's Mercedes-led dominance was. Grosjean has been the face of the F1 import who's come over, gotten a ton of positive feedback because of how he's grown and embraced the series and has clearly rubbed some people the wrong way for dishing out exactly what the rest of the series has been doing for years now.
Don't get me wrong, Grosjean has had his fair share of aggression since joining IndyCar too and isn't entirely blameless. But he's no worse than half a dozen frequent offenders in the series who don't get half as much shit since he's debuted.
Which leads me into this:
Option B – The Series Driving Standards Just Suck
I'll happily pour some of my own cold water on Option A to make the point that overall, maybe Grosjean is just a symptom of an overall larger problem. The problem being that IndyCar's driving standards have been going to shit for some time now and that the whole series needs a reality check as to how to handle it.
This for me really started last season. The amount of hip-check passes where drivers are using their cars as battering rams hasn't sat right with me for sometime. Drivers getting run out onto the grass is a frequent attacking move that I've seen come into the series and is largely legal. This happened to Rinus Veekay multiple times last season and it was horrendous how much it hurt his year. In F1, the onus is on the attacking car to pass safely and if you're running someone off the track and gaining an advantage, you're accountable for an incident.
And that leads me to another problem, in that the stewards seem reluctant to administer proper punishments for such driving. They were a bit better here in St Pete, but I still think that Will Power only getting a back of the line penalty for ending Colton Herta's race was nonsense. Don't get me wrong, I don't think any penalty would have mattered given how many cautions we had in the context of this race, but a back of the line penalty when a third of the field is already in a scrapheap doesn't hit as hard as it should.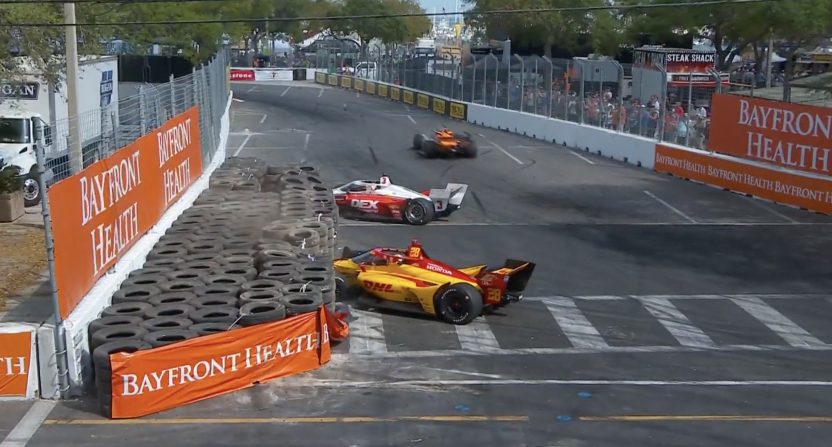 Rinus Veekay let out a passionate plea after he was eliminated from the first round of qualifying against blocking, a rule that just isn't called in IndyCar much at all, when in F1, it's a slam-dunk penalty almost every time. When the margins are so close in these groups (Seriously, qualifying might be the best thing about an IndyCar weekend), you need to make an example of people bending the rules because losing even one lap is huge in these sessions.
In fact, the series needs to throw the book harder at its drivers in general. If you're not going to go down the time penalty route like F1 has (Which can be very useful for minor incidents), then any avoidable contact needs to be hit with Drive Through Penalties at minimum to stamp this sort of behaviour out. Because I'm sorry, but if your highlight package from a race looks like a crash fest, people aren't going to take you seriously in the long run. And I know IndyCar cares deeply about how it's perceived because I think the culture of its series is wrapped up in F1 and "little brother syndrome".
I genuinely don't know what reason out of the two above I lean towards here. Neither aren't good for different reasons. I want nothing but the best for IndyCar and I know not many Brits are covering the series like we do here. But it has to do better on this front and shedding the "Boys Club" attitude would certainly help.
The Lightning Round
Oh yeah, I missed the fact that Marcus Ericsson won. And I feel bad for the man at this point because the Racing Gods don't want to give him a win that seems like shenanigans. We've already had the car sent into orbit moment from Nashville in 2021, the fact he was more like Plan C at the Indy 500 last year when Dixon screwed up and Palou was unlucky, and now he got a win he probably wouldn't have gotten if it wasn't for McLaren screwing the pooch. Let my man cook!
And on the other side of that coin, poor Pato O'Ward. Man had been in the mix all day, got a lucky break to put him up front in a race he looked good to win until a plenum fire hit his engine that caused him to bounce off the limiter and lose the lead. One of McLaren's biggest issues of 2022 was reliability, hurting Pato's campaign when it mattered most and it happened again.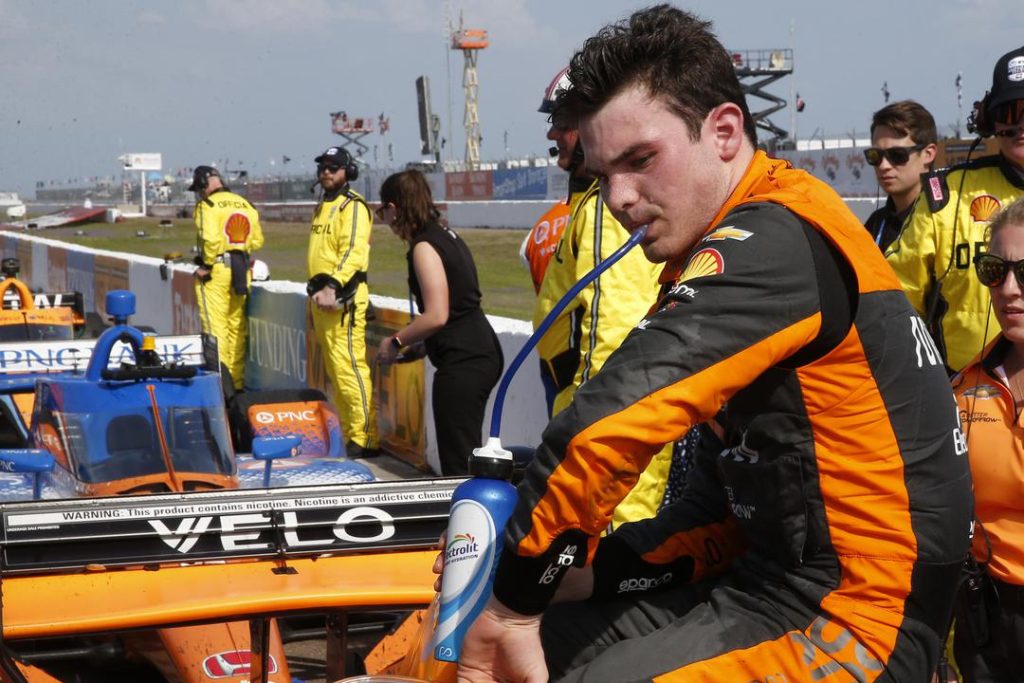 This one felt particularly cruel with just three laps to go, and an issue that didn't put him out of the race, but hurt him just enough, maybe losing just a second, to cost him the win. I've never seen Pato so angry. And on a day where McLaren were really good to get him 2nd and Alex Rossi 4th on his Papaya debut, Pato said: "We can't keep letting this happen." And if McLaren ever truly want to compete for the top honours in this series, he's absolutely right.
Shoutout to Callum Illot for going from 22nd to a career high finish in 5th. Sometimes in this series it pays to just be clean and keep your nose dry. He was owed that from Monterrey last season. Good for teammate Agustin Canapino for 12th on debut as well, solid points. I seriously like the guy, fast, humble, happy to represent in the series and speaks better English than most English people do in just 3 months. Love that for him.