Congrats IndyCar, you don't have to worry about The Race's weekend poll, pretty safe to say you won the weekend on this one. I genuinely love when the series comes to Barber. Everything about it says it shouldn't work with it being a small and narrow track that was originally designed for racing bikes, and yet every year since the universal aero kit was dropped, it's produced banger after banger. No wonder they just announced that Barber will be extended until 2026. Good stuff. And this year's race was all the vindication needed for its continued existence. Let's get into it.
The Emotions of Romain Grosjean
At this point, I'm starting to think that the Racing Gods are thinking up cruel and unusual punishments to make sure the man doesn't win. Remember, he hasn't won a single-seater race professionally since the Hungarian Feature Race in GP2. Yes, it was still called GP2 because it was back in 2011!
This really did look like the one for Grosjean. There was so much hype here for Josef Newgarden, Pato O'Ward and Alex Palou, all the recent previous winners here and Grosjean just out-qualified the lot of them. And with Sting Ray Robb's car failing the only caution of the race, it played out perfectly for the only man in the pits when the yellow dropped – Scott McLaughlin on the three-stop strategy, a gameplan the sport predicted only had a 9% chance of winning before we started. However we got there, these two put on an absolute clinic at the front of the field.
The beautiful thing about Romain Grosjean is that it's impossible not to talk about the emotional side of his IndyCar career. He was dropped from Haas after a fireball that could have easily taken his life. He leaned into thay, called himself the Phoenix and rebuilt himself in IndyCar. Embraced the series with both hands, moved his entire family across the pond to live in Miami. He was already getting standing ovations and people chanting his name in his rookie season at Rick Ware Racing before moving to take Ryan Hunter-Reay's iconic #28 at Andretti.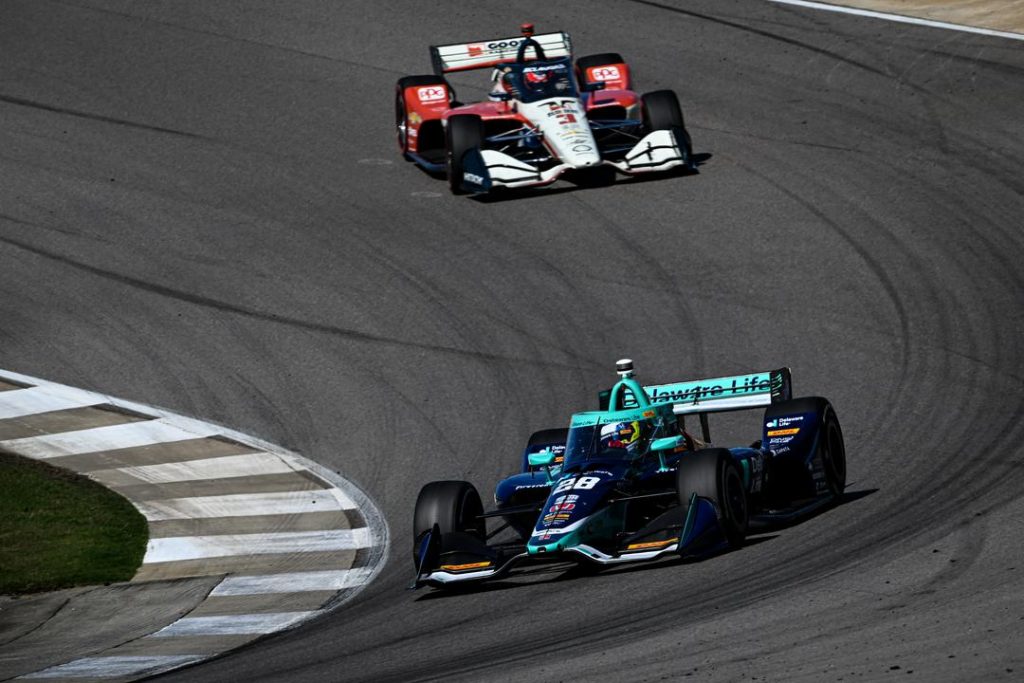 He'd already had four podium finishes and a pole position before this season started. But there had also been growing fears of resentment towards him by other drivers in the series. A rumoured fallout with Andretti teammate Alex Rossi exploded in Mid-Ohio when the eye test showed he probably hit the man multiple times on purpose, leading to Michael Andretti having a meltdown in the paddock.
A year ago to the race was the infamous Graham Rahal rant over a banging of wheels that flirted with xenophobia when he was told to "go back home" with his friends agreeing by text. Josef Newgarden put him in the wall in Nashville and his incredibly slick media image slipped as he argued (then apologised) to fans on Twitter for rightly calling him out.
And we all know 2023 started with Scott McLaughlin putting Grosjean into the wall in a battle that was likely for the win. Grosjean, the fastest man all weekend, punted into oblivion by a thankfully, profusely apologetic Scotty Mac. But it gave many people (me included), the vibe that the series didn't like the F1 guy roughing up the established veterans.
This is what made his switchback move down the hill into the final corner on McLaughlin to briefly lead so beautiful. Not just an act of revenge, but one of overcoming a whole heap of shit to get to the point where he can race one of the fastest people in the series (The guy I picked for the Championship no less), and potentially win…
…Until we look down and see the horror that was, the man had no push-to-pass left. He had over 140 seconds left before the final stint!? Turns out, his push-to-pass malfunctioned and dropped him to zero. Leaving Romain to conclude: "I'm a sitting duck." A mistake at the Spider's web sealed Grosjean's fate as McLaughlin used the last of his extra power to come through, but he did well to hold off the hard-charging Will Power and take him his fourth second-place finish since joining IndyCar in 2021.
This one has to have stung. There is nothing in sports quite like winning. But if you're a Romain fan like I am, let me cheer you up a bit. I genuinely think he's been the best driver in IndyCar so far this year. I don't normally like to move the goalposts too much when analysing people. But in an alternative universe, Grosjean wins in St Pete (Second at worst), he doesn't get caught up in the aero wash in Texas in that close fight with David Malukas and probably lands in the Top 5. And given the difference in P2P with McLaughlin, if he doesn't fail, he probably wins that too, even with the minor mistake.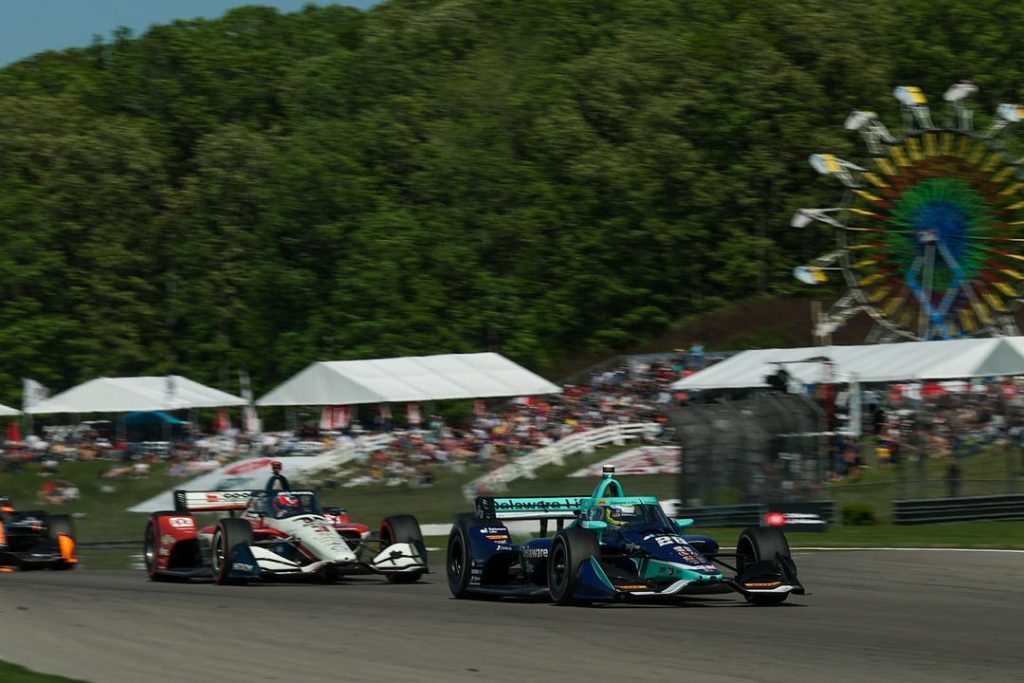 See what I'm getting at here? Grosjean, in a race where the other Andretti's were 12th, 14th and 23rd, is starting to truly become the de facto leader of this team and a genuine title contender. He needs a big 500 as I'm still not fully convinced about him at Ovals yet, but pound-for-pound, he's been the all-rounder in the series so far, even if the results haven't shown it.
This one will hurt the Phoenix. It was his best chance yet at a first win. But his best course, the Indy Road Course is next. The win is coming. It might be coming sooner than you think.
The Lightning Round
Glad Graham apologised for it, but can you tell how much I laughed after the aforementioned Grosjean remarks from last year that a year on, he oversteers and barges Conor Daly off at the exact same hairpin? Man, the irony. Delicious. And shoutout to teammate Christian Lundgaard for a brilliant 6th on the weekend. Given RLL is really, really struggling, they need days like that. Give Christian a car and a little bit more on ovals and he's cooking.
According to the man himself, I shouldn't give a shit about Marcus Armstrong's racing, but I can't help but be impressed by his rookie campaign so far. He gained 15 spots in Barber and his three rookie drivers so far have been 11th, 8th and 11th. If they can convince him to run the ovals and his sponsors can pony up, Chip Ganassi could have another F2 monster in their hands. Told you last year this trend was coming…
Fascinating Silly Season article from the best in the biz Marshall Pruett too. McLaren possibly going to 4 cars if they're not so keen on losing Felix Rosenqvist, Malukas might break off from Coyne to start his own team with his Dad and Chip Ganassi potentially going to five cars if they think Kyffin Simpson is ready. Could we get 29 cars in 2024? Can the tracks take that?
No really IndyCar, scrap the bullshit on waiting for a yellow when a car dies on track. It compromises everything great about your otherwise brilliant Safety Team. Racing is unfair. Throw the damn caution.
Also love the race for the #10 seat and how that's cooking. Genuinely tweet me @Dre_WTF1 about this; who would you take? Callum Illot? David Malukas? Christian Lundgaard? Maybe someone from outside IndyCar like Tom Blomqvist? Robert Shwartzman? Nick Cassidy? Lemme know.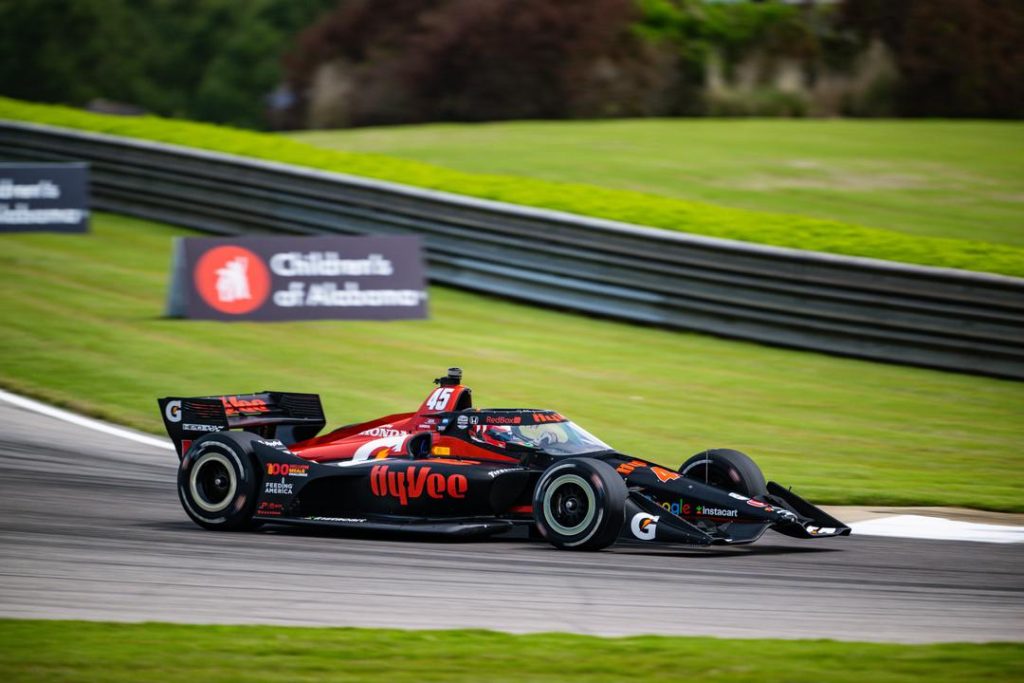 Josef Newgarden had the fastest out-lap in Barber by almost half a second. His pace was as great as ever, but that Felix hit on Lap 1 clearly did something with the balance of his car. 15th on the winning strategy is a disaster for the Bus Bro. Nice to see Will Power back in some form, as he's clearly not been 100% without partner Liz. (Get well soon <3)
And finally, seven drivers are within 30 points of the title lead as we enter the Month of May. Classic IndyCar, in a good way. No one's really taken the series by the scruff of the neck this year with everyone barring Marcus Ericsson having at least one bad round. (Marcus is 4/4 on Top 10 finishes). Great stuff as ever.
Dre's Race Rating – 8.5/10 (Excellent): Best race of the weekend, and another really really good IndyCar race that barring major drama, couldn't have been much better. Tactical intrigue, fuel saving, tyre management, altering gameplans, emotional investment and a brilliant deciding clas between two of the fastest man in the series with actual "lore" behind it! You can't ask for much more than that from IndyCar. See you in Indy as the Month of May kicks off!