So, here's me on the recovering side of the doubleheader this past weekend, with F1 in Japan being dominated by off the track headlines (Which never happens in F1, honest), and MotoGP in Aragon, with Jorge Lorenzo taking his 6th win of the season, the momentum in the title race taking another shift.
I'm going to focus on MotoGP mostly, because in F1, except for Ron Dennis being alarmingly honest by his standards, it was mostly the usual fare. Hamilton wins, Rosberg can't take losing, Vettel provides the entertainment, Niki Lauda bitches about something.
Happy Birthday, Dani Pedrosa, celebrating his 30th birthday today. I don't care how many people want to bury him for not winning a top class Championship, for me, he's one of the people in Sport I admire the most. He's done 10 seasons in the top class, had 26 wins to his name, and has finished in the Top 3 on SEVEN occasions. It's an incredible mark of consistency, and while some stars have shined brighter, Dani is a true fighter, overcome injury after injury, and always finding a way to stay at the top.
I'll be honest, I thought Dani was finished after the arm pump surgery in April. I was thinking he should have hung it up. And sure, he's no Marquez or Lorenzo, but the man is still damn good. His brilliant fight with Valentino Rossi was a testament to that. It was vintage Pedrosa at his finest, and I wish we saw it more often. Happy Birthday Dani P, and keep on trucking, the sport's not quite the same without you up the front.
I'm sure it's no secret either by now, but I'm a huge admirer of Marc Marquez. He's probably my favourite rider now, after Cal Crutchlow has slowly done more and more to get on my nerves over the years. And it pains me to see the tough time the kid is going through, and why I'm surprised so many people are so quick to bury him.
[fusion_builder_container hundred_percent="yes" overflow="visible"][fusion_builder_row][fusion_builder_column type="1_1″ background_position="left top" background_color="" border_size="" border_color="" border_style="solid" spacing="yes" background_image="" background_repeat="no-repeat" padding="" margin_top="0px" margin_bottom="0px" class="" id="" animation_type="" animation_speed="0.3″ animation_direction="left" hide_on_mobile="no" center_content="no" min_height="none"][fusion_imageframe lightbox="no" style="bottomshadow" bordercolor="" bordersize="0px" stylecolor="
" align="left" animation_type="fade" animation_direction="right" animation_speed="1″]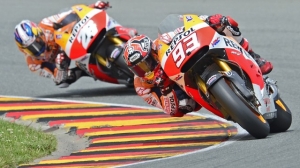 [/fusion_imageframe]Marc Marquez, to me, is the fastest rider the sport has EVER seen. His raw speed is absolutely unmatched. And man we couldn't WAIT to destroy him after he has a bad season. I get it. We in sport secretly like seeing elite athletes humbled and taken down a peg. Sebastian Vettel last season, was a prime example of that. And I'm not saying MM is faultless in this, he's made a couple too many unforced errors, but this is the most naturally gifted rider of the last generation and we need to ease up on him just a bit. He's on a frankenstein's monster of a 2015 hybrid bike that everyone on is struggling to use at at the top level. The fact Marquez has even won 4 rounds on this thing, to me, is a miracle.
Sure, I may come across as partially fanboy-ish by saying it, but Marquez is the best thing to happen to the sport since Vale rocked up in 99'. I'm not saying we should give him a pass for everything, but I suspect there's an element of hypocrisy amongst MotoGP fans, given Valentino never really got criticized for stuff he did, like the Jerez 2005 pass.
You can double down on that when you look at Jorge Lorenzo breaking out the shark celebration after winning. Sure, it was a reference to the Misano helmet that Vale wore at Misano as he lead the Championship, but people actually called Lorenzo "arrogant" for it. HA.
You know what you could also consider arrogant in that same context? Booking your fanclub to dress up as the Snow White and the Seven Dwarfs. Or planning a portaloo off track. Or, after being punished for sweeping the track before a race, use a sweeper in a victory celebration. We praise Rossi for being creative in his celebrations but bury Lorenzo for doing the same? Come on people. I'm no Jorge fan, but that's ludicrous. I know Rossi is a walking God Complex in the context of MotoGP, but I think people need to take their rose-tinted glasses off on things like that.
[fusion_imageframe lightbox="no" style="bottomshadow" bordercolor="" bordersize="0px" stylecolor="
" align="right" animation_type="fade" animation_direction="right" animation_speed="1″]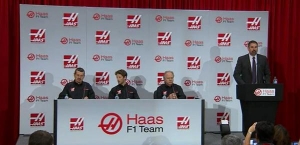 [/fusion_imageframe]On the other side of the Motorsport spectrum, Haas made their first driver announcement today, and in a surprise to literally some people, Romain Grosjean is leading the team for 2016, moving after four seasons with Lotus. I think this is a tremendous hire for the team. Grosjean is patient, he's improved so much, he's proven to be World Class when he has the right car underneath him, and I think he'll be a perfect first driver to mould the new team around. Was a big fan of Gene in the press conference as well, came across as a guy who knows what he's talking about.
What I find a bit of a head-scratcher is the amount of Americans who seemingly had the idea that Haas was definitely going to hire an American, only to feel "let down" that they hadn't. When Haas himself never made that claim.
The level of patriotism regarding this surprised me (Although, given this is America, it probably shouldn't have), and in particular the angry tweets from Conor Daly. Sure, he was taken out of context. Many thought he was talking about himself, when he was referring more to Josef Newgarden and Alexander Rossi… The former who isn't eligible for a Super License, and the latter, already being in F1 right now.
I get Conor's frustration, but the American market just isn't that strong, and if you have a good IndyCar gig, why would you ever want to leave to join an F1 team that will most likely struggle, at least in the short to medium term. It's a bit like Tom Sykes, three-time World Superbike Champion, who said he'd only go to MotoGP if a top end seat came calling… what other reason would you need to go over there unless you're THAT much in it for the money? (See Crutchlow, Cal)
This when you twin it with people trying to call Maurizio Arrivabene out for "insulting" Michael Schumacher when he simply said he and Sebastian Vettel have different personalities, stresses me out. People, can we all just stop taking these things out of context? We're intelligent racing fans, we can do better.
Anywho, I'm off to play some more Forza 6. Check out the latest episode below if you haven't already. If you need me, I'll be practising for Le Mans. That Audi R18 is calling my name…
[/fusion_builder_column][/fusion_builder_row][/fusion_builder_container]