Hey folks, Dre here. Now, this is something I used to do with football back in the day when I pretended I was a part of Sky Sports' terrible "Good Morning Transfers" malarkey, but I thought a rolling MotoGP Running Diary of the major moves over the season, would actually be quite interesting.
I say this because, you can track my honest thoughts on everything in real-time, as the season develops. And I most likely pull out what's left of my hair when everything goes exactly the way we all predicted. Don't worry, I'll be updating this as the week's go by. Also, this post will be pinned at the top of the blog so you can't miss it!
It's January 28th as I write this, let's talk about the first major piece of 2021 being locked into place!
January 28th – Maverick Vinales signs 2-year extension at Yamaha
As others pointed out around this deal being announced, Maverick Vinales likes to announce his deals early. Reason being so that the talk of movement/re-signing don't become distractions once the season starts. He's a good boy deep down.
This one isn't a major surprise. If anything, it's a nice commitment move from Yamaha to say that Mav's their guy going forward. And compared to Valentino Rossi and his well-documented struggles the last two years, it's a no-brainer. A lot of the high-side from the Yamaha factory (And to be fair, a lot of its drama too), has stemmed from keeping Maverick onside. From changing crew chiefs to question marks about his inconsistency.
But if there's one observation from 2019 I stand by, it's this. Maverick Vinales was the ONLY man in the field last year when at his best, could beat Marquez comfortably. No-one else in the field has that X-Factor right now, and Yamaha HAS to harness that potential. Because if they do make some gains on Honda and Ducati from a biking standpoint… lookout.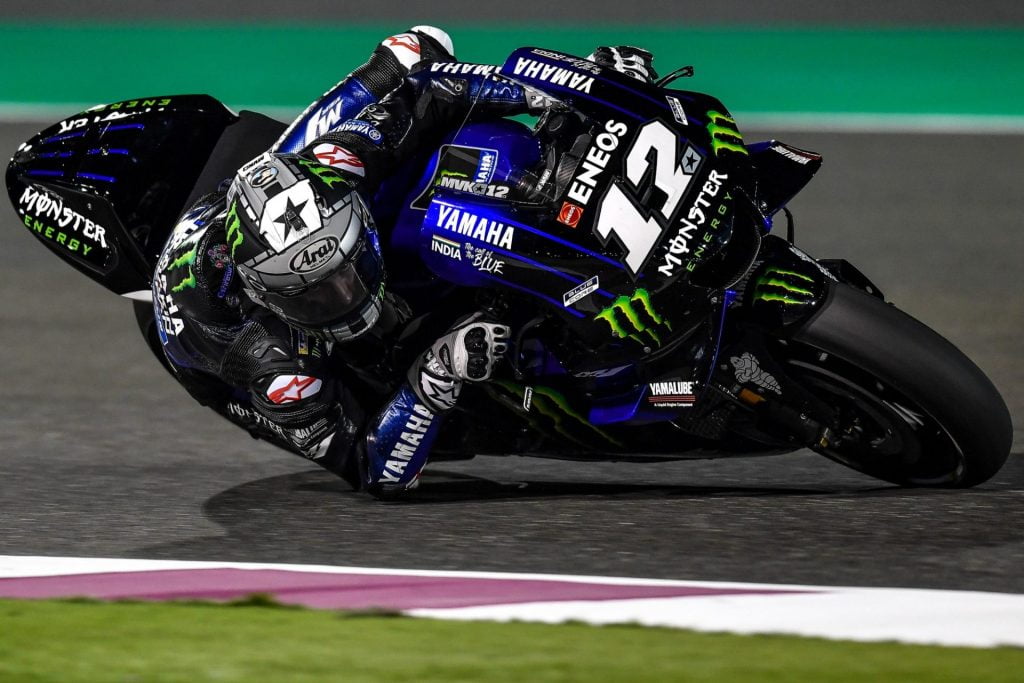 I'm not gonna lie, it's why I was kinda disappointed he didn't angle himself for a potential Ducati switch. Mav's a bit more physical and aggressive with the Yamaha than his peers. By that logic, I think the scarlet red would have made some sense given the physicality needed to ride them. Especially with the Ducati factory going through a bit of an identity crisis with doubts on their riders going forward. Petrux in particular.
The knock-on here? Well, this might give Valentino Rossi the hurry-up. Fabio Quartararo is now the golden goose of free agency, given the odds of Marc Marquez moving are unlikely. I don't think Yamaha can afford to let a man of Fabio's talent walk, but we all know Rossi is his own entity. We also know, Lin Jarvis is one of the few team bosses who's got no problem telling Rossi what his status is. (See 2010 for more on that.) I wonder how seriously he took himself when he mentioned the possibility of joining Petronas to "extend his career".
He turns 41 next month. Does he really still want to do this, when it's becoming pretty clear he's now 3rd best on his own bike? Rossi has always said his performance relative to the field would determine his drive to keep going. I think 2019 was the straw that broke the camel's back. We'll know soon, and I suspect Mugello this year could be extra special.
More soon…
PS: Dear Aprilia, there's no way in hell Andrea Iannone is riding again, just give Bradley Smith the damn Aprilia seat already.
January 29th – Fabio Quartararo signs for Factory Yamaha Team, Rossi given "time to think" until Mid 2020
F*** me, that was fast. Less than 24 hours after Maverick's new deal was put to paper, Yamaha becomes the first team to be locked in for 2021, as Fabio Quartararo becomes Maverick's new teammate.
Not a surprise in theory. Fabio was the biggest story to come from from the 2019 season after repeatedly battling Marc Marquez for wins. When you're doing that, as a rookie, in an arguably more impressive light than the factory team, you're going to get noticed. And it was pretty obvious to this writer, that he was too good for Yamaha to let him walk away.
This is an all-in play for Yamaha and their next chapter. I do wonder though if it was the right decision to go with their strategy of having two "#1" riders in the same team. As much as Jorge Lorenzo and Valentino Rossi won them seven titles, there were clashes, to say the least. 2015's season finale. Their constant bickering in 2016 and taking points off each other enabling Marquez an easy ride to the title.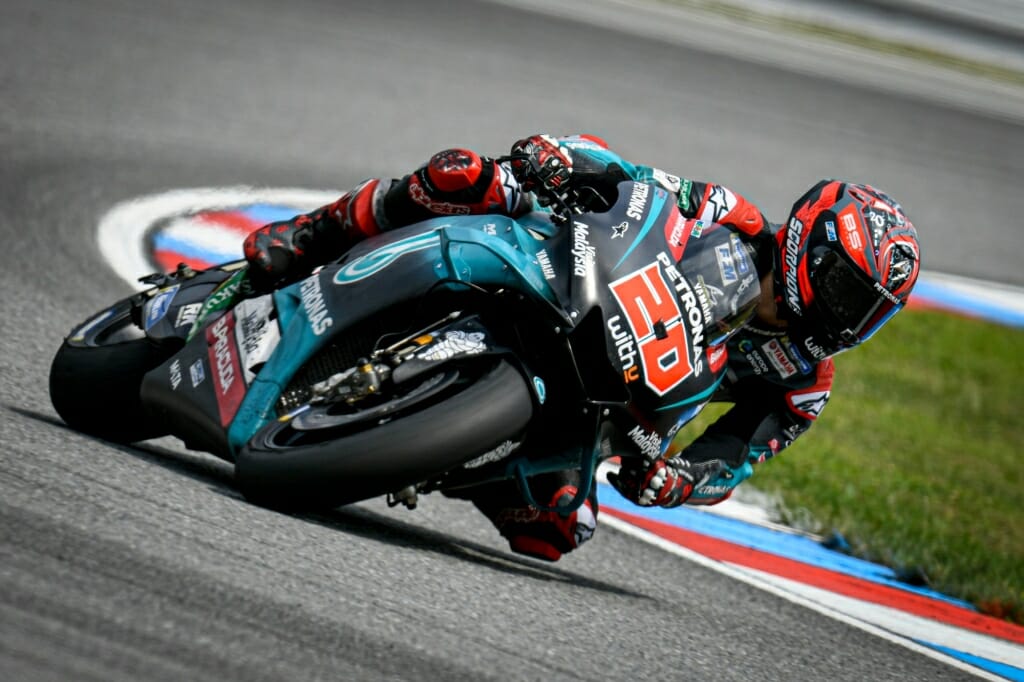 Honda accidentally fell into a 1-2 punch via Pedrosa's decline and Lorenzo's struggles. Ducati's done the same with Petrux, almost willingly falling into that role. Odd that Yamaha persists, but maybe having two bullets in the chamber in their eyes, is their only way to beat MM93.
But where does that leave Valentino? Well, Yamaha's given Vale some thinking time, till the middle of 2020 to decide on his future. This goes hand-in-hand with the man's interviews, which has alluded to him usually deciding on extensions around Mugello time. Can't imagine why. But if he wants to continue, most likely via Petronas, he can. And he gets full factory backing with that too.
I know a lot of people want to pin this down as the Rossi retirement year. I'd be guilty of thinking the same. But the more this saga developments, this doesn't seem like the actions of a man about to announce his retirement. Yamaha is absolutely right to leave it to him, he's earned that right in my opinion.
And the marketing value is off the charts. Rossi isn't going to be snagged by another factory now, and he's an "ambassador" for life whatever happens. Imagine if Rossi and Lorenzo end up as Yamaha's test riders?! While flogging whatever R1's the factory pumps out? Back the wagon up.
But overall, I think Yamaha's pulled a blinder here the last two days. They've got their team backed in for 2021 and can start work accordingly. You've kept Valentino happy, with the option to still run him next year if he chooses, and still gives you plenty of time to find a replacement if he does decide to retire. And if he stays, those sweet, sweet merch sales, and still a decently competitive rider. It's a win-win. Probably.
Confirmed Team: Movistar Factory Yamaha – Maverick Vinales and Fabio Quartararo
February 1st – Alex Rins signs 2-year extension at Suzuki (via Sky Sports Italy), Jorge Lorenzo returns as Yamaha Test Rider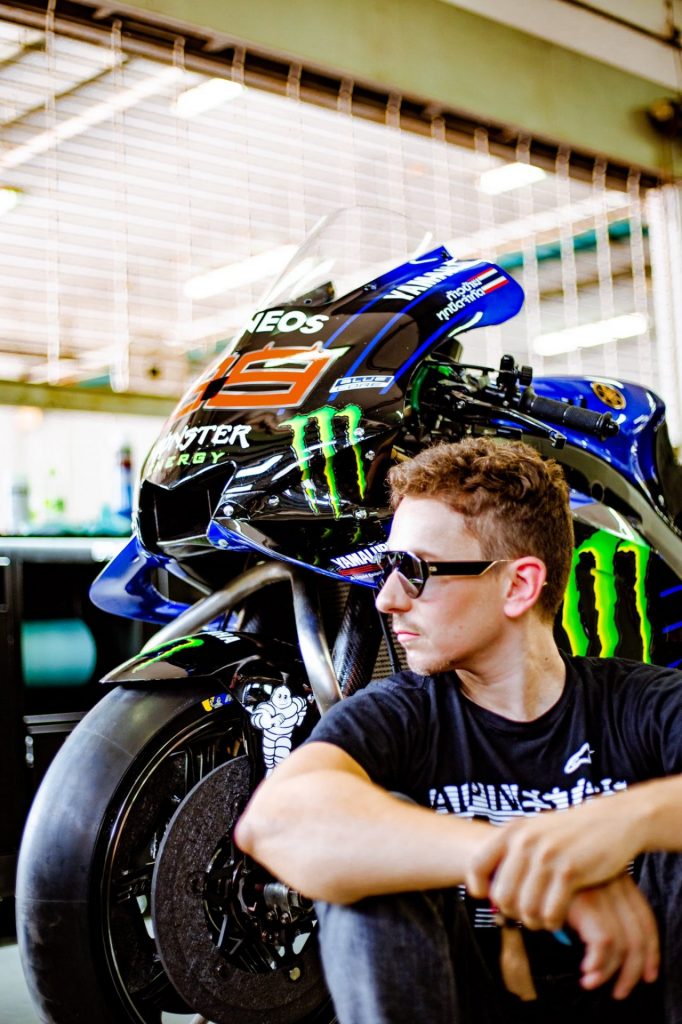 Okay, sorry this update took a little longer, work commitments and all that. But let's catch up.
First of all, Yamaha completes their talent dream team with the return of Jorge Lorenzo, coming home as Yamaha's new test rider. Poor Jonas Folger.
I mean.. Okay, it's nice to see him back. And this has certainly been a trend of the bigger factories maximising resources as far as testing goes (With Casey Stoner and Dani Pedrosa taking similar roles in recent years), but I can't deny, this takes a little bit of the emotion of his retirement away from me from back in November.
"So Jorge, you talked about nearly being paralysed after Assen, but I'm testing 3 months later?" I know, I know, I'm being selfish, just find it a bit weird. Besides, how many riders do you need to tell someone: "Yeah, lads, we need more power!"
Yamaha now has a fleet of Maverick Vinales, Fabio Quartararo, Valentino Rossi (probably), Frankie Morbidelli and Jorge Lorenzo. They'd better start beating their heads together to make a winning bike because they haven't got an excuse with this much talent in their camp, FAR more than any other factory in the sport.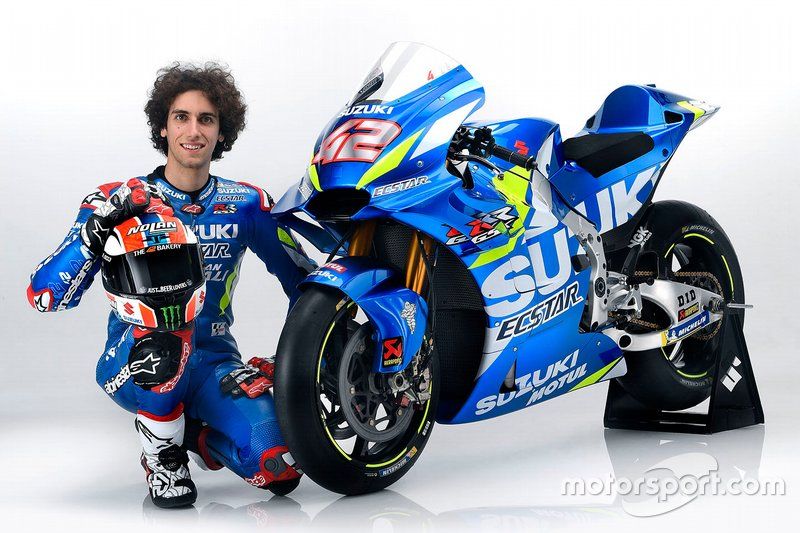 As first reported by Sky Sports in Italy, Alex Rins has signed a 2-year extension with Suzuki to take him through to 2022. No-brainer for me, he clearly took a step forward last season with a pair of impressive wins in the UK and US. Still a touch inconsistent and the bike in general needs more "ultimate pace" in qualifying to make life a little easier for their riders, but they might have the best all-round bike in the field now.
The main knock-on here is that Ducati was also gunning for his signature. And by the looks of it, they've had their fingers burnt twice in a week. It's kinda odd how hard they're making a play for free agent talent here (I assume for Petrux's seat) when Jack Miller's staring them in the face.
Ducati is clearly thinking bigger, but I don't think there's anyone better they can get from the market. Maybe Frankie? Still, makes you think – Has Ducati lost some of its lustre, given they're a team that's normally excelled in high profile rider acquisition? We shall see.
February 20th – Marc Marquez signs FOUR (!!!) Year, £100m+ extension at Repsol Honda
In the words of Duke Nukem: "Bingo, the motherload". This was the one we've all been waiting for, but it's funny. This was nailed on, the boring extension of the window, and yet, MM93 still finds a way to make it spectacular by announcing it's a FOUR-year deal. In the context of MotoGP extensions, this is huge, as most of them are 1-2 years to mitigate risk and for riders to explore the open market more easily. 4-years is a crazy commitment, and for Marquez, it makes total sense.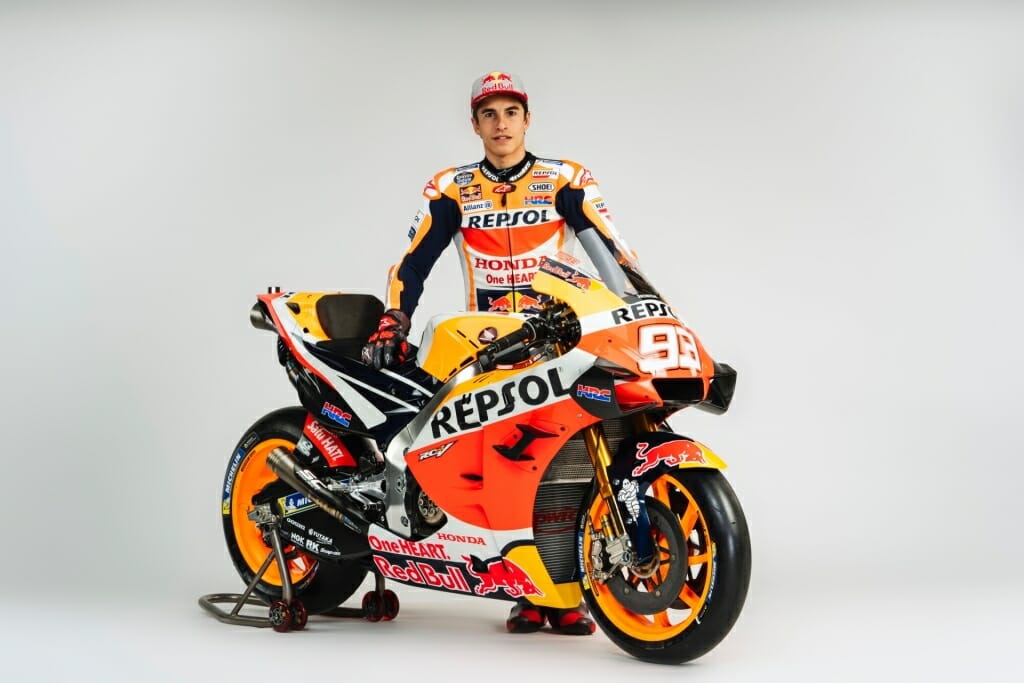 Marquez has done nearly everything right since joining HRC. He's gained their trust and knows what to do to make the bike work for him. You could say that it's ultimately hazardous to put all your eggs in one man's basket, but when you essentially won the Triple Crown single-handedly last season, who's arguing with success?
Now, I get the frustration from a fan standpoint. We want to see Marquez on something that isn't orange. It's maybe the one argument left that's stopping him from being the undisputed #1 rider of all time (If he isn't already). But if you're Marquez, with the team you have around you, your brother now on the payroll, and the pick of HRC's elite engineers, why on earth are you leaving? Our own fandom sometimes likes to ignore logic for some mindless self-indulgence. Yes, it's boring, but the riders won't give a shit as long as they keep winning.
So, 4 more years of terror? You hate/love to see it. (Delete as appropriate.) PS: Apparently, it is a £100m contract, by a mile the biggest in MotoGP history. Woof.
May 3rd – Joan Mir signs two-year extension at Suzuki, Rossi more or less commits to 2021 season
Hey folks. Sorry, it's been a while here, but obviously, due to some minor global pandemic and virtually no sports going down, there really hasn't been much news on the contract front until this past weekend. If anything, it was funny. Joan Mir was on MotoGP's Instagram Live a couple of days ago and he already all but confirmed he was staying on with the team, and yesterday, we got the confirmation. A two-year extension so Suzuki becomes the second team in the paddock to have a confirmed and completed line up.
Suzuki's team boss Davide Brivio described it as a "no brainer" to retain his line-up. Obviously, I agree. This line-up is probably the best in the field that doesn't have a bonafide "alien" in it and it's as close as you can get to that. Alex Rins has elite-level race pace and passing ability. He can win races on his day too. He just makes the odd silly mistake and makes life a little hard for himself due to a lack of qualifying speed. Joan Mir got pegged back in his rookie season due to that nasty Brno test crash but came on strong towards the end of 2019. Five straight Top 10's to finish the season, including a 5th at Phillip Island. Overall, it's an excellent line-up with nothing but upside.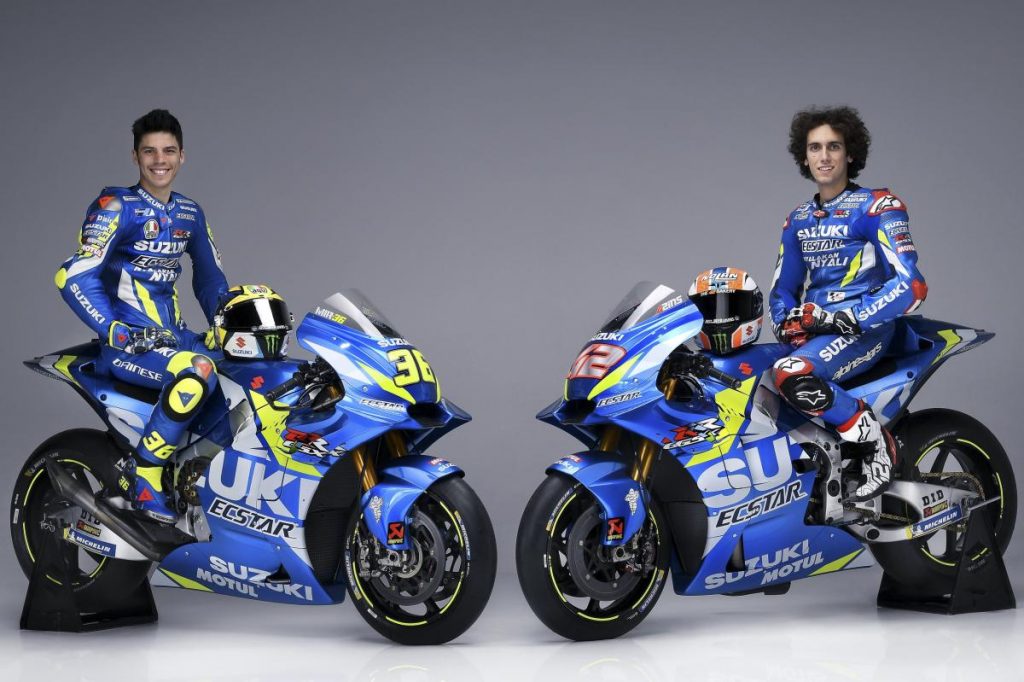 So looking at the free-agent board now, there's not a whole lot left to discuss, amazingly. Going by the 2019 season, 1st, 3rd, 4th and 5th in the Championship are locked up. Valentino Rossi is all but confirmed to stay on via Petronas after confirming to Matt Birt on Instagram that he doesn't want to retire on a shortened season. Same with Cal Crutchlow, who was hinting at retirement last year, but is now likely to stay with LCR.
Everyone's looking at Ducati, who have had both their top targets pass them by in the market (Vinales and Mir). If they make a change, it'll probably come from within, with everyone watching Jack Miller, the most likely name to upset the apple cart. This probably makes Frankie Morbidelli at Petronas the #1 name on the board left. And I'm honestly not sure Frankie will want his 3rd different factory in four seasons if he goes to the big red machine. Hi Johann. Check back soon.
May 27th – Jack Miller signs 1+1 deal with Ducati Factory Team
Sorry, I've waited two years to say this… HE'S JACK MILLER, WELCOME TO JACKASS *guitar riff*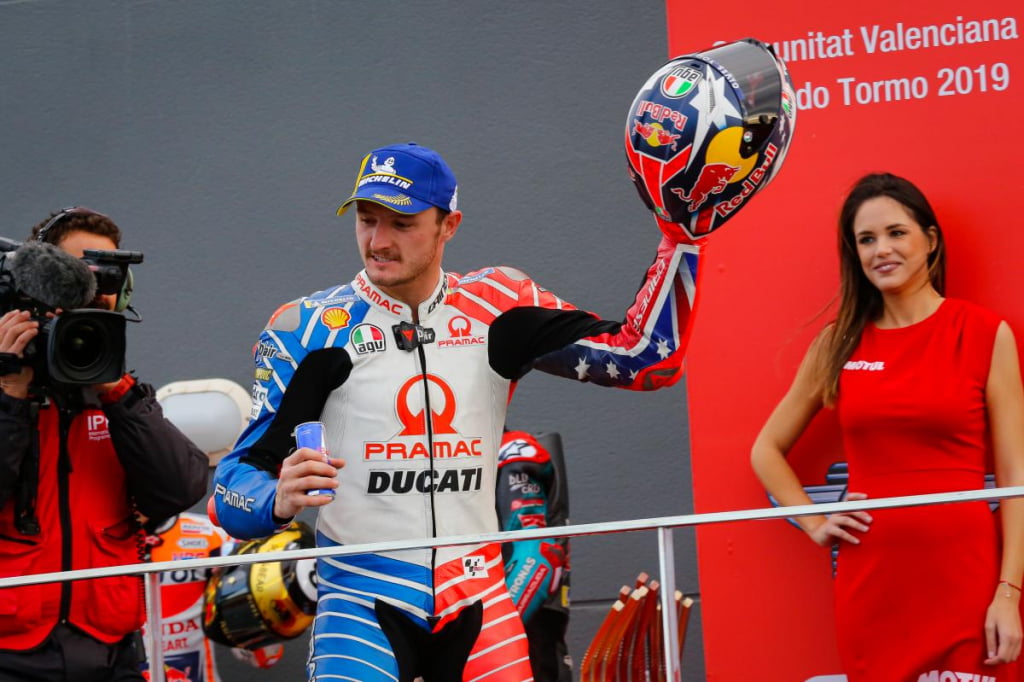 Had to do it. This one's been a long time coming, but genuinely delighted for Jack Miller heading to the Ducati Factory team in 2021, he's patiently waited for a chance and its finally come around. He's worked very hard from the days of that unprecedented double jump from Moto3, and while it's not always been easy, he's gotten better year-on-year. Broke that famous nine and a half year dry spell between Toni Elias and him for independent winners. And as others have been quick to point out, Australians on Ducati's have a knack of doing quite well for themselves.
Not sure I like the 1+1 structure, mind. It gives Ducati a LOT of leverage to go free agent hunting again next year if this doesn't work out, or someone they deem better as a team headliner comes knocking, especially given we know they went HARD for Maverick Vinales, Alex Rins and Fabio Quartararo earlier in the year. I hope Jack isn't just another stopgap, he needs time to be best utilized if his career to date is anything to go by.
Also, pour one out for Danilo Petrucci. We've said many a time on this site that he is one of the really great guys in Motorsport, and has done nothing but be a loyal, virtually willing #2 to back Dovi up in the Ducati team. This move pretty much screams "We got it wrong" on signing him in the first place. Because unless there's a shock Dovi departure (Which I doubt given there are virtually no elite seats left in the sport), Danilo will take the fall, maybe to the rumoured World Superbike team to reform a partnership with Scott Redding. All this before a single meaningful rev of an engine this season. Yeesh.
Overall, I suspect Ducati are still atoning for their hasty rejection of Jorge Lorenzo in 2018. It's been a faf for them ever since. This was the logical step for them, but I wonder if their Championship window has already begun to close…
June 25th – KTM Announce Oliviera and Binder as Factory Riders, Danilo Petrucci heads to Tech 3 alongside Lecuona
First and foremost, sincere apologies for being late on this one. Juggling a return to YouTube and gaining a lot of momentum there, combined with a friggin' book launch, Podcasts and a return to full-time work is a bitch. It's getting a little easier now, so expect more written content soon. In the meantime, let's do a little catchup on MotoGP's Silly Season, as KTM were the next factory to reveal their hand ahead of 2021.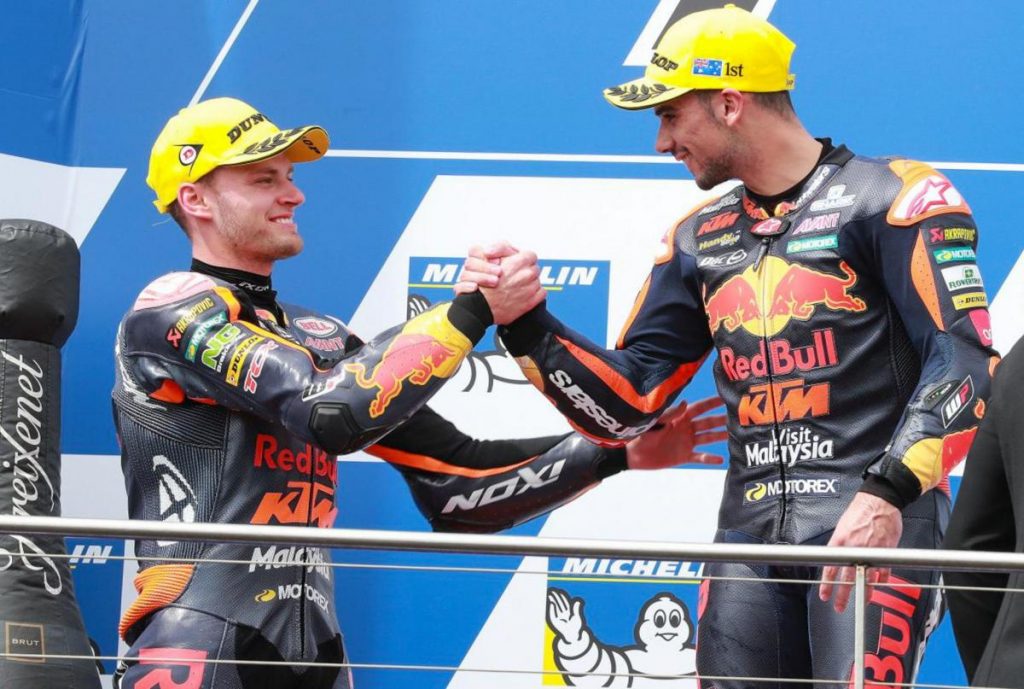 There was some rumblings about Danilo Petrucci's future after Jack Miller was confirmed back in May to being promoted to the factory team. Danilo revealed about a month ago, that it was him was making way. After rumours of Aprilla chasing him, he flew out to Austria, visited KTM, and agreed to sign there. What we didn't see coming was WHICH KTM team he'd be joining. We'd assumed that he was going to the Factory team to replace the now confirmed to be leaving, Pol Espargaro. NOPE. Turns out he's going to Tech 3 alongside Iker Lecouna, with Miguel Oliviera finally getting promoted into the factory seat.
Where do we start? Well, sadly I never addressed the Pol Espargaro to Repsol Honda rumour, because I took it as just that. Now we know he's gone, it confirms he's going to Repsol Honda in 2021. They just can't announce it yet due to contractual obligations, until September. That is without question, a hammer blow for the Austrian brand. Pol is for me, the best "bad" bike rider in the world. He's a Top 6-8 rider on sheer ability period, and has been best independent for a number of years in the top flight. Those sorts of riders don't grow on trees, especially when you've still got a bike that isn't on the level of the other factories. Even more so with Aprilia's much hinted at improvements in testing. Only one man on the market left is on that level and apparently, KTM weren't interested in Dovi.
I'm glad KTM has decided now is the time to pull the trigger on the two stars they've leant on in Moto2 and 3 in Binder and Oliviera. A World Championship and three runners-up finishes between them already, and both are extremely fast, intelligent, and entertaining riders. I just hope they can get the bike to match. Petrux is going to a decent home in Tech 3, Herve Poncheral gets a lot out of the riders and resources he has, and his experience I reckon will be useful in terms of development. And on a personal level, I'm glad Iker Lecouna is getting a chance to play out a full two seasons, because they could have very easily kicked him to the kerb, like what Repsol are allegedly doing with Alex Marquez. The only issue is… it seems like they've had to sacrifice Jorge Martin to do it, who is seemingly on the way to Pramac. Martin is another superfast, young, S-Tier level prospect who's riding for KTM in Moto2 right now… Tough call. Hope they don't live to regret it.
Speaking of which, Alberto Puig basically just admitted that the entire signing of Alex Marquez was a PR stunt to get some extra merch sales. Okay, I was half-joking, but it's an incredibly cold-blooded move to sack Alex off for Pol Espargaro going off of the back of only a few testing days where Honda admitted they had gotten the aerodynamics for the 2020 Honda completely wrong until the final day. Was the testing results THAT much of a red flag?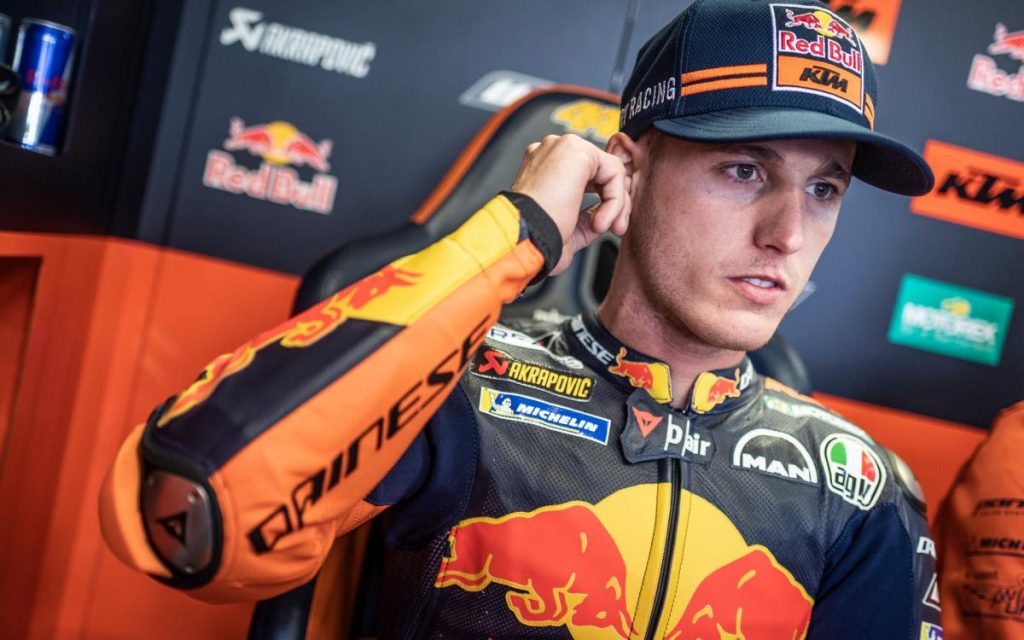 And look, I get it, Pol Espargaro is a brilliant rider. He's an upgrade at the #2 position without a doubt. If I'm Puig, and I'm as cynical as he is, I'd be saying he probably needs to plug that hole so that he doesn't have to have Marquez score over 400+ on his own to win the Triple Crown. That I get. But at the cost of potentially alienating the man who's won the team SIX Championships in the last seven years?! I ain't sure about that one, chief. Guess it's a big ol' middle finger to all of the fans who screamed "NePoTisM!" back in December when they were backed into a corner.
The aftermath will be interesting. Alex Marquez to LCR seems the natural fit, but Cal Crutchlow suddenly doesn't want to retire off a shortened season. Taka Nakagami's funding is a pretty big reason LCR has two bikes in the first place. I'm not sure what good it's gonna do overall to dump Cal now, especially when he's a massive influence for the factory from a testing standpoint. Reminds me a lot of Puig's OTHER cold-hearted dumping – Dropping Dani Pedrosa (The man he discovered as a kid 20 years ago), for Jorge Lorenzo, who turned out to be a total bust, even before the Assen injury.
And that leaves Andrea Dovizioso. Stay tuned on the #1 rider on the board left, early next week, because they'll be a standalone video on his off-season talk, in the coming days. See you then.
Confirmed Teams so far:
Yamaha: Maverick Vinales and Fabio Quartararo, Suzuki: Alex Rins and Joan Mir, KTM: Miguel Oliviera and Brad Binder, Tech 3: Danilo Petrucci and Iker Lecuona. (Miller, Rabat and Marquez also confirmed as individuals)
July 13th – Pol Espargaro Signs for Repsol Honda, Alex Marquez Replaces Cal Crutchlow at LCR, Frankie Morbidelli signs 2-year extension at Petronas Yamaha
So, about not being able to reveal Pol… You know nothing, Dre Harrison. Two big announcements on the same day as Repsol confirm the worst kept secret left in the sport – Pol Espargaro going to Repsol Honda to replace Alex Marquez for 2021, before the latter has even ridden the back in an official session in 2020. This year continues to be friggin' weird.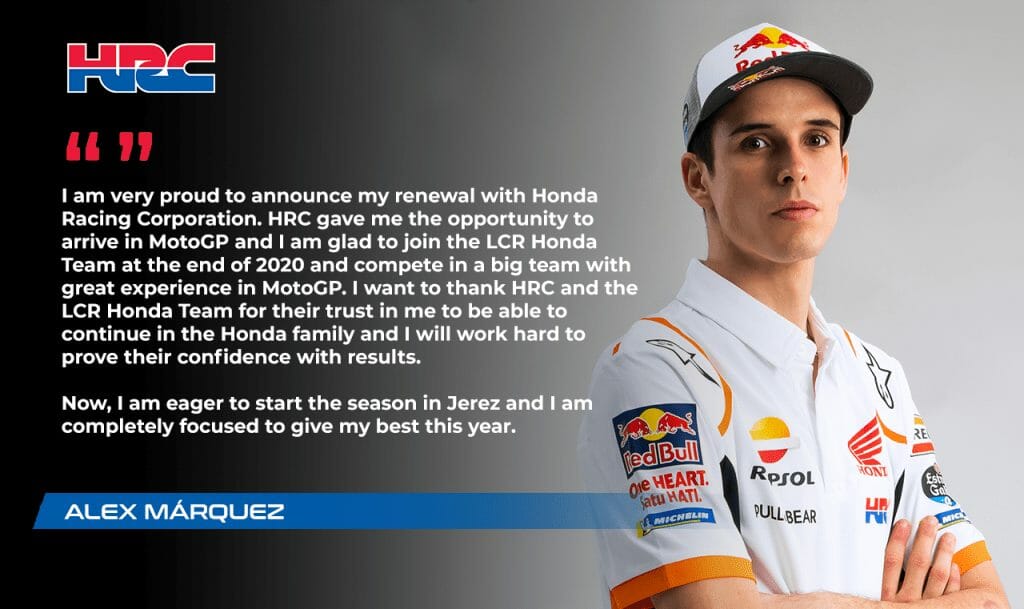 I… Get this move, and don't get it, at the same time. As said, like literally yesterday, Pol Espargaro is really goddamn good. He's even better at maximising the performance of difficult to handle bikes, like KTM's. He's been a brilliant leader for a factory that's gone round in circles since coming into the sport. So in theory, him going to the team with the most infamous "hard to handle" motorcycle, that's gonna be physical, and catered towards the man on the other side of the garage, makes a lot of sense. I'm 99% sure this IS a better option on pure ability than Alex Marquez, especially given the latter's reputation of being slow to adapt to new machinery. Remember, he was a 5-year Moto2 veteran. A better safety valve can't hurt, as even as godly as Marc Marquez is, he ISN'T scoring 400 points every year, and there's every indication the field around Honda is better, reducing their margin of error.
HOWEVER… And I have to be blunt here – Alberto Puig might be a total sociopath. I know they were backed into a corner with Jorge Lorenzo's fake retirement, but this screams POWER PLAY. You tie down Marc Marquez, the greatest rider you've ever had down to a 4-year, £100m+ contract, then sack his brother after he signs the dotted line. Like, what good comes from that? You've basically demoted him off the back of testing times. That's completely ludicrous and on any level, a shitty break. Are you sure you want to piss off the man that's won you SIX Championships in seven years? Because I'm adamant on this one, if you drive both Marquez's away, it'll be the greatest slice of arrogance since… the time they thought the bike was the reason Valentino Rossi won so much until 2003. Those who fail to heed history are doomed to repeat it, and I'm just not sure that dumping Alex for Pol now, was the right move in the long term. Good luck patching that one up, Puig.
Sometimes, the power play, isn't the best play.
I sincerely hope Alex Marquez doesn't take this one too much to heart. And there are a lot worse places to fall to, than LCR Honda. It's a solid team, and if he's 50% of what Cal Crutchlow has done there, he'll be just fine. And this was probably the sort of team he probably should have ended up at in the first place. I had a hunch that Cal would be the one sacrificed, he's always butted heads with Honda over bike development, criticism of the team and not getting the updates that Marc had. And this is coming from a man who's had no problem admitting he's no Marquez. A break-up between him and Honda might be for the best, especially if the rumours are true and it seems he's gonna be heading to Aprilia. Seems like Aprilia aren't so confident Andrea Iannone wins his Court of Arbitration for Sport appeal after all. And if even a fraction of the hype out of that factory turns out to be true, all of a sudden Aprilia has one of the best-experienced lineups in the sport. And hey, Aprilia actually listens to its riders… ain't that a trip.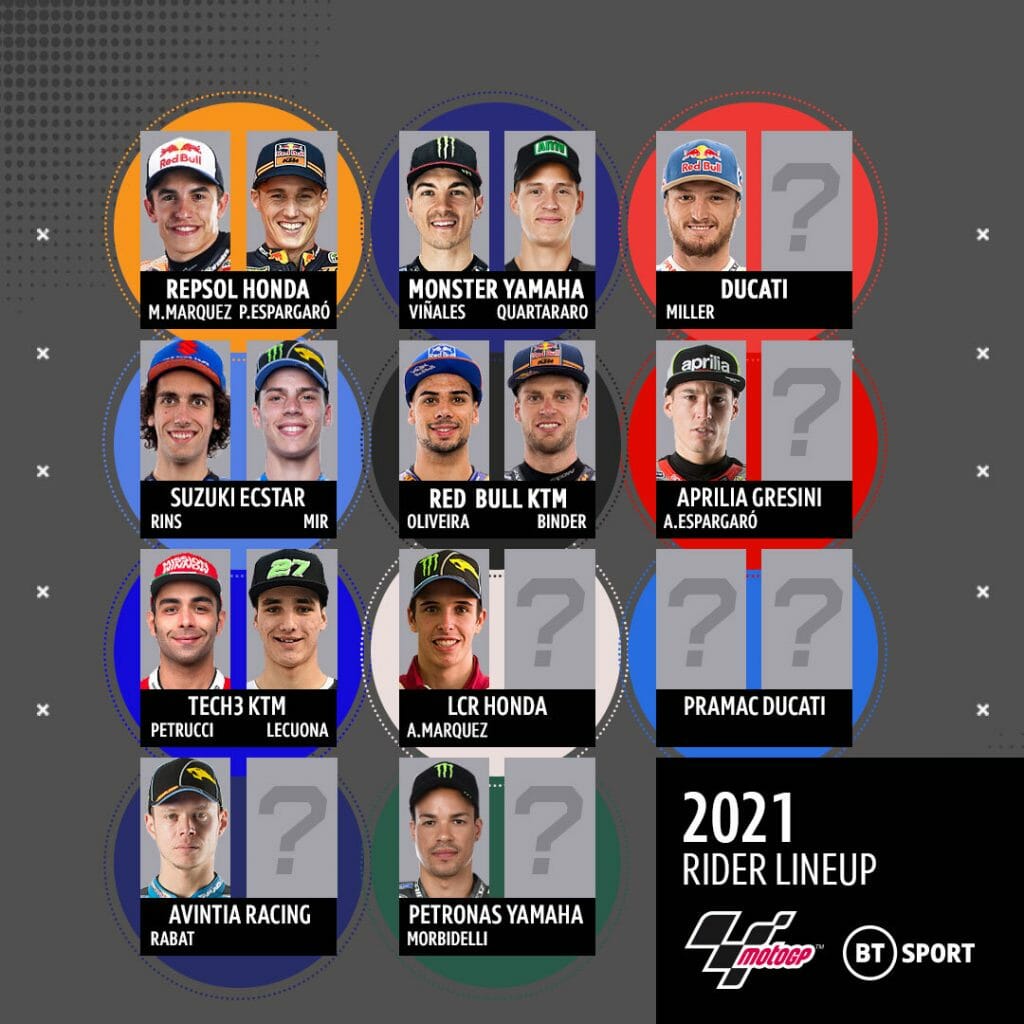 Also, Franky Morbidelli confirmed another two year deal with Petronas. No real surprises here, this has been on the cards for some time. SRT, LOVES Franky. They've more or less admitted that with Fabio gone, and their focus remains on developing young talent, it's basically Franky's team now. And I like the direction Franky was heading in towards the end of last season, with five Top 6 finishes in the last eight races. More of that and he's going to be giving the elite runners something to think about. If you're wondering, there's still a LOT of kinks to work out in the Valentino Rossi deal regarding crew imports and team status, rumour has it a deal won't be announced until around Austria in early August. Stay tuned for more. I'm going to bed, it's nearly 1am for god's sake.
27/9 – Valentino Rossi (Finally) Confirms Switch to SRT, Morbidelli confirmed alongside
Finally, the worst kept secret in Motorsport is out. Valentino Rossi confirmed on Saturday that he's heading to the Petronas Sepang Racing Team on a 1-year deal, with the option for a 2nd year. He's not gone any further than that yet, only because he wanted the option, and Yamaha itself hasn't committed to the sport beyond 2021 yet (But probably will).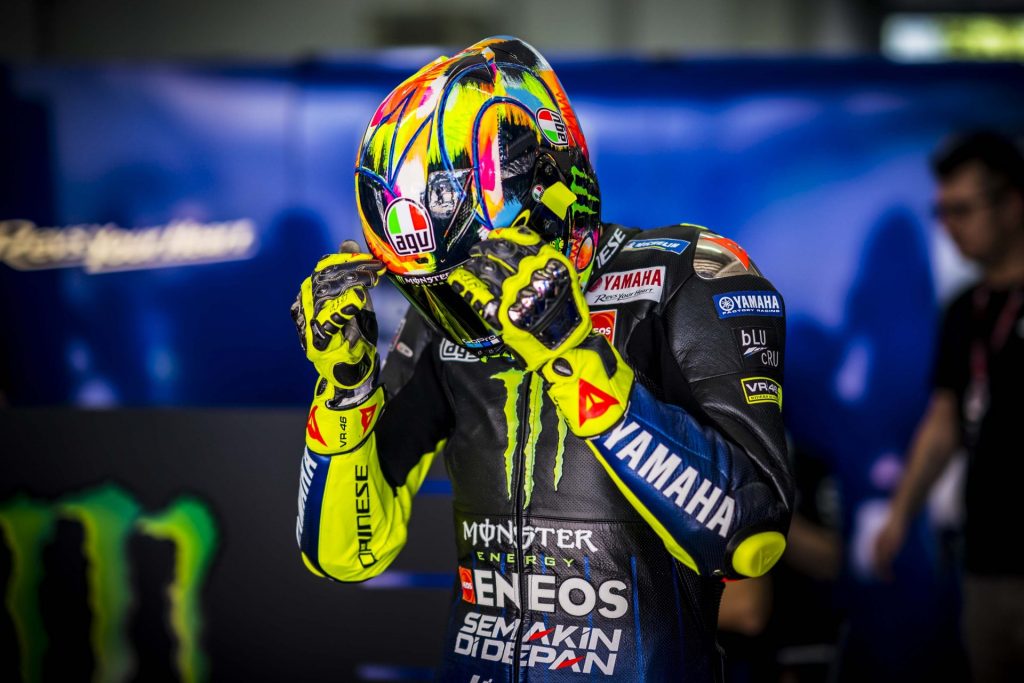 Look, there isn't an awful lot to say here. Valentino is Valentino. It's the biggest brand in global Motorsport, he makes $35m a year off merchandise sales alone, and he's joining a team based in a country that LOVES bike racing and ADORES him. And on paper, maybe the best team in the sport right now. Hard to say how much of that is SRT making the best of the Yamaha package, and how much of that is the rapid improvement of Fabio Quartararo and Franky Morbidelli (4 wins between them this year and counting), but don't be sad for Vale. There's no reason why he still can't challenge for podiums in this setup. The only thing that's really changed is the colour of the bike. NEXT.
30/9 – Ducati Confirms 2021 Lineup, Francisco Bagnaia joins Factory Ducati Team, Johann Zarco and Jorge Martin confirmed at Pramac (Bagnaia and Martin on 2 year deals, Zarco and Miller on 1+1's)
Amazing when you consider how desperate Ducati were looking a month ago. They swung and missed on every high-profile free agent on the board, and yet… I think they've done pretty well here, despite losing their talisman in Andrea Dovizioso.
Of course, easy to say when Pecco Bagnaia rapidly improved under their own wing this season. There was genuine concerns for his job off the back end of 2019, talk they might swap him out for Zarco early. But this season, he's proven to be one of the fastest prospects out there. 2nd in Jerez 2 robbed via an engine failure. And even after breaking his leg in Brno, first round back in Misano and he's finishing a comfortable 2nd while still hobbling on a crutch. He should have won a week and a half ago in the 2nd of the doubleheader but binned it from the lead with 6 and a half to go. I'm glad Ducati still saw the good in him because he'd be a title contender right now with a full season underneath him amongst the Marquez-less chaos. For me, this was a no-brainer, even if amazingly, the factory team might be a downgrade given Pramac's had the lion share of the good results this year. Bagnaia's X-Factor in actually being able to make the Ducati turn without giving himself 15 arm pump surgeries might be a gamechanger for the struggling factory.
#ForzaDucati

👉🏻 https://t.co/4nnSJz9YJR

Finally I can say it,
I will be an official Ducati Rider.

A dream come true! @ducaticorse @MotoGP pic.twitter.com/fDenwnieae

— Pecco Bagnaia (@PeccoBagnaia) September 30, 2020
As for Pramac, I like their line-up too. Jorge Martin might have Corona'd himself out of title contention this year, but he's still made steps forward in Moto2, proving he's had the pace to win races… even with some extra track width every once in a while. I've always said, his raw speed is absolutely bonkers when he's fully dialled in, and if he can channel that on a proven excellent Pramac-led GP21… Look out folks. Johann Zarco's been a bit more "flash in the pan" this season, Brno standing out more than most with that pole position and the podium on last year's GP19 (That long lap penalty still makes me weak at the knees). But he's a safe pair of hands who's proven to be very fast in the right equipment. An up to date Ducati could easily bring him back to his best days at Tech 3.
Bagnaia, Miller, Martin and Zarco… I can dig this lineup. There's a lot to like here, a good blend of experience, youth, and speed. I think they'll be just fine. So, that just leaves three seats left. The 2nd LCR (Most likely Taka who's having a very good year), the 2nd Avintia (Probably Enea Bastianini), and the 2nd Aprillia (Which all hinges on Andrea Iannone's CAS hearing in a fortnight's time). The Aprilia seat is by far the most interesting with the team making no secret of saying they want Dovi or Crutchlow, so we gotta wait and see what happens there. Can Aprilia afford them? Is Iannone gonna get his ban lifted? Check back in October to see the completed grid.