"This season's determined to give me heart failure."
What in the F*** just happened? Just when you thought this season couldn't get any more ridiculous, Hungary comes along and slaps me in the face like a wet fish in a market.
The Hungarian Grand Prix featured another case of Mercedes getting it wrong, two safety cars, three colossal crashes, Jean-Eric Vergne holding off Rosberg, RAIN, and Hamilton going up through the midfield… And that was just the first 25 laps! Let's (Try) to break this one down as I give you my thoughts on, the 2014 Hungarian Grand Prix.
---
Daniel Ricciardo wins the Strategy War
What IS it with the kid and EVERYTHING going his way? He is doing a truly phenomenal job right now and deserves all the plaudits he's getting. Made the right call NOT to stop on the 2nd Safety Car, and keep that all important track position, and while the Mercs tripped over each other and the Williams (And Vettel) took themselves out of contention on the prime rubber, Daniel, got everything right, and made the key passes on Hamilton and Alonso at the end when it mattered most. Another brilliant drive from my driver of the season so far.
[fusion_builder_container hundred_percent="yes" overflow="visible"][fusion_builder_row][fusion_builder_column type="1_1″ background_position="left top" background_color="" border_size="" border_color="" border_style="solid" spacing="yes" background_image="" background_repeat="no-repeat" padding="" margin_top="0px" margin_bottom="0px" class="" id="" animation_type="" animation_speed="0.3″ animation_direction="left" hide_on_mobile="no" center_content="no" min_height="none"][fusion_imageframe lightbox="no" style="bottomshadow" bordercolor="" bordersize="0px" stylecolor="
" align="left" animation_type="fade" animation_direction="right" animation_speed="1″]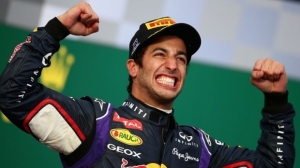 [/fusion_imageframe]Further back, several guys just got it wrong. Williams going to the Prime tyres given their tyre understanding problems throughout the season was another error on their part. Red Bull did the same with Sebastian Vettel in 7th. McLaren got even MORE wrong early on by not changing to the Dry Tyres after the extended 1st Safety Car, and sticking on the Intermediates. Button just scraping a point in 10th, Kevin Magnussen further back in 12th.
Fernando Alonso came super close to getting the win with some astonishing defensive driving, but his tyres just had nothing left to give at the end, but somehow, got away with it against Hamilton and the rampaging Rosberg at the end due to parking his car exactly where he needed it to be, as well as Mercedes having some problems over their own.
Mercedes Damage Limitation and Multi 6/44?
A very interesting weekend for Mercedes. No doubt, they still have by a mile the fastest car, but this weekend just went a bit pear shaped for them.
First was Hamilton's fuel leak in Qualifying, as a result, everything had to be replaced on the car, forcing him to start from the pit lane. Then during the race, Hamilton spun and took minor damage to his front wing on the opening lap. But smart calls during the safety car periods, and of course, that ridiculous car, got him a 3rd place finish. But it nearly didn't happen…
[fusion_imageframe lightbox="no" style="bottomshadow" bordercolor="" bordersize="0px" stylecolor="
" align="left" animation_type="fade" animation_direction="right" animation_speed="1″]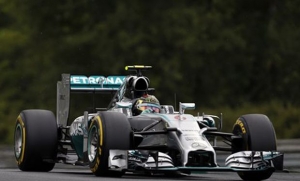 [/fusion_imageframe]…On the other end, everything was coming up roses for Rosberg. His 6th pole of the season, and his biggest threat in the pit lane. But then the Safety Cars messed up the track positions, and it exposed the issue with the Mercs and their downforce setup. Despite having the most powerful engines, a combination of a short DRS Zone, and those wings meant they couldn't even get passed Jean-Eric Vergne, y'know, in the Renault-engined Toro Rosso. Same happened in the end when Hamilton just didn't have the extra speed to pass Fernando Alonso, while amazingly, Daniel Ricciardo did. Very odd for the what is the fastest team BY A MILE right now.
On the other hand, it wasn't without two controversial moments. The first was near the end, when Rosberg, behind Hamilton, but knowing he had to stop again, was given a Team Order to let Rosberg through, even though by the time Rosberg got up to the back of Hamilton's car, his tyres were starting to fade and he was losing time again. Hamilton, refused to let Nico past, despite having around a 1.5 second advantage.
Now a lot of people have made the comparison to Sebastian Vettel and Mark Webber's Multi 21 incident from Malaysia 2013, and I don't think that's the same thing.
The difference here, is Vettel lied to his team when they had a policy of letting their leading driver take the win after the last round of pit stops. He knew that and pushed anyway, catching Webber cold, as he was inclined to think there wouldn't be a threat from behind. Either way, the team finishes 1st and 2nd, no harm to them really, despite the added risk.
In this circumstance, slowing down to let Rosberg through would have cost Hamilton over 2 seconds, harming his race too. Considering the timing of Rosberg's fading tyres, this was not the same thing. In my opinion, Hamilton had every right to keep going and not compromise himself for Rosberg who should have pitted anyway.
[fusion_imageframe lightbox="no" style="bottomshadow" bordercolor="" bordersize="0px" stylecolor="
" align="left" animation_type="fade" animation_direction="right" animation_speed="1″]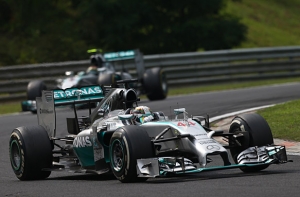 [/fusion_imageframe]The second instance was a pass attempt from Rosberg into the bottom of Turn 2 around the outside, and Hamilton gave Rosberg a good ol' squeeze, arguably off the road. Rule is you have to give a car width's of room, and that was very, VERY close. Probably too close to punish, but still could have caused some drama had there been contact.
And before anyone gets the wrong idea, Rosberg did one very similar at Turn 1 against Valterri Bottas, so I'm an equal opportunity pass questioner! I will say though, the Stewards are seeming to let them race for the most part, which is what I think the right way to go. We as a sport should encourage passing, especially in FREAKING HUNGARY.
Whatever happens, they'll be some awkward and difficult conversations in the Mercedes garage tonight. Funny that from a team with a near 200 constructor's point lead, eh?
Other Key Points
[fusion_imageframe lightbox="no" style="bottomshadow" bordercolor="" bordersize="0px" stylecolor="
" align="left" animation_type="fade" animation_direction="right" animation_speed="1″]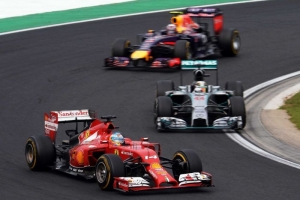 [/fusion_imageframe]- Brilliant drive by Fernando Alonso and Ferrari in general with 2nd and 6th for Kimi, his best result of the season so far. Just what they needed going into the break, especially given that Williams were right on their heels. Might struggle at home in 6 weeks time though…
– Williams "dun goofed" again. Massa doing two Prime tyres stints were awful, and Bottas was taken completely out of contention by going on the primes as well. Massa was in 2nd for a good chunk of that race after all. Their lack of tyre understanding is hurting what is a really great package right now. With Belgium and Italy next though, expect them to bounce back.
– Another "Tale of two Red Bulls" as Sebastian Vettel had another crazy and rather unlucky race. Yes, he made that minor mistake with the spin (Which he SOMEHOW didn't hit the wall), but he was once again, put on the wrong strategy and it cost him major points, seeing as Red Bull clearly had pace here. The safety car being announced just seconds after he crossed the pits didn't help either.
– Thank goodness as well that there was no major injuries this weekend either with Nico Hulkenberg, Sergio Perez, Marcus Ericsson and Romain Grosjean all having heft hits, RoGro's happening DURING a safety car. I can't remember the last time (if ever), a Safety Car coming in has been cancelled due to someone spinning into the wall during the formation. Amazing.
– Sauber's season just continues to get worse. Esteban had a power unit failure while Adrian Sutil was one Jenson Button pass away from their first point. Time is running out for a desperate Sauber team, but that 11th may be a positive sign for the future. A similar thing to last year when Hulkenberg got REALLY good towards the end of the season.
What else did you make of Hungary? Pass on your thoughts as always and thanks for reading!
Dre's Hungary 2014 Race Review Score: 9.5 out of 10 (Incredible)
[/fusion_builder_column][/fusion_builder_row][/fusion_builder_container]