Hey guys, Dre here, and don't worry, I'm not going to take down your favourite driver in this blog!
But I just wanted to take a little time out to speak personally and just say thank you all for support across 2014, and it's been the best year EVER for me a blogger, video maker, and now radio presenter and podcast maker too.
From the Google Hangout session with Felipe Massa, cracking 5,000 Subscribers on YouTube back in September, visiting BT Sport for "MotoGP Tonight" as well as becoming a part of the Downforce UK Radio family as well, hosting Bike Live on a Friday Night, it's been a wonderful year and I've grown so much as a content creator, and as a person, and I couldn't have done it without all of you. You guys really are the best fans, friends, and readers I could ever ask for, and trust me, it means the world that I know you all have my back, and trust me, at times, you've carried me this year when I've been down and this has become such a passionate hobby of mine, I can genuinely say I want to keep growing, and doing this forever.
Some special thanks need to go out to a few certain people, so I just want to get them sorted out now before I forget:
Scott Woodwiss, Rebecca James, Louis Suddaby, Jake Sanson and Lester Forbes – I owe Scott massively for seeing the potential in me and believing I was good enough to be a member of the Downforce family. Doing Bike Live has been such an amazing experience, a real feather in the cap for me, and I take great pride in being part of such a terrific team, I had an absolute blast being part of the show and I can't wait for next season to come around again!
Maricel Claricia – Something you may not know, is that 90% of the creative work you see on this channel, like my thumbnails, channel art, my logo on YouTube, all come from her, and she's been a real superstar to be able to help me out time and time again, despite being tied up with University AND a full time job. I salute you girl, love you loads. (A mention to Jay "Riotbox" Russell as well, he does the work now for Dre TV, and he's awesome)
Stephanie Hunter – The ultimate unsung hero, and creator of the very site you're reading this on. I never thought I'd have my own website and a proper place to call my own, and it still makes me smile every time I log on and be able to add to it here. I take immense pride in this place I call home, and you're the reason it happened. Thank you so much for everything, and I don't think I'll ever be able to truly return the favour.
Ryan King – We're almost a double act at this point! My Motorsport 101 Podcast partner in crime, and without doubt, the best person I get to work with. His sporting and general knowledge far surpasses my own, and to be able to work with someone as intelligent and as entertaining as you is a pleasure, and I hope we can continue this in 2015. (And of course, thanks to Athleek VG as well, equally a pleasure to be on the F1Nish Line twice this year.)
But of course, the biggest thanks is to all of you, for everything. As I've said before, everything I do, is a result of you guys, so to everyone who's watched me this year, from one video to 100, who's commented in the articles, on Facebook, Twitter, Ask.FM, the Podcasts, EVERYTHING – Thank you. Even yesterday when dealing with a ton of racial abuse, you guys were so amazingly supportive, and trust me, it doesn't go unnoticed.
I wish you all a wonderful holiday season, and all the best in 2015. My only wish, is that I can find a way to keep you all entertained and happy. Have a good one!
And of course, get well Jules Bianchi, and Michael Schumacher. We need you guys back here. #ForzaJules #KeepFightingMichael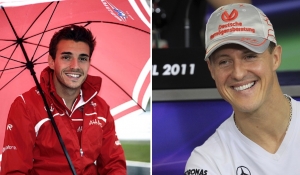 – Andre "101" Harrison x