"'This award ceremony was totally unfair…Why didn't Hamilton win everything?' – Sky executives, probably."
Hey folks, Dre here again, and I got another bone to pick with Sky Sports F1. They had their now yearly traditional awards on their website this morning, and it went down about as well as urinating in a coffee cup did. I didn't like their selections. At all. So I thought it would be a fun idea if I re-wrote them and added my own, unbiased two cents in there to give you a clear perspective on what I thought was the "good, bad and the rather ugly"of the 2014 Season. So let's break it all down below, shall we?
Note: I'm going to leave some of the more obscure ones out, like "Least accurate quote of the year" because they're rather trivial, unless I feel they need further comment from me.
---
Race Of The Year (Sky Said: "The Bahrain GP, scene of Lewis v Nico's finest riveting hour. Runner-up: The Hungarian GP. Amazing what a bit of bad weather, divergent strategies and the fastest car in the field starting from the pitlane can do…")
Dre Says: While Bahrain was definitely a viable contender, the fact they completely ignored the fact there was teammate battles all the way through the top half of the field is a little bit blind. Mind you, since Lewis vs Nico was the (partly) self-fulfilling narrative of the season in the eyes of the men in Sky's production meetings, it's hardly surprising they chose their closest match-up as the Race of the Year. Especially Hungary, and Canada for me, were definitely better candidates for sheer spectacle and drama.
[fusion_builder_container hundred_percent="yes" overflow="visible"][fusion_builder_row][fusion_builder_column type="1_1″ background_position="left top" background_color="" border_size="" border_color="" border_style="solid" spacing="yes" background_image="" background_repeat="no-repeat" padding="" margin_top="0px" margin_bottom="0px" class="" id="" animation_type="" animation_speed="0.3″ animation_direction="left" hide_on_mobile="no" center_content="no" min_height="none"][fusion_imageframe lightbox="no" style="bottomshadow" bordercolor="" bordersize="0px" stylecolor="
" align="left" animation_type="fade" animation_direction="right" animation_speed="1″]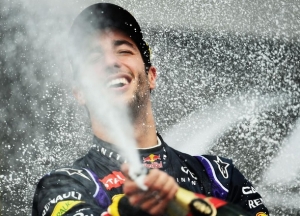 [/fusion_imageframe]Driver of the Year (Sky Said: Lewis Hamilton. As Nico Rosberg graciously admitted, the best driver won. Runner-up: Daniel Ricciardo, the vanguard at Red Bull and the utterly unexpected vanquisher of the four-time world champion.)
Dre Says: I'm never going to begrudge anyone who had Lewis Hamilton as Driver of the Year. Championship winner always has a good shout. But to me, the fact so many condemned Sebastian Vettel for winning in the best car, yet praised Lewis here, says a lot about the state of F1 fans. For me, it's Daniel Ricciardo. No-one, and I mean NO-ONE could have predicted the season he would have had, and he was tremendous in getting the maximum out of that flawed Red Bull on multiple occasions.
Disappointment of the year (Sky Said: Kimi Raikkonen v Fernando Alonso. Not since the Millennium Bug has there been such a fuss about so little. Runner-up: Kimi himself, totally unable to master the F14 T, completely out-driven by his fellow former world champion.)
Dre says: Yeah, hard to argue this one. Raikkonen was on the crest of a wave after 2 excellent Lotus comeback years. His struggles to adapt haven't been well documented, but still bitterly disappointing and a complete overhype as to what could have been.
Car of the Year was completely redundant so: Team of the Year (Sky Said: "Mercedes, with a record-breaking 11 one-two finishes and dominant speed from start to finish. Runner-up: Williams, back in the hunt and back in the big time.")
Dre Says: Again, can't argue with this one. Mercedes were the best team by a country mile, if a little unreliable, and Williams were solid from Day 1 and only got better as the season went on, and compared to where they were last year, Williams have made in an incredible improvement and deserve a ton of praise for a job well done. If they worked on their strategies and pit stops a little more, they could have really put pressure on Red Bull for 2nd.
[fusion_imageframe lightbox="no" style="bottomshadow" bordercolor="" bordersize="0px" stylecolor="
" align="left" animation_type="fade" animation_direction="right" animation_speed="1″]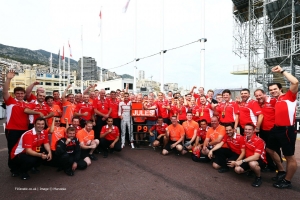 [/fusion_imageframe]Surprise of the Year (Sky Said: "Korea appearing on the 21-race schedule for 2015. Runner-up: Daniel Ricciardo, the only victor at Red Bull and the only winner outside Mercedes.")
Dre Says: Well, this was dumb. The biggest surprise of the 2014 season, was Korea showing up for NEXT year? Are you kidding me? More than anything else on track? Three words: Jules. Bianchi. Monaco.
Most Improved Driver of the Year (Sky Said: Valtteri Bottas – from anonymous novice to bona fide front-runner. Runner-up: Daniel Ricciardo. We knew he was good, but nobody foresaw his crushing defeat of Sebastian Vettel.)
Dre Says: Here's the problem with a "Most Improved Driver" award. The baselines are completely different when you consider the two top runners for this award, Bottas and Ricciardo, were both in FAR worse machinery in 2013. So how much of it was the drivers, really? Bottas and Ricciardo were definitely the breakout stars of 2014 though, so I do at least see where they're coming from.
Saga of the Year (Sky Said: "McLaren's 2015 driver line-up. 'Interminable' was being polite. Runner-up: The new sound of F1. Although it's gone quiet of late. The saga, that is, not the already-muted sound.")
Dre Says: Just me who found it a little bit funny that the Lewis v Nico rivalry didn't get a mention here? McLaren's delays over their 2015 line-up was a joke though, to be fair. As for the engine noise, like with all things we hate in F1, we bitch for a couple of rounds and then just suck it up afterwards.
[fusion_imageframe lightbox="no" style="bottomshadow" bordercolor="" bordersize="0px" stylecolor="
" align="left" animation_type="fade" animation_direction="right" animation_speed="1″]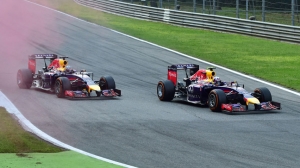 [/fusion_imageframe]Overtake of the Year (Sky Said: "Lewis Hamilton on Nico Rosberg at the Circuit of Americas, one of a clutch of turning points in the Englishman's favour. Runner-up: Daniel Ricciardo on Lewis Hamilton for second place in the Hungarian GP at Turn Three, a rare taste for Lewis of his own medicine and a move which subsequently gained in credibility by Rosberg's failure to make his own identical attempt on Hamilton stick.)
Dre Says: You have GOT to be kidding me here. Hamilton at COTA was a pretty standard DRS pass, complete with Lewis' usual brand of running a guy off the track limits. Like, I get that Sky love themselves some Lewis, but that wasn't even his best pass this season. Like, look at Suzuka, a pass round the outside into Turn 1, with hardly any visibility, at 205mph? That was incredible.
I have issues with the runner-up selection as well, when you consider that Hamilton's tyres were shot in comparison, and again, it was DRS-assisted. The Vettel vs Alonso fight from Silverstone? Or Ricciardo selling Vettel the dummy at Turn 4 in Monza, and Ricciardo passing Hulkenberg at the outside of Turn 5 in Austria I think were much better contenders.
Inevitability of the year (Sky Said: "Pastor Maldonado crashing. Runner-up: Mercedes winning.")
Dre Says: We still making Pastor jokes? People, this ain't 2012.
Track duel of the year (Sky Said: "Lewis Hamilton v Nico Rosberg in Bahrain, the best wheel-to-wheel fight for victory in many a year. Runner-up: Sebastian Vettel v Fernando Alonso at Silverstone, just a shame about the high-pitched squealing over the radio.")
Dre Says: Flip them, and I think you're onto a winner here. Both viable, the Hamilton vs Rosberg feud was one that rarely was actually a thing on track, so Bahrain was awesome, but I think the Vettel vs Alonso fight was the best wheel to wheel driving I've seen in F1 for quite some time. As I said in my Silverstone review, yes, the radio messages tainted it a little bit, but that's nothing that YouTube or a mute button can't fix.
Press Conference of the Year (Sky Said: "For the reaction of Jenson's eyebrows alone, the drivers' presser on the Thursday in Abu Dhabi. Runner-up: The Friday slow-burner in Hungary which culminated in an indignant Christian Horner turning fire on the press pack."
Dre Says: Yes, there's a press conference award. Still, I completely agree though, both moments were awesome.
[fusion_imageframe lightbox="no" style="bottomshadow" bordercolor="" bordersize="0px" stylecolor="
" align="left" animation_type="fade" animation_direction="right" animation_speed="1″]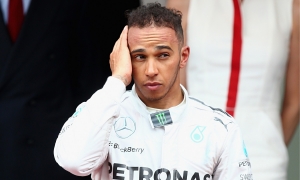 [/fusion_imageframe]Quote of the Year (Sky Said: "We are not friends," Lewis Hamilton, May 26. Runner-up: "To be honest, Nico has never been in Germany, so he's not really German," Lewis Hamilton, July 7.)
Dre Says: Hardly surprising here, Lewis is always good for throwing up a good interview. Just shame we're so endorsing of two, rather idiotic and petulant comments. (The Hamilton fraternity's going to try and bury me for this on Ask.FM, wait and see)
Worst Idea of the Year (Sky Said: "By double the margin of all other contenders, double points of course. Runner-up: Making the drivers stand at the front of the grid for the host race's national anthem.")
Dre Says: Double Points wasn't as bad an idea as many like to make out. I get it, F1 fans don't like change. But it's hard to hate an idea that had no impact on the Championship at all, unless your names are Felipe Massa and Sergio Perez. But yeah, we all watch sports with playoff formats and weighted finales, so a 2x point rule is hardly a new thing in the world of sport. As much as I think it was poorly implemented to just stick it out to one race that is boring and no-one normally cares about, the concept itself I never really had a massive problem with.
Oh, and does anyone really care about the anthem thing?
Turnaround of the year (Sky Said: "The number of people who claimed they always knew that Lewis Hamilton's move to Mercedes was a good idea. Runner-up: Hamilton's fightback to the title summit after falling 29 points behind Rosberg in Belgium.")
Dre Says: Hardly surprising so many got that one wrong, technical regulations changing so much means the landscape of F1 changes all the time as well as a result, so I can't blame many people for changing their tune on Hamilton's switch. I'd have thought the 2013 season was the vindication for the switch, rather than 2014's dominance which no-one could have possibly predicted back in November.
As for Hamilton's title comeback…Yeah, he already regained the 25 point handicap he lost in Australia after winning four on the bounce afterwards. So why were we all surprised when he did it again at the end, especially if you keep the "Hamilton was the best driver" narrative?
---
[fusion_imageframe lightbox="no" style="bottomshadow" bordercolor="" bordersize="0px" stylecolor="
" align="left" animation_type="fade" animation_direction="right" animation_speed="1″]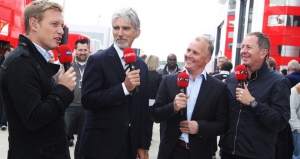 [/fusion_imageframe]Now, as much as you may feel like I'm being harsh on Sky, and to be fair, I am, it's for a good reason. I get and understand why they act and proclaim such a strong bias towards the British and specifically Lewis Hamilton (Because Jenson Button's excellent season was largely ignored). They're a British, privately owned media entity, unlike the government run BBC, which you have to be unbiased (And to be fair, the BBC push the mark on this during their major sporting events too), and to be honest, pleasing the British viewers is essentially the lowest common denominator and it's pretty easy to do that. Heck, who didn't feel all patriotic during the BBC's Olympic coverage back in 2012? *plays Gold by Spandau Ballet*
But at times, I do genuinely believe that it hurts the integrity of their broadcasts and content that they get out there at times. I've been told by friends of the site that Natalie Pinkham gets all her questions from the producers, and it makes sense, even if it makes her look worse as a result. It's an awful case of "Don't shoot the messenger". And don't get me started on Crofty's commentary this season…
I also admit, that we as consumers are part of the problem. They're controversial in their delivery, but who keeps clicking the links? We do. We endorse their habits by giving them the attention they do or don't deserve. I say, vote with your money, your effort and with your remote. If you're continuing to be frustrated by Sky's approach, but continue to pay for their channel, read their articles and whatnot, you're a part of the problem too, and I admit my stance of hypocrisy here as a part of my hobby, and that's what makes it all the more frustrating as an F1 fan who wants to see as good a product on the TV as possible, and as a guy who's passionate about sports journalism and wants to get into the industry myself. It's not nice where the place you aspire to be, can often be so flawed.
Media is important. Let's get it right.[/fusion_builder_column][/fusion_builder_row][/fusion_builder_container]