The Shades Of Fabio
This was a very different sort of Portugal weekend. 99% of the running before Sunday was wet, only for it to dry out halfway through Q1 and we got a completely jumbled field. Enea Bastianini, Francesco Bagnaia and Alex Rins, all started on Row 6 at best. Bagnaia had to take a trip to the hospital, luckily NOT breaking his collarbone after his Ducati launched him off the bike. And let's be honest, every Marc Marquez crash is now going to make us extra nervous because we just don't know what could cause another bout of diplopia.
So of course, out of nowhere, Fabio Quartararo lays an absolute hammering on the field in what was the most dominant win of 2022 so far. This sport, man.
And that's the funny thing about Fabio. If you listened to his fans, or any pundit, you'd think his entire world was getting hit with a meteor, like he's playing Majora's Mask. "Yamaha sucks! He's gonna leave! He's 22nd in practice, shit!"
And yet he leaves Portugal leaving the World Championship. A part of me wants me to be cynical and say that everyone's been drinking the not-so-subtle kool-aid he's been dropping about his bike underperforming. But then it hit me… thinking back to last week.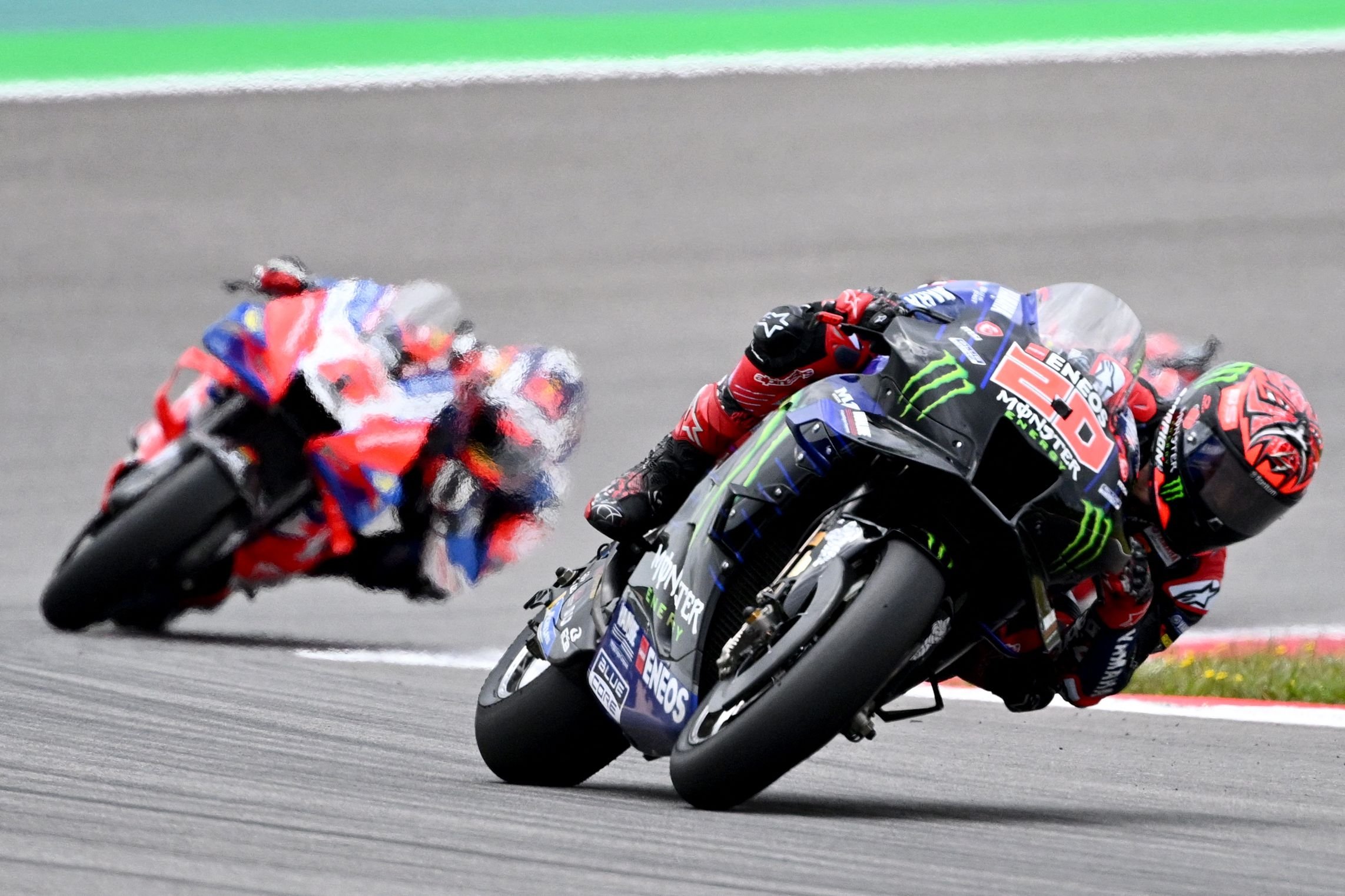 Who was the last man Marc Marquez passed in that epic comeback at COTA? It was Fabio, a man who was challenging a fleet of Ducatis, the best bike on the grid for the last 2 years… and Suzuki's, the OTHER best bike in the field for the last two years. That was the two best bike riders in the world, at their absolute physical and mental limits, both trying to succeed in suboptimal equipment.
Fabio's situation now is a lot similar to what Marc was going through in 2019, before his arm break. The Honda was bad enough where it couldn't consistently win without him. But he was so good at masking its obvious shortcomings, it didn't matter. You have to be an otherworldly talent to be able to do that. And Fabio is doing exactly that.
The other Yamahas were 29, 33 and 50 seconds behind him. The 29 and 33 second deficits are from guys who have 2 World Championships, 4 Runners-up finishes in the top flight, and nearly two dozen premier-class wins. Andrea Dovizioso and Franky Morbidelli aren't scrubs, even if there's mitigations to their struggles.
Marc Marquez has been invaluable to Honda for the last decade. His comeback only exposed that for all to see. And in a sport that deals with such violent extremes, and with how sport rightly values winning above all else, the man who had gone 10 races since his last win was never going to stand out as much. But Fabio is now doing the same for Yamaha, and he is a special talent. The best bike rider in the world right now and he showed it with how devastatingly fast he was round Portimao. Joan Mir is the race pace god, and he was beaten to a pulp, before Jack Miller took him out. Speaking of which…
Alex Rins is Back
Alex Rins understandably got plastered last year. He nearly won the floppy award on this very network in 2021 for being arguably the worst MotoGP rider in the field pound-for-pound. This year though, he's very quietly got his head down, and gotten to work.
And going from 23rd to 4th on the day is sensational, Championship level riding. Four straight Top 5 finishes in an era where we're just not going to see 10-win Champions anymore is the sort of structure that builds into a Championship campaign. The ceiling on what can make Alex Rins special, is starting to come back. If he can win a couple of rounds like he's done before, I'd say look out.
The Ultimate Endorsement
A little moment of history was made in this race you might not have spotted. But with Aleix Espargaro finishing 3rd, it took Aprilia to six concession points, meaning Aprilia loses them for 2023. It means next year, no-one in the field will be on them anymore.
For a sport that had to bring in a concession system a decade ago just to save MotoGP from internally combusting, Dorna can be proud of the product it's groomed and created. For the first time in 11 years, the sport will have a completely level playing field, it's a healthy sport again and right now, it just feels like almost anyone can win any given weekend. That's what makes sport intriguing.
I love MotoGP, and its competition is a huge reason as to why. This sport never needed Aliens, it needed balance.
The Lightning Round
Most impressive ride I've seen from Francesco Bagnaia since he went ballistic last year. I'm always careful when praising riding through injury because it's something I'm trying not to glorify, but that was a great ride and a critical one for a title campaign that's falling apart.
Jack Miller, if you're riding for your job, which even you've admitted you kind of are, maybe don't wreck it AND take out your arch nemesis by going in too hot!
Johann Zarco now has 13 podiums in MotoGP, the most of any winless rider. More than Colin Edwards. I'm never going to get my backflip, am I?
Horrifying Red Flag wreck in Moto2. If Portimao taught us anything, it's that this place is treacherous with just a few drops of moisture. So for 12 bikes to lose it on the same patch of road is absolutely horrifying. Thank goodness they all left relatively okay, but Aron Canet breaking his arm and finger could mean the end of his title campaign, especially with Celestino Vietti taking full advantage of him being midpack, then finishing 2nd on the restart.
And good for Joe Roberts being the first American winner we've had in GP since Ben Spies in 2011. He's a solid rider who's had moments where it looked like he could do it. Jake Dixon, why do you hurt me so?
Also, had to do it to em', Sorry Sergio: