Even when Formula 1 has a relatively calm one, it doesn't. We've had enough drama to last as an entire lifetime and we've had…*checks notes* four races. And we have at least another 18 to go. Let's get into a very damp, but very newsworthy Emilia Romagna Grand Prix.
The Red Bull Counterpunch
That was 1 dropped point in the Sprint away from the perfect weekend for Red Bull. And boy did they needed it. They walked into Imola 49 points behind Ferrari, and Max 46 behind Charles. Their execution was virtually flawless. Max got a great laptime in the wet on Friday. He paced the Sprint perfectly despite a bad start to line up on Sunday in front (Brilliant pass on Charles by the way), and then was flawless on Sunday.
Combine that with Sergio Perez, the Minister of Defense playing rear gunner to Charles Leclerc the whole way through, and you leave the weekend with 58 out of the 59 available points. Shoutout to Checo, he is definitely becoming the rear gunner that Red Bull's always wanted.
Max drove that race like he was on a different track to everyone else. A Grand Slam in carbon copy fashion to the one Charles had in Australia. Don't let the reliability of the Red Bull fool you, he's driving every bit as well as he did last year. Charles Leclerc on the other hand…
Ferrari Ferrari'd it on the back yard of… Ferrari
Turns out Charles Leclerc is human after all. Until this weekend his biggest error of the year was having his rear end squirm in Saudi Arabia in a race that Red Bull were always favourites to win.
Taking advantage of newer soft rubber at the end of the race and trying to chase down Sergio Perez, he took too much kerb at the Gresini chicane and nudged the outside wall. It wasn't a huge error, he took 6th instead of a probable 3rd, maybe 2nd. But it was the first dent in the armour of a man who will be evaluated on a different level now he's a title contender and not an occasional winner like he was a couple of years ago. I'm not going to leap to too many conclusions, he's been stunning outside of this weekend, but it's got Max back to within a race of the title lead after having an incredible advantage going in. Charles will bounce back, there is no worse critic of his own exceptional talent than himself.
As for Carlos Sainz, his miserable Australian form continued. Again, not going to read too much into it because ultimately there wasn't too much he was actually responsible for. He recovered well from binning the car in Friday Qualifying to take the second row off the Sprint with some hard driving. Then he was taken out by Daniel Ricciardo at Turn 2 for an over-correction the Aussie was totally to blame for. Carlos has openly admitted that he isn't full at ease with the car yet, and Charles in the current Ferrari outfit might be the toughest opponent he's ever faced, maybe even more than Max as a rookie.
Leaving Imola with just 20 points compared to Red Bull's 57 in your own backyard is never a great look.
It's (looking like it's) over, Mercedes
I was wrong for doubting George Russell. Man is passing every test in his first year with the big boys. Mercedes were already calling the weekend a write off after the Sprint when both cars were eliminated in Q2 and could only finish 11th and 14th. For George to make a lightning start, take advantage of Charles' error and hold off Valtteri Bottas at the end for 4th was a superb drive. If it wasn't for Max's Grand Slam I'd have happily handed him Driver of the Day. 
However, if you scratch beneath the surface, you can see the issues on full display. George was comfortably beaten by a customer on the same power unit. The car is still okay in open air, but being gunned down by an Alfa Romeo at the end isn't a great look. Mercs on paper, might have the 5th best car in the field.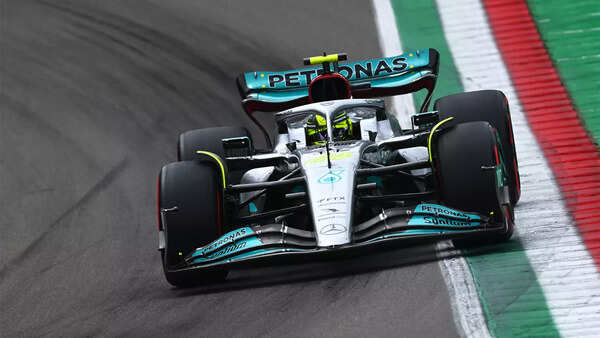 And Lewis Hamilton has shown the other side of that struggle. Even at their greatest in previous years, the Mercs have sometimes struggled under traffic, and Hamilton spent the better part of 50 laps staring at the backside of Pierre Gasly's AlphaTauri in a combination of a DRS train and a Mercs power unit that is still the worst in the field.
When Toto Wolff is apologising to you after the race for not having a good enough car, while George drove his nuts off for 4th, you can tell it's trouble. It doesn't add up. The magic fix isn't coming. The performance advantage is not going to be "locked in for years" as some people said. I don't think this is going to be a Championship year for Mercedes or Lewis Hamilton.
And that's the thing. While Lewis has more than earned a benefit of the doubt for the years he's raced for the Silver Arrows, with George taking two excellent results on the season so far, people are going to start talking about Lewis' future and his current form, whether he likes it or not.
The Lightning Round
Some excellent results down the field. Lando Norris was exceptional to net a podium as "Best of the Rest". Took advantage of some clean starts, a great Quali lap on Friday and drove as well as he could with the car given. Given how awful they looked in Bahrain, they might already be the most improved team in the field. Just a shame Daniel Ricciardo let them down again.
Glad the new cars helped the Sprint out… a bit. I still think as a format it has some inherent flaws that could be easily ironed out (More on that soon), but going down to 8th for points I like. Adds some jeopardy and incentive.
Of course a week after I make a video about the honeymoon period wearing off at Aston Martin, they get both cars in the points. Excellent comeback from Sebastian Vettel to finish 8th with a smooth race, and for Lance Stroll to hold off Alex Albon for 10th. Speaking of which, Alex Albon is doing the work of the LORD in that Williams. If you didn't know any better (And maybe if you forgot about Saudi Arabia), you'd think that was George in there still. Alex deserves to be here.
This was a 6/10 race for me. We were due a more quiet one. For a wet Imola, we'll take it as I think this track is still really limited for what modern F1 is, with only one real passing opportunity.
…Wait, what do you mean we're racing here until 2025?!