"We've come a long way since Germany but in some ways, we really haven't."
Well, safe to say the best of MotoGP is back. Back-to-back final lap showdowns between the future Ducati pairing of Francesco Bagnaia and Enea Bastianini going at it again. In the last two rounds, the net gap between them combined? 0.008 seconds. You'd need roughly 20 of those gaps to make up the time taken to blink an eye. This after an hour and a half of racing. Woof.
And out of nowhere, Marc Marquez is back, and he's still box office… but maybe not in the way you might expect. Here's me reviewing MotoGP in Aragon, with huge title implications.
Addition via Subtraction
For the first time in 10 races, going back to Portimao in April, Francesco Bagnaia didn't either win a MotoGP race or crash in it. But second will do nicely given the greater context of what happened.
This was another tactical showdown between Bagnaia and Bastianini. It looked like Bastianini had the measure of Bagania at the back end of the track, especially Sector 4 and the final corner. But Bastianini showed that part of his hand early when overtaking Bagnaia and it ultimately didn't matter when he ran wide a lap later.
Bagnaia is stupidly late under braking and with the state of MotoGP and its aero making passing so difficult, it was going to take something special. It reminded me a lot of last year's Aragon race when Marc Marquez kept telegraphing the Turn 6 tighter line lunge that Bagnaia was able to counter. This time Enea hit him with it out of nowhere on the final lap and backed himself for the win for the rest of the lap. When Bagnaia didn't get a great run out of the penultimate chicane, the race was over, even if Bagnaia nailed the final corner to lose only by a bike length. Another tremendous contest between two incredibly closely matched riders.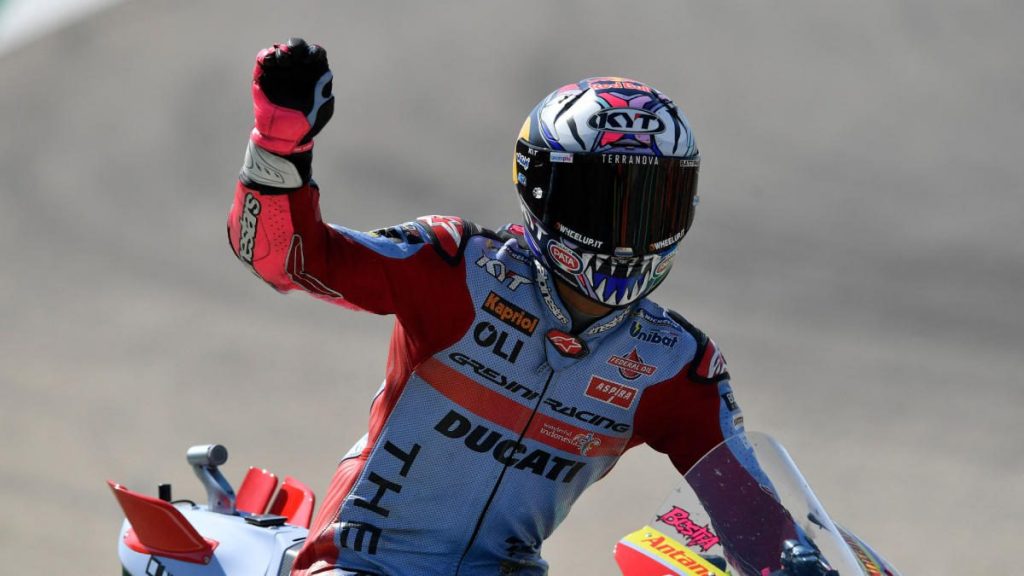 Now, spoiler alert, Fabio Quartararo didn't see the flag today. But look at the shape of the title race. Five races ago, Francesco Bagnaia was 91 points off the Championship lead after crashing out of the German Grand Prix. We thought it was over for him. He wasn't even in the Top 5 of the Championship after that race. He's now only 10 behind, and now probably favourite for the title with only five races left. This was the first of four such races in the next 5 weeks. There's no getting around it now, Fabio Quartararo is in trouble and he's only really looked good to challenge for the win once since his last win in Germany. 
Game on. Same for Aleix Espargaro too, who's only 17 points back too. One more Argentina result and he has a shot here.
The Return of Marc Marquez
Oh boy. We didn't even know this was happening until this past Thursday. But Marc has nothing to rest for anymore. Misano's test showed his bone had healed 100%. This was always going to be a game of muscle strength and the only way you're getting that back as a Motorcycle racer, is by riding a motorcycle.
Now, I think a lot of people got over-emotional about a lot of this, given his injured status and of course, his freak talent. Talk of it being too soon (A prominent journo I won't name told me he definitely isn't coming back. He was back in three months.), or the press asking about podiums, which is mental.
But isn't it just nice to have him back? Seeing that ridiculous save on his good arm at the final corner is exactly why he's such a joy to watch in full flow. There's not another man in the paddock who can do what he can do, even with 1.01 good arms. The end of this season will not be about the results for Marc. It'll be about getting his strength back and focusing on developing the 2023 Honda.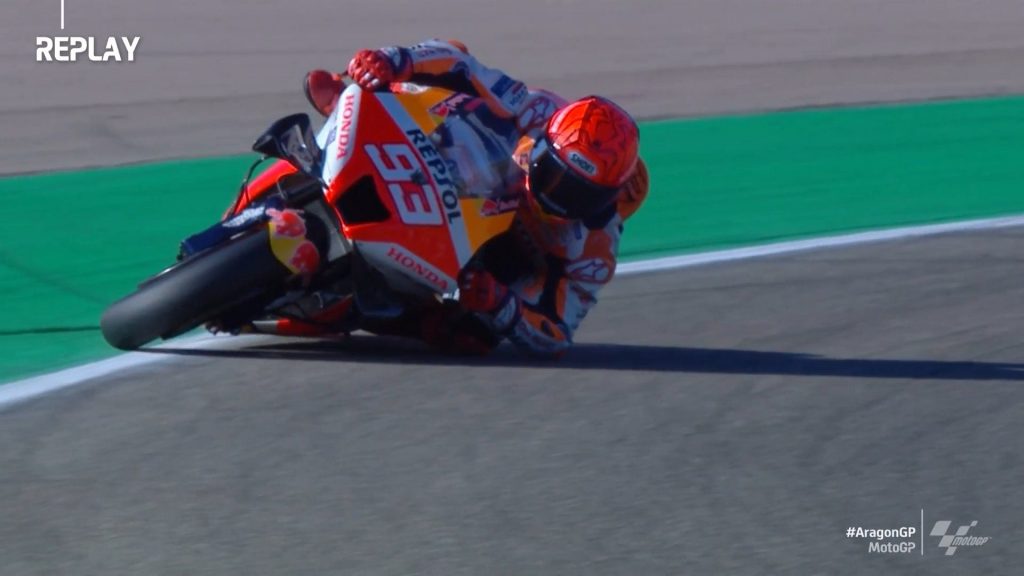 Which makes it doubly frustrating his race lasted roughly 15 seconds. But it was PEAK Marquez. He passes SEVEN bikes off the opening corner by running it around the outside of Turn 1. But then a wobble out of Turn 3 left Fabio Quartararo nowhere to go, riding into the back of Marc at nearly 100mph. Luckily, Fabio was okay (Even if a Marshal crashed into another bike with him on it. Jesus.), but then a piece of his fairing was caught in Marc's holeshot device, jamming it and the distress led to Taka Nakagami crashing into him. A horrible, freakish situation with no one to blame and heart rates hovering around 200.
These things just happen in bike racing sometimes. And when Lin Jarvis, the man who vowed that a Marquez would NEVER ride a Yamaha as long as he was in charge is saying that, then I don't know what else needs to be said. I think a lot of people are still holding onto 2015 resentment that Marc is this reckless loose cannon on a bike. That doesn't really hold up in the modern age, but narratives be damned and tinfoil is the meal of the day.
To suggest anything else more cynical based on what we saw there seems targeted and nasty. We're better than that. At least, I think we are.
The Lightning Round
No, we're still not making the Constructor's title a thing Ducati. Especially when you own a third of the field.
Brad Binder is the most underrated rider in the world. The Lord finished 4th, an inch from a podium and is 7th in the Championship on a KTM. He is doing the work of the lord. Which is himself. But still!
Augusto Fernandez was confirmed as the 24th and final rider on the 2023 MotoGP grid this weekend. KTM will probably end up dumping two back-to-back Moto2 World Champions in a row because of the inevitability of Pedro Acosta. I hope Augusto enjoys being another one-and-done rider.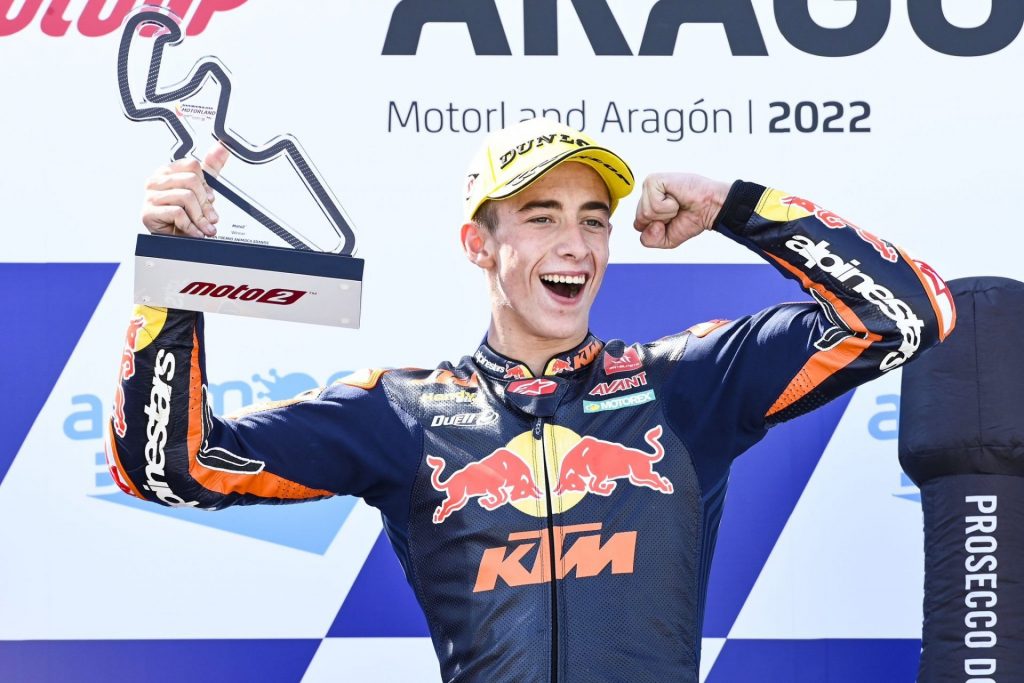 Izan Guevara just led every single inch of a Moto3 race, and with Sergio Garcia and Dennis Foggia 13th and 14th, I do wonder if this was a killer blow in their title fight. The kid is fast. Really fast.
Poor Jake Dixon. Watched him all race with a broken transponder go up and down the order all race, only for him to actually crash on the final lap while running 6th. Given the royal insignia on his helmet, he must have been keen to get to the Queue in London before it closes tonight. Where's Philip Schofield when you need him?