We're now seven rounds into the 2022 MotoGP season and I still don't have a f***ing clue what's going on here. The French GP was the largest crowd attendance over a weekend in French Motorsport, and over 110,000 on race day got to see Fabio… finish off the podium. And that barely even covers half of it. Let's get into another shocking MotoGP weekend.
The Beast Bites Back
If you ever wanted another poster child race for how strange Ducati are at the minute, it's this one. In fact, let's do what we did for IndyCar in Barber, and breakdown their finishes place by place:
1st – Enea Bastianini: Outstanding once again. When the GP21 is dialed up right, he is nearly impossible to beat. He nurses his tires brilliantly. He has blistering, lap record level pace. He will bully you into either making an error, or submitting track position. That's exactly what he did here. Dispatched Jack Miller with ease, and then completely broke Francesco Bagnaia over his knee like Bane in the Batman movies. At full chat, he is stunning. 
Bastianini has just done something that only three men have done since the last time Gresini won a race in 2006. And that's to win three races in a season as an independent. We're still in May. The only other two men to do it was Franky Morbidelli and Fabio Quartararo in the 2020. And yet, he's still only third in the Championship right now, eight points behind Fabio. The GP21 is clearly still narrow in terms of an operating window, and Enea's still got some sophomore in him with some middling results.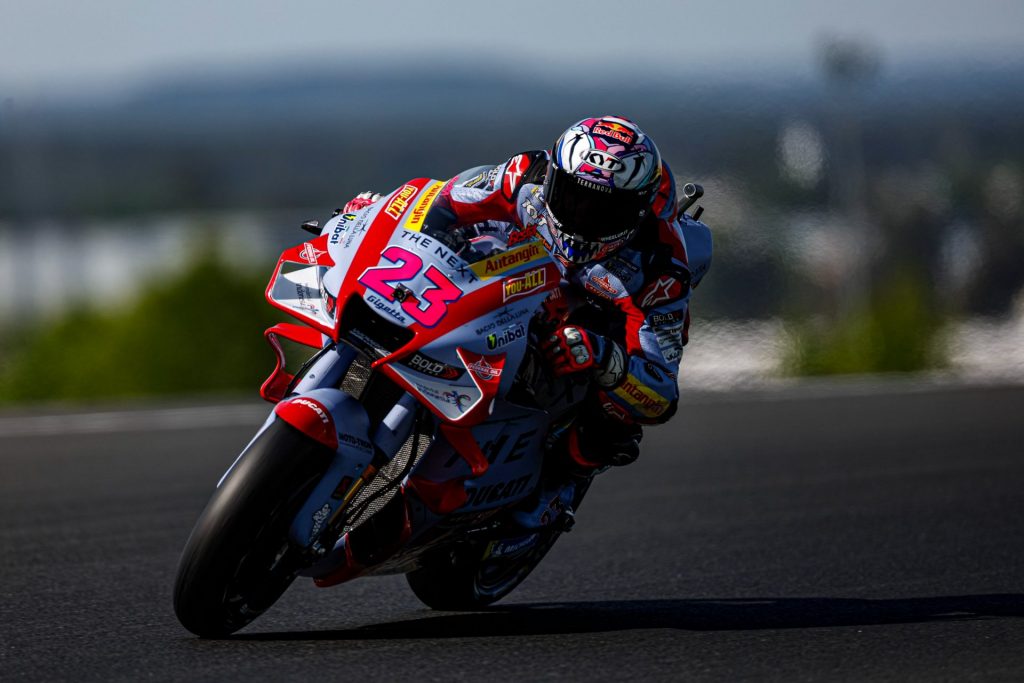 …But he's also, as the kids say these days: "Has that dawg in him." He had no problem essentially implying that he thinks Pecco Bagnaia has a preference for Jack Miller as his teammate because he's easier to beat than him. Now Pecco's denied this saying it's more about team dynamic than ability. But phew… that's some spice. Enea wants the big boy seat, and it seems like it's a straight fight between him and Jack Miller. Apparently we'll know at Mugello in 2 weeks time what Ducati have decided. More on that at the end of the section.
2nd – Jack Miller: I feel sorry for ol' Jackass at this point. Every impressive ride he's had this season, he's been overshadowed by someone else. In fact, Miller has not finished a single race this season as top Ducati. This second place finish, given he was probably on the wrong front tyre (He gambled on a softer front) with the intense heat, was very impressive indeed. For all the speculation about his future, he's getting his head down and getting on with it. He still has seven more points than Bagnaia through seven rounds. If Ducati kept him, it really wouldn't surprise me. 
*Note: I'm skipping Johann Zarco because he's just sort of "here".
DNF – Jorge Martin: Safe to say that Martin isn't getting the promotion anymore. Welcome to the sophomore slump, Martinator. Five crashes in seven rounds, and four of them were unforced errors. He needs another year at least to iron out the kinks. Yes, he has incredible speed, the problem is, so does half the speed 
DNF – Francesco Bagania: For the first time in a while, I have genuine question marks about this man. If there was one thing Bagnaia could hang his hat on last year, it was the fact that in dogfights, he was unflappable. Remember, in a week he beat Marc Marquez at Aragon and then Fabio Quartararo back-to-back at Misano.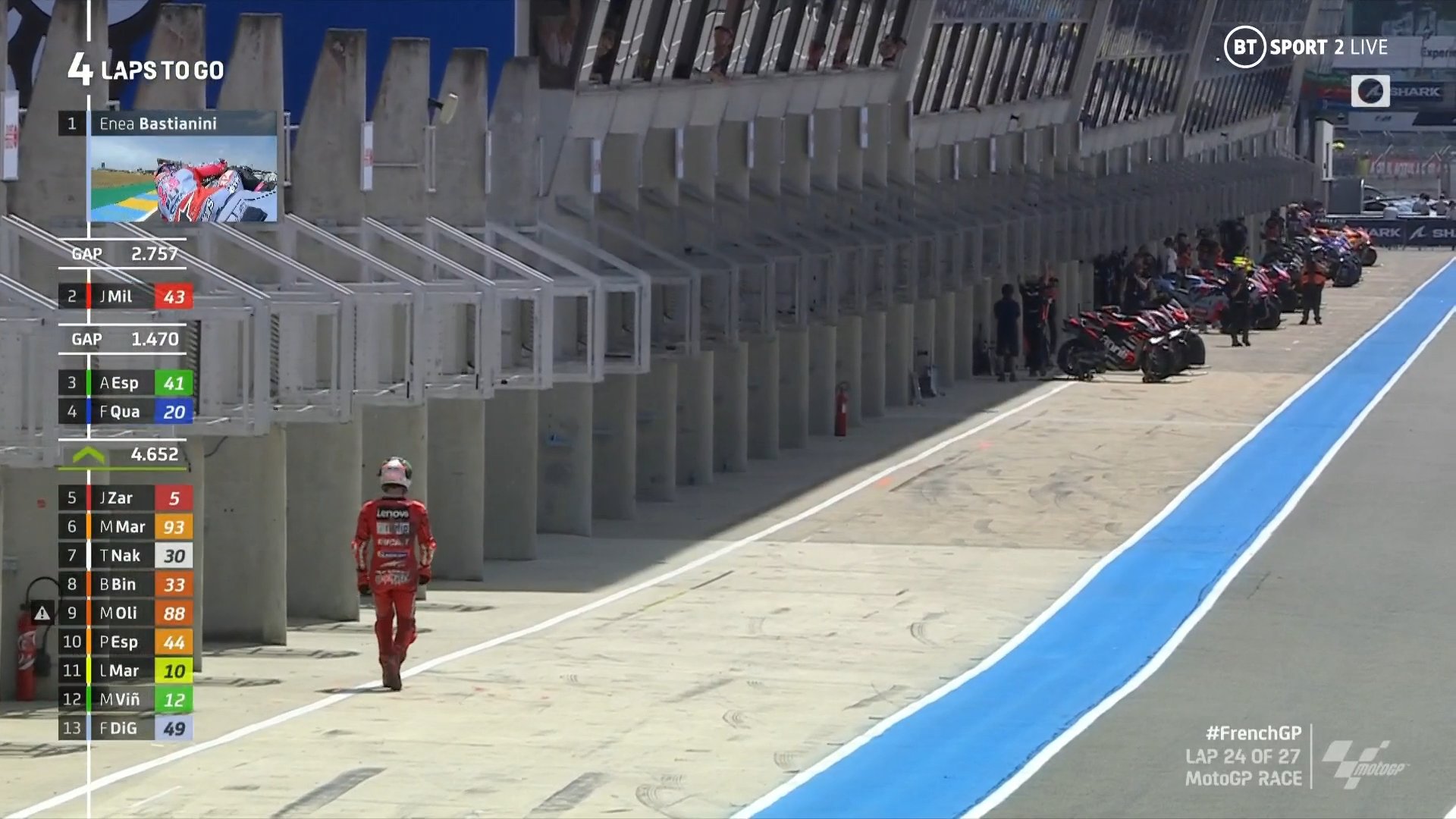 Enea Bastianini passed him at Turn 2, and Mr Unflappable got spooked. Bagania immediately countered into La Chapelle to take the lead back then missed his braking point by a good 10 meters into Garage Vert, essentially giving Enea a gift. Then he bins it at the end of the lap. There's no other word for it, he got bullied and then tossed away 20 easy points.
I'm not saying this is the end of the Championship run for Bagnaia, but you just have Fabio Quartararo, a huge gift and you're now 46 points off the lead. Enea Bastianini might be Ducati's best shot at gold, and he's doing it on a year old bike. WTF Pecco?!
Personally, I think Ducati might be better off keeping Jack Miller on the factory bike, and hedge your bets on Bastia elsewhere. But I can see why you'd move Enea up. But don't get it twisted, Ducati's shit is still a mess, and I'm still no closer to figuring this out.
The Lightning Round
Alex Rins is a very, very lucky boy after taking the Turn 1 shortcut and nearly getting launched off his bike like a French trebuchet. Landed right on his head too. Given Rins rejoined, it might be time for MotoGP to institute British Superbikes rules where if you leave your bike, your day is done. Then again, that would mean MotoGP actually giving a shit about its concussion policy.
It also took Suzuki a week and a half after every biking journalist on the planet said you were quitting to finally release a statement. Pathetic and it threw the entire team under the bus. It stinks.
Honda stinks. But at least they're not KTM. That's all I've got.
Aleix Espargaro continues to be a title pest. Three straight podium finishes and he beats the World Champion on home soil to deny him a podium. It's getting harder to deny he might be the best all-rounder in the chaos of the field right now. PS: Dear Motorsport broadcasters, we don't need crowd shots during final lap battles for the love of GOD….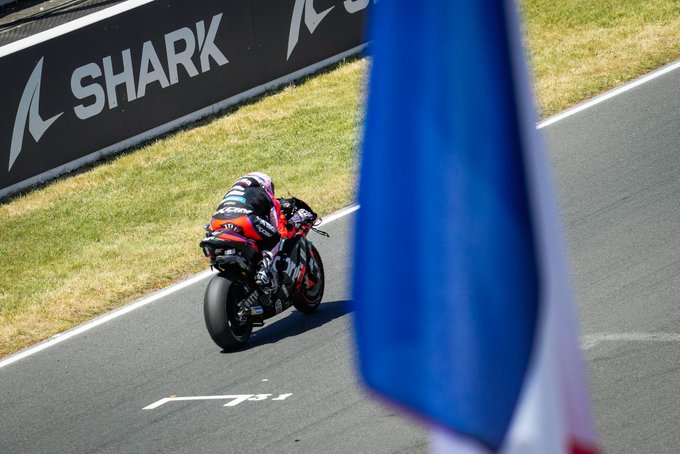 I'm not going to comment too much on Pedro Acosta, because I've got an Ask Dre question on his season so far, but I actually really don't think it matters too much that he binned it from the lead, given it's clear he's getting better at it. Weird seeing KTM Ajo suddenly back at the front after being nowhere most of the season. Good to see Cameron Beaubier start to put some good form together. Oh and Jake Dixon, figure this shit out, please. It hurts.
Ayumu Sasaki. You're good at the bike riding thing. You got sassed at the final corner by Jaume Masia. Don't ever leave that final corner wide open ever again!