Things were meant to be looking up for Jorge Lorenzo. He'd been in Japan in the weeks prior to Catalunya, warming up the 3D printers and changing things around on his Honda to fit better. And in fairness, it looked like this working. An automatic Q2 spot, 10th on the grid, while modest, still a big gain.
He has the best opening lap of the year, going from 10th to an unthinkable 4th as Dovi took the holeshot. Then Turn 10 came round on Lap 2.
OH MY!!!!!

ROSSI! DOVI! VIÑALES!

What have you done, Jorge Lorenzo?!

😳😱#CatalanGP pic.twitter.com/hlB6mA8QCs

— Watch MotoGP on BT Sport (@btsportmotogp) June 16, 2019
Lorenzo, admitting he had a rush of blood to the head because of how good he felt, went for Maverick Vinales in 3rd. Dovi cuts across him under braking as Marquez goes for the lead. Lorenzo pulls the brake, trail braking into Turn 10. He tucks the front and crashes. And with Dovi and Maverick off of the apex, they all go down, as does Valentino Rossi, who had nowhere to go in the crossfire.
When it rains, it pours. A breakthrough, and then that. A reputation-damaging crash. And even worse, the cynicism brought out of GP fans, because of course, Marc Marquez got away with it, had a gap presented in front of him, and would go on to win the race comfortably, and now, has a 37 point lead in the Championship. And with Marquez still rocking banker tracks like Germany and Aragon down the road… Hard not to think another title's slipped out of Dovi's hands. That stare after the race said it all.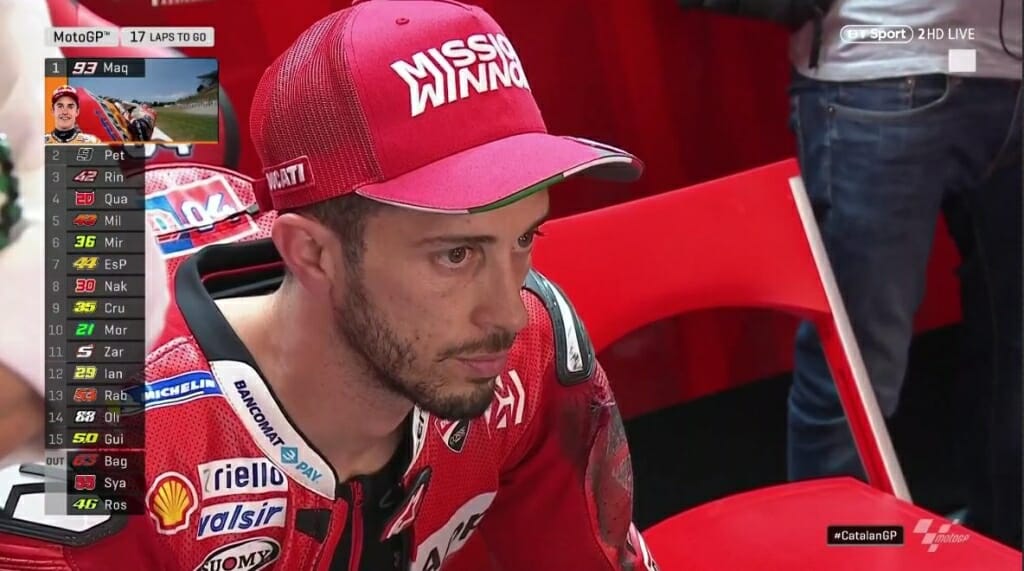 Put your cynicism away people. Lorenzo just made an honest to god reactionary mistake. And he wasn't 100% to blame either. This really was just another racing incident. Yes, it robbed us of a great race (Second time in a week) and put a fork in an otherwise still intriguing title fight. But that's just it. It was a mistake. We love GP riders for being superhuman, and then bury them for being anything less. That's Motorsport sometimes, and I feel like that's something we still so often take for granted.
Speaking of superhuman, Fabio Quartararo had arm pump surgery 12 days ago. He finished a comfortable runner-up after his second career pole position. He's been due one given his otherworldly bad luck so far this season, and I'm now thoroughly convinced he's the future of the sport.
He's flown the flag for the Petronas team and been so good, the whispers have started about Maverick's future in the big boy team. The works team has taken all the headlines in 2019 and rightly so. Which is even more amazing when you consider he's riding the 2018 Yamaha that was thoroughly trashed by everyone who saw it last year. Man's doing his negotiating power the world of good. Just wait till he gets his race pace down… woof.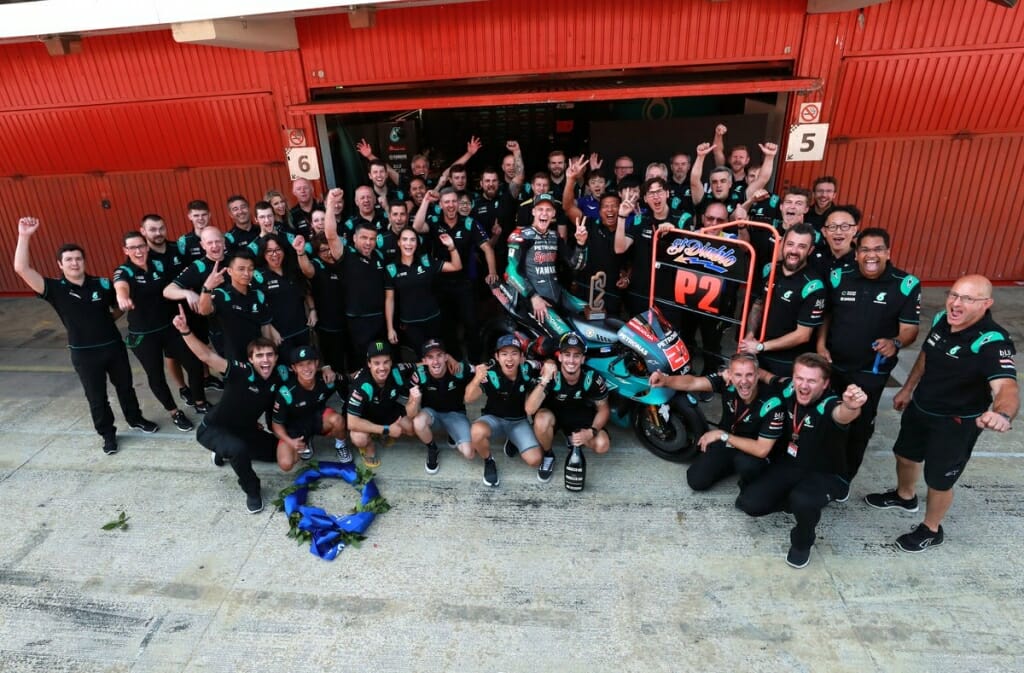 I don't care what you tell me, Pol Espargaro is the rider of the year so far. In a year of painful struggles with KTM getting molly-whopped in two of the three classes, he has ridden spectacularly, with Top 10's in the dry five times this year, including a 6th at Le Mans when he finished just 6 seconds off the victory. With performances like that, it kinda makes you wonder what they're paying Johann Zarco for. Still, Pol, rider of the year so far for me.
Also, get Aleix Espargaro a beer. Taken out of his own home GP by Bradley Smith's wildcard appearance. Of course. And he went straight to hospital with fluid build up in his knee. Christ.
Oh, Alex Marquez. I so want this to be a real thing. Forgive me for borrowing some of the Lorenzo cynicism from the top half of the post, but hear me out. We've seen flashes of brilliance from Alex in Moto2, and obviously Moto3 before. It's been an amazing run, and his hat-trick win at Catalunya was the best I've EVER seen him ride. Thomas Luthi is the perennial top contender and gatekeeper of Moto2, and Marquez essentially played with his food. Bullied him into burning his tyres, then took off into the distance. Dismantling.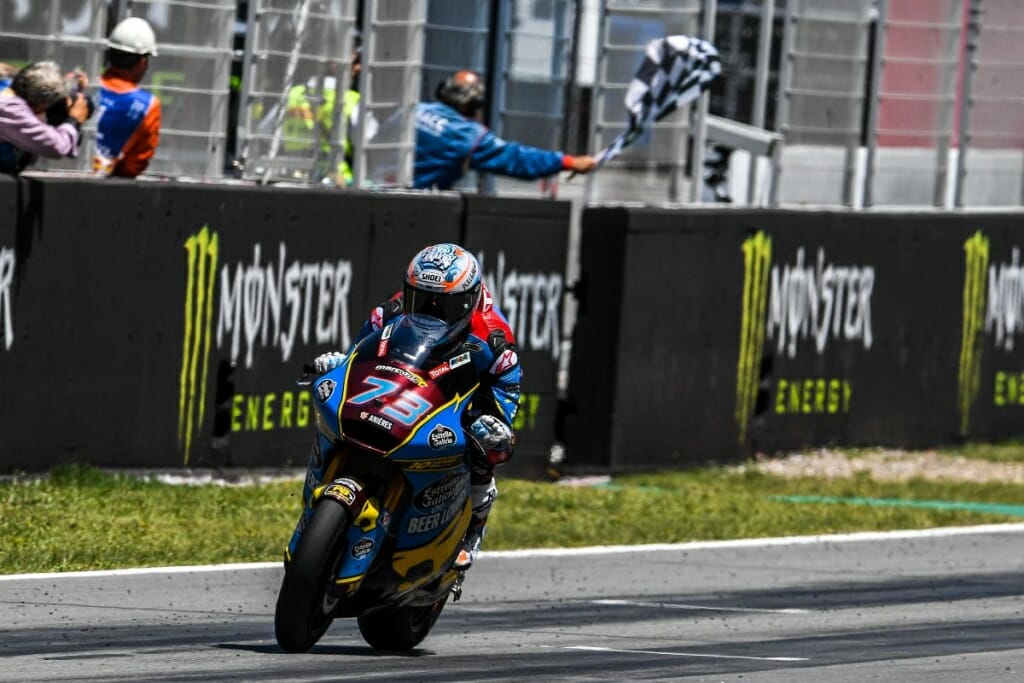 This doesn't look like a fluke anymore. Even if there's still a whiff of "Groundhog Day" about his improvement on the Triumphs, he might the star that comes up in a pretty embryonic "new" Moto2. I wouldn't worry too much though, with Navarro, Balda, DiGi and Fernandez all having great seasons, I think the class is still in solid hands regardless.
So, let me get this straight here – John McPhee had the save of the year and decided to go surfing on fuel tank, Kaito Toba low-sided into oblivion with 4 corners to go, Canet tries and fails to replicate Rossi's 2009 heave at the final corner and Marcos Ramirez somehow wins to make it 12 different winners in the last 12 races?
That was all in the final lap. If there's a better sentence to describe Moto3, I'd love to hear it.