"Where's David Bowie and Freddie Mercury when you need them?"
MotoGP is now in the final triple-header month to close out 2023, and it entered Malaysia in a fascinating situation. Jorge Martin left Thailand down 13 points after back-to-back horror show weekends in Indonesia and Philip Island. *resists the urge to say the word Momentum, the laziest word in sports punditry*
This left the title fight in a fascinating situation. Martin clearly being the faster rider since Barcelona and the Bagania high side there, but the mistakes still kept Bagnaia in front, who has definitely embraced the "take the points" attitude that so many have screamed at him to do.
But there's one element of the sport we didn't consider coming out of Thailand that could play a critical role in how this Championship is decided. Tyre pressures. More on that in a bit, but first, let's play spoilers.
The Beast Is Back
It's hard not to feel a degree of sympathy for Enea Bastianini. With how fast Motorsport moves these days with its bloated calendars and fast-moving narratives that less than a year ago, Enea was the only man in the field who could constantly give Francesco Bagnaia a headache.
It's easy to say that the factory Ducati team picked the wrong man last year in hindsight, but you have to remember at the time that Bestia was a genuine title threat for large chunks of 2022 while Jorge Martin was still spending more weekends not fully realising his vast potential. Hell, a lot of the dialogue on Thursday and Friday was spent pondering whether Ducati would outright swap Martin and Bastianini and get the Martinator in red for 2024. A baffling case of "What have you done for us lately" when we all knew Bestia had his season completely derailed with two nasty crashes.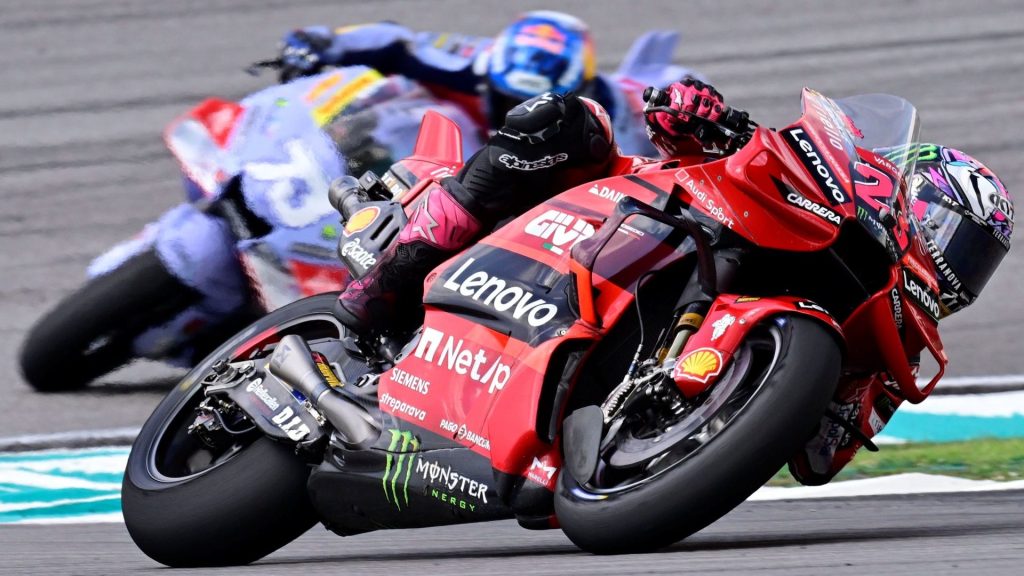 Breaking his shoulder blade when Luca Marini collected him at the opening Sprint Race in Portimao cost him five weekends and immediately took him out of title contention. He spent another half a dozen weekends getting back to 100% fitness, getting used to a new crew chief and just spending time on the new bike. Then he was ultimately responsible for the Catalunya pileup, broke his ankle and lost another four weekends. Even after taking 31 points this weekend, Bestia remains 15th in the standings, if you want to get an idea of how badly his season has derailed.
But if there was ever a weekend to disprove every possible notion about The Beast, this was the one. They'd developed a new thumb brake that Enea's taken a shine too. He backed up Bagnaia in the sprint and refused to try and pass him, without any real prompt from Ducati (Who have not been afraid to issue team orders when necessary in the past), and then I guess the best way to prevent a team orders scenario is… go and win the Grand Prix?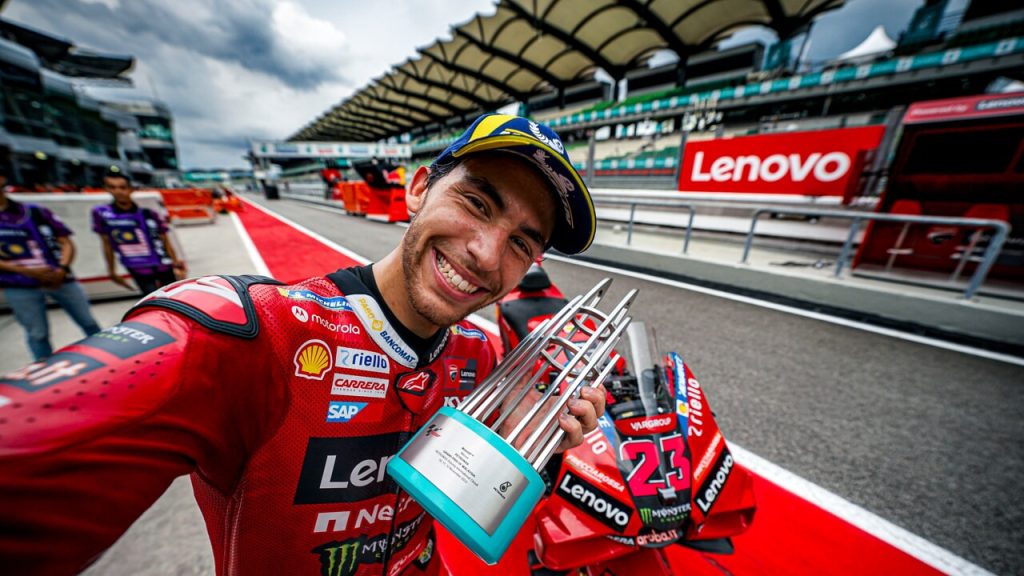 It's a weird one, but it was genuinely delightful to see how much it meant to Enea for him to dominate and win a Grand Prix from lights to flag and a reminder that he's still a fantastic bike rider when "on it". Got to the front early, survived the fastest of Alex Marquez at the start and inched away towards the end. As said, if there was any argument for swapping Ducati's riding talent, it just got shut down. Bestia was able to play the team game and even if it wasn't ideal he won when Bagnaia needed all the points he could get, taking 25 off the table for Martin is still probably a net positive.
And good for Alex Marquez behind him as well for his best MotoGP weekend to date. Genuinely very fast all weekend long, dominating the Sprint and staying with Bestia for most of the Grand Prix. Again, I'd love to see more from Alex but this season in itself is an improvement. It's just hard to stand out when Ducati now have arguably EIGHT quality riders.
Under Pressure
I used Bestia's win to get around the elephant in the room. This race and arguably the state of the title fight has been tainted by the tyre pressure rule change and how it's being handled.
The race itself devolved into a boring, F1-esque race after around Lap 5 as there were clear one-and-a-half to two-second gaps covering most of the field because the dirty air made it impossible to follow. Why? As is well documented, following another bike in this era makes your front tyre pressure increase, which you now have to be careful of because if you breach the regs, you're now on that sliding scale of a warning to time penalties.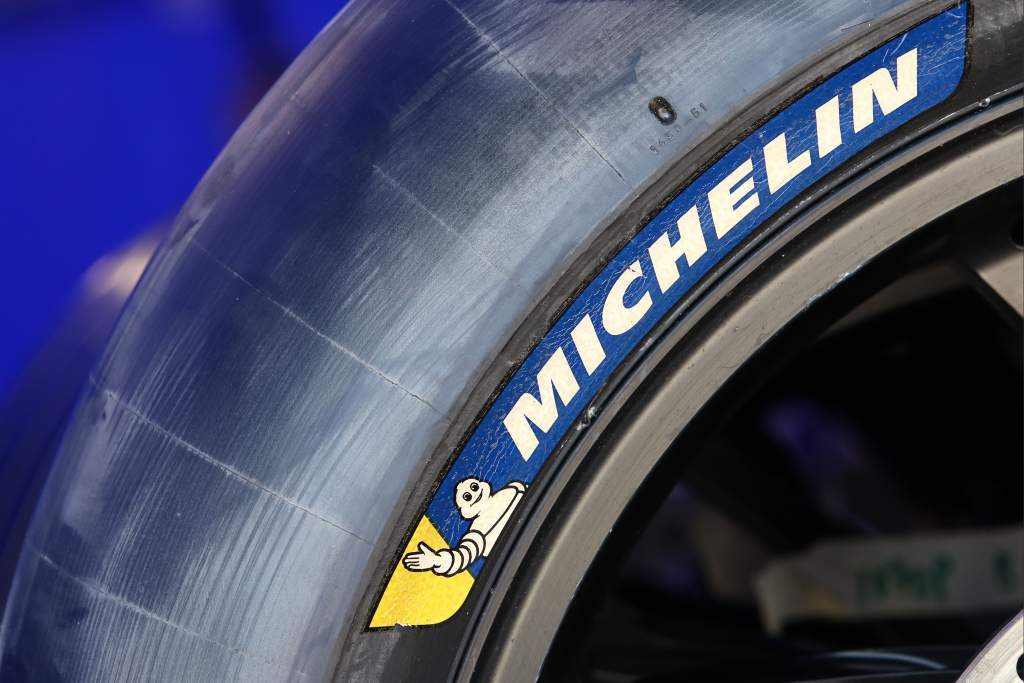 What's alarming to me was seeing the impact of the bikes and the rule management play such a huge role in this race. Bastianini won with illegal tyre pressures and he ran in clear air the entire race. Was that necessary given the clear tactical element of knowing when to use your "Joker"?
Jorge Martin, likely scared given he had his warning when he won in Thailand, clearly didn't want to take any chances in following Bagnaia, fearful of the risk of what would now be a three-second time penalty for a second offence. Hence he likely ran a higher pressure off the line and wasn't competitive compared to his usual self. And Francesco Bagnaia, who bragged about having a joker he'd likely play in Qatar next week, was illegal in Sepang too. The man had a genuine tactical advantage for a three-race title fight and he used it for a net gain of… three points. Hope it was worth it given how much of an equaliser Lusail tends to be.
Given the punishment likely won't be worth the risk, it wouldn't surprise me if Bagnaia or Martin fails to win either of the two remaining races. This is going to be a game of risk management far more than it'll be about racing and it's another frustrating symptom of where the sport is right now. And could you imagine the fury if the World Championship is decided via a tyre pressure measurer a couple of hours after the flag?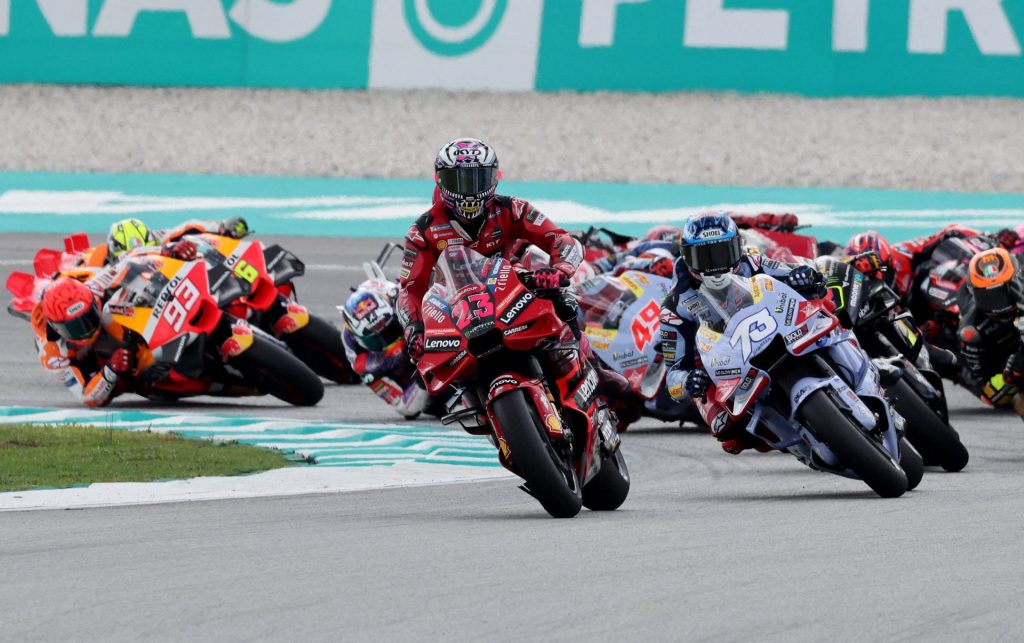 This is why everything regarding the state of the sport can be so frustrating. I preached this constantly through the last year that when Ducati started whacking aero on the bikes, it let a genie out of the bottle that the sport can't put back in. Aero was what led to the ride height devices being created in conjunction with the downforce these bikes now generate.
They now can't be removed without a unanimous decision from the sports factories unless it's on Safety Grounds. You could make a compelling argument that they're dangerous when they so often fail, but with political battlegrounds so fragile in MotoGP right now, no one dares stick their head above the parapet because we all know Ducati have been the bastions of bike development in the last half-decade or so. Motorsport's family put out a report this morning saying Ducati are about to get a compromised concessions package, but KTM and Aprilia are pushing for an extreme measure of straight-up removing them from testing. Good luck getting them to agree on that.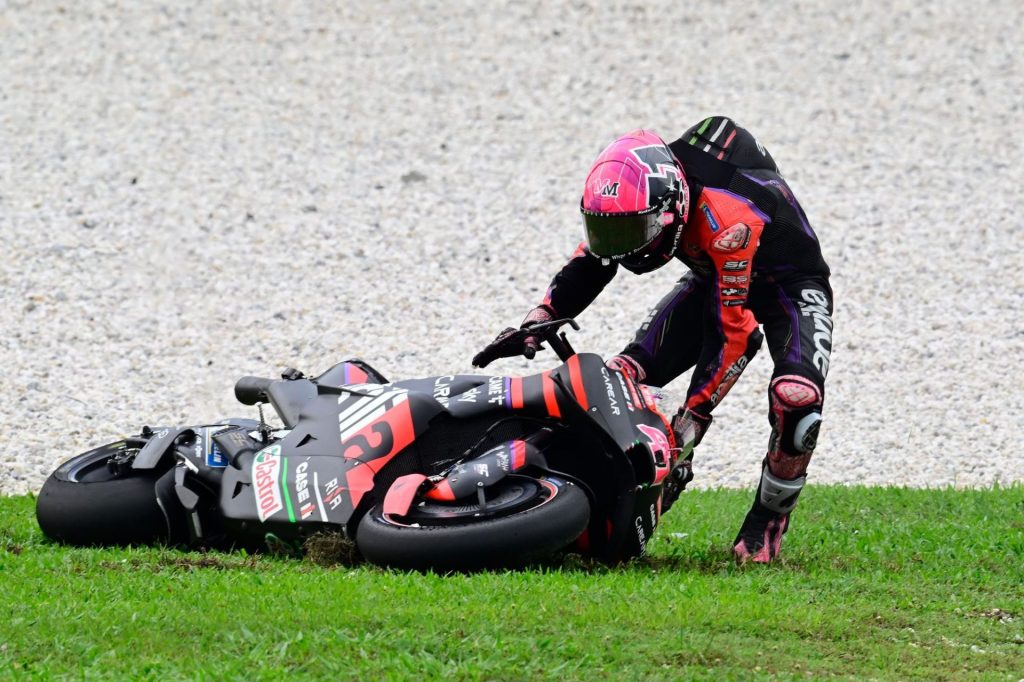 And it's only set to get worse. Michelin isn't planning a new front tyre that can better handle the immense loads these bikes now have until 2025, so the racing isn't likely to change until the next major technical overhaul in 2027. In 2024, a change in the rules means a tyre pressure infringement will now be treated as a technical rule breach, ie – disqualification.
You're asking engineers to essentially gamble on how clean a rider's race is going to be, or risk completely compromising their rider's maximum pace. It's a horrible, nasty political mess with no easy answers.
And the fact it has, can and will have an impact in MotoGP's best title fight since 2015 is a real shame.
The Honda-Dominated Lightning Round
Four Honda's in the bottom 5 in the Sprint, and Marc Marquez was 13th in the Grand Prix. Who's counting the days towards their next challenge more, Marc or Lewis Hamilton? 
And the rarely-seen FIVE crash weekend from Aleix Espargaro. One more and I think he gets a free Costa coffee. What is it with Aprilia and end-of-season collapses?!
Speaking of which, I can confirm that I'm not riding for Repsol Honda next year. Apparently, it's… *checks notes*… Luca Marini?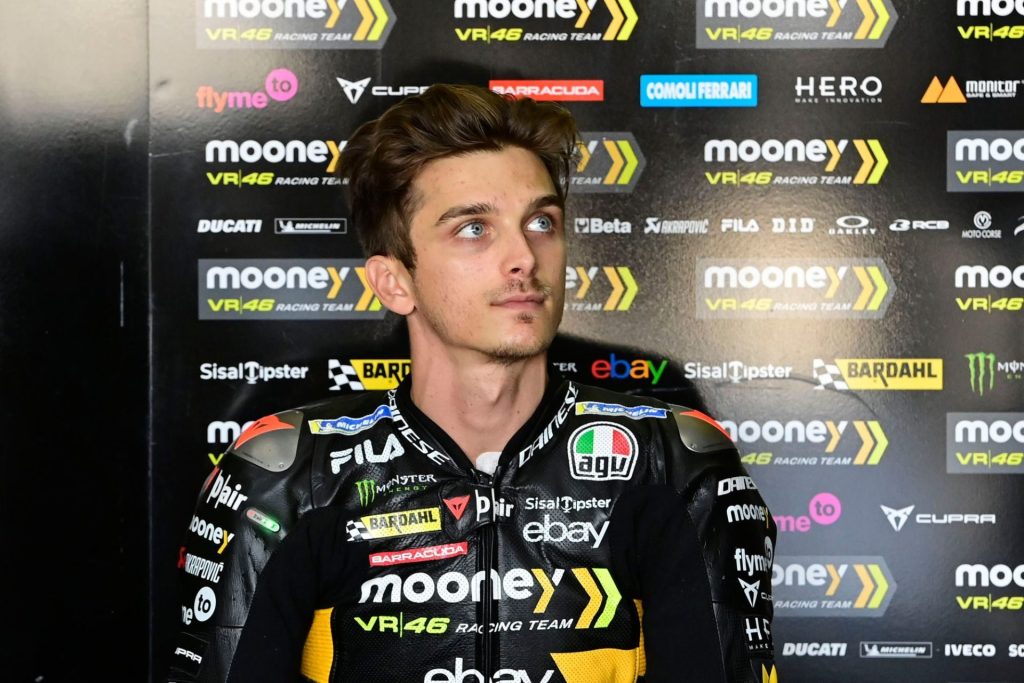 Honda's desperation couldn't be clearer to see. They touched base with Miguel Oliveira, and he called out their poor management and why he'd want a second year that Honda couldn't guarantee.
Honda is clearly still being picky about this given that 2024's free agency is set to be massive (Marquez, Quartararo, Bagnaia, Bastianini, Martin and more are all free agents) and they want to hedge their bets. The riders clearly know this is a rebuild, and want that guaranteed factory money and time to make this work and Honda wants immediate success and a security blanket in case another notch on their bedpost fails. Miggy turned them down. Pol Espargaro would rather be a test rider than join. Johann Zarco can't be promoted because his sponsors are tied down to LCR.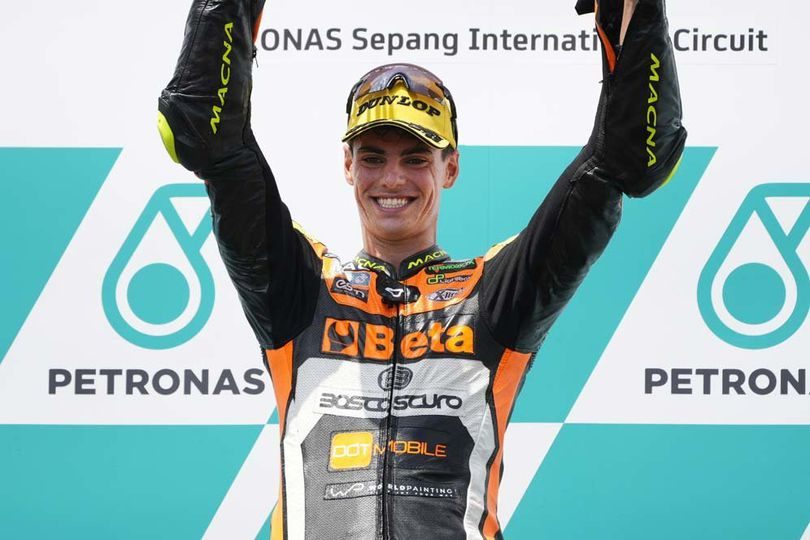 It's gotten so messy that Fermin Aldeguer's manager in Moto2 gave Puig a "You up?" text and got knocked back, trying to tempt him with his 400,000 euro buyout, according to Speedweek. Aldeguer is a raw, very quick 18-year-old, but when your best option until a week ago was Fabio Di Giannantonio, a rider who's only looked good a handful of times in the top flight, it shows you where Honda is as a factory.
I'm glad Luca Marini is getting paid, and it's a nice nostalgic throwback to his half-brother's fame, but this is an incredibly messy and unserious look for one of the biggest names in the business. Reminder: The Valencia Test is TWO WEEKS AWAY. 
Oh and one more Honda fact – Joan Mir's crash in the GP was the 50th to come from a Repsol Honda rider this season. FIFTY.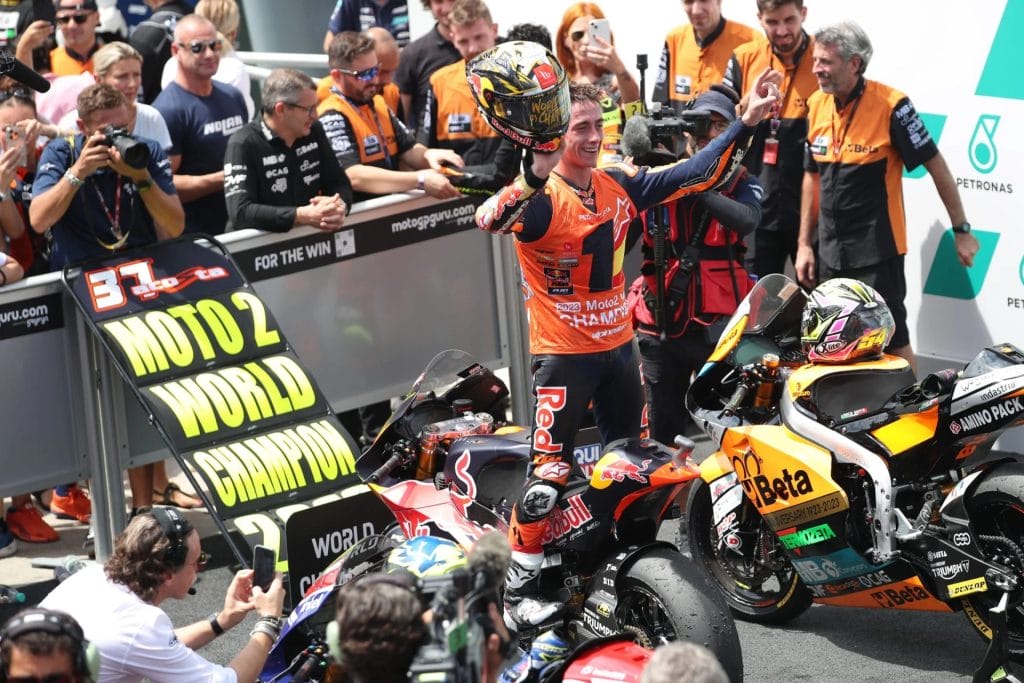 Congratulations to Pedro Acosta on clinching the Moto2 Riders title and only the second man in history to win both the Moto2 and Moto3 World titles. I'm really pulling for him at GasGas next year, he's a vibrant, charismatic, deep-thinking 18-year-old with biking intelligence and wisdom way beyond his years. A genuine character that the sport has desperately needed in life after Vale. Superstar potential on and off the track.
And if you think I'm being overly negative on the sport, watch TNT's coverage of the race. They pretty much addressed all of the last 1,000 words while the race was going on. ¯\_(ツ)_/¯
Dre's Race Rating: 4 (Boring) – This started out great with the first genuine Bagnaia vs Martin skirmish we've had in a while due to their conflicting races down the stretch, but once Pecco established himself, this race was a procession. I'm gutted given Sepang is one of my favourite races of the year, but this was dull and projected the worst elements of where the sport is at the moment. See you in Qatar.