This… was a wild one. This was a weekend that I sometimes call a "Flashpoint" weekend. Where something massive happens that defines a season of defines an era of racing. While Germany was a genuinely captivating race, it also highlighted a lot of things that have made the sport what it is today. And a year on from the weekend Honda reached the bottom, they've found a way to dig even lower. Let's get into this one because this is going to be a marathon.
The Rise Of The Martinator
I spent last week trying to think of something decent to say about Mugello as a weekend given how quiet it was, and one of them was pondering who the #1 contender was to Francesco Bagnaia's crown. I concluded it might be Jorge Martin. A week later, he beats Bagnaia in his greatest MotoGP race to date.
This was the first proper test of Martin's minerals if he wanted to be a title contender. A race long back and forth scrap with Francesco Bagnaia, the World Champion and when dialled in, one of the best front runners the sport has had in recent memory. And in an era where the entire building blocks of the sport from a racecraft standpoint are harder than ever, he passed every test.
In the Sprint, Martin won comfortably. In the GP, Bagnaia was stronger, able to keep with Martin's pace and even retake the lead with a handful of laps left. But Martin beat Bagnaia with his own game down the waterfall, and with two laps left, I genuinely thought he was riding too defensively, almost scared of a Bagnaia block pass attempt at the final corner.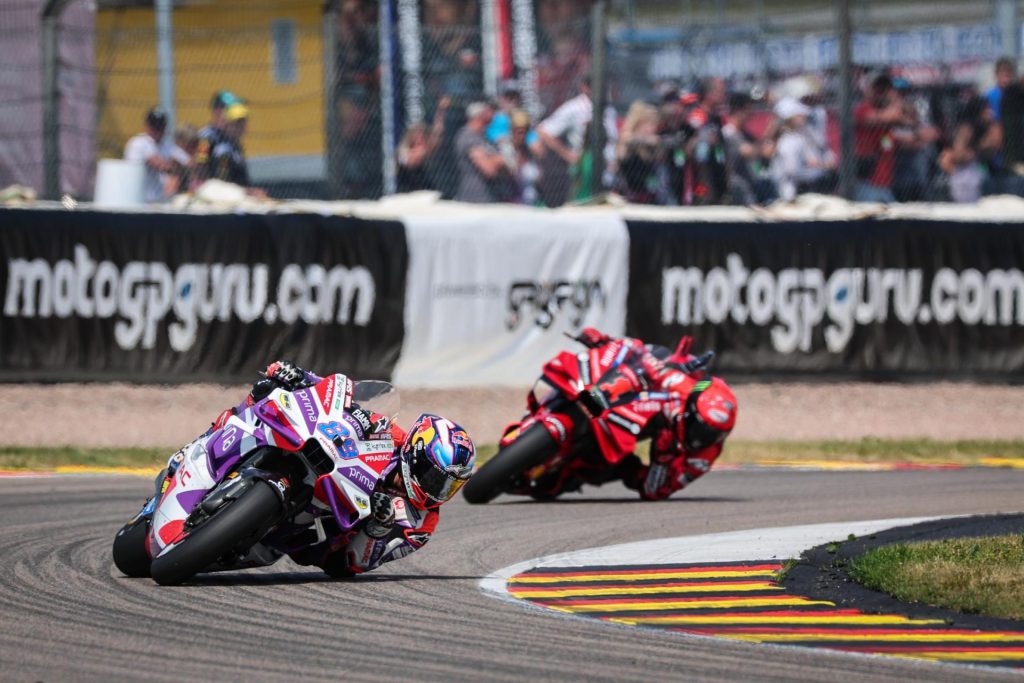 At the Sachsenring's final corner, it can be a matter of picking your poison. You can defend the inside and the block pass attempt, but you leave the racing line open for a sweeping line and with the finish line heading uphill, you CAN win a drag race to the line there like Sete Gibernau has done in the past. It's one of the hardest final corners to defend in a dogfight. But Martin did it perfectly twice, giving Bagania no quarter on the penultimate lap and then Bagania losing out over the line by just 64 thousandths of a second, in the Top 10 for the closest finishes in top-flight history.
Just like that, Martin has a perfect 37-point weekend and is only 16 off the top of the Championship. We know Martin is one of the few riders in the world who has the genuine pace to keep up with Pecco. The question has always been whether he can show this consistently. He's answered the first test. Let's see if he can keep that going. Because I am certainly here for a Jorge Martin title fight. Because beneath him… man.
This Is The Sport Now
I'm a huge Dragonball Z fan. Watched TeamFourStar's abridged series. It reminded me of the show's final episode. Vegeta's the main antagonist of the show. His son Trunks had just been killed by Cell, a monster he enabled to reach his perfect form because he felt his new "Super Form" was powerful enough to beat it. Vegeta, maybe for the first time ever, sincerely apologised to Gohan for letting his pride get in the way of protecting the Earth. Gohan then turns and says: "Wow. We are fucked."
When Brad Binder crashed out from third place after running wide at Turn 9 up the hill, his teammate Jack Miller was the only man preventing Ducati from clean sweeping the entire Top 8. It was Gohan's then acceptance of the situation all over again. The startling realisation of where the sport is now at.
The story is nothing new if you've been following the sport. Ducati, backed by VW, a ton of money and a huge desire to upset the apple cart of Japanese dominance that's made the MotoGP-era what it is today, have been the manufacturer that's pushed the needle in the last half-decade.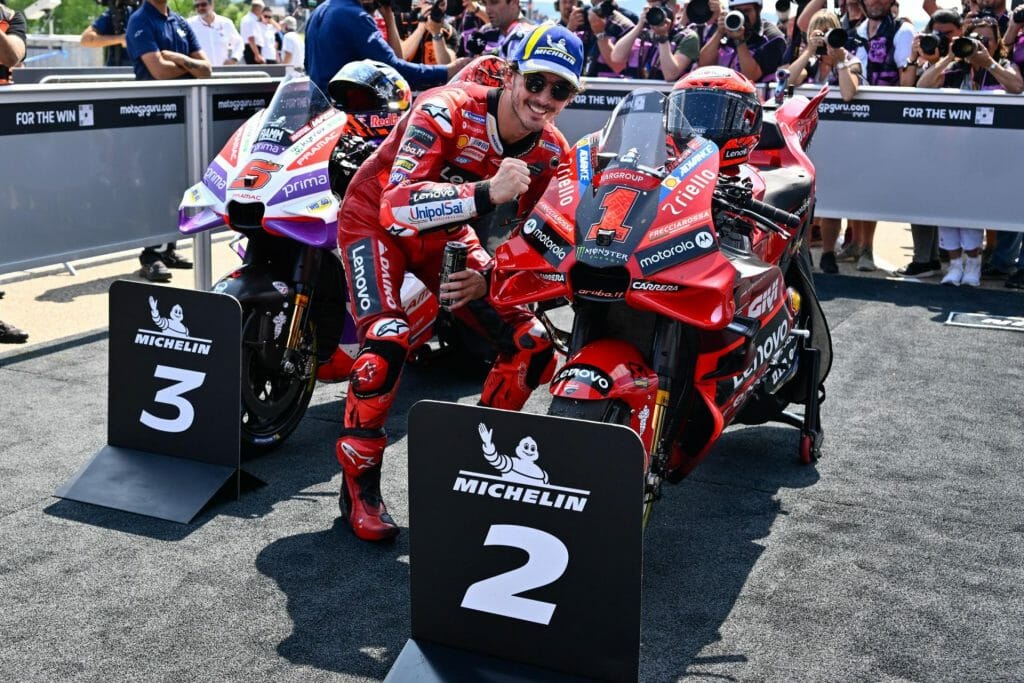 Opening the pandora's box on aerodynamics, that every factory has now had to chase. Honda admitting they're still three years behind in that aspect. The ride-height devices that have forever changed race start and corner exit speeds were from Ducati. Suzuki didn't have them on their bikes until the year before they decided to quit. Even the factories that have done their best to close the gap, are the Europeans, with KTM now the second-best bike in the field. And Aprilia, who looked promising in 2022 but have been hit hard now they're minus their concessions.
And while the sport did a brilliant job giving us the most competitive grid it's either seen via that concession system it also opened the door for Ducati to steamroll the field via their innovation. Throw in Japan's complacency at the top of the sport with failing to let do anything with their limitless resources and this is how you get 8 Ducati in the Top 9 of a MotoGP race, while the best Japanese motorcycle finished 12th and 22 seconds off the win. 
And no, there's no sign this goes away anytime soon. The elements of the sport that changed it forever, the ride height devices and push for aerodynamics and ground effect, can't be removed unless either every factory agrees to it or it gets overridden on "Safety Grounds". We've had multiple ride-height devices fail since their inception into the sport and causing hellacious crashes. Is that a strong enough argument? Not in the sport where we've added 50% more racing action to its biggest-ever calendar.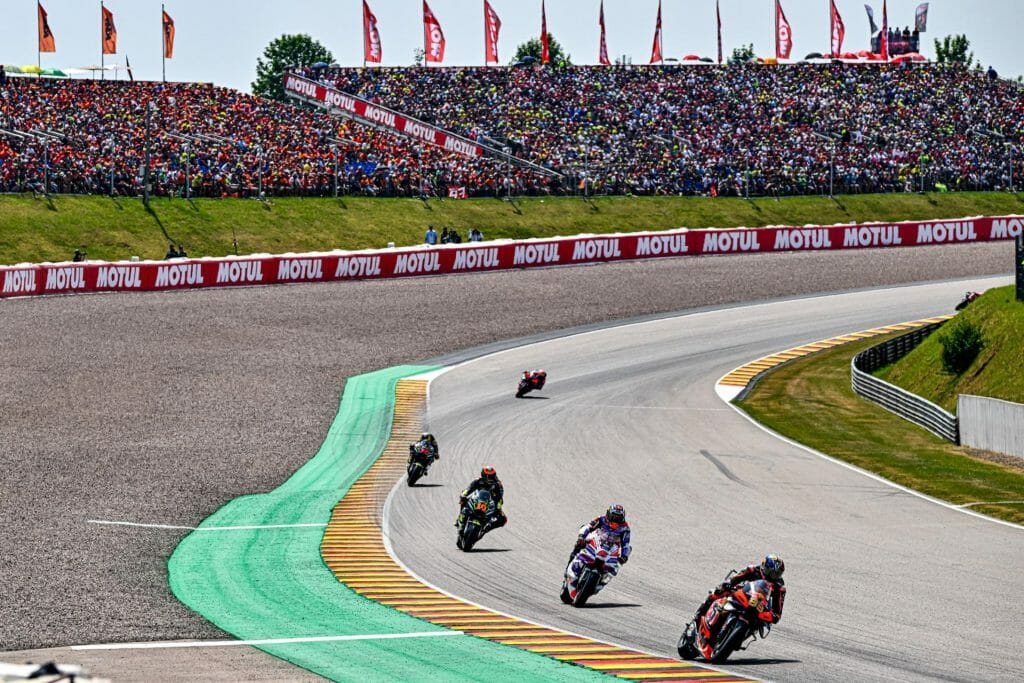 This is where the sport is now. A constant tug of war between wanting to move away from the Honda/Yamaha dominance of the 2010s but yet has now created an even bigger monster. A one-bike championship. And how the sport deals with this could define the next few years of MotoGP. For a sport that's had no problem trying to take notes from F1's copybook, it's ripped out the one page that most can't stand from it. 
And don't get me started on-
The End
And I need to make the above section clearer here for a second. None of this is Ducati's fault. It's an engineering championship, and they're the best in the world at it and have been for some time. The onus is on people like Honda to close that gap. And nothing has highlighted this more than this weekend in Germany. Marc Marquez won entered this weekend having won in Germany 11 times in his career. He even brought back his 2021 special gear from his last win there. He'd leave Germany 11th in the Sprint, withdrawing from the race itself after fracturing a bone in his finger in his SIXTH crash of the weekend.
I thought things were bad here last year when Honda left with zero points at all. I thought it was bad at Mugello last week. This? This is Absolute Zero. This is almost certainly the end of the line for Marquez at Honda. The RC213-V can give him no more as the field has evolved and left him behind to the point where even the best of Marquez's incredible upside, isn't enough to paper over the cracks anymore. And Marquez is likely infuriated at having given up four years of his prime to a factory that has largely forgotten how to win. And it's now such a massive story that many F1 accounts and general Motorsport have chimed in.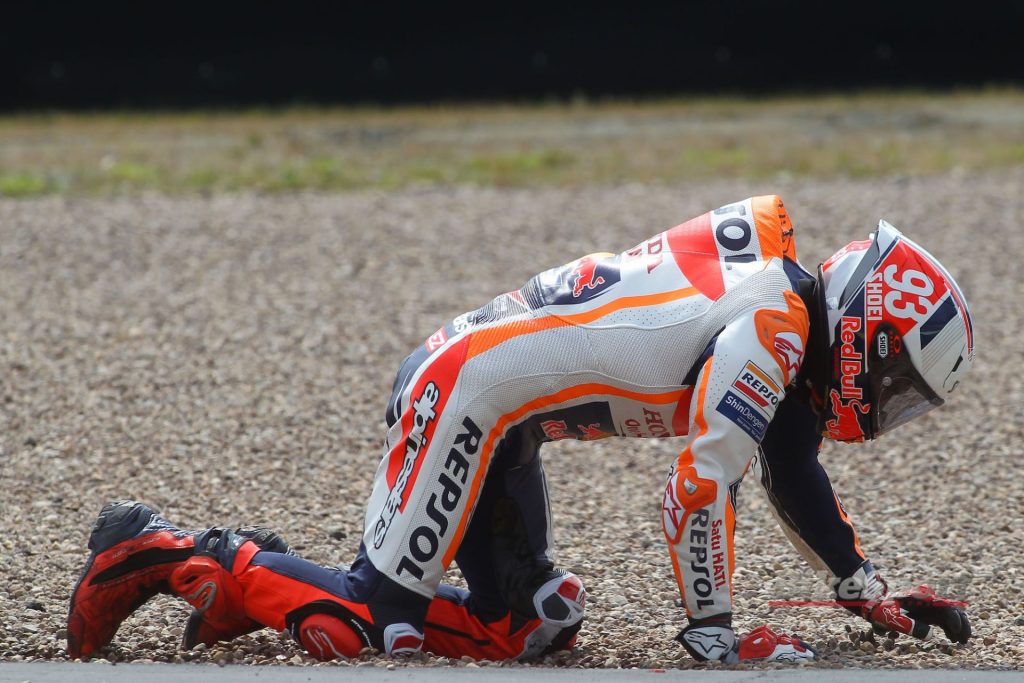 Last year, I wrote a lengthy Twitter thread trying to explain how we got to this point. Now, deeply regretting the fact I gave away some of my best shit for free, here's the full-length timeline of how we got to this point. Here we go:
2018 – Repsol Honda is a formidable MotoGP team. Marc Marquez has won three of the four MotoGP Championships since entering the top flight. Dani Pedrosa is still an exceptional teammate and a key hand in developing the bike. Alberto Puig becomes the Honda team boss. By Mugello, he announces he's moving Pedrosa on for Ducati's Jorge Lorenzo. It hits that much harder when you realise Puig was the man who scouted Pedrosa as a child and managed him through his incredible junior career, winning three World Titles. It forced Pedrosa into announcing his retirement from the sport in Germany. (It's always Germany)
Signing Jorge Lorenzo did make some sense. He was just starting to get the hang of the Ducati after moving the fuel tank around on the bike so he wouldn't get arm pump during races. But Lorenzo was a free agent again after Ducati decided to sign Danilo Petrucci instead of keeping him. Bad move on their part, but Lorenzo was still signed as an elite rider and potential title contender on the right machinery, even after leaving Yamaha.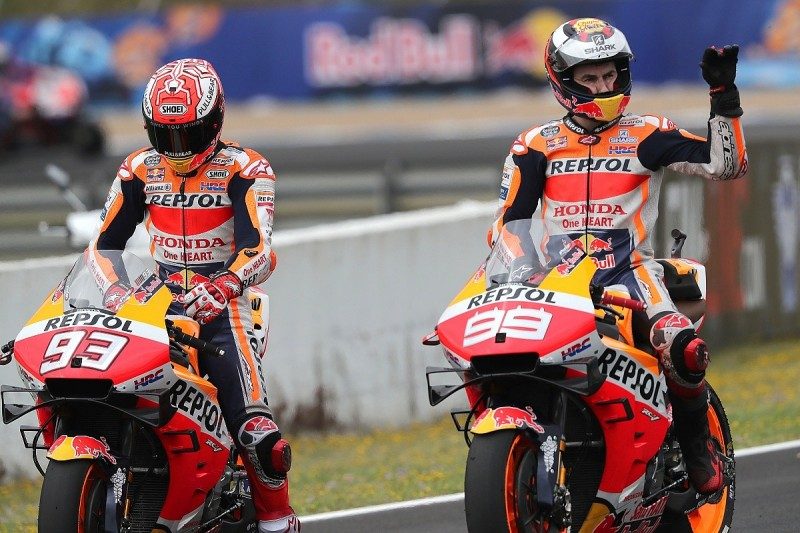 2019 – Jorge Lorenzo gets virtually no backing and was supposed to match the best MotoGP rider on the planet raw on a totally new, terribly unfriendly machine. By now, it was already pretty much nailed on reputation-wise that the Honda was about as user-friendly as a chocolate teapot. The only man who was proven to be able to ride on the Honda was Marc Marquez. 
Marquez puts down quite possibly the greatest MotoGP season ever. 10 pole positions, 12 wins, 18 Top 2 finishes and a 420-point, record-breaking season. Jorge Lorenzo… 28 points. Not 280. 28. In a season where Honda won the sports Triple Crown (Riders, Teams and Constructors titles), Lorenzo was barely a factor. Marquez pretty much did it on his own.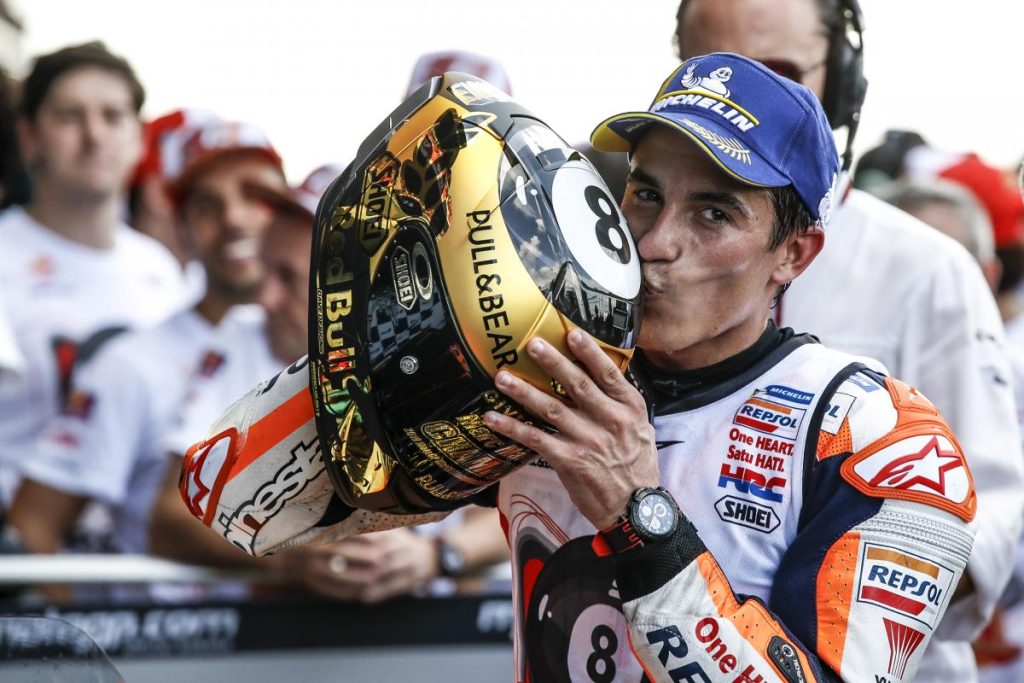 After Lorenzo had a nasty crash at Assen that broke his back and caused him to miss several rounds; the five-time World Champion shockingly retires at the end of the season, the Assen crash so severe it made him rethink whether he wanted to ride again.
It was a genuine shock. Given most MotoGP contracts are tied up early in the season, Honda had to scramble to think up a replacement. Their choice? Alex Marquez, the newly crowned Moto2 Champion, while talented, it did take him 5 seasons in the class to get to grips with it. And of course, obvious accusations of nepobabies before it was cool. But hey, Marc's just won his 8th World Title, it's all good, right?
Marc Marquez signs a four-year MEGA extension at Honda as a result of the confidence between the rider and the factory. It's value? Over £100m. It's elite-level F1 driver money. For two wheels, it's outrageous. No regrets, right?
2020 – Before the season even started, after just one test in Qatar, Repsol Honda announce that Alex Marquez will be demoted to the LCR customer team in 2021. Totally normal one. Later that season, it was announced that KTM's Pol Espargaro would join the team in 2021 as his replacement. A man who had made his reputation riding a difficult and aggressive bike. More on that later.
Oh and Jorge Lorenzo? The man who was spooked into reevaluating his life choices? He decided to come back as a test rider to bury the hatched with his old team at Yamaha, working with the end stages of Valentino Rossi's career and even agreed to a wildcard entry for the Catalunya Grand Prix. Lorenzo had essentially faked his own retirement just to get away from Honda. He'd have raced again if it wasn't for the global pandemic leading to the sport banning wildcards. That was the state of Honda beneath the surface heading into 2020.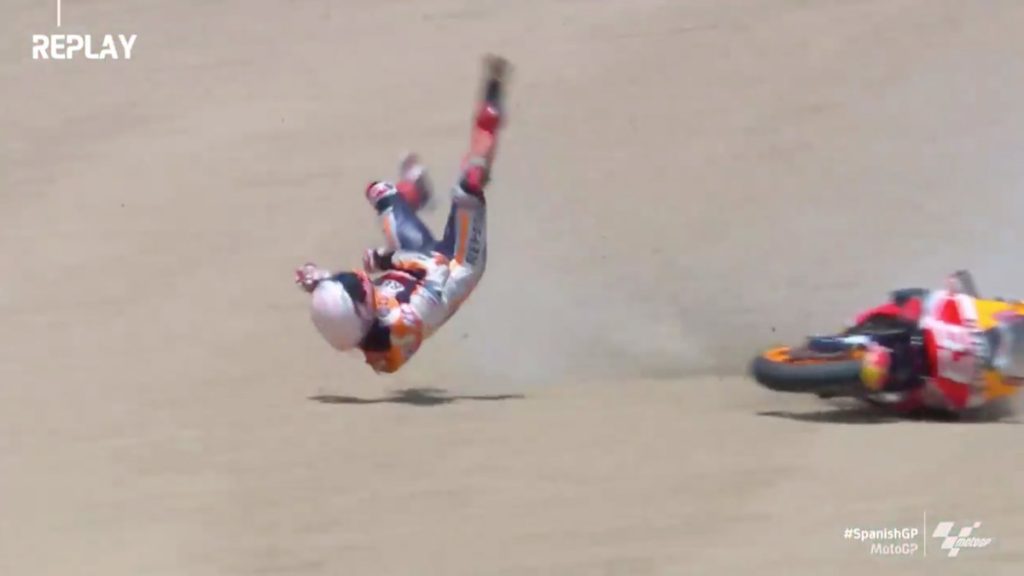 Jerez, opening round. Marc Marquez makes an early mistake but is able to continue. He mounts a furious comeback from 15th to 2nd until he puts a wheel on the Turn 4 paint, launching him into the gravel and breaking his arm. Marc gets surgery on it the same night, getting a plate put in. But he's also immediately back in the gym. He wants to rehab what he can and try to race in the repeat round just five days later. No one tries to stop him from RACING A 300-HORSEPOWER BIKE WITH ONE ARM FIVE DAYS AFTER SURGERY.
Marquez pulls out of the weekend on Saturday, the pain forcing him not to continue. Worse still, the plate breaks, meaning a second surgery. He'd later need a third surgery to heal an infected bone graft. Marc Marquez misses the entire 2020 season.
Taka Nakagami becomes the leader of Honda's development. He gets all of Marquez's resources as Honda tries to recover with a roster that lacks depth. Taka was a fringe contender, even getting his first pole position in Aragon. But he bottled it, crashing on the first lap. Honda only manages two podiums for the whole season, two narrow defeats for Alex Marquez, the man who was deemed not good enough.
2021 – Marquez still isn't fit enough to race until Portimao, but eventually comes back to an emotional reception and Top 10 finish. Pol Espargaro, was poor. One podium finish, and 12th in the Championship, another notch on Honda's bedpost of failed hires trying to create a more balanced team. 
Marquez goes on to win three races, including his 11th in Germany and back-to-back dubs in America and Misano, the latter a 1-2 finish. Just when we thought he was getting back to his best, a training crash gives Marc dipalopa and causes him to miss the rest of the season.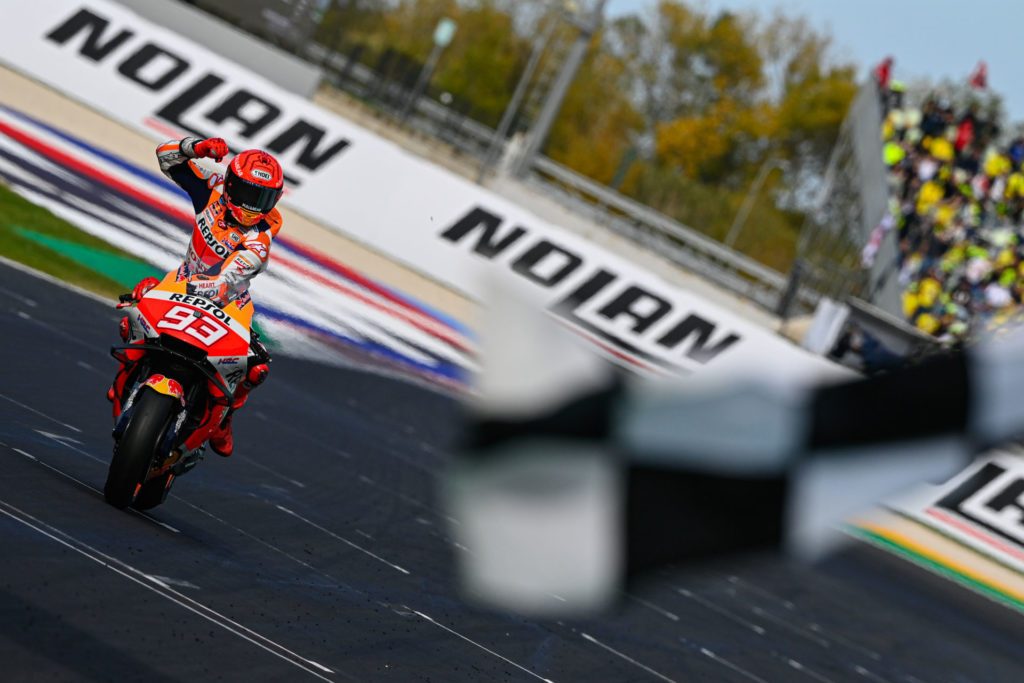 2022 – Honda announces they've entirely rebuilt their prototype, with an emphasis on making it more user-friendly. All the Honda riders love it besides a still not 100% Marquez (I'll get to why), and there's promise in Qatar to open the season as Pol Espargaro finishes 3rd in a competitive showing, with Marquez 5th. Hopium!
By Europe, it's the same old problems. No grip. Incredibly hard bike to ride. Pol Espargaro is a minor points scorer at this point while Marquez can only manage Top 6's as Yamaha and Ducati take over at the front of the sport.
It all comes to a head in Mugello. Marc reveals a bombshell. He's been riding in pain the whole time. Why? HIS ARM HAD TWISTED THIRTY-THREE DEGREES AS IT HEALED. After finishing 10th in Mugello, Marquez heads to America's world-renowned Mayo Clinic for a fourth, career-defining surgery on his arm. If this doesn't work, he's vowed to his family he's retiring. But he also gives Honda a stark warning: "I'm coming back to win."
Marquez misses six races that season. He comes back with a fully-healed arm, its just about getting the muscle memory back. He's a Top 6 rider easily when he comes back, including a pole at a wet Motegi, and a brilliant podium in Philip Island, his 100th in the top flight.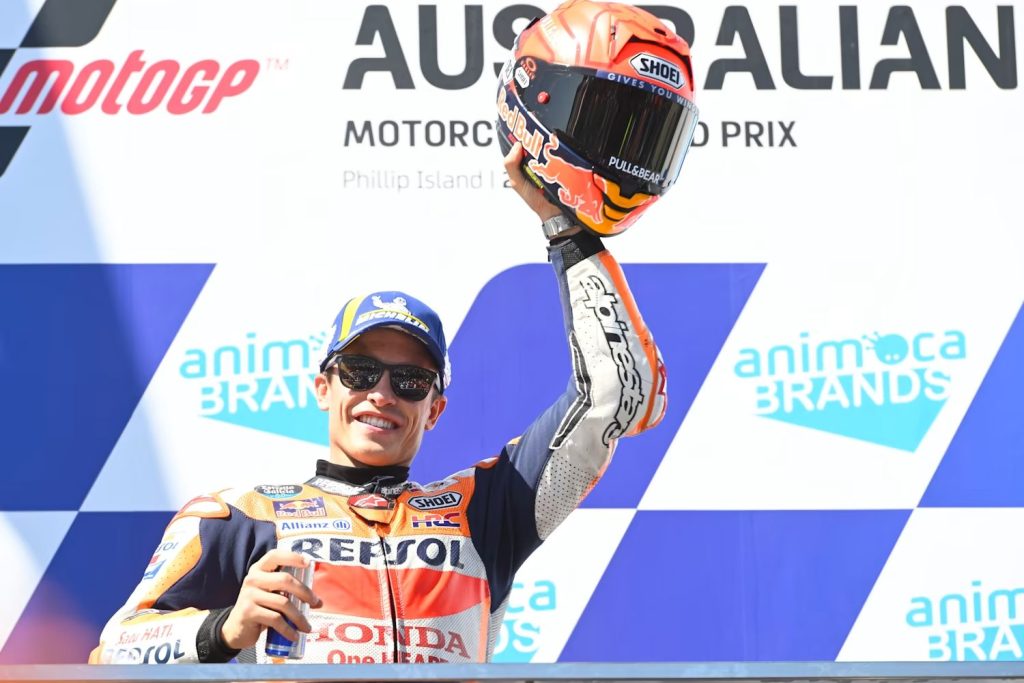 And for Honda, there was some good news. A stroke of luck. With Suzuki quitting the sport, they inherit their riders. Joan Mir to Repsol Honda, the 2020 World Champion and uber-consistent rider. And Alex Rins, perennial top contender, multiple-time race winner and who ended the season as my mate Cam says: "Hotter than Fish Grease".
After Nakagami couldn't handle being a top contender, Alex Marquez and Pol Espargaro were either inconsistent or bad, it's a blown-up roster and rider talent is no longer an excuse. You just need a bike. And given Marquez warns Honda that their first 2023 prototype after Valencia wasn't good enough to be a contender, the signs aren't positive.
2023 – This leads us to here. Marquez gets a podium in the first-ever MotoGP Sprint in Portimao. But locking his front brake in the race led to a hellacious accident with Miguel Oliveira and Jorge Martin, with Marquez breaking his thumb and missing three races, including two of his best tracks, Argentina and COTA. 
He returns at Le Mans on a brand new outsourced Kalex chassis, Honda resorting to desperate measures to try and salvage their blatantly shite concept. Marquez nearly wrecks the chassis in practice but recovers to be running 3rd in a battle with Jorge Martin until he crashes with just a lap and a half to go. He crashes again at Mugello fighting Luca Marini for a podium. And then six more times in Germany, including three in qualifying. Marquez admits he gives up after Qualifying, finishing 11th in the Sprint, and then after his 6th crash in warmups, withdraws with a finger fracture.
The others? Joan Mir has crashed 12 times this season already. He misses Argentina's GP after being collected in the Sprint. He crashes in the next three races straight while riding at the back end of the points. He crashes in Mugello practice and has missed the last two weekends after mangling his hand.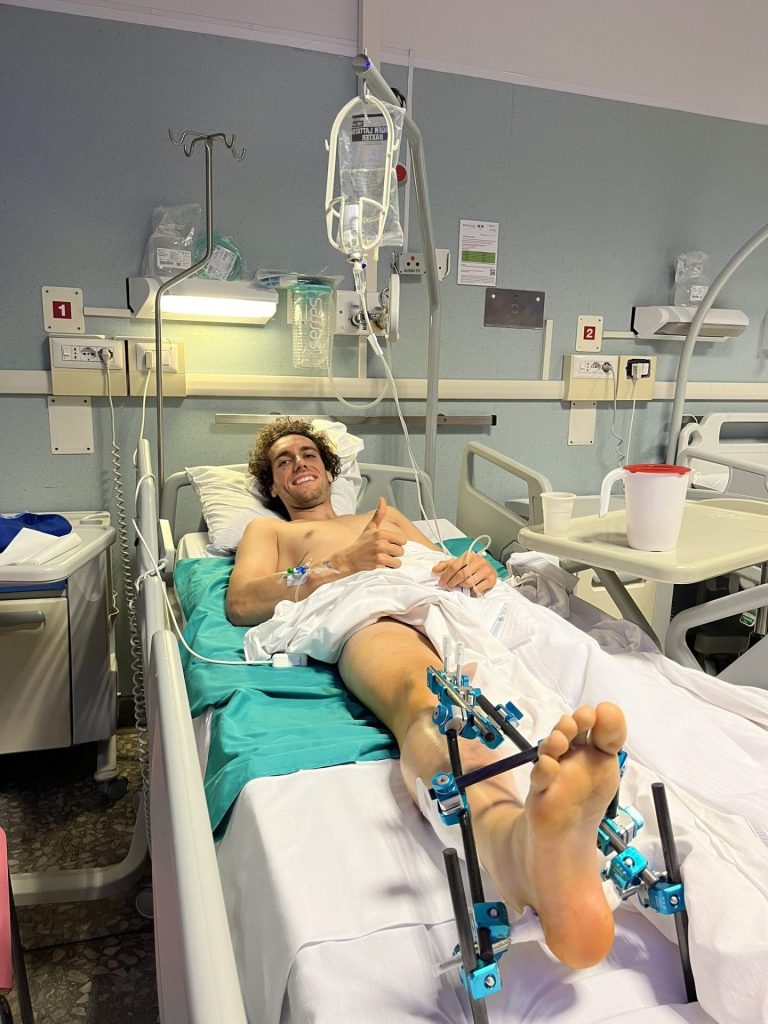 Alex Rins got a win for Honda at the Circuit of the Americas after Bagnaia crashed out from the lead. He's not scored a point since and crashed in Mugello's Sprint, shattering his leg and needing multiple surgeries to fix. He may not race again this season.
And Taka Nakagami has two ninth places to his name and not much else. The Japanese veteran afraid to push his Honda in fear of what's happened to his colleagues.
Honda's decline in MotoGP is the most startling in maybe all of Motorsport. A team that went from a Triple Crown and six World Championships in seven years to a factory in tatters. The fact that there's talk Marquez might buy himself out of the final year of his contract with a massive eight-figure price tag is a damning indictment of their affairs. The greatest rider they've ever had, more successful than Rossi and Doohan, has reached the end of the road, with four years of the Ant's prime wasted and maybe as much as £100m down the drain.
Yamaha has gone a similar way with Fabio Quartararo suffering the biggest collapse in title history in 2022, without some of the headline grabs. Yamaha's in-line four is a relic of the previous generation. Their bikes are still sturdy but often slow. Fabio today finished a humiliating 14th, two years on from the seeds of Maverick Vinales' explosion that led to his exit. But Fabio doesn't have Marc's legacy. Marc is the only transcendent star left in the sport that's probably even led most of you to read this long-form piece about what got us here. Japanese Bike Racing is at its lowest point since the 2008 Credit Crunch and maybe even worse than that.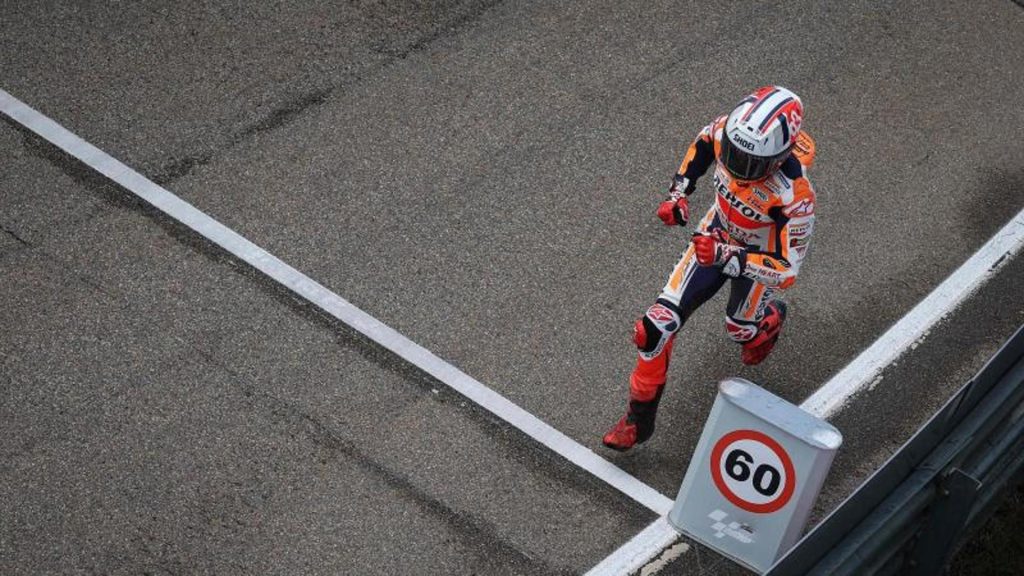 But for Honda's greatest servant, it feels now more than ever, this is it. There's no coming back from this. Honda needs to burn it down and pour every resource into starting over. And Marc Marquez needs to maximise everything left in his career. He's 30, he's dinged up, and he lost four years of his "Championship window" that may be starting to close as the sport passes him by.
It's Ducati's house now. And with KTM still inconsistent, Aprilia feeling the bite of the big boy leagues, and Yamaha in just as big a hole, he has to do whatever it takes to free himself of this. This is the end.
"Wow. We are fucked."
The Lightning Round
…And Yamaha's still 13 points behind in the manufacturers' title.
Saying there are eight Ducati's that can win is a bit of a stretch right? I know we're looking to try and look for a silver lining in the clouds here, but how many are definitive contenders? Martin's win today was his first in two years. Bez has a couple but heavy rain is an outlier in MotoGP and he struggles in packs. Zarco has never won.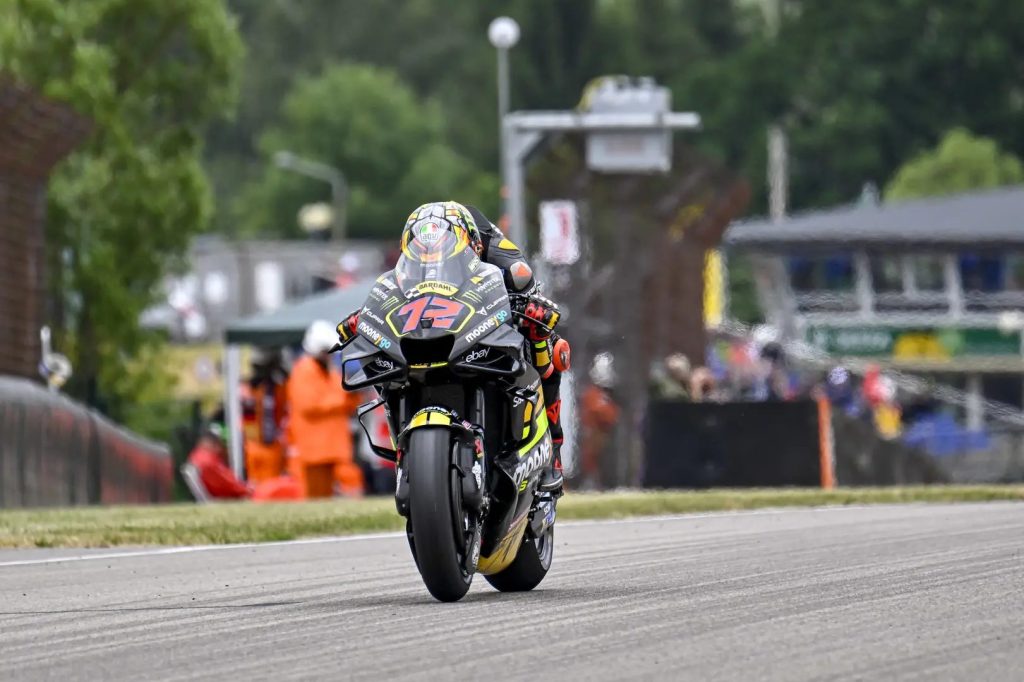 Bastianini is definitely someone who can but is recovering from a horrible injury and won't be 100% until after the Summer Break at best. Marini has improved but is a fringe podium sitter at best. Alex Marquez is similar, and Diggia's the odd man out. Bagnaia has by far the least amount of question marks of anyone on a Ducati. Martin could be your guy, but Bez is now almost a weekend back again. The proof of concept just isn't there. There are eight Ducatis. Only one man can win every weekend. The odds will always go against you. 
Pedro Acosta has outgrown Moto2. KTM, promote him or lose him. It's as simple as that. Do what needs to be done, because you're letting the brightest talent in bikes outside of the top flight potentially walk away. (And this is a damn shame for Augusto Fernandes, who has done a fine job in the top flight.)
"Shut the fuck up and ride," says Jack Miller on Marquez, the Aussie being the shy and retiring type who's never complained about any bike he's ridden, ever.
Dre's Race Rating: 8/10 (Excellent) – More than one thing can be true at once. We can say this was a genuinely excellent fight for the win. Jorge Martin proved in his toughest test yet as a potential contender that he can ride with and beat Bagnaia. That could be significant as the year goes on. It was the same in Moto3 when Deniz Oncu finally won a race by beating Ayumu Sasaki at the final corner. Inn a vacumn, it was a superb race. In the grand scheme of things, a dark, red coloured cloud may be looming. See you in Assen next week.