"Corn star." (Shoutout to Carla for this one, much love to you my Aussie goofball)
Hey folks, sorry this is a little later than billed, it's been a really busy week for yours truly at WTF1 when instead of writing and podcast editing I had to leave the house like the 6'2" goblin I am and head to WTF1's Talent expansion launch party then head to some karting with Mahindra. It's the nearest I'll get to actually being an influencer for something!
But don't worry, I'm back to my bread and butter here and we have to talk a little bit about Iowa and its double header of short track ovals last weekend. Penske absolutely dominated the weekend and Josef Newgarden is doing what he's done for the last four years now, and that's trying to mount a late title charge. Has he left it too late again? Let's get into it.
Penske Power
There was a sign as to where the weekend was going early on. Qualifying. Will Power qualified nearly two miles per hour faster than the field on his first lap and a good mile per hour faster on his second. And Will was clearly pissed off when he got back, unhappy with his laps despite destroying the field. Poles 69 and 70, just like that, and the first Penske pole positions of 2023. That set the tone, really.
Both races in Iowa this past weekend were 250 laps. Do you wanna know how many laps out of the 500 on the weekend were led by someone who WASN'T in a Penske?!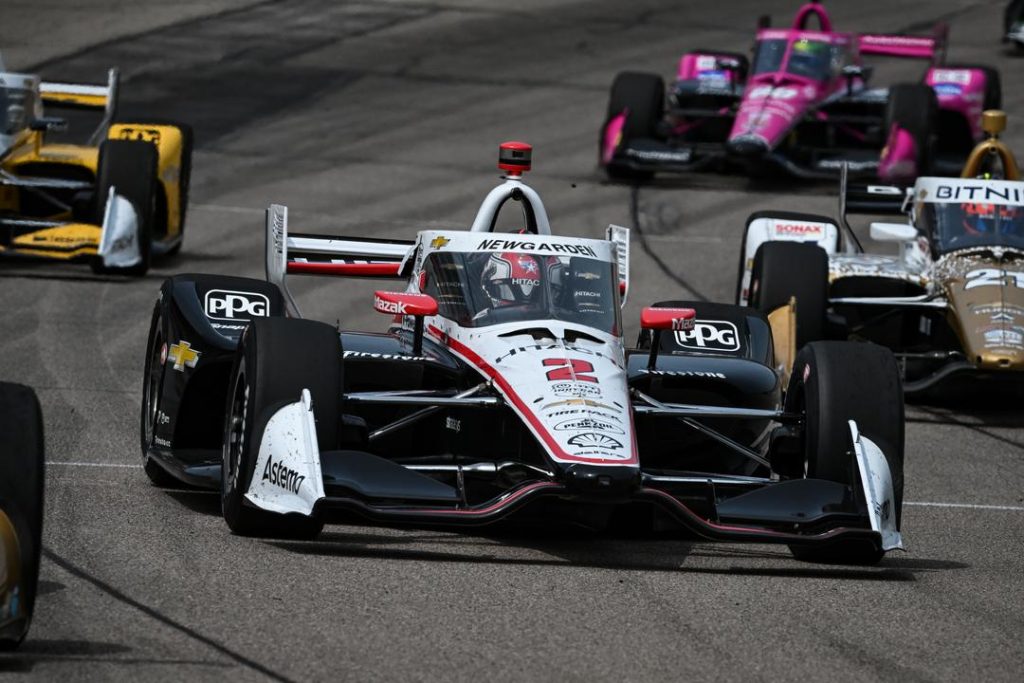 Eight. EIGHT. (Alex Palou and Takuma Sato led one each in Race 1, Rosenqvist led two, Scott Dixon led one and Marcus Ericsson three in Race 2)
Out of those 492 led laps by a Penske, Josef Newgarden had 341. He was absolutely untouchable all weekend long. In Race 1 he had to work to beat Will Power, who was immensely fast in the first half, but once Josef got to the front, he was unstoppable. Every time someone got close, they couldn't seal the deal on a pass, Josef found a fast way to get around lapped traffic better than anyone else, and next thing you know, the gap's three seconds again. And according to the man himself, this was with the most aggressive driving to defend staying on the lead lap that he'd ever seen in IndyCar. Oof.
Ah, Here It Goes Again
My M101 colleague and biggest Josef Newgarden fan I know, RJ O'Connell made a point that Josef has a knack for late-season comebacks. In 2020, he got within 16 points of eventual Champion Scott Dixon when he was 116 back entering Gateway, with the Tennessee man winning three out of the last six as Dixon limped home.
In 2021, he won two of the last seven and finished 2nd at Long Beach when he was chasing down Alex Palou, running out of time as the wholesome Spaniard held his nerve down the stretch. Two years later, we might have a hybrid of two of Newgarden's late-season scenarios.
And nothing summed up the situation better than when Josef got out of the car winning Race 2 and seeing the horror of Alex Palou shaking his hand having just finished 3rd. Like Dwight in The Office US when Angela rocks up behind him in the nightclub. For Palou, he said he'd have been happy with two Top 10's. An 8th and a 3rd is a damn good return for his weakest weekend of the year, one where he was lapped in both races at certain points.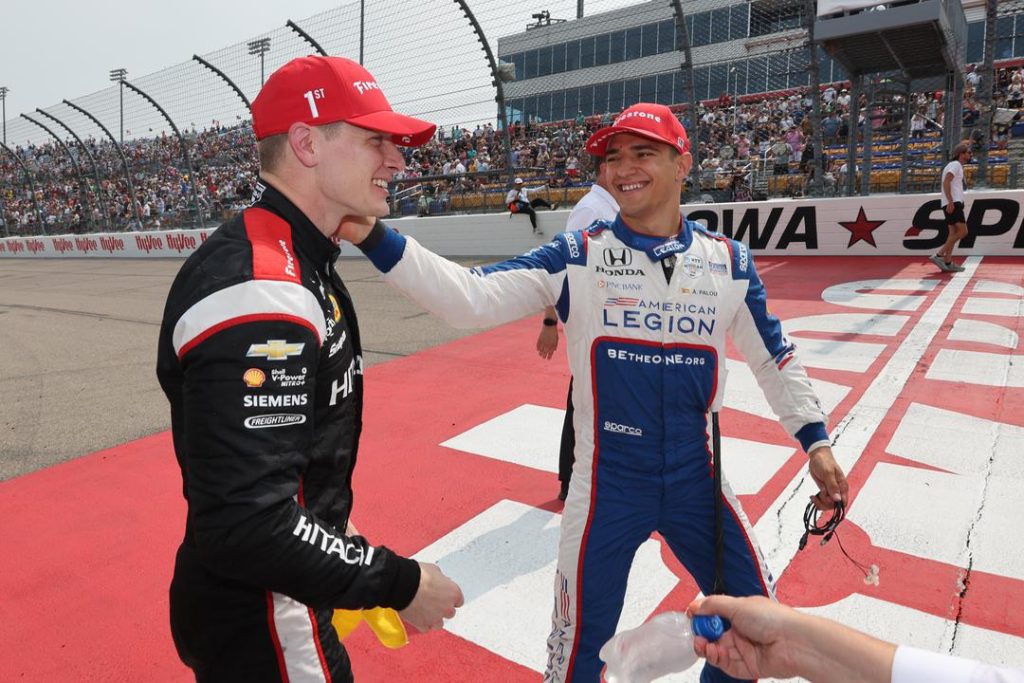 One of the reasons Palou's advantage had skyrocketed into the 100+ range was that every major contender had tripped over each other. Marcus Ericsson executed Rule 34 on Felix Rosenqvist at Mid-Ohio. Pato O'Ward's been clumsy at key moments multiple times and McLaren's been good but not great. Scott Dixon's only left the Top 6 twice all season but has no wins to Palou's four. And whisper it quietly, but my original pick for the title in Scott McLaughlin might have actually regressed a little bit compared to 2022.
The second runner has been established. Newgarden is just the third man in history to win five straight Ovals dating back to last season and his 100% record in 2023 has been the backbone for his push. He's now 40 points clear of Dixon in 3rd. The gap against Palou is now down to 80 points with five races left and Josef's running out of time, especially with only one oval left in Gateway between now and the end of the season.
To me, Josef needs to win two to three of the last five (and especially Gateway) if he's to have a chance. And even then, Alex Palou needs a bad day. And he hasn't had one all season. Nashville next week might be the last chance of that happening because Palou's qualifying has been so good, he avoids most of the drama you get early in IndyCar's condensed midpack.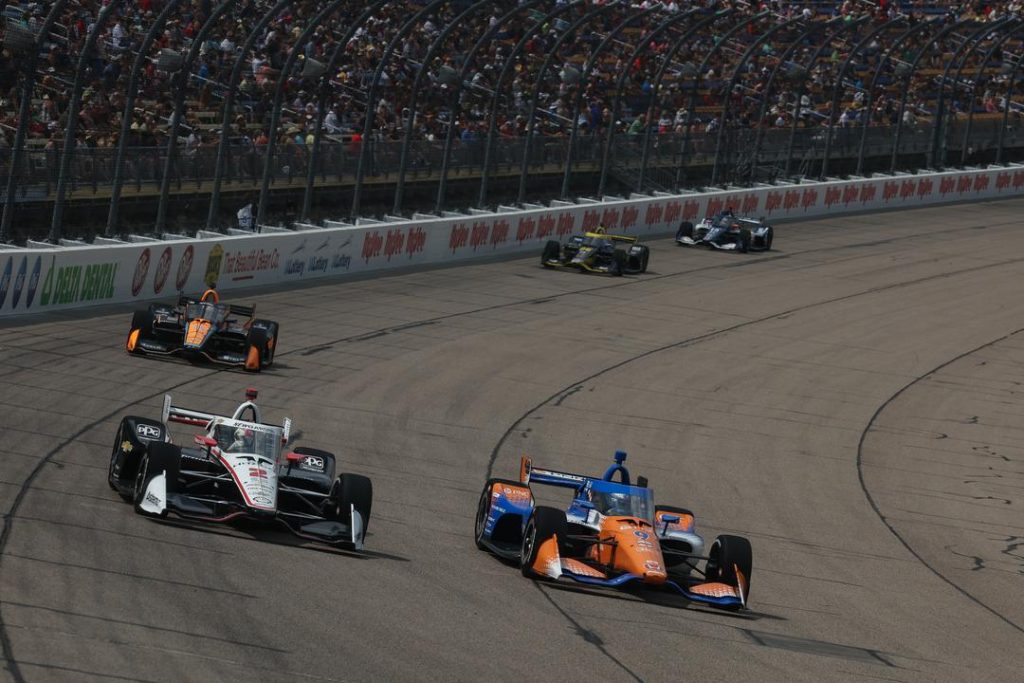 And I've made this point all year; that for all the Penske dominance on ovals this season, their road and street course pace has suffered. And want to see something that may surprise you? On Road and Street courses, these are Penske's average finishes in those two disciplines this season:
Josef Newgarden – 9.6, Scott McLaughlin – 8.3, Will Power – 7.5 (Alex Palou's is 3!!!)
Josef's been the weakest of the three Penskes, and barely Top 10 standard for the bulk of the season. And four of the last five races this season are in this area. He has to bring his best or else we're done by next week.
It's going to be another painful kick to the nuts of Newgarden if he goes on another late-season rampage, only to end up as Astor Cup runner-up for the FOURTH year in a row.
Newgarden's been the best driver in IndyCar since reintegration. He's going to have to drive like it if he wants the double.
The Lightning Round
Dre's rewatch Iowa drinking game – Every time Leigh Diffey mentions a performing musician over the weekend, take a shot.
I'm still trying to figure out where the hell Felix Rosenqvist got that 4th in Race 2 from. Like, how?! And please God, get a run together, I want the man to stay in IndyCar!
Over 1,000,000 viewers for both races and a 30% increase in ratings over last year. The case is clear. More ovals, please. Glad the rumours are strong that the Milwaukee Mile could be coming back for August 2024.
…Nothing is more IndyCar by the way, than moving Nashville to the season finale slot. It's like Rainbow Road at the end of the Special Cup in Mario Kart. Just embrace chaos.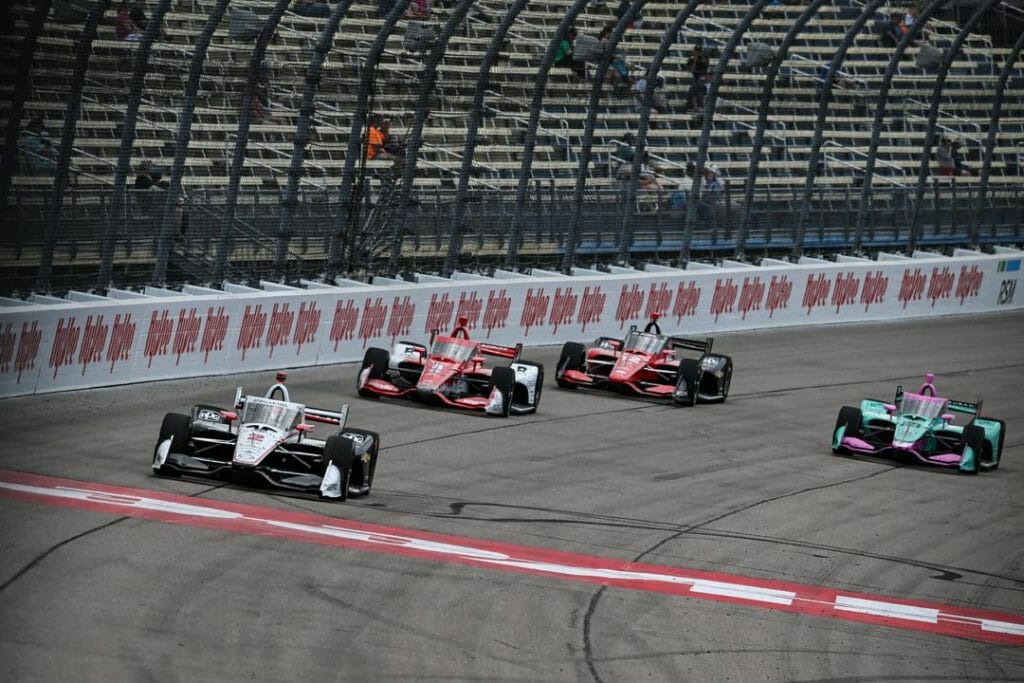 Speaking of embracing chaos, it's never a good look to say: "We're abandoning yellow flag procedures". Race 2's final restart was nowhere near as sketchy as Indianapolis earlier in the year, and I get closing the pits in the final 10 to ensure a green flag finish (Tell your audience if you're going to do that) but Race Control's general inconsistencies over yellows and when cars brushed the wall was not ideal. And what the heck took them so long over Sting Ray Robb's loose wheel in Race 2? Conor Daly has having war flashbacks.
And speaking of Conor Daly, is it just me or am I getting really bad Kurt Busch vibes over Simon Pagenaud's return from his Mid-Ohio crash?
Fun Fact: Iowa's tyres were shredded so badly over time that in a 50-lap race, an Indy NXT car likely wins because the dropoff in pace for the IndyCar was as much as 20mph on average between the start of a stint and the end. Might be time for a resurfacing. (Credit Chris DeHarde for that one)
Benjamin Pedersen, the fastest rookie in Indy 500 history, was parked in Race 2 for being 57 laps down. Even Santino Ferucci, a genuinely good oval racer, was 14 laps down across both races. What the fuck is going on at AJ Foyt?!
Dre's Race Rating: 6/10 (Both Races) – Iowa was decent. The overwhelming vibes of Josef Newgarden being set to dominate, and then doing so was ultimately hard to ignore. The action itself was good, but nowhere near Texas, or with the stakes of the Indy 500's final 50 laps. And funnily enough, the rush to shut off the pits at the end probably prevented a more exciting finish because no one could gamble on new tyres right at the end when everyone was struggling to get home. Ah well. Can't all be winners. See you in Nashville.