Welcome back to the Indy 500 Hangover round. It's traditional after all that straight after the Indy 500 is done, we head to Detroit, but not Belle Isle this time. Detroit had a new Street Circuit built around Jefferson Avenue and it led to… yet more IndyCar Street Circuit chaos that has me asking questions about the series conduct. Let's get into it.
Yet Another Alex Palou Section
Forgive me my friends, but I have to gush about Alex Palou again. I don't really want to, but he's just. That. Freaking. Good. IndyCar is a series that is about driver skills more than F1 is. It's close by design. You're not supposed to dominate this series. And yet, Alex Palou is nearly halfway through 2023 and he's 51 points clear of teammate Marcus Ericsson. 
This is a win where the scoreboard won't tell the full story. He was 9 seconds down the road by Lap 10. His first stint pulling away from Romain Grosjean, one of the best street track drivers in IndyCar. He survived a flickering gearbox that had to be reset out of emergency mode on a green flag restart. He was faster on the Primary tyres than the rest of the field was on the stickier Alternate.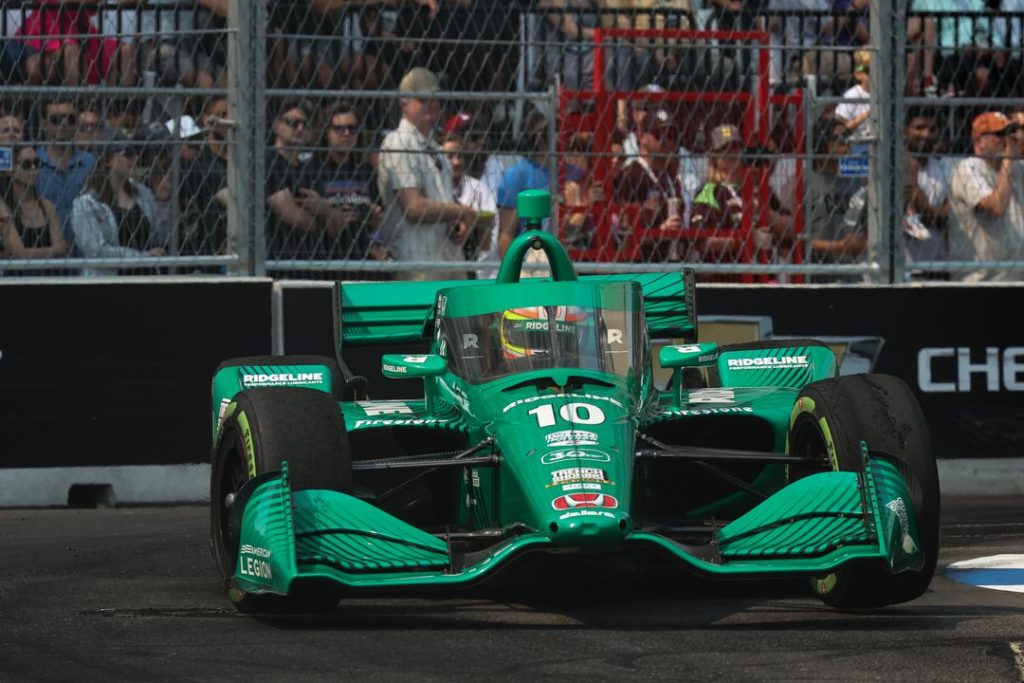 And then he bullied Will Power (The man who's won more street track races than almost anyone) into a mistake at the Turn 3 hairpin and never looked back. Street Circuit races are as chaotic as IndyCar gets, and Palou never, ever looked like he was going to lose.
It's amazing the Spaniard is so quiet and unassuming off the track because behind the wheel he is a monster. This is as hot a streak as I've ever seen in IndyCar in some time and once again I cannot stress this enough… Chip Ganassi needs to do everything in his power to tie him down. Palou can't be adamant he has a realistic chance of driving a McLaren F1 car. And honestly, and I'll get to this, we may need a referendum on McLaren as a whole real soon. 
Alex Palou is him. He's Dixon 2.0. Do what needs to be done. He's the best driver in the world not named Max at the moment.
The Pato O'Ward Referendum
Pato, we need to talk. His incredible 2023 season has come off the rails quickly. When it comes to his silly driving, once is an outlier. Twice might be a coincidence. Three times? It's a pattern.
I spoke at length about the Long Beach clash he had with Scott Dixon where he put the Kiwi in the wall by gliding over the kerb and just hoping Dixon's car disappears. He got away with that one but it was concerning to me that he took zero responsibility for a move where he was far more accountable than Dixon was. 
Then the Indy 500 happened. When he sent it on Marcus Ericsson at Turn 3, he had seven laps to go and was on far fresher tyres than anyone around him given he was off-sequence. It was a move he just didn't need to make, and it cost him a golden chance to win the 500 and take control of the Astor Cup race.
He said afterwards he needed to be "more aggressive". Seven days later, we're doing this again.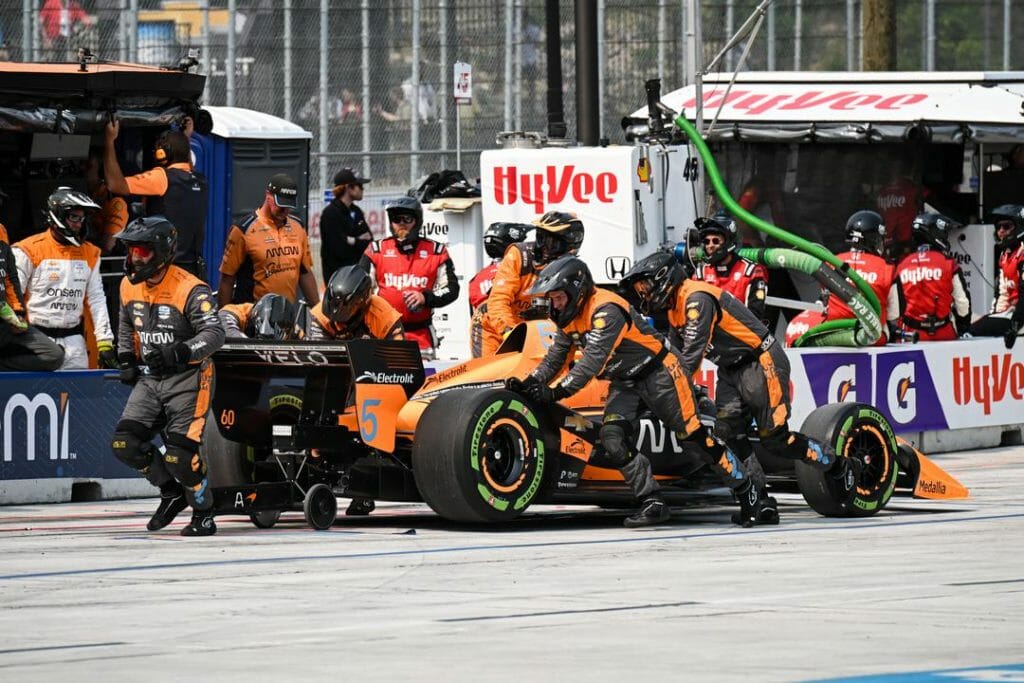 Now to be fair to the Mexican, he was partially unlucky. Down the order after McLaren botched his pitstop on a loose left tyre. He was on the brink of going a lap down with Alex Palou bearing down on him. He's trying to fight Santino Ferrucci for position. He misses his breaking point at the final corner, and goes into the wall, ending his race. He's now 82 points off Palou, and it's a long way back from here.
Pato isn't the young underdog dragging a McLaren/Schmidt Peterson middling team anymore. This is the most popular driver in the series, spearheading a massively expanded commitment to the series trying to win on all fronts. McLaren should already be seething over the 500, where they missed the target despite having four incredible bullets in their chamber. Now your star driver and the focal point have fumbled three results that have pushed him to the fringes of title contention. And in Year 4 of his IndyCar career, that's not good enough for a bonafide contender. 
Pato is an incredible fucking talent. He knows that. I understand you do need some aggression in you to win in such a competitive series. But his decision-making needs work. Besides that, he's right there with Newgarden, Dixon, Power and Palou as the best all-rounders in the series. But as I said last week; right now, he's high off his own supply.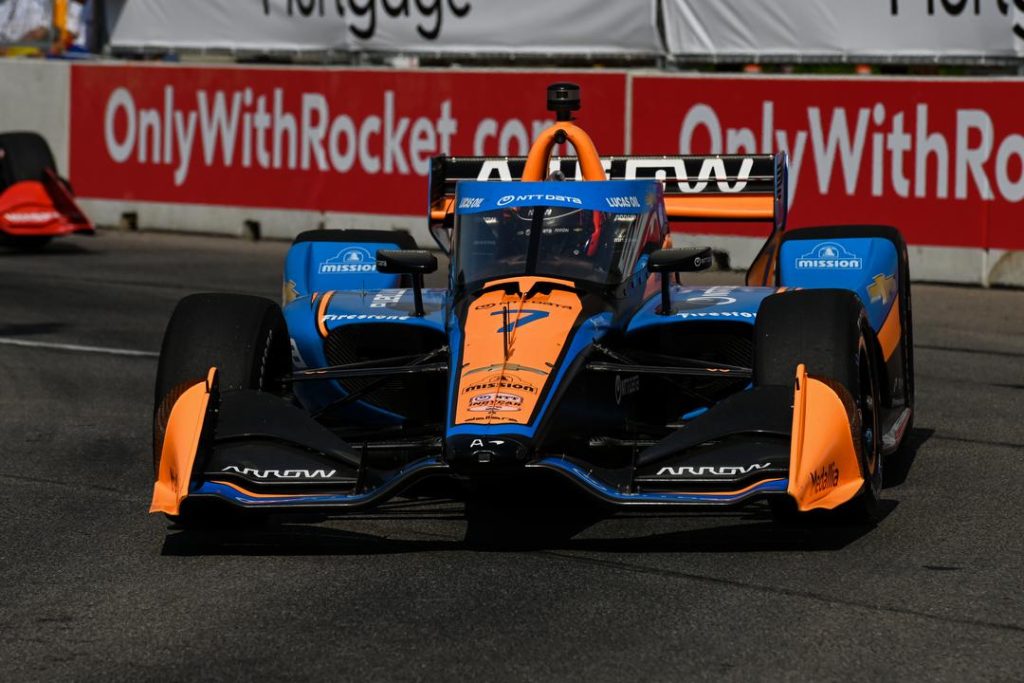 McLaren has borderline "Death Star" levels of resources now. They've got Pato, Alex Rossi, whose title campaign of his own has been comprised with a car failure at Long Beach, and Felix Rosenqvist, whose job security is anything on a sliding scale of "Definitely fired for Palou" to "Maybe we'll expand to 4 cars just to keep you". It's even more confusing when everyone's favourite series instigator on Twitter suggested Marcus Ericsson is also on Zak Brown's radar. (Which might not mean much? I mean, who isn't these days?)
Get your shit together boys. This wasn't the plan. Maybe do more than just "Discuss it internally".
A Warning Shot
Yes, we're having this conversation again. I'm not going to lie to you folks, I'm not a big fan of this Detroit layout. One car wide in areas, a lot of 90-degree corners, and only one genuine overtaking spot without taking a hellacious risk, and I think these sorts of tracks bring out the worst of the series' driving standards. Less elite Motorsport, and more stuff I'd expect to see on the junior level. 
Callum Illot mounted Kyle Kirkwood 15 seconds in. Dixon poked Power so hard at the final hairpin he had two wheels in the air. Power immediately retaliated with the sort of divebomb that collected Colton Herta in St. Pete, but only Dixon narrowly avoided disaster. Felix Rosenqvist bullishly ran his own teammate Alex Rossi into the outside wall for the final podium spot. And it was that point when watching when my co-host Cam Buckley said; "Dre, are you cool with Felix's move at face value or is it because we've become so conditioned to their aggressiveness?". He made a very, very good point.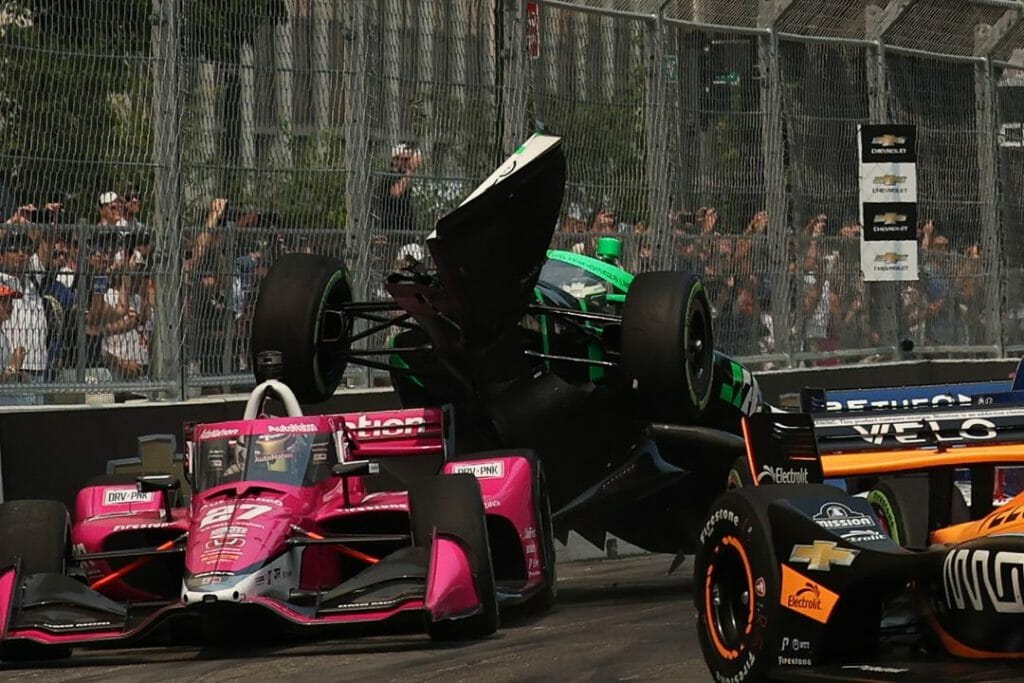 I've brought it up on here many times in the last 18 months or so that IndyCar is wild when it comes to how their drivers' bump and bang. Nashville last year and how valid criticism was treated was eyebrow-raising. St Pete was a fun race that was marred by horrible driving standards and multiple incidents where drivers were put into walls or spun out. And Detroit had Will Power show he was prepared to retaliate in wheel-to-wheel combat with another driver, in a similar fashion to what he did with Devlin DeFrancesco at Road America last year. 
Detroit didn't quite reach Nasvhille or St. Pete levels of shitshow but I still think the series needs to reign some of this in because this isn't the positive advert for the series that many think it is.
The Lightning Round
Wait, how has Simon Pagenaud ended up 25th in the Championship?! Can we talk about that?!
Congrats to Will Power for being the first person to ever talk about F1 and compare it to your own series. Never happens. (Seriously, why do they keep doing this? Rest. Let F1 cook, you have two fascinating rolling narratives on Alex Palou vs Ganassi and Pato O'Ward's aggressive tendencies as he realises his stardom. Punching up at F1 isn't going to make anyone like you more who doesn't already love IndyCar already.)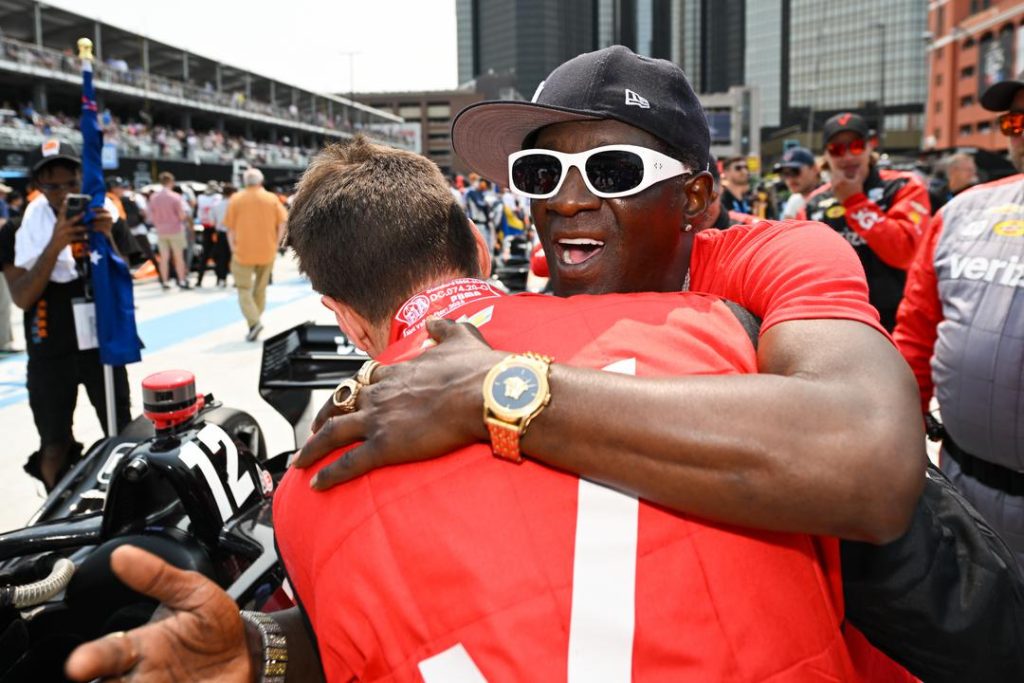 There's a growing case that Kyle Kirkwood needs to be the leader of Andretti Autosport. I feel bad for Andretti, they have genuinely been competitive this season, just horribly unlucky at times. And Kirkwood coming back from a rear wing being mounted to finish 6th was a superb achievement. He had a genuine shot at the 500 until the Rosenqvist crash. He is not 131 points worse than Palou this season and yet here we are. Even when Andretti is great, they struggle. 
*General sentiment about Rahal Letterman Lanigan Racing stinking here*
Wait, so a certain someone, after going viral for calling out Screaming Meals' sexist jabs as a guest is now dating Marcus Armstrong?! Good for them, I'm glad we the Podcast community can bring people toge- *shot*
And finally, I'm just glad Flavor Flav had a good time.
Dre's Race Rating: 8/10 (Excellent) – IndyCar, you just, JUST about got this one right. This was an example of "Good Chaos", where the drama provided didn't have a massive effect on the racing, and just about stayed in the realm of exciting action. (More than I thought the layout deserved). I still think the series promotes a lot of bad habits via races like this, but there was still worse examples out there. Palou having to really earn that win was fun, and Power, Dixon, Rosenqvist and Rossi's scrap at the end was wild. See you at Road America. (YEEEEEEEEEES)