"The beatings will continue until morale improves."
The bikes, be biking again. It's kinda strange how MotoGP's Portguese Grand Prix, which was probably a 6/10 race without a lot of action to talk about besides Johann Zarco (Which we'll get to), everything else is what's going to end up being talked about here. Because this is MotoGP, and nothing is ever straight-forward. Let's get into it.
Sprinting Into Division
Look… the sprint was great, okay? And that's probably going to be part of the problem here. The first Sprint race in MotoGP went down pretty much exactly how I thought it would go. In a vacuum, it was incredibly entertaining, a more aggressive version of a standard GP. Certain riders like Jack Miller I knew would try to mitigate some of the weaknesses of their package by going super-aggressive on tyre choice (Soft/Soft), and we got riders taking far more gambles than they would in the actual GP. I suspect the Ezpeleta family will be quite happy with how that turned out. Pretty much non-stop action through the 12 laps, a highlight-reel double overtake for Marc Marquez that got him on the podium, and Martin and Bagnaia fighting for the "Sprint Win".
But it came at an obvious cost. Enea Bastianini, title contender and my pick for 2023 runner-up if you listened to our Season Preview, broke his scapula (That's shoulder blade, thanks Cam), after being collected by Luca Marini. Inevitably, it led to battle lines being drawn over just how useful this format is.
I got into it with many friends yesterday and my verdict remains pretty much the same… "How much-added risk is deemed acceptable?" All things factored like the shortened warm-up session and FP4 being scrapped, we're adding about 35% more running to the calendar, and under even more intense circumstances than a normal GP. At what point does this move beyond the general luck of a GP weekend, and drift into that added element of danger that comes with the extra race?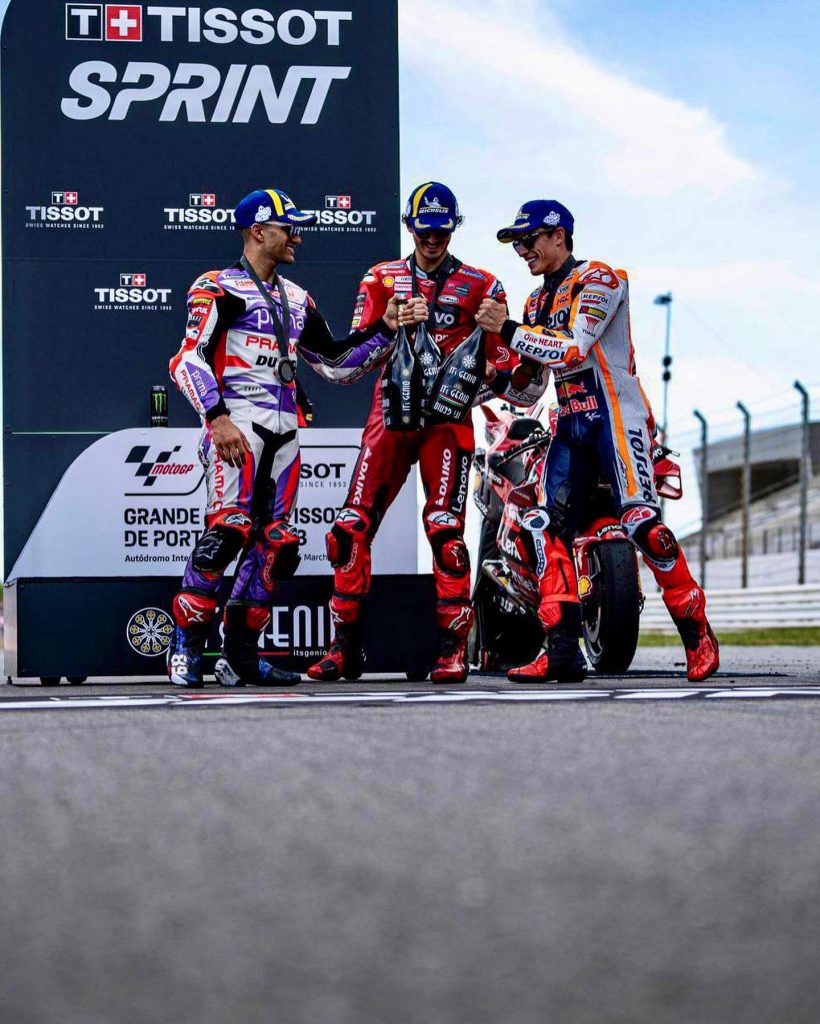 I can't give you a straight answer to that. Another day Enea gets up and we're probably not having this conversation. But he didn't, and a potential title contender could already be on the shelf for Argentina and probably Austin as well. We had a couple of other nasty wrecks with Marco Bezzecchi crashing and Joan Mir taking a huge lunge on Fabio that was never going to land. That's a move that he probably wouldn't have attempted in the GP itself.
This was an intense weekend off the track too. It was already tough when Pol Espargaro went into an un-air-fenced wall on Friday practice and his bike nearly followed him there, a crash eerily reminiscent of Luis Salom's tragic passing in Catalunya in 2016. An incident that could have been avoided after riders had spent the last four years prior rightfully complaining about Portimao's gravel – Fabio Di Giannantonio suffered a concussion as a result of it at the pre-season test less than a fortnight ago.
With Pol still in the hospital wing with a lung contusion as we speak, Marc Marquez, now one of the sport's veterans went from originally endorsing the format change to actively saying: "We might need a rider's union" due to the people this change most directly affects, feeling powerless. Let's not forget, talk of that was laughed out of the room by Dorna when the Sprints were announced in Austria. I didn't take that notion seriously myself because of the dissent over safety when Salom passed. I might be wrong.
As I said, in a vacuum, the Sprint was great. It was the highlight of the weekend in terms of entertainment… but at what cost?
Bagnaia And Marquez Are Still Them… In Every Sense
Just in case you needed reminding, Pecco Bagnaia is the best bike rider in the world right now. He was completely untouchable all weekend. Yeah, Marc Marquez stole some headlines with a sensationally clever pole lap, but once Bagnaia hits the front, he is virtually unstoppable. Bullied Jorge Martin into tyre-cooking in the Sprint, and never let Maverick Vinales within half a second of him once he hit the front in the Grand Prix itself. 37 points out of 37 and none of the other major contenders had a good race. Not good, chief.
The main headline out of the race though, was Marc Marquez causing early mayhem. This time on Lap 3, he gets his braking completely wrong into Turn 2 and collects hometown hero Miguel Oliviera, who led early on. Jorge Martin was lucky not to get completely wiped out too.
*sighs* I don't try and hide it. I love Marc Marquez. But he has got to stop this silly bullshit. He's 30 years old. He's a 10-year veteran of the top flight. And this is the third time he's had to walk into another man's garage and apologise for his recklessness. This isn't cute anymore. And overriding your bike isn't a valid excuse anymore. He has to do better. 
I get that it's hard for a man who's made a career out of pushing the limits of what's possible on a motorcycle, but 2016 and 2019 were walking proof he could mitigate the weaknesses of his bike, collect points, and still win. He's good enough to be able to do that and NOT do a Russell Westbrook impression and play hero ball every night.
And he leaves Portugal with a broken bone in his hand and a Double Long Lap Penalty in a completely avoidable incident. I hope he learns. Not sure he ever will. Glad Miggy was fine in the end. 
Editor's Note: Turns out Miguel was more hurt than the medical centre check-up showed and he's out for Argentina too. So Marquez indirectly was responsible for breaking Jorge Martin's toe (He's fit), breaking a bone in his own hand, and now putting Miggy on the shelf for at least a weekend. All for a Double Long Lap Penalty he no longer has to serve, because he's missing Argentina and the fact he injured himself in the process made people realise there's a loophole in how the stewards write their penalty notices.
Please like my dumb sport.
The Lightning Round
Shoutout to Bez for getting on the podium again. Man can definitely ride. Remember, he was on last year's bike and he finished 2.7 seconds off the win. And with Alex Marquez looking as good as he has in two years on Ducati debut, it's clear that this bike is still just a complete juggernaut. I've had friends elude to it being a game of "Setup Roulette" regarding which of their fleet of riders scores well, and given how strong the Duke is, the setup and the marginal gains that come with it could make the difference.
Shoutout to Johann Zarco for carrying that race in terms of entertainment. Better comebacks than a Yu-Gi-Oh protagonist. Seventh to Fourth on the final lap in impeccable style. He's still a monster… whenever he isn't leading.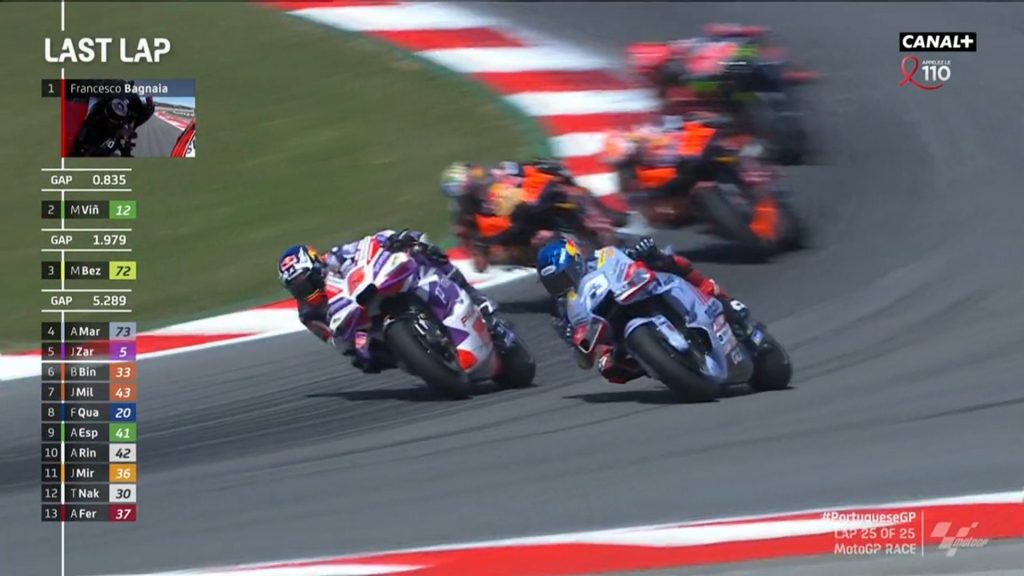 Brad Binder had whiplash and still went from 14th to 6th. All he does is pass some fucking bikes every weekend. If this man could qualify, I swear to God…
Meanwhile, Jorge Martin continues to remind us why Ducati never gave him the factory gig. Also, wonder if Fabio Quartararo regrets that 2-year extension yet.
Pedro Acosta gets some flowers for an impeccably ridden Moto2 race. Genuinely thought Canet was finally going to get that first win and Acosta was playing with him the whole time. Intelligent and delivering on the promise. For those keeping scores at home, this was Aron Canet's 14th Moto2 podium without him winning. Johann Zarco, but with ink.
The wildest Moto3 got this weekend was Joel Kelso riding into the back of race winner Daniel Holgado as he was celebrating after the flag. The poor man broke his ankle after not looking where he was going as he peeled off a visor strip. Even when Moto3 doesn't Moto3, it Moto3's.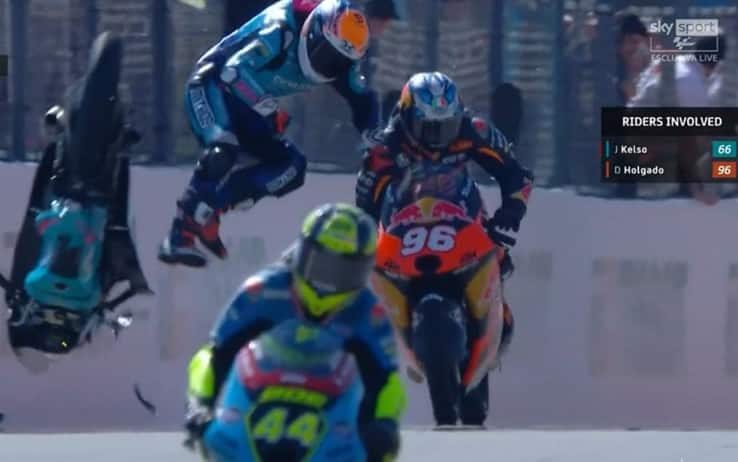 As a selfish Brit, can I vent a little here? Not a good sign that BT Sport is starting to show and produce adverts regarding their upcoming merger with Warner Bros and the network becoming the "Home of Bikes". I hope there are arrangements made to continue to make British and World Superbikes more accessible because £30 a month for a package that has never been fully worth it is part of the reason bike racing has no superstar beyond Valentino Rossi.
Dre's Race Rating: 6/10 (Decent) – If you want a standalone score for the Sprint, consider it an 8.5. This race showed the sport still has the same problems it's had for a while. Difficulty following in dirty air, tyre management and not really getting much of a race up the front. As said, Johann Zarco pretty much saved the day in that fight for fourth with Alex Marquez, the KTM's and Aleix at the end, but besides that, not much else to write home about. Like with Bahrain in F1, I fear the gloss will wear off down the road. See you in Argentina.