We've jumped the shark here—a Race Review column on a Qualifying weekend. But here we are. I realised about halfway through the running of the 107th Indy 500's Qualifying session that I've never actually done one on this specific part of the Month of May and really should do more often. In recent years, Qualifying for the 500 has been even better than the race itself. So let's break down the 2023 Starting Grid and talk about some of the big stories at the top and at the bottom of the list, including a shocking Bump Day. But first, an ultra-quick guide to qualifying itself:
Qualifying Day 1 – 7 Hours of running, everyone is guaranteed one run at the start of the day. Then the queues come into play. Want to run again? Choose a line. Lane 2 is your standard line, if you're at the front, you go again. But if you want to jump the line, you can by choosing Lane 1. But you have to forfeit your time in order to get to the front.
Positions 13-30 are locked in here. If there are 34 or more entries and you're in the Top 30, congrats – You're in! If you're in the Top 12, you go through to the Fast 12 round on Day 2. If you're 31st or lower, you're in the Last Chance Qualifier. 
Day 2 – Last Chance Qualifying is an hour long, with one guaranteed run, and then the rest of an hour-long session with one line. This determines the final row. (31st to 33rd) Anyone below that 33rd line is bumped and will not race. As for the Fast 12, it's single-runs only from here on in. The Top 6 advance to the final round, the scores are reset and they go again. The winner takes the pole. Got it, good. And let's talk about that bump. 
Second Generation Bumping
30 years ago tomorrow, Bobby Rahal, the defending IndyCar Champion at the time, was bumped from the 500 as Eddie Cheever stole his spot at the eleventh hour. The series legend could only watch on in horror as a generation later, his team was crumbling around him.
How did we get to this point? Three years ago, Rahal Letterman Lanigan Racing won this race with Takuma Sato ripping it from Scott Dixon's fingers. They were the team poised to make the big push towards the top runners of Andretti, Penske and Ganassi. Their struggles since expanding to three cars have been well documented. They've still occasionally had good results on road and street courses, but ovals have been their Achilles heel for some time. Texas earlier this season was the biggest warning sign yet, with the cars finishing 18th, 19th and 24th after Rahal was drilled by an already-crashed Devlin DeFrancesco, the others 3 laps down.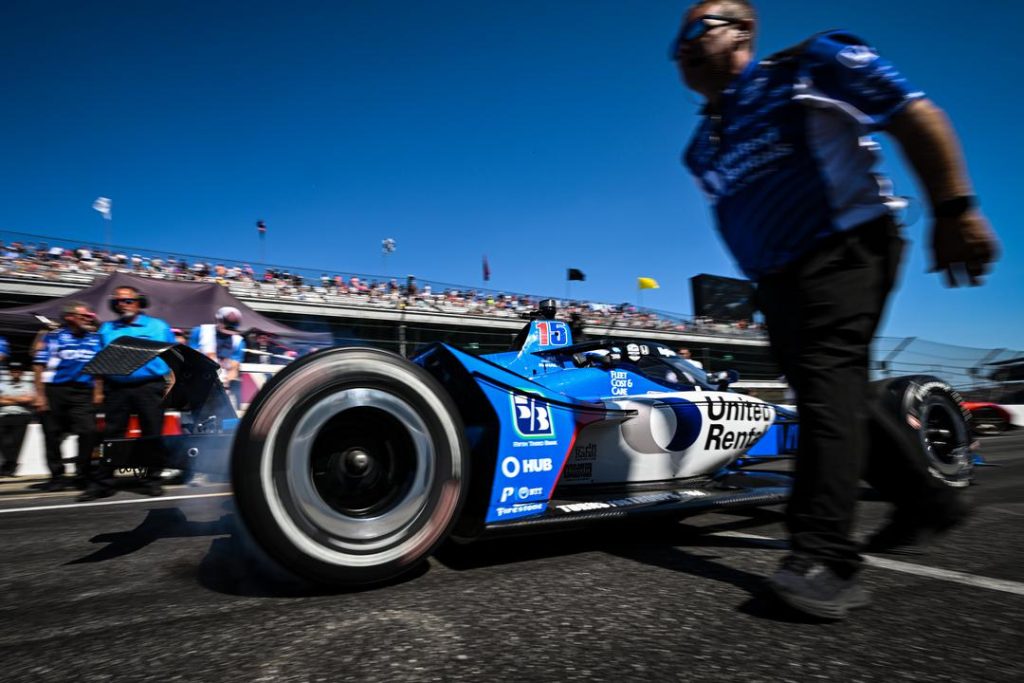 The Day 1 fight for 30th place was a boxing match between DCR's David Malukas and RLL's Christian Lundgaard. The close friends swapped that 30th place FOUR times across the course of the day, with Malukas' final run with just 13 minutes left was a knockout shot that Lundgaard couldn't get up from. And their respective teammates were struggling. Malukas' teammate Sting Ray Robb was outside the Top 30, and both Graham Rahal and Jack Harvey were joining Lundgaard in the Last Chance Qualifier. 
It was painful to see how fast the general field run and yet both Rahal and Harvey struggled to even get a 229mph run together. Harvey was at the bottom. He'd taken extra time to cool the car down on the track with the temperature on the surface reaching 125 Fahrenheit. With six minutes left, another run still had Harvey in that dreadful 34th spot. With a car on the brink of overheating, Harvey went for broke and one last run.
I cannot tell you how important this run was in the context of Harvey's career. He left a Meyer Shank team that he single-handedly was punching way above his weight. There was optimism when he was announced to be driving the #45 car at RLL when they expanded to three cars. He's been woeful ever since, 22nd in the series last season, and 21st going into Indianapolis fresh off a P4 start on the road course race that he blew 15 seconds in when he flat-spotted his tyres. 
With stocks at Harvey on the brink of being as valuable as Dogecoin, I do not exaggerate when I say this was a career-defining gamble. They had tested Juri Vips and Linus Lundqvist for good reason. They were exploring their options. Awful personalities are not a dealbreaker for IndyCar. Vips would fit right into IndyCar as Santino Ferrucci has (and Kyle Larson will next year), and the series has had no problem picking up the drivers that the Road to F1 has left behind. And Linus Lundqvist was fast as hell in Indy Lights but got screwed as the series lost its key funding right as he was set for promotion.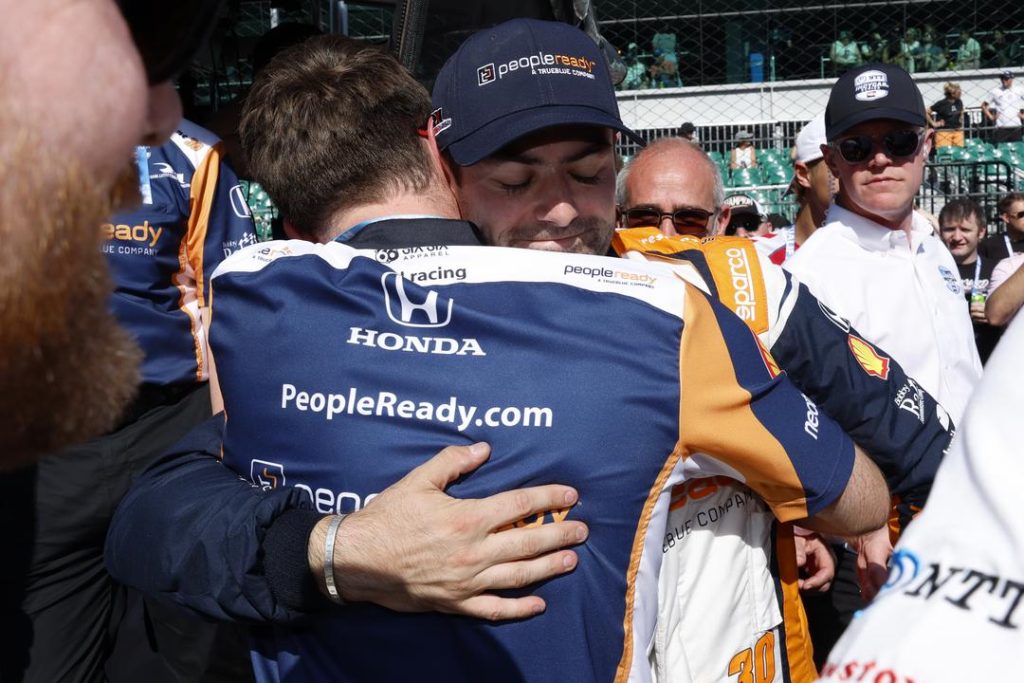 This was it. The true final attempt. Nothing to lose, but yet everything to lose. I'm genuinely not sure what the point of Jack Harvey finishing the season would have been if he gets bumped here. Two laps into that final run, he looked dead-to-rights. 90 seconds later… "HE DID F***ING WHAT?!" Our Discord server explodes. Harvey's two final laps just barely kept his average above the line. Graham Rahal is bumped from the Indy 500. 
Qualifying runs are 10 miles long. Jack Harvey, on his final run, with his IndyCar career hanging by a thread, beats Rahal by 0.007mph. That's 0.0044 seconds. At an average speed of 229mph, that meant he beat Rahal by half a meter. I've eaten bigger sandwiches than that.
Bump Day is one of the most emotionally draining days in Motorsport. I was a huge James Hinchcliffe fan when he got bumped in 2018 and it was heartbreaking to see the shock of the now McLaren team who couldn't believe how badly it had gone. Kyle Kaiser shocked the world when he knocked out Fernando Alonso, in a team that would have lost money on his entry no matter what after spending seven figures on a setup sheet. And now you can add a tearful Graham Rahal to the highlight reel of Bump Day drama, hunched over his #15 car as he had his spot in the 500, a race he came so close to winning just 2 years ago, ripped away from him with no right to reply. 
Everyone sitting in misery. Including Harvey himself as the team just cannibalised itself to qualify 30th, 31st and 33rd. No one's happy here. And if the rumours weren't already hot enough that Rahal might be prepared to walk away from his own team, the grass has never looked greener elsewhere for the man who's spent more than half his life trying to replicate his Dad's win in 1986. 
For what it's worth, I don't think Graham will try to buy anyone else's seat to get back in. Remember, in Indy, you qualify the car, not the driver. So there's a possibility that Rahal could still buy a seat. Lundgaard's 9th in the standings right now and is unlikely to be touched. Katherine Legge paid for her own drive, I'd be shocked if she gives it up. Jack Harvey after it's all said and done, could still be the sacrificial lamb to the slaughter. Like I said, I don't think Graham's that much of a "me first" guy. But we've seen humbler men try.
Bump Day is as dramatic and as brutal as it gets in Motorsport. And that's what makes the Indy 500 so special.
Speed Beyond Speed
At the front end of the field, if one thing leapt off the page, it's that the standard has never been greater in IndyCar. This was the fastest overall field in the history of the sport. Average speed? 232.184 mph.
Last year, live on Twitch, I gave Scott Dixon a standing ovation and knocked over my Gaming Chair after he cracked 234mph on his pole speed and scored the second-fastest qualifying run in history. It was beaten three times in the final six runs as Felix Rosenqvist, Rinus Veekay and Alex Palou all went over 234.1. Palou, Veekay and Benjamin Pedersen in practise all had a non-tow lap over 235mph. These numbers are mind-boggling and we have hybrid power units coming to IndyCar very soon. Are we going to see 250mph trap speeds again?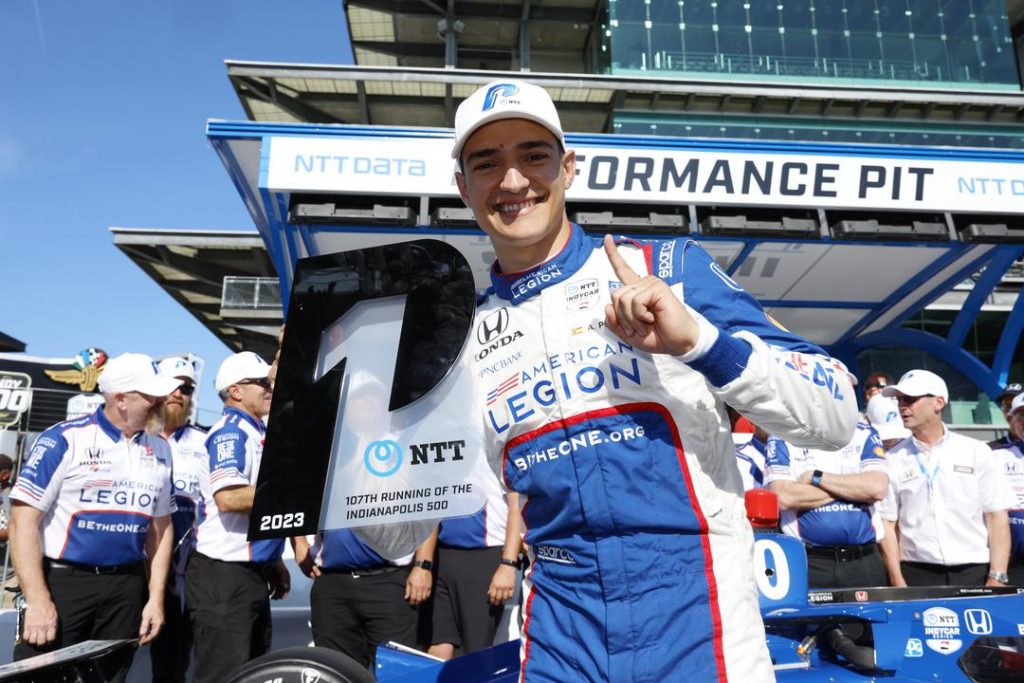 Alex Palou is HIM. I gushed about him enough after the Road Course race but he is without question the man to beat to avoid a clean sweep of the Month of May. He has no major weakness in his game. He qualifies well, races well, doesn't make many mistakes and can now top any session in this sport at will. I said it before, and I'll say it again. He has the potential to be the new Dario at Chip Ganassi. He's probably the reason Dixon only has one Indy 500 win. But all of this is only going to make the McLaren switch all the more puzzling in the long run.
Story Time
I don't normally do this, but I thought it'd be fun to list the full starting grid for tomorrow's race and pluck out some of my favourite short stories about 500 Qualifying this weekend. Here we go:
Row 1 – Alex Palou (234.217), Rinus Veekay (234.211), Felix Rosenqvist (234.114)
Felix Rosenqvist now has the third-fastest pole run in Indy 500 history. He qualified… third. Because of course. But seriously, given how consistently quick he's been (He's had two other runs over 233.9), and the high floor on his car now dropping off as much over time, I think he's a sneaky bet for the win next week… if he can avoid the wall. Felix has never really been an oval player in his IndyCar career, now would be a hell of a time to start.
Row 2 – Santino Ferrucci (233.661), Pato O'Ward (233.158), Scott Dixon (233.151)
Through gritted teeth, I chatter… you have to hand it to Santucci. The man can oval. That's never been the issue with him. And genuinely delighted in a difficult time for the Foyt family, the team's given him something to smile about. They probably took a bit too much downforce out of the car for their final run, but still a mighty effort. 
Pato O'Ward just landed his best Indy 500 qualifying effort in his short career, and yet it feels slightly disappointing. Same for Dixon, who'll be wondering where Alex Palou suddenly found an extra mile per hour from.
Row 3 – Alexander Rossi (233.110), Takuma Sato (233.098), Tony Kanaan (233.076)
McLaren at one point looked like they could have had all four cars in the Fast 6, so again, feels a little flattening for them to line up 3-5-7 and 9 instead. But delighted that Tony will make the show in his 388th and final start across IndyCar and Champ Car across his 25-year career. This is definitely a row with excitement given all three men have never seen a boundary they haven't been prepared to cross.
Row 4 – Marcus Ericsson (232.889), Benjamin Pedersen (232.671), Will Power (232.635)
Marcus had Top 6 raw speed but couldn't keep his tyres fresh to save his life. There is nothing more Marcus than a quiet, subtle Top 10. Shoutout to Benjamin Pedersen in P11, a man who many had it out for within seconds of his career starting (I mean, he did drive head-on into DeFrancesco), but that'll be his highlight of the year so far. An exceptional job given the modest expectations.
Row 5 – Ed Carpenter (232.689), Scott McLaughlin (232.677), Kyle Kirkwood (232.662)
At one point, Ed Carpenter was tied with TK for the last Fast 12 spot to the ten-thousandth of a second. A perfect tie. Ed had the spot on the fact he did his run first until TK broke the tie late on. Fun times. Also, with Power 12th and McLaughlin 14th, it seems like it's another mediocre year at Indy for Team Penske, who seemingly lost pace compared to Friday practice. Shoutout to Kirkwood in 15th, somehow the best of the Andretti's, who again, just couldn't keep his tyres good over 4 laps.
Row 6 – Conor Daly (232.433), Josef Newgarden (232.402), Ryan Hunter-Reay (232.133)
Conor Daly, within minutes of Indy 500 Qualifying on NBC proper, dropped a big ol' F-Bomb when he just couldn't match his Dutch teammate's pace. Frustrating given ECR specialise this weekend. Also, love that Josef Newgarden hit Lane 1 right at the death to try and improve on 16th pace, an incredibly risky move… to qualify 17th. Brilliant.
Row 7 – Romain Grosjean (231.997), Helio Castroneves (231.954), Colton Herta (231.951)
A row of frustration, methinks. RoGro just never looked fast in any of the runs he laid down, an across-the-board Andretti problem. Similar case with Colton Herta, who just couldn't maintain his pace in the back end of a run. And Helio skimmed the wall but recovered well to make the show.
Row 8 – Simon Pagenaud (231.878), David Malukas (231.769), Marco Andretti (231.682)
Somewhere, there's still hope it's Marco's year. Think it's coming from my Scottish part-time host Zoeey. David Malukas found a good mile per hour out of nowhere in the final hour of Day 1 to get him in comfortably too. And seriously, with Helio 20th and Pagenaud 22nd… is there anything good coming out of Meyer Shank at the moment? The team has just existed ever since they got publicly shamed for their Rolex 24 cheating.
Row 9 – Stefan Wilson (231.648), Devlin DeFrancesco (231.353), Agustin Canapino (231.320)
So, who had Stefan Wilson as the highest-qualified Brit? Shoutout as well to the most disgustingly likeable humble man in IndyCar, Agustin Canapino for making it in 27th place at his first-ever attempt. I had my doubts about Ricardo Juncos hiring him off the back of Argentine Stock Car racing but Agustin continues to prove he belongs in this field on merit alone. And, delightful Argentina livery. *chefs kiss*
Row 10 – Callum Illot (231.182), RC Enerson (231.129), Katherine Legge (231.070)
Now HERE'S your feel-good row. Callum Illot had a last-minute chassis and engine change overnight heading into the final day's running after reliability problems all week long in practice. He did 12 laps on the day and got in via an incredibly brave 231.1 run. Exceptional work from the Juncos-Hollinger team to get both cars in.
For RC Enerson, Abel Motorsports didn't exist six weeks ago. The last time we saw Enerson try, he was bumped in a slapdash entry that wasn't fit for purpose. When he was announced as the 34th entry going into the 500, I said with a bullet he was going to be the man bumped. One run later, he's in comfortably. Outstanding job from the Abel Motorsport crew to get Enerson in on very short notice.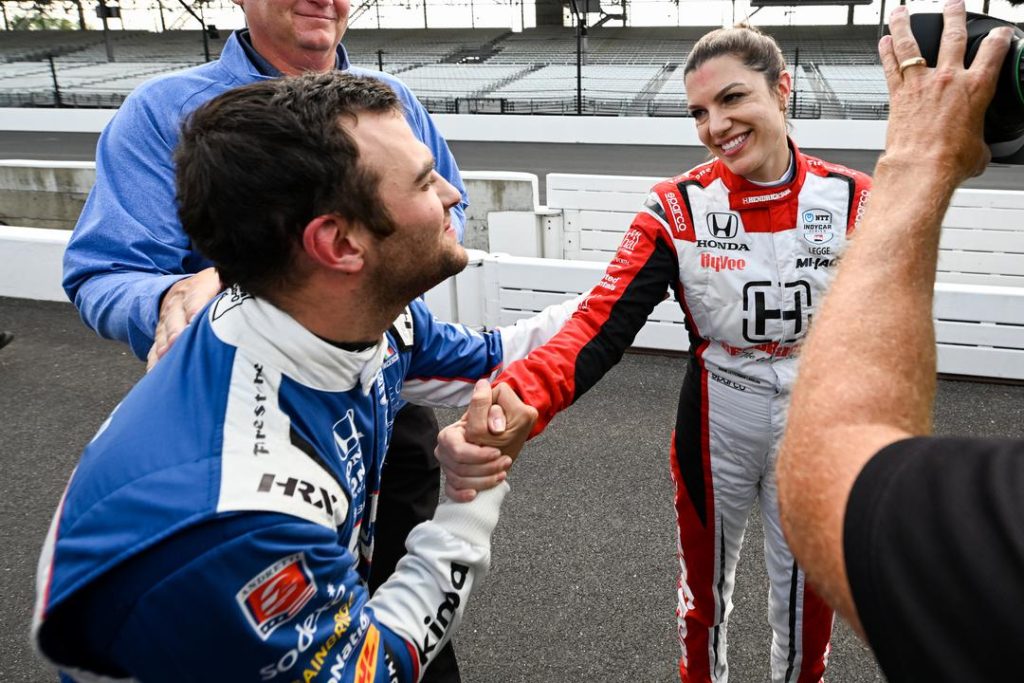 Katherine Legge made history of her own to become the fastest woman in the history of the speedway, and the only RLL car to make the Top 30. Now forgive me for a moment as I've not had much of a chance to talk Legge up on here, but this was another reminder that she can friggin' wheel. She's the only woman to earn an F1 Superlicense. She's had success with Sportscars in IMSA including being the standout driver at the Rolex 24 when she fronted the Deltawing project. Her IndyCar career has always been a bit of a "What If", given she was the collateral from the horrible Lotus project, but in her first attempt in 10 years, she got in outright in a dreadful team setup. Exceptional and maybe the star of the weekend all things considered.
Row 11 – Christian Lundgaard (229.649), Sting Ray Robb (229.549), Jack Harvey (229.166)
And here's the last chance row. Christian Lundgaard was fighting his car at every turn and actually got slower as the weekend went on, but just did enough, same for Sting Ray Robb. But Jack Harvey's refusal to quit right at the death will go down in Indy 500 history for years to come. It's still absolutely miserable seeing them 5 mph off the top runners, but in this race, just making the show is an achievement.
---
On Sunday, we race. 500 miles to see who wins a bucket load of milk money to close out Day of Classics. But I fear, we might have already had its main event. Indy 500 Qualifying is now one of my favourite events in the Motorsport calendar and 2023's edition absolutely delivered on all fronts. See you next week.