I can confirm, this Grand Prix… existed. It certainly was one of the Grand Prix's of all-time. Look, I'ma be real with you, I'm going to try and talk about some other things regarding this weekend because this race would be a genuine cure for insomnia. Oh and Sergio Perez won in largely unspectacular fashion because Red Bull panicked on a Safety Car when Max was in front and then you can't couldn't pass on equal footing. More on that later.
The Sprint Shootout?
In one of the F1's worst-kept secrets over its accidental "Spring Break", changes were made to the weekend structure for a Sprint Weekend, which made its debut this past weekend in Baku. For those who missed it, because every race is someone's first, here are the differences in listicle form:
Old Format:
Conventional Qualifying on Friday Afternoon, determines the grid for Sprint Race (⅓ race distance on Saturday)
FP3 scrapped, FP2 moved to Saturday morning under Parc Ferme conditions
Sprint Race determines the grid for Sunday's Grand Prix (Winner takes Pole officially), with points for Top 3 from 3 to 1 (Changed to Top 8 in 2022)
New Format:
Conventional Qualifying now determines grid for Sunday's Grand Prix (Pole Position is still officially given here) 
FP2 replaced with Sprint Shootout, a shorter version of Qualifying (12, 10 and 8-minute sessions instead of 18, 15, 12), which determines the grid for Sprint, Mandatory rule is you have to use New Mediums in SQ1/2 and New Softs in SQ3 (This becomes important later)
With me so far? Cool. Now, using a traffic light system (And an excuse for me to use fancy colours here), I'll break down everything I like, everything I'm meh about, and everything I don't like about these changes:
Less Practice: As much as people love to throw metaphorical shit at Stefano Domenicalli from a great height, I do get where he's coming from in regard to practice sessions. I still maintain we definitely don't need three practice sessions. Even two I could make a case seems excessive. Less practice puts teams under more pressure to nail their limited time and setup for the weekend and could lead to more variance in results. As a compromise, I'd be okay if you made the one practice session 90 minutes instead of 60. Because even I felt it was harsh when Pierre Gasly declared a new Pope via his airhole cost everyone 15 precious minutes running. I don't want to be a complete asshole to the teams, y'know?
The Shootout > FP2: I'm sorry, but an FP2 under Parc Ferme conditions is about the worst of the worst. It's running for the sake of running in its purest form. Almost anything would have been an improvement here and another qualifying session was a good, safe bet here. More of the best part of a GP weekend for me, I'm cool with it.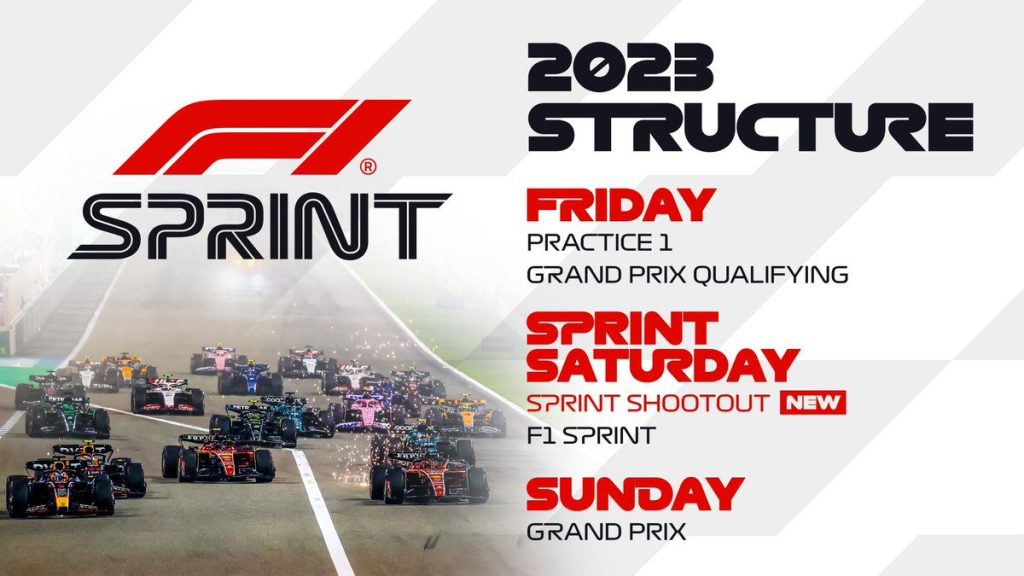 Happy Nerds: There are no more arguments over who gets the Pole Position in the stat book. Gotta keep our community happy. (If you're reading this, you're one too.)
The Sprint Being Standalone: I hated the fact that the Sprint did a brilliant job of correcting a lot of outliers that came from that exact same potential margin for error you generate from Fridays. Like Imola last year when Carlos Sainz crashed in Q2 only to end up roughly where he should have been for the GP (5th), anyway. This is an improvement.
The Schedule: Why was there a four-hour difference between the Sprint Shootout and the Sprint itself? No good reason for that. 
The Shootout Needs Tweaks: I'm largely fine with a shorter version of Qualifying to up the jeopardy, but go harder on the time. I think 10-8-6 on the minutes, effectively making Q3 a one-lap shootout would be better to differentiate it from Friday's GP Qualifying. Also, the rule on mandatory tires is interesting… but I don't like the payoff.
Pirelli only shipped 12 sets of tyres for the weekend (2 Hards, 4 Mediums and 6 Softs), as a directive from the sport to cut down on shipping and make teams think even harder about where to use their sets. Just one problem… A team will always prioritise the GP and not have a mandatory set for SQ3. It's why Lando Norris didn't run in SQ3 at all. It reminded me of the early days of the modern Qualifying format where in Q3, some teams would take a P9/10 start and keep the extra set of tyres and the rules had to be tweaked to give Q3 runners an extra set, to encourage them to run. Do you want action? Give teams a reason to run more, not less. Speaking of which…
Aggression? Not Here: The underlying big reason for all these changes was to try and make the teams and drivers take more risks and be more aggressive in the shorter format. I don't think that'll work. Besides, the fundamental nature of Motorsport is all about trying to take as little risk as possible to try and win. But for 30-50% of the grid, the risk isn't worth the reward.
Hypothetical scenario. You're Nico Hulkenberg. You start the Sprint in 15th. You have to gain SEVEN places in 100 kilometres of running to get just one point. Now unless there are major shenanigans, or you're driving a rocket ship like Lewis Hamilton did in Brazil in 2021, you're not getting a return on your investment. Logan Sargeant said the quiet part out loud – If you're at the back of the grid, this is a glorified test session, even more so with a clear Top 4 hierarchy on the 2023 grid, and points going down to 8th. This leads me to my biggest problem…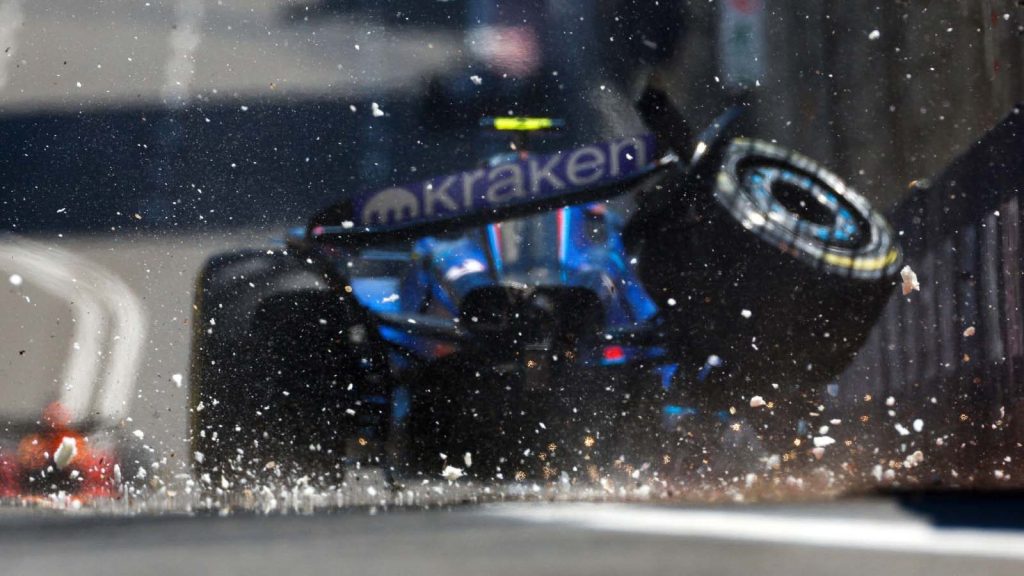 Breaking The Magician's Code: Credit to Grace Robertson, the outstanding football writer for using this analogy when writing about Lionel Messi after winning the 2022 World Cup. She compared his heroics to the three stages of a magician's trick. "The Pledge", where you get shown something ordinary, "The Turn" where you perform a spectacular trick, like sawing the person in half. And then "The Prestige", where the big reveal happens and you show something even more spectacular, like hey, turns out the person's fine!
The Sprint Race, is Breaking The Magicians Code, that fella with the mask who fucked over the Magic Circle by exposing every trick in the book. Nothing about these format tweaks changes the biggest problem with F1's Sprint format… It gives the game away and devalues your Grand Prix because the format is still too safe.
17 laps in Baku still told us a lot about how the Grand Prix would go down. The rising temperatures over the weekend meant tyre wear was larger than expected and that the Soft Tyres were only good for about 7 laps and virtually unusable. And in terms of raw pace, it showed what we kind of already knew – Charles Leclerc is a cheat code in Baku, but even he couldn't overcome Ferrari's biggest weakness; their tyre wear, fading at the end of the Sprint from Perez. And the tyre usage was proven true in the GP, with the mediums lasting about 10 laps, as little as 8 in some cases.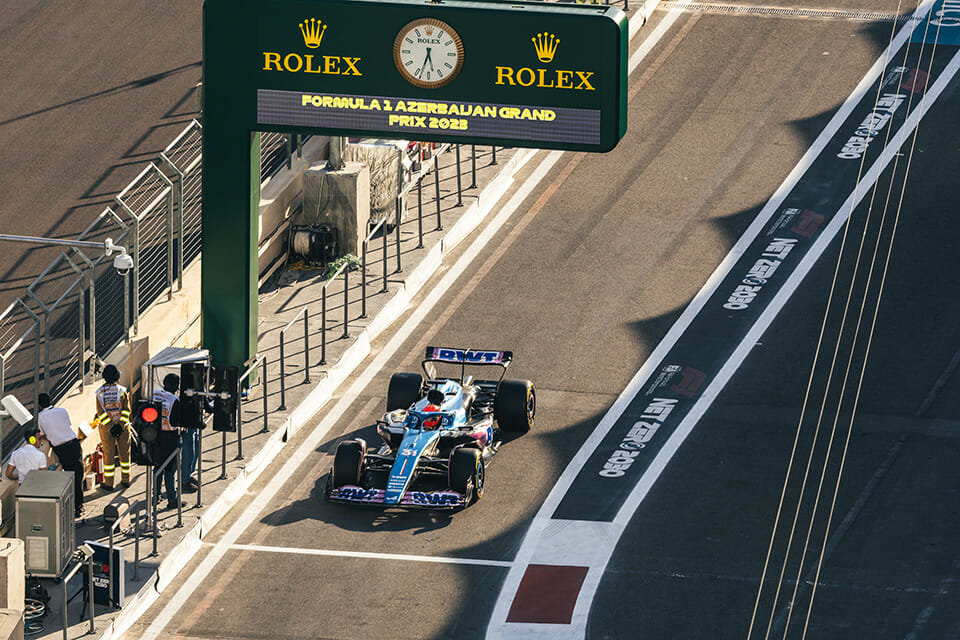 If you're going to change your weekend format, you NEED to go all the way with it. This is still too safe, and it still gives away what your GP will probably look like the next day. And in a sport that looks as dull as ever in its 2023 regulations and FIVE more Sprints still to come, F1 doesn't have the luxury to give away its plots on Saturday afternoon. It might be time… for reverse grids.
The Sprint Shootout Format is definitely an improvement over what we had. But it still feels like putting a plaster on a gunshot wound. It's better organised and does give us more meaningful action, but when the meaningful action is the actual problem… What does it solve?
Verstappen vs Russell vs The Benefit Of The Doubt
There was another fascinating clash and war of words between George Russell and Max Verstappen during the Sprint. Max got a bad start and George tried the inside. They have minor contact at Turn 1 and Turn 2, the second of which punched a hole in Max's sidepod. George came close to running Max into the wall at Turn 3 too. Max would go on to beat him for 3rd, and after the Sprint, Max would call George a dickhead under his breath when George told him to check the onboard footage. 
Okay, if we're going to play Dre the Steward: Max has a right to be a bit peeved. Max absolutely gave George enough racing room for the pair to race and George still hit him. Twice. Not enough to penalise him for me, but still, give George the 52/48 Brexit vote in terms of accountability.
But we as an audience didn't really care about that. This was our free chance to take a crack at Max because he's had his fair share of… let's call it aggressive driving in the past. My response: They're as bad as each other.
Max has absolutely been overly-aggressive on multiple occasions, as recently as Brazil last season he did almost exactly what Esteban Ocon did to him in 2018, on Lewis Hamilton and was unrepentant in doing so. It's who he is as a racing driver. I briefly thought he might have changed his ways in Australia when he backed out of Hamilton giving him his signature squeeze on Lap 1, only to pass him later, but nope. This whole ordeal felt more about the reputation of the drivers online than the actual incident itself.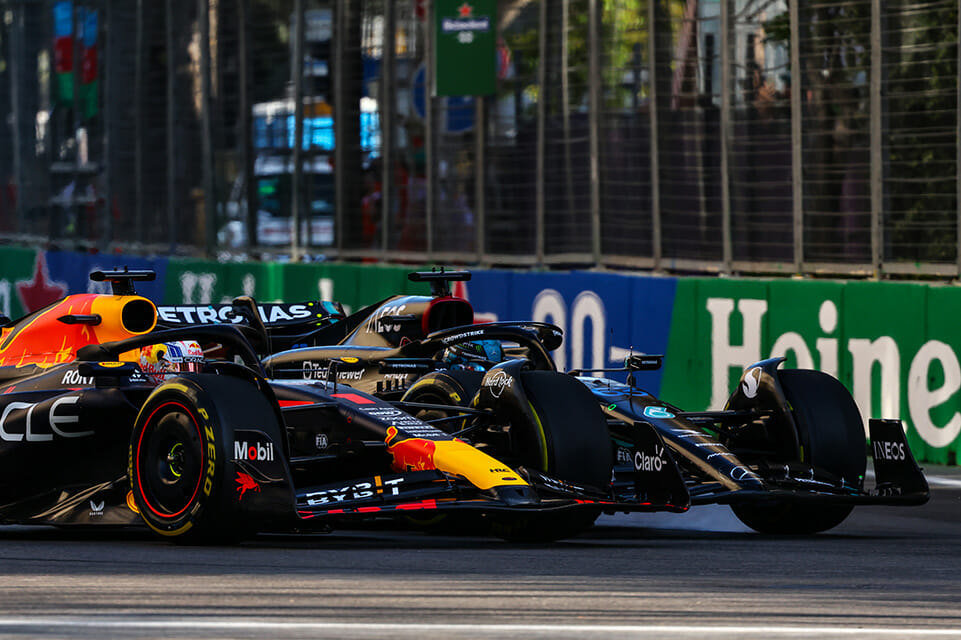 On the other side of the coin, George has got some really weird "divine right" vibe going on with how he races people. If we're going to play the reputation game in regards to Max's driving, George Russell in COTA, Singapore, Paul Ricard last season and Imola in 2021 would like a word. He constantly preaches about owning corners and being entitled to space and yet struggles to practise what he preaches. I maintain from my 2022 Top 10 that I think George has this bad habit of being bullish from his Williams days when he had to take bigger risks to pass people that he doesn't have to take now he's actually in a decent car. This situation was the definition of the double Spiderman meme.
But when you run to your mates in the Dutch press and call George a "Princess"; a sexist jab because heaven forbid the man takes a chance off a bad start, I do think: "No wonder no one outside of fans with your face as an avatar gives you the benefit of the doubt."
So, Let's Talk About F1 Academy…
One of the other grim points of discussion this past weekend was the… "launch" of F1 Academy's first weekend at the Red Bull Ring, a women-only F4 series, marketed as the bottom tier of the Road to F1 pyramid, with some of the big hitters of the junior scene running teams and "mentorship" to get women into F3 seats, and FOM putting up $150k (50% of the costs) per car to compete. Yes, this is your W-Series replacement and it comes from in-house. 
There wasn't a huge amount of discourse when the series was announced in November 2022, but there was this past week when the details for the series dropped and it turned out, the series wasn't going to be broadcast live for anyone to watch and instead, there'd be social media coverage and highlight montages for broadcasters instead. The Internet, understandably, wasn't best pleased. 
Now, full disclosure: I do have a couple of sources (Remember where my day job is) who have given me a bit of a vibe about how the series is being organised, sprinkled in with some of my own discussions amongst peers. Cool? Cool.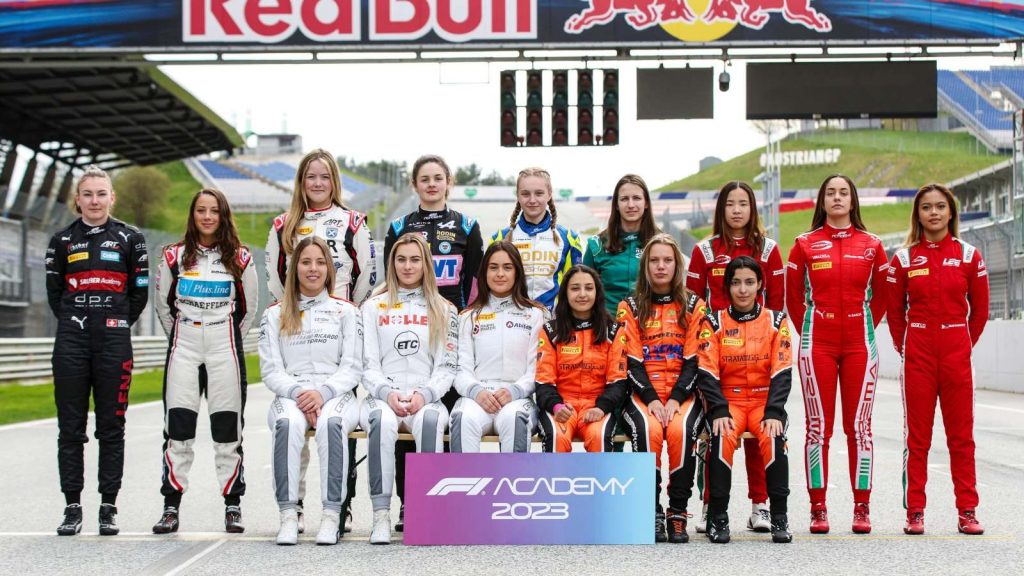 I don't think the series was ever prioritising live coverage. Remember, this series has been in the works for less than a year and they almost certainly had bigger hurdles to climb than the broadcasting. Don't get me wrong – this sucks. The W Series did a lot of things badly, but one thing it did do well was exposure, launching with a free-to-air TV deal with Channel 4 in the UK and Internet streaming on-demand. This is a series that's going to draw people in on a deeper emotional level than any other F3 or F4 regional series because women are at the forefront. 
But I can also understand the other side of the coin. Live Sport is the last bastion of Television. It's ludicrously expensive and F1's Management is already putting up $2.25m a year just on the car budgets. It's my old M101 buddy and Jalopnik writer Ryan Erik King who pointed out the Italian F4 Championship (The biggest of its kind), live streams their races on YouTube and its latest race after 9 days… has 15,000 views. In 2023 YouTube ad revenue terms that's about one KFC Bargain Bucket. And live streaming it on their own channel was always going to be unlikely as it ran alongside the Sprint Shootout and you don't want to split your audience.
I think the people behind the series knew all of this, and are going to take the online beatings they're going to inevitably get for limiting coverage, and are taking this first season as a "Soft Launch" for the series as a whole. Especially when it's confirmed they'll be on F1's Support Bill in 2024.
The problem is when places like the BBC are writing feature pieces on the women involved, it builds a curiosity that the series could have cashed in on, and the series has essentially slammed the door in their face. If they were afraid of a small turnout as a reason to not go live, there's got to be some sort of buyer's remorse now.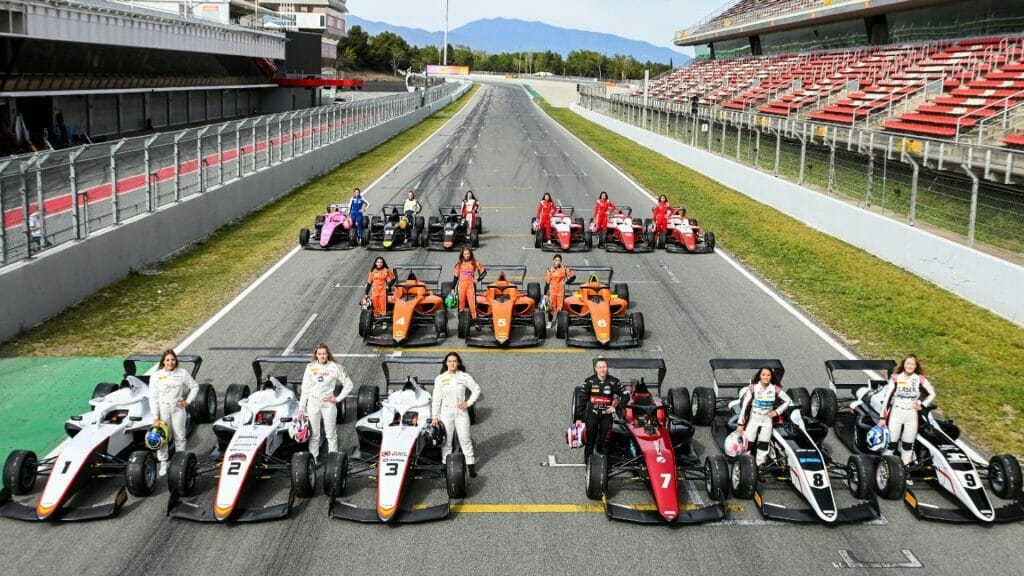 And I do wonder if some of the women had sponsors drop them that 150K to compete, not knowing there isn't a broadcasting deal in place. There may be a protection element involved here for some of the women in terms of exposure, with big pressure on Abbi Pulling and Marta Garcia to win as W-Series Alumni. But I think in the grand scheme of things, you need the exposure to help generate funds to climb the ranks, something this series claims it wants to do.
Overall, a lot of this past week has cemented my feelings that F1's running this series because it feels like it has to as part of its diversity pledge, and not because it wants to. The W-Series ultimately failed because it couldn't financially keep up with the number of losses needed to try and promote women up the ladder. Formula One Management can more than afford the seven million pound losses the W Series declared on Companies House. If you truly believe from an altruistic standpoint that you want to help women get up the single-seater ladder, you HAVE to be prepared to lose a lot of money over a long period of time. But do they want to? We'll have to see.
The Lighting Round
As soon as Max Verstappen passed Charles Leclerc after the Safety Car, the Red Bulls were nearly a second a lap faster at full speed as they went one-on-one for the win. And Charles is BUSTED around Baku. This is a one-car Championship. Don't even try to talk yourself into anything else.
Are we seeing Sergio Perez as a title contender because you genuinely believe it? Or is it out of our own desperation when we know it's a one-car Championship? He's never been able to prove he's a long-distance contender, but I'll give Checo this – The benefit of it being a one-car title race is that Perez can be as mid as he likes and he's likely only going to lose 6-8 points at a time to Max.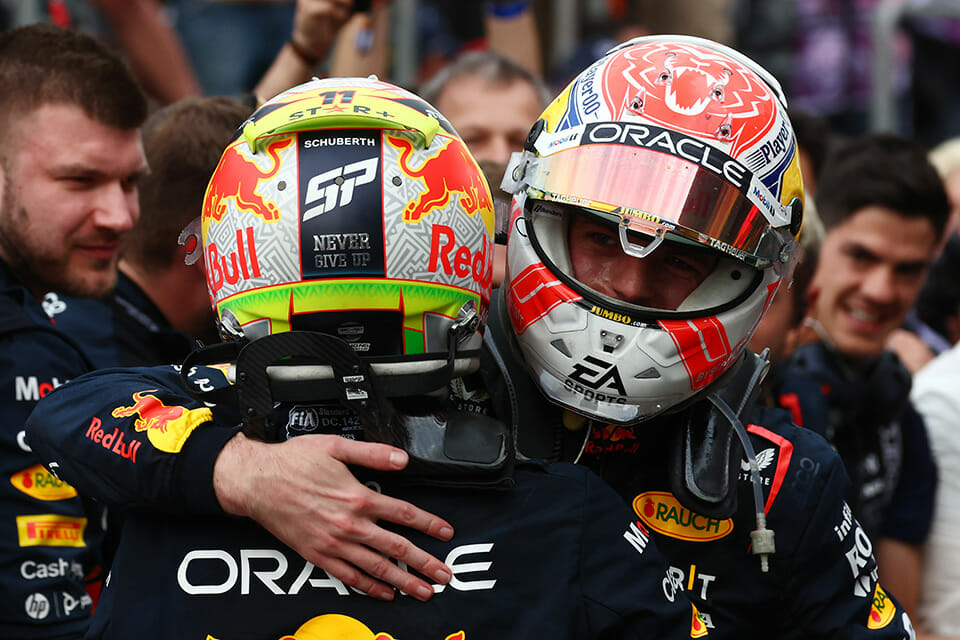 The question is: Can he do this on places that aren't street tracks? If he can get to 8-9 wins, that may be enough if he gets some help. Remember, in 2014, Nico Rosberg took the title fight to the final round off a 5-win season, even when Lewis won 10.
Nyck De Vries looks like he might already be cooked. Out-qualified for the 4th weekend in a row, drives into his teammate in the Sprint and then wrecks in a really silly fashion in the race. And it's not like Dr Marko has ever been shy to pull the trigger on what they deem to be underperforming talent.
Has anyone ever been humbled in an F1 weekend more than when Alpine boss Otmar Szafnauer was confident about their upgrades? Ouch.
And please for the love of god, make sure your pit lane's closed before you start building the Parc Ferme area.
Dre's Race Rating: 2/10 (Dreadful) – Oh dear. Let's be real for a minute. Baku is a chaos generator. If you don't hit the chaos, this race stinks. And this was the perfect storm for a terrible weekend. Baku is an awful track that's awful for racing. They brought the DRS zone 100 metres closer to Turn 1 than last year, making passing even harder on a track that had 1 good zone at most. (Ask Lewis Hamilton, who spent 2/3rd's of that race staring at Carlos Sainz's arse) There were 13 overtakes across the whole race. The tyres were completely out of whack with softs and mediums almost unusable in race trim, and as the cherry on top? A Safety Car right on the tyre window forced everyone onto the most boring 1-stop strategy. So congratulations to Baku on its 3-year extension until 2026! See you in Miami. Who knows, by tomorrow its weekend packages might actually be affordable.