"The race that ended before we got started."
Hey folks, Dre back again, and in the second part of this double header, it's time to go back over Sochi, for the first ever Russian Grand Prix, as F1 heads through the Sochi Autodrome and Olympic Park. And in this highly exciting affair, Lewis Hamilton took his winning streak to four as he convincingly beat Nico Rosberg for 2nd for Mercedes 9th 1-2 finish of the season, sealing the Constructors Championship, alongside Valterri Bottas in 3rd.
…And not much else. Seriously.
---
[fusion_builder_container hundred_percent="yes" overflow="visible"][fusion_builder_row][fusion_builder_column type="1_1″ background_position="left top" background_color="" border_size="" border_color="" border_style="solid" spacing="yes" background_image="" background_repeat="no-repeat" padding="" margin_top="0px" margin_bottom="0px" class="" id="" animation_type="" animation_speed="0.3″ animation_direction="left" hide_on_mobile="no" center_content="no" min_height="none"][fusion_imageframe lightbox="no" style="bottomshadow" bordercolor="" bordersize="0px" stylecolor="
" align="left" animation_type="fade" animation_direction="right" animation_speed="1″][/fusion_imageframe]Hamilton Dominantes, is Rosberg rattled?
This race was over before it had even started. The disadvantage of being a pole sitter in Sochi was that the run down to Turn 2 is freaking enormous. Rosberg knew that, slipstreamed Hamilton, tried a move into said Turn 2, had the mother of all lockups, then went into the pits to change tyres… And from a competitive standpoint, the race was done.
I have to applaud Rosberg for going 51 of the 52 laps, that was gnarly (More on that later), and he was actually onto the right idea in boxing early and going long, where you lose the least amount of time with everyone else in traffic. The problem was, Hamilton was so fast, it didn't matter. Rosberg admitted after qualifying that he wasn't as fast as Lewis all weekend, so I can understand why he felt the need to try something different, because on conventional pace, he was always in a losing fight. Not to mention, Mercedes are so far ahead of the rest of the field, that they can afford to be hipster once in a while, and not really drop any lower than 3rd on any given GP.
As I said, Rosberg's race was pretty much over the moment he got over-zealous on the brakes. It's become a bit of a pattern lately if ask me. The Spa-incident, the lock-ups at Monza, and now here? Rosberg's made a few minor errors here or there in the last few rounds and as a result, Hamilton's broken off another 4-race winning streak, and a driver who's done that has ALWAYS won the Championship. Rosberg's making errors where he didn't before, and it's certainly enough to raise an eyebrow. On top of this, Nico's always played second fiddle on any ontrack battle the two have had to date, a area he probably needed to make Hamilton pay, and it just hasn't happened.
Don't get me wrong, a double point finale still means anything is possible, but the tide is turning towards Hamilton for the first time this season… Can Nico respond?
Also, fun fact: Mercedes now have more points than Ferrari, Williams and McLaren. COMBINED.
[fusion_imageframe lightbox="no" style="bottomshadow" bordercolor="" bordersize="0px" stylecolor="
" align="left" animation_type="fade" animation_direction="right" animation_speed="1″][/fusion_imageframe]Sochi was boring: Let's play the Blame Game!
Don't worry F1 fans, I'm with you on this one, Sochi was the 2nd worst race of the season, alongside China in my opinion. But I think that's partly down to the fact we've been kinda spoilt this season. I mean how many times can you boast that a season's had 3 classics in Bahrain, Canada and Hungary? Britain and Germany were pretty good too.
So yeah, the race was boring, but in the grand scheme of things, we were LONG overdue for one quite frankly, as we'd been spoilt rotten to begin with. But why was Sochi so boring?
Was it the track? Nah, probably not. I mean, did YOU see the GP2 and GP3 races? They were awesome, and I think the layout actually promoted close racing. In the F1 race itself, the 2nd DRS zone was entirely pointless, and the only real consistent passing opportunity on track was into Turn 2. I suspect this is more down to the cars and the dirty air effect though the high speed corners Hermann Tilke loves so much. As well as the 90 degree corners. And the massive straights… Yeah…
[fusion_imageframe lightbox="no" style="bottomshadow" bordercolor="" bordersize="0px" stylecolor="
" align="left" animation_type="fade" animation_direction="right" animation_speed="1″]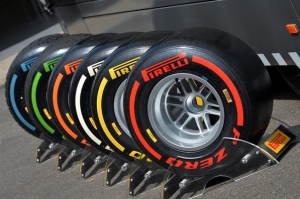 [/fusion_imageframe]Anywho, another factor is definitely the tyre selection from Pirelli. Amazing 1-stop races are a rare thing, because strategy often is part of what can make a race so intriguing and I've always said, races where a 1-2 stop or a 2-3 stop strategy are close in pace, are the ones that tend to work out best. Not this time. Nico Rosberg ran the entire race on a pair of primes and was still setting fastest lap times at the end. AFTER FIFTY LAPS. FIA, you can't make the sport all about tyre management, tell Pirelli to deliberately make shit tyres, then go to a track that has ZERO tyre degradation. It just doesn't work.
So when you put all that together – An uninspiring street circuit in drag (Seriously, was this Valencia in disguise?), the FIA killing its own favourite gimmick by having too conservative a tyre choice, and a layout that made passing near impossible and rather predictable… And yeah, you have the formula perfect for a cocktail more likely to put you to sleep than an episode of Gotham.
Also, please, don't ever put Vladimir Putin in a driver recovery room EVER again. I've seen Lewis Hamilton interviews that were less cringe-worthy. Seriously, I never thought that Thursday's press conference was the SECOND least comfortable thing I'd be watching that weekend. Either that, or the F1 Twitter Account following Asa Akira on Twitter… We already have enough award winning assholes in the sport… Bernie.
---
No fancy outro this time, just one simple hashtag – #ForzaJules. (No self-indulgent dressing in red required)
Dre's 2014 Russian Grand Prix Review Score: 4/10 – Poor[/fusion_builder_column][/fusion_builder_row][/fusion_builder_container]