Sports are a funny thing. They can invoke passion, they can inspire. They can anger us, tap into so much of our psyche. So often in my world as a middling Motorsport writer, they can be an escape from the world around us. Rarely, very rarely, you forget about all of it and enjoy a spectacle for what it is.
That happened to me on Sunday at about 1:45 pm. Why? Because Danilo Petrucci won a MotoGP classic in incredible fashion. If you even know half the man's history, I could stop this piece right here because you know how this wonderful story ends. But when you piece it all together, it makes for a true work of art.
Every painting needs a great subject. Danilo Petrucci is a true biking marvel. To say he took a different path to reach the promised land would be an understatement. Danilo is just the 7th man in the history in the sport who took his first win, while not being a full-timer in the classes below. It's pretty rarefied air: Crutchlow, Hayden, Tamada, Bayliss, Vermeulen and Spies, the other six.
But it goes much deeper than that. Danilo climbed up the World Superbikes ladder, one that many knows isn't taken particularly seriously by the top brass in GP. He never even raced in SBK itself, coming from European Superstock 600, and then the 1000 Cup. But he got his shot for Ioda in MotoGP and… oh boy.
See, this was 2012, thick in the era of MotoGP's "Claiming Rules", as the sport itself fought through a participation crisis. The previous season had just seventeen full-time runners. Danilo was on the IodaProject Aprilia bike, a woefully poor machine Danilo himself described as a "Frankenstein's monster" as he languished at the back of the field. Just one top ten finish in his three years with them – that heavily rain-affected season finale in Valencia, his debut year.
By 2015, we had big silly-season political shake-ups, and after talented riders like Danny Kent, Dommy Aegerter and others turned it down, Danilo got his shot with a true satellite team with Pramac.  And while there were some growing pains, a stunning 2nd at a wet Silverstone, brought him some much-needed attention. He had his GP14/1 upgraded to a .2 for the rest of the season, and the rest was history.
He beat Scott Redding in a career-defining teammate battle to lead the team, and when Jorge Lorenzo's Ducati switch ultimately failed, Danilo got the call to the factory team. We all (me included), looked at him as a stopgap, whether it be for the white-hot Pecco Bagnaia, the Moto2 Champion, or an also improving Jack Miller, who was also beginning to show flashes of brilliance after breaking the 10-year dry spell for an independent victory.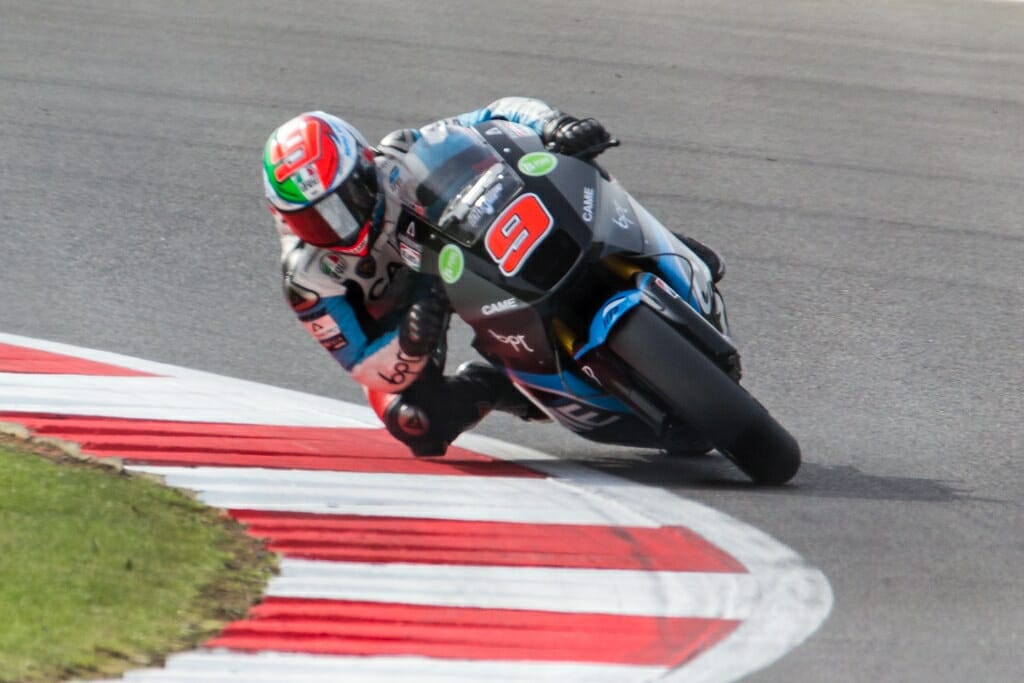 Heck, even two weeks ago we saw him try some audacious attempts to overtake his teammate and the "Mapping 8" jokes immediately came.
He's had near misses. Assen, when backmarkers denied a last lap attempt at Valentino for the win. He was outgunned at the last by Marquez at Misano, #93 again being just a touch too fast at Le Mans last year. But this… this was special.
Lest we forget just where we were. Mugello. One of the blue ribbon events on MotoGP's loaded calendar. The mecca for Valentino Rossi, a man who won there seven consecutive times. A sea of yellow, and Italian passion personified. Each of the last three years, it told a different story for its winner in red. In 2017, the rise of Dovi as the new alien. Last year, the return of Lorenzo's brilliance. And now, Petrucci reaching the promised land.
Not to mention, Mugello is the perfect canvas for which to paint on. Three and a quarter miles of undulation, where smooth riding and technical brilliance shines brightest, topped off with a beautiful party trick – A 220mph, 1,100m straight. With a kink and a jump in it before you slam the brakes into San Donato. Dovi earlier that same weekend breaking the all-time MotoGP speed record, a brisk 221. We've seen what it can do – Michele Pirro and Marc Marquez crashing down it at over 210mph, terrifying incidents and a testament to just how tough these gladiators are.
This year instead, quite the opposite spectacle. This race was a classic all the way through. At one point, as many as nine in the leading group. It was reduced to four by the end, but it had one lasting image that will stick with me for a while. Andrea Dovizioso, Marc Marquez and Danilo Petrucci, over the crest at 217mph, 3-wide all the way through San Donato.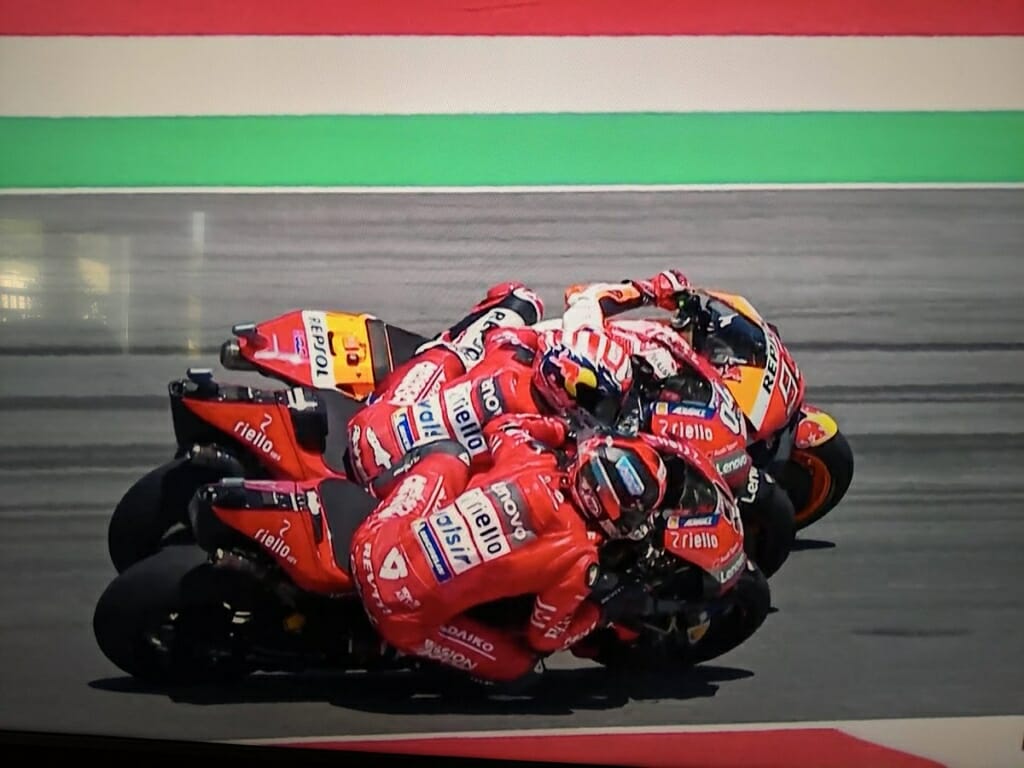 It could have so easily been a carbon copy of Jerez last year, where both Ducati's and an unassuming Pedrosa hit the deck. But this time, their skill all shone through. Marquez saving his nearly unstoppable best till last, just missing the apex. Petrucci sticking to the inside and not backing down, no matter what, less than three miles from ultimate glory. And Dovi, knowing that there is some honour in surrender, backing off to clear the way. It's beautiful.
Equally, as beautiful, the aftermath. Danilo's expression, the tears upon finally winning his first MotoGP win, from the track to the podium celebrations, to the hugs all round in the garage afterwards… this for me, the euphoria of it all, is what sport is all about. Anyone with a pulse knows just how much that meant to him, to Ducati, to the sport.
I've barely mentioned how legitimately humble, funny, and genuinely likeable he is. In the post-race presser, he dedicated the win to… his teammate, who he profusely apologised for passing on the final lap, just because Dovi finished 3rd and not 2nd. He thanked him for bringing him in over the winter "like a brother" and making him a part of the team. I loved this. In the world of Motorsport, there is such a focus on the barometer of beating your teammate. But being able to do that and remain the humble, likeable athlete he's always been… that takes a true character, something I feel we miss in motorsport sometimes.
WOWWWWWWWWWWWWW

This is why we LOVE MotoGP 🙌

Danilo Petrucci you deserve this.

What a last lap. What a sport. The greatest drama on Earth 🙌#ItalianGP pic.twitter.com/3eqyFZLsWw

— Watch MotoGP on BT Sport (@btsportmotogp) June 2, 2019
MotoGP for me has been the true pinnacle of motorsport excellence in the last few years. A move to the standardisation of parts like the ECU and financially supporting the smaller teams has opened the floodgates to so much talent that isn't riding in the red, orange or blue we normally see. Maverick Vinales, Alex Rins, Jack Miller, Johann Zarco, Jonas Folger, Frankie Morbidelli to name a few. But yet, it's the wily 28-year old veteran who's had to scratch and claw for every opportunity to get to this point – That might be the most brilliant of all.
Congratulations Danilo, sit back and enjoy your masterpiece. I don't think you'll be the only one.